Solitaire engagement rings are a classic and timeless choice for those in search of a style that will always be on trend. Also known as single stone rings, solitaire engagement rings are exactly that – rings that feature only one statement stone.
Historically, a solitaire engagement ring would have only featured a diamond, usually a round brilliant cut, which is the most popular stone shape for any engagement ring. Nowadays, they are more popularly set with fancy shape diamonds and coloured gemstones.
Engagement ring experts at Steven Stone have revealed why the minimal design is the most popular style for a proposal.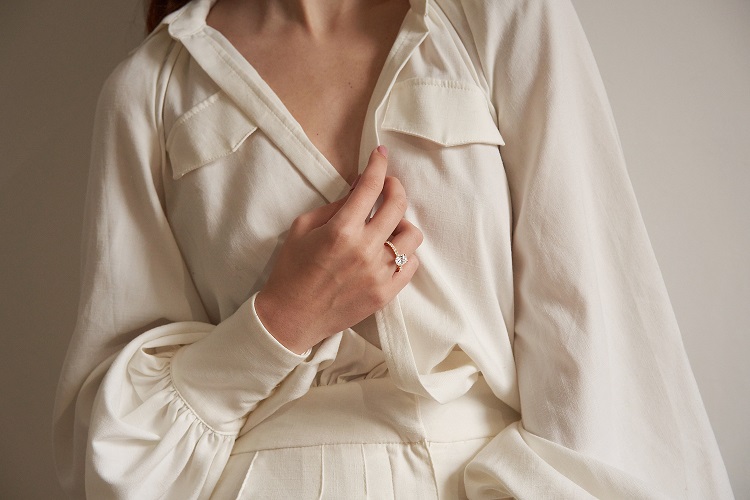 Solitaire rings are inherently refined and minimalist, with the simplicity of the design allowing the centre stone to be the focal point. With everyone having unique styles and tastes, different cuts can be used to make a truly personalised piece of jewellery.

Popular diamond cuts for a solitaire ring include:
Princess cut: A squared-off cut, compromised of either 57 or 76 facets.
Emerald cut: A rectangular diamond with a step cut.
Oval cut: An elongated version of the round brilliant.
Marquise cut: A boat-shaped cut with pointed ends.
Heart cut: A diamond cut based on the universal symbol for love.


Even though a solitaire ring only features one diamond, it isn't limited to a minimalist look. With band designs ranging from simple to intricate designs, these styles help match the ring to the wearer. Choosing a style essentially comes down to the personal preference of you or your partner and while some can limit the size of the diamond, we'll be able to make adjustments should you want a larger gemstone.
Benefits of solitaire rings
While a solitaire ring dictates the style of setting and number of diamonds, it can be made of any metal. Whether it's yellow gold, platinum or rose gold, the ring is going to look spectacular and the decision is completely down to you. No metal is superior and each has its own unique look and properties.
Solitaire rings combine practicality and diamond security with elegance while remaining true to any style. When this is combined with a wide selection of bands, you are able to create something truly unique.
The minimalism of the band of a solitaire ring shifts all the attention to the sparkling diamond on top. Alongside this, the variety of different diamond cuts, metals and styles to choose from mean any solitaire ring will be unique.
If you're looking for an engagement ring or wedding ring and would like to browse for inspiration, take a look at our ready to wear collection or chat to one of our team for bespoke creations. Why not take a look at our full jewellery collection? We have showrooms in Manchester, not to mention a wide range of engagement rings in London.
---
Want to stay up to date?
Follow us at @StevenStoneUK to keep up to date on the latest news and events.