While Megan Fox most recently ignited the 'moi et toi' engagement ring trend, after showing off an incredible diamond and emerald two stone ring from her new fiance Machine Gun Kelly, believe it or not, she wasn't the first star to sport this style.
The trend actually dates way back to 1796, when Napoleon Bonaparte proposed to Josephine de Beauharnais with a huge diamond and sapphire ring, featuring two impressive rocks.
If you aren't fluent in French and are still wondering what 'moi et toi' actually means, it actually has a meaningful translation: 'you and me', which might just convince you to hop on board.
A toi et moi ring features a coiled band, with two gemstones nestled side by side where it meets around the finger. As the name suggests, the style is super romantic – it symbolises two entities meeting as one.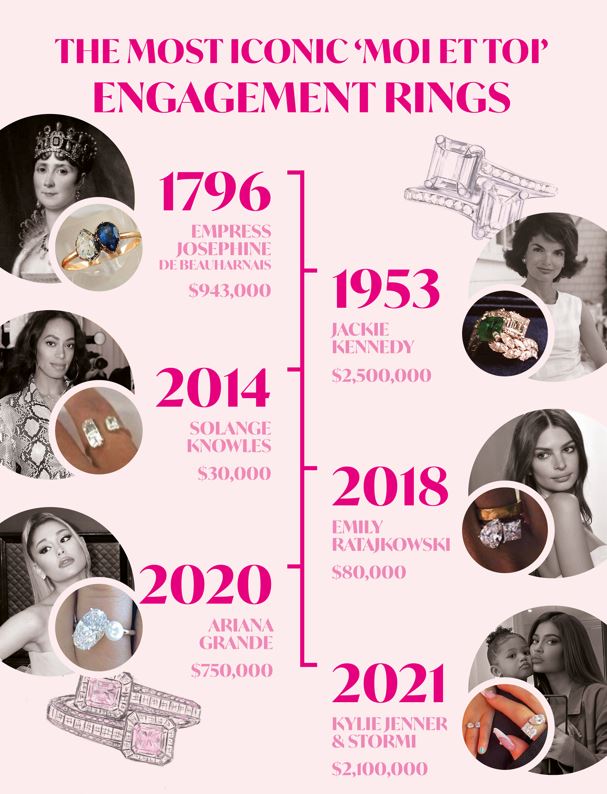 Empress Joséphine de Beauharnais
Estimated Value: $943,000
Year: 1796
When Napoleon Bonaparte proposed to Josephine de Beauharnais in 1796, little did he know he was going to start a huge engagement ring trend that would last for centuries. The famous historic figure proposed with a diamond-and-sapphire ring that broke tradition and probably made the Empress very happy. While the two stones weigh in at just around 1 carat each — and Napoleon went on to divorce Josephine in 1809 — that didn't stop the ring from fetching nearly $1 million at auction in 2013.
Jackie Kennedy
Estimated Value: $2,500,000
Year: 1953
Jackie Kennedy is famous for many things, including for her incredible style, but did you know she also sported a 'moi et toi' engagement ring? The sparkler, designed by Van Cleef & Arpels was presented to her by John F. Kennedy in 1953. The original ring included featured a 2.88-carat diamond next to a 2.84-carat emerald, surrounded by tapered baguettes. However, too much is never enough, as the First Lady's ring was later upgraded with an additional 2.12 carats worth of marquise and round diamonds to mimic the look of a laurel wreath.
Solange Knowles
Estimated Value: $30,000
Year: 2014
Singer-songwriter Solange Knowles, sister of Beyonce, was the next star to hit the headlines for her non-traditional ring. However, unfortunately a couple of years later, she famously lost her Art Deco-inspired engagement ring while partying at Mardi Gras in 2016. The beautiful ring featured one square-shaped and one emerald-cut white diamond on a yellow gold band. The ring's unique shape made it a real head-turner.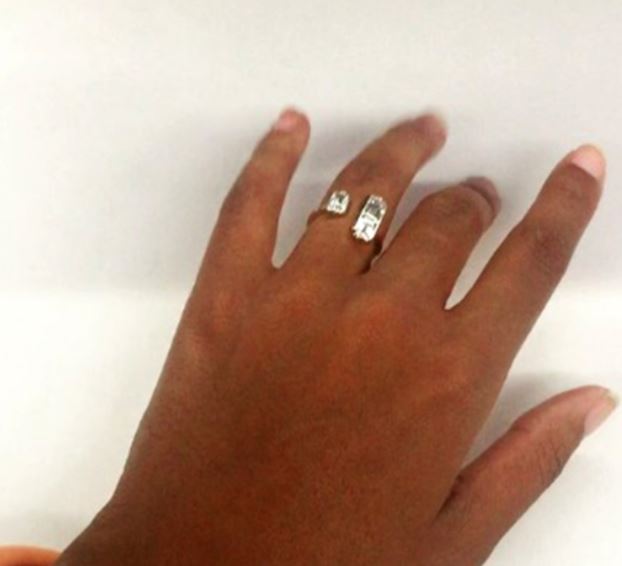 Emily Ratajkowski
Estimated Value: $80,000/£62,000/ €70,000
Year: 2018
Model, Emily. and producer. Sebastian Bear-McClard. had a whirlwind romance of just just six weeks before they tied the knot in 2018. Sebastian originally proposed with a paper clip bent into a circle, and it wasn't until after the wedding that Emily's stunning engagement ring was finally designed. The pair picked out a stunning two-stone diamond ring on a yellow gold band. Estimated to be worth £62,000 and featuring a 2-carat, princess-cut diamond and 3-carat, pear-shaped diamond, it's classic with a modern, unconventional twist.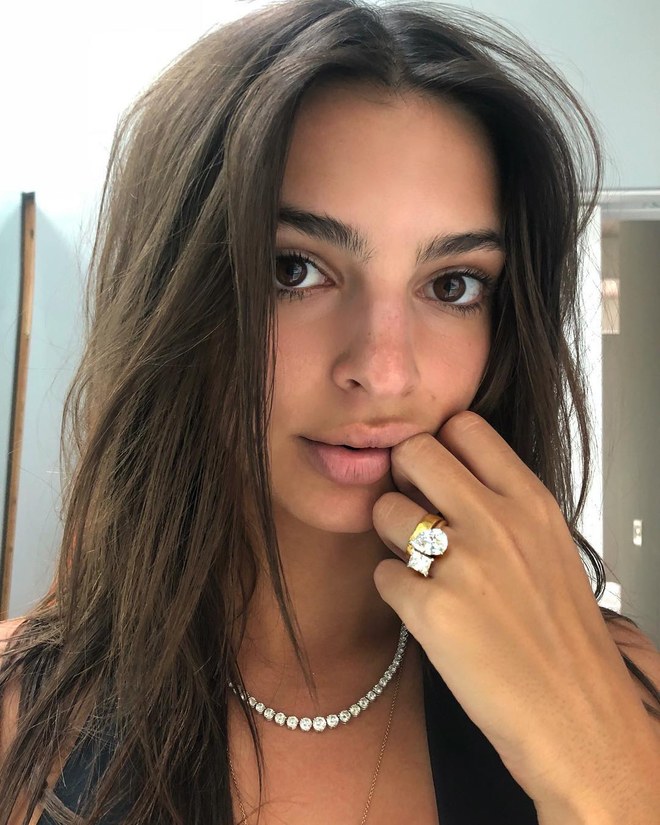 Ariana Grande
Estimated Value: $750,000
Year: 2020
You've probably heard about Ariana Grande's 'moi et toi' engagement ring, as after her proposal we saw a wave of interest in designs of this style.
Dalton Gomez presented her with an alternative engagement ring, featuring two stones – a diamond and a pearl. The ring appears to feature a 8 carat oval diamond offset next to 5 to 6mm pearl set on a simple white gold or platinum band. Our experts estimate the ring is worth around $750,000 (£540,000) thanks to the high clarity of the diamond.
The pearl is Grande's birthstone, and fans believe that the specific one used in her ring came from her late grandfather's tie pin, which makes it extra sentimental.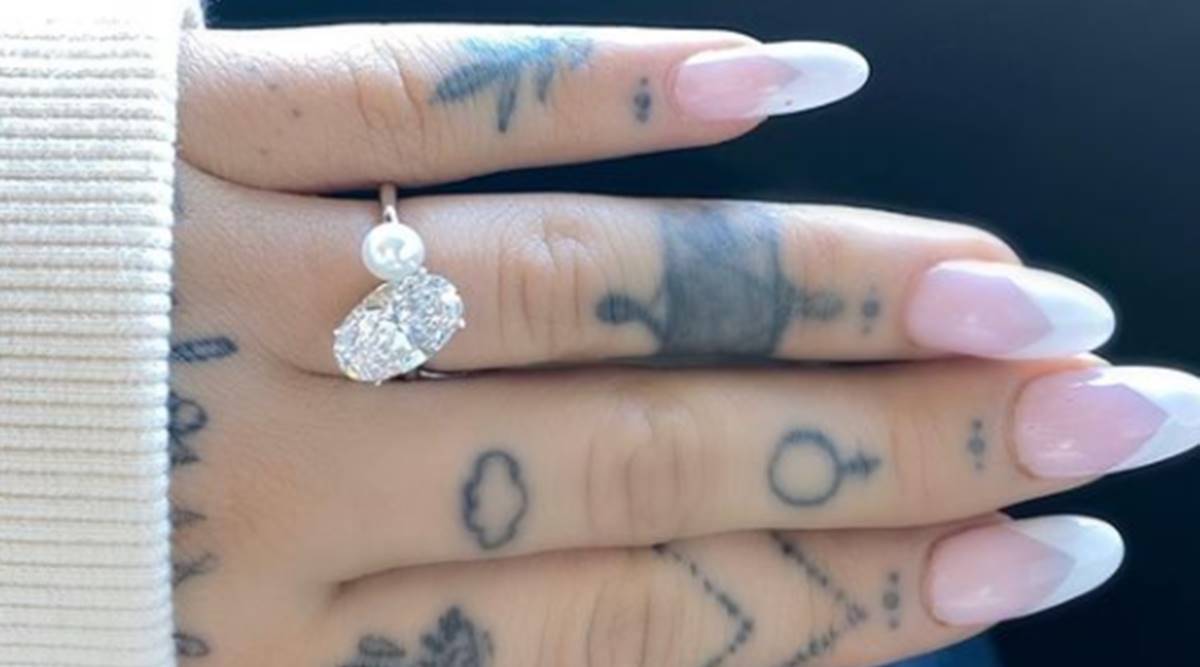 Kylie Jenner and Stormi
Estimated Value: $2,100,000
Year: 2021
Although not engagement rings, the matching two stone rings Travis Scott gifted to Kylie Jenner and Stormi in 2021 were enough to make our hearts melt, so we couldn't bear to leave them out.
Both rings feature radiant and pear-shaped diamonds. Stormi's miniature ring has two 1ct diamonds and could hold a value of anywhere between $50,000 to $100,000.
Kylie Jenner's ring features two magnificent 10ct diamonds, which would be worth $2million on today's market
The diamonds look to be VVS2 clarity, which means they of incredibly high quality, with no visable flaws or inclusions.
Maxwell Stone added: "These rings are both magnificent, there's no doubt about it. Alternative styles like this which feature two large statement stones are becoming increasingly popular this year and are no doubt going to be a huge trend for 2022.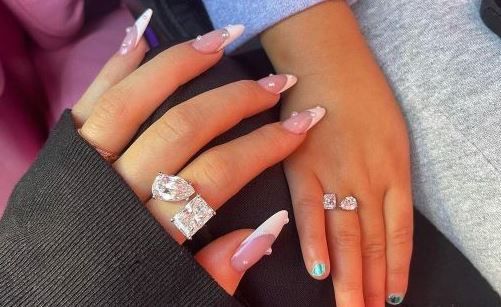 Megan Fox
Estimated Value: $350,000
Year: 2022
Machine Gun Kelly popped the question Megan Fox at the beginning of January 2022, presenting her with an especially symbolic design by Stephen Webster.
Featuring their birthstones, the pear-shaped gems are set "on two magnetic bands of thorns that draw together as two halves of the same soul forming the obscure heart that is our love," as MGK wrote on Instagram.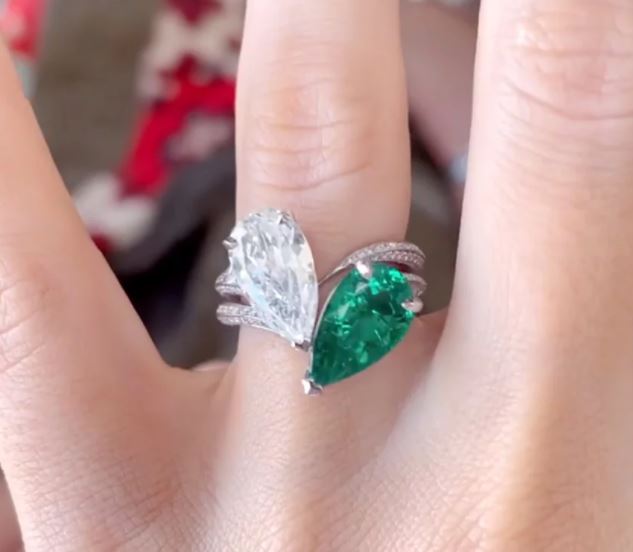 If you're feeling inspired, why not take a look at our collection? For those on the hunt for a jewellers in Manchester or engagement rings in London, then why not come and visit our showrooms? Whether it's for a unique engagement ring or wedding rings for women, or an eternity ring, we offer both ready-made and bespoke pieces.