Earlier this week, Crown Princess Victoria, Princess Madeleine, and Princess Sofia of Sweden featured in a new official portrait, showing off some very special tiaras.
Last year, we found that the Swedish royal family have the third most expensive tiara collection in Europe, with the three most recently worn worth a staggering £5,050,000 collectively. The tiaras we analysed included the Palmette tiara, the Cameo tiara, and the Modern Fringe tiara with emerald toppers.
However, for the new official royal portrait, a new tiara has made an appearance, not to mention the Modern Fringe tiara has had a major alteration.
To find out more, Steven Stone's leading diamond expert, Zack Stone, has taken a close look at each tiara to reveal all the details.
What Victoria Wore
The Napoleonic Cut Steel Tiara
The Napoleonic Cut Steel tiara belongs to the Swedish royal family, and as the name suggests, this is a tiara with links to the court of Napoleon Bonaparte. But this sparkler didn't belong to Empress Joséphine or Empress Marie Louise; instead, it's said to have been made for Joséphine's daughter, Hortense de Beauharnais.
It has a detailed design, featuring oak leaf, acorn, floral, and feather elements, which would have required a high level of craftsmanship, not to mention time.
Unlike most other royal tiaras, it features no gemstones or pearls, not even a single diamond. It is instead made of steel that has been expertly cut, polished, and set in gold. However, that's not to say this piece lacks in sparkle, as when it reflects the light, it beautifully glistens, and you'd probably think it was packed with diamonds at a first glance.
Estimated value: £20,000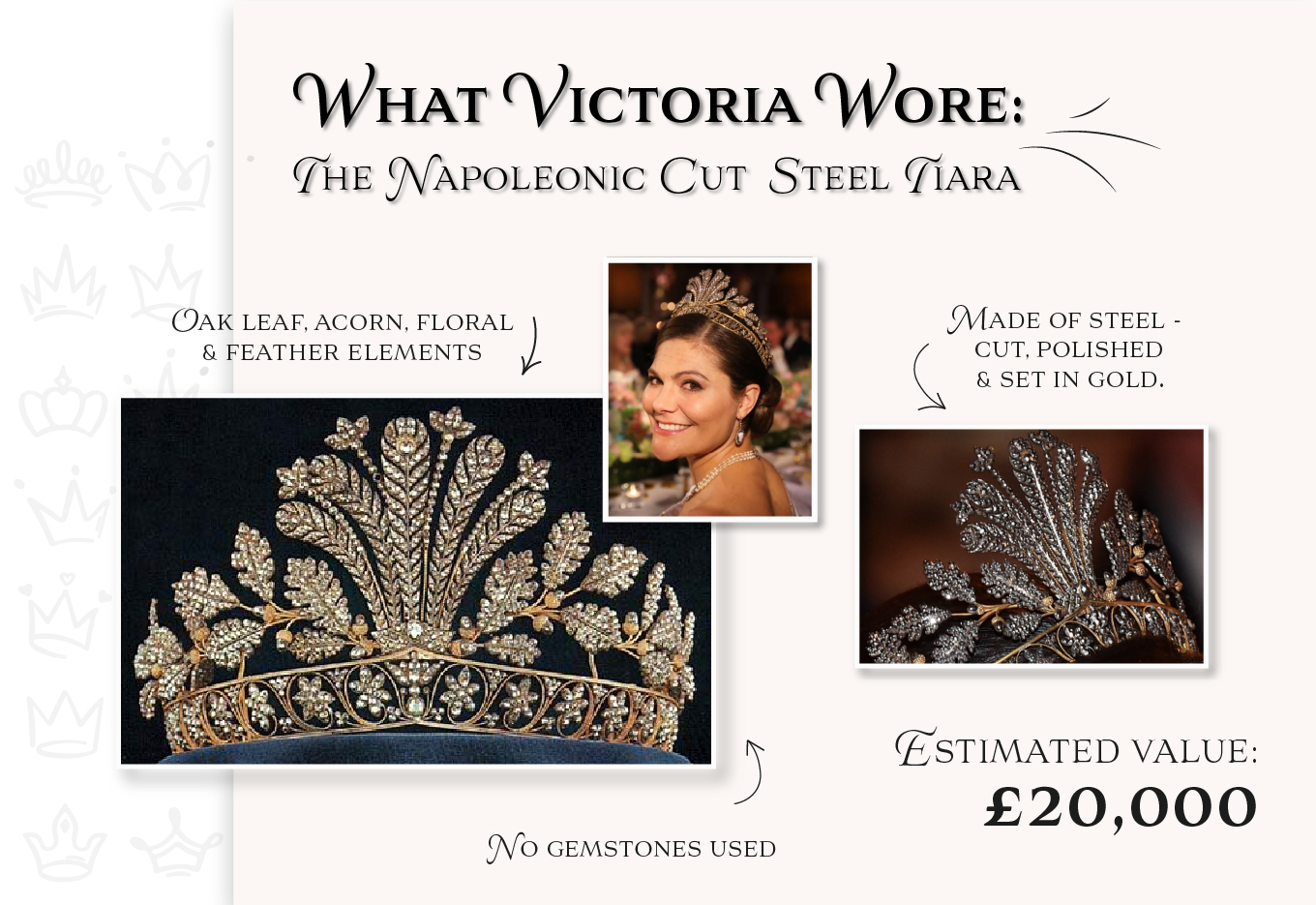 What Madeleine Wore
The Modern Fringe Tiara
Princess Madeleine wore the Modern Fringe tiara on her wedding day back in 2013, when she tied the knot with American financier Christopher O'Neill.
However, this diamond tiara first appeared on Queen Silvia in the late 1980's on their tenth wedding anniversary in 1986. Because of this, many have speculated that the tiara may have been an anniversary present from the king to his wife. Unlike many other tiaras, this is a "private" tiara, personally owned rather than part of the grand royal jewel collection.
The gorgeous piece, features geometric fringe elements and is a modified take on the classic all diamond fringe tiara, with flared spikes creating an interlocking design. The spikes are topped with round diamonds and sit on a base accented with another line of white diamonds. The tiara is unique is the sense that can also be worn as a necklace, making it a versatile piece.
Cleverly, it is mounted on a base that creates a halo-like illusion, creating the effect that it is sitting just above Madeleine's head. It's a beautiful piece, and is probably worth around a staggering £150,000 to £200,000.
Value: £150,000 to £200,000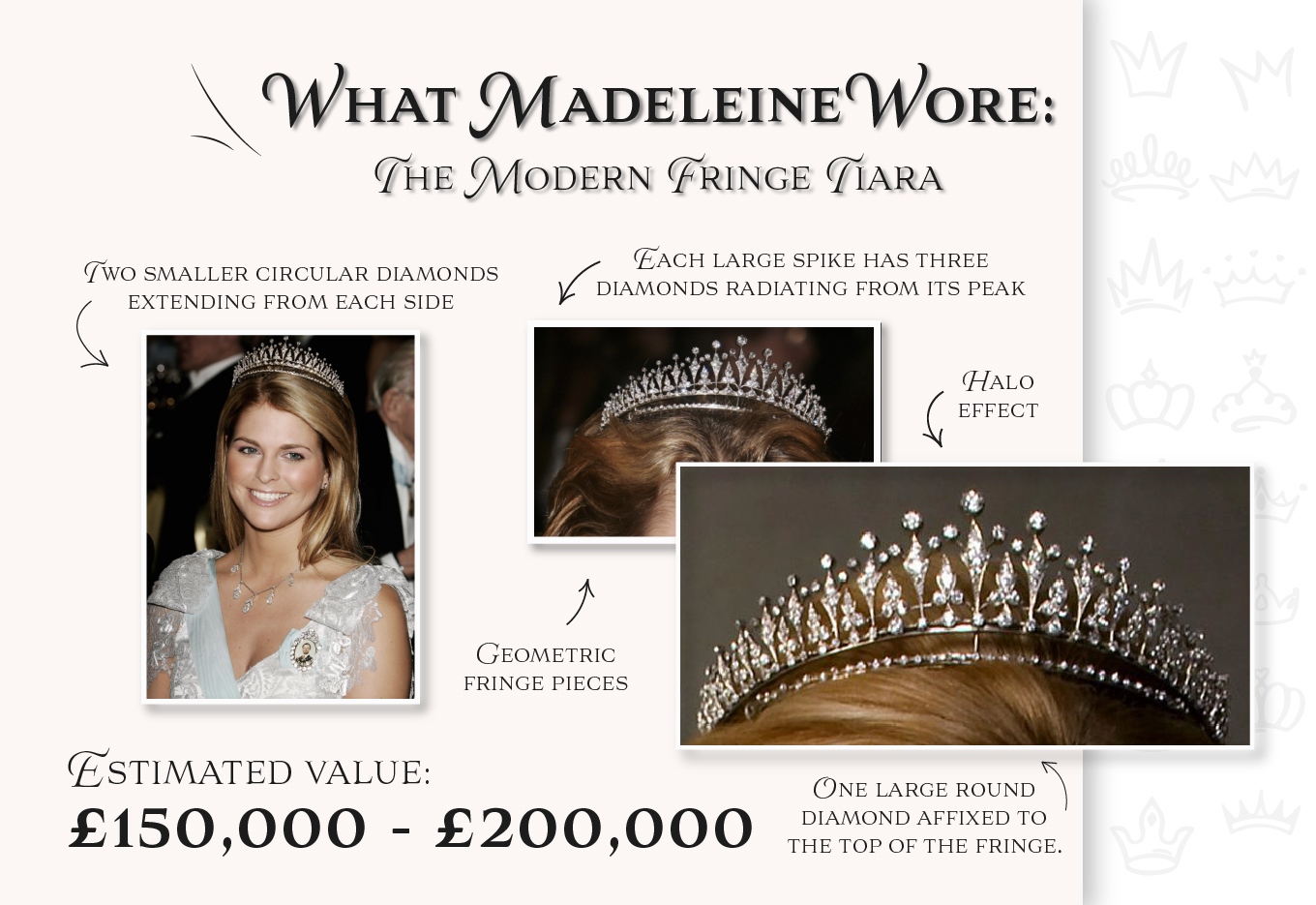 What Sofia Wore
The Palmette Tiara
We first saw the tiara in public in June 2015, when Sofia Hellqvist married Prince Carl Philip of Sweden. The tiara was a wedding gift to Sofia from her new parents-in-law, King Carl XVI Gustaf and Queen Silvia of Sweden.
She frequently changes the toppers on the tiara. For Sofia's wedding day, Queen Silvia dismantled an emerald and diamond necklace which was a gift from a Thai prince to create the emerald toppers. It's believed that Silvia had had the necklace sent back to Thailand to be remade as a tiara, partly to keep it a secret surprise ahead of the wedding.
However, on this occasion, the design has been altered yet again. The new arrangement of the tiara slopes more gently down the sides of Sofia's head and feature pearls.
Value: £200,000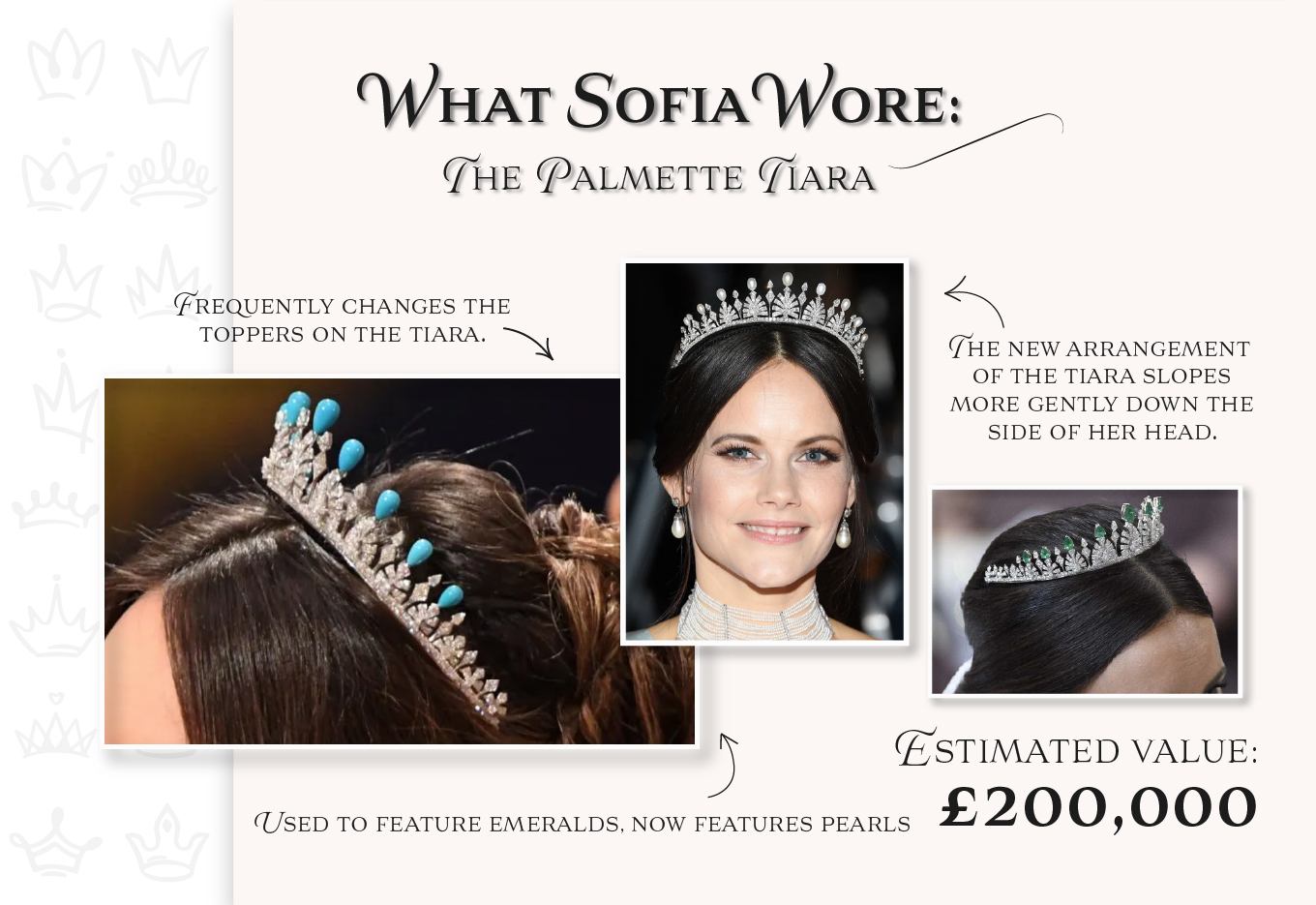 If you're searching for jewellery that's worthy of a royal collection, why not take a look at our stunning range of diamond earrings and necklaces? We also specialise in bespoke engagement rings and wedding rings for women and men.