While Kate Middleton's engagement ring is no doubt her most iconic piece of jewellery, it wasn't the first ring she received from Prince William.
When they were dating back at University, the love-struck Prince gifted Kate with a very meaningful piece of jewellery, that actually reveals a lot about their relationship and their personalities.
The couple started dating in 2001, while at the University of St Andrews.During that time, William gave Kate a gold ring with pearls and garnets, which she wore on her middle finger.
Set on a rose gold Victorian band, the ring features two garnets which are Kate's birthstone for January, and pearls to represent William's birthstone for June.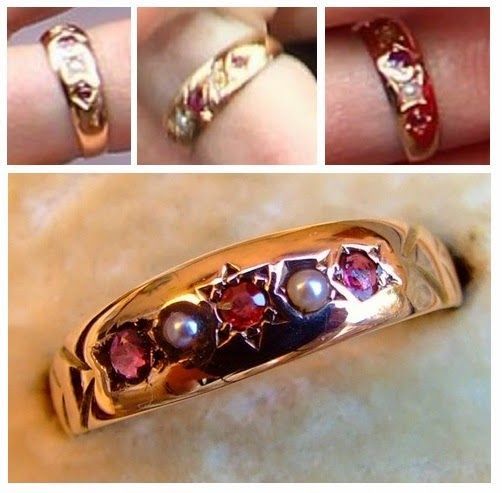 Kate wore the band on the day of her graduation in 2005, a milestone which marked her own achievements but also a day which opened a new chapter in her life with Prince William.
The ring is simple. stunning, and contains a lot of symbolism as it features the birthstones of both Prince William and Kate, which shows a lot of commitment – even in the early days.
Garnets which represent Kate's birthstone, symbolises perseverance and strength and are traditionally known as "commitment stones," which reinforces the meaning behind the ring. Garnets are crystals of passion which amplifies the love in their relationship. They are also thought to be one of the oldest crystals used for spiritual protection throughout history, which could imply Prince William's desire to protect Kate.
Pearls on the other hand, which are the birthstone of those born in June, have long been associated with purity, humility and innocence, which amplifies their youth. Pearls were also traditionally given as a wedding gift, which could hint that wedding bells were soon to be on the way.
Our leading jewellery experts said: "This ring is no doubt very sentimental and while Kate has a very high value jewellery collection, this piece is priceless. From the design it looks to be from the Victorian era, from the late 1800's, most likely set on a 15ct gold band, which is what they used at the time.
"It would probably be worth no more than £2,000, but it's one of our favourite pieces from Kate's collection thanks to the beautiful symbolism it holds."
If you're looking for an engagement ring or a promise ring, why not get in touch with one of our experts who can help you create a design that'll last a life time.