Queen Elizabeth wore a brooch gifted to her by Prince Philip at his memorial service today. She paid tribute to her husband by wearing the Scarab brooch, which he gave to her in 1966.
The piece is no doubt sentimental to the Queen, as she's worn it on many occasions, including at the start of her Golden Jubilee tour in Falmouth in 2002,for her televised Christmas message in December 2007, and during a state visit to Slovenia in 2008. She also wore the piece during her and Prince Philip's official platinum anniversary portrait in 2017.
To find out more about the brooch, jewellery experts at Steven Stone Jewellers have taken a close look.
A brooch like this has a value of around £250,000, however, in this case, we feel it truly is priceless.
READ MORE: 25 of the Queen's most valuable and sentimental brooches
How did the Queen and Prince Philip meet?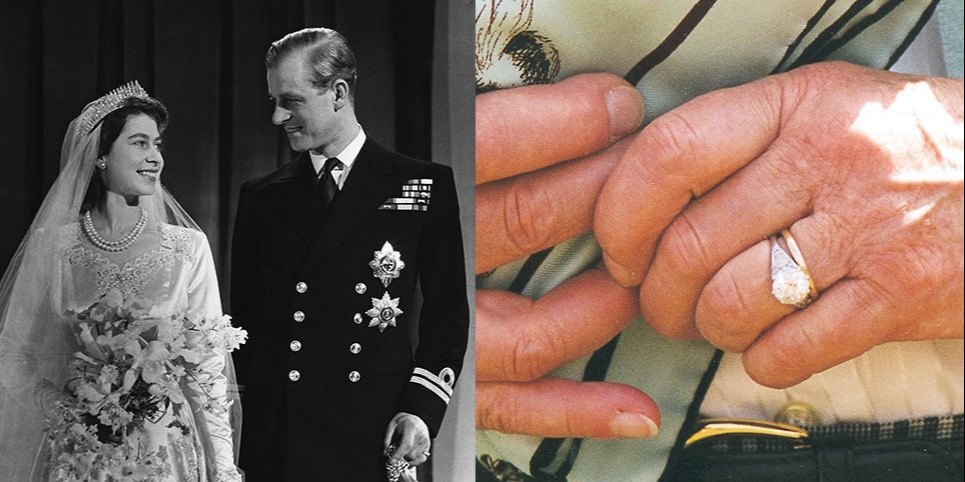 The Queen met Prince Philip when they both attended the wedding of Philip's cousin, Princess Marina of Greece, who was set to marry The Duke of Kent. This was in 1934, when the Queen was a teenager and Prince Philip was an 18-year-old Royal Navy officer.
They met again at Dartmouth Royal Navy College in 1939, and Prince Philip tried to impress the soon to be Queen on the tennis court. Soon after, the couple started writing to one another and Prince Philip declared his love. Their engagement was announced on July 9, 1947, after Philip asked King George VI for permission to marry his daughter.
The wedding took place four months after the engagement on 20th November at Westminster Abbey and was viewed by 200 million people worldwide.
As rationing was still in effect at the time, the Queen's wedding dress was simple, with a fitted bodice and heart-shaped neckline which was paid for by clothing coupons. To show their support, hundreds of people across the UK sent the Princess their own coupons to help, however they had to be returned as it would have been illegal for her to use them.
What do we know about the Queen's engagement ring?
Prince Philip designed the square-cut diamond engagement ring with jewellers Philip Antrobus Ltd.
The ring is a platinum ring set with eleven diamonds, a 3 carat round solitaire and five smaller stones set on each shoulder.
Using diamonds from his mother's tiara may have been a way to save money, as well being as a sentimental gesture, as whilst Prince Philip was born a Greek prince, it seems his family were not extremely wealthy.
READ MORE: The Beautiful story behind the Queen's engagement ring