Birthstones make a beautiful and unusual choice for an engagement ring. If your bride-to-be has a unique sense of style, a birthstone engagement ring could be the perfect choice. However, despite your best intentions, any gemstones that are set into a ring for everyday wear must be of a certain level of hardness in order to reduce the likelihood of damage. If her birthstone isn't suitable for use as the largest stone in the ring, you could use it as a secondary or tertiary stone in the setting – adding a touch of colour. Whether you choose a gemstone for its colour or its symbolism, it's guaranteed to create a stunning ring.
Mohs hardness scale
The Mohs hardness scale measures the resistance of a surface to scratching or abrasion, and is expressed in a scale devised by Friedrich Mohs in 1812. Minerals and gems are all ranked along the scale, which is composed of 10 levels that represent hardness. However, it's important to remember that each increment of the scale does not represent a proportional increase in hardness, so it can't generally be used as a comparison scale. At the top of the Mohs scale with a rating of 10, diamonds are the hardest and therefore most durable gem to use in jewellery.
Birthstones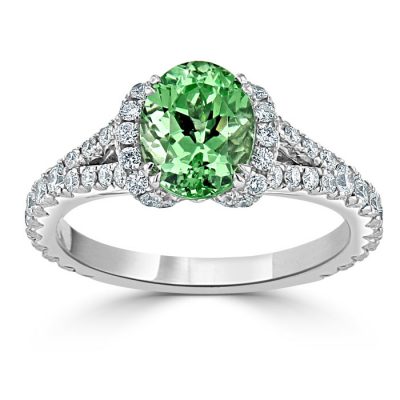 Garnets are available in a range of colours from orange to green, but the most widely recognised is deep red. The word 'garnet' comes from the Latin word_granatus_that references a pomegranate. In Ancient times, this was traditionally eaten at new year, hence the association with January. Garnet is 6.5 to 7.5 on the Mohs hardness scale, meaning that it may be susceptible to scratching. If you want garnet in your engagement ring, consider it in smaller quantity at the side of the main stone, or in a bezel setting.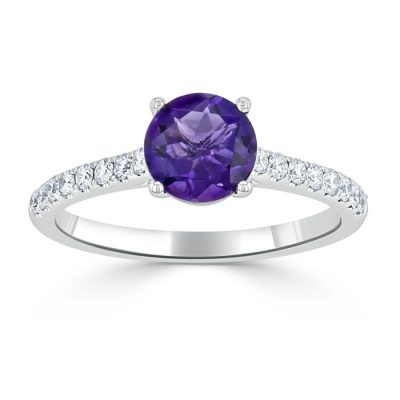 Amethysts are deep purple in colour, perfect for women who love to make a style statement. The stone is associated with the goddesses Venus and Diana who represent love, desire and nature. For those who are considering proposing on Valentine's Day, amethysts are also associated with St. Valentine, who is said to have always worn this gem. Because of this, amethysts have been a symbol of happiness and good fortune for hundreds of years. Amethyst is rated as a 7 on the Mohs hardness scale, meaning that it may be susceptible to scratching. If you want amethyst in your engagement ring, consider it in smaller quantity at the side of the main stone, or in a bezel setting.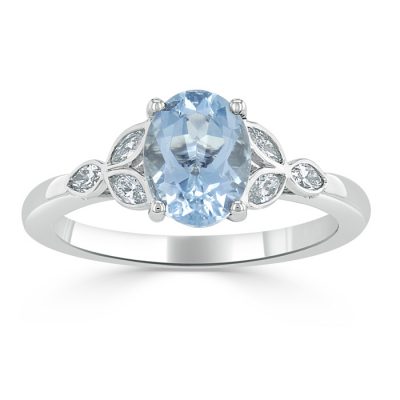 Aquamarine is a Latin word that means_water of the sea_. This beautiful stone is light in colour, graceful, and modern – perfect for the woman with effortless style. Its colour also means that it will be perfect for the traditional bride, as it can fill in as the 'something blue' that should be worn at the wedding, symbolising long-lasting love and fidelity. Aquamarine is a 7.5-8.0 on the Mohs hardness scale, meaning that it could be the perfect gem for your engagement ring. Consider a silver or palladium setting with accompanying diamonds.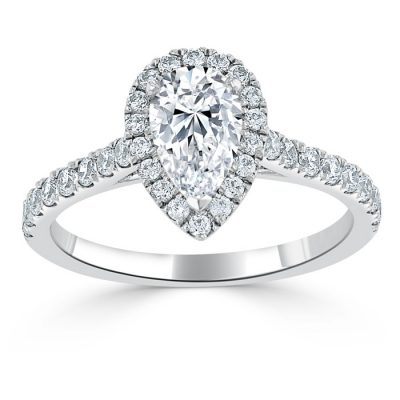 Diamonds are, of course, the most popular choice for engagement rings. They're also the birthstone for people born in April, representing courage, harmony, and love. In 1947, copywriter Frances Gerety wrote the famous slogan 'A diamond is forever', catapulting De Beers diamonds into the spotlight. Since then, they have been the go-to gemstone for engagement rings. If you're looking for something more unusual, look for rough diamonds or grey diamonds. Diamond is 10 on the Mohs hardness scale, which is the top of the list. Consider pairing diamonds with a rose gold setting for a modern look.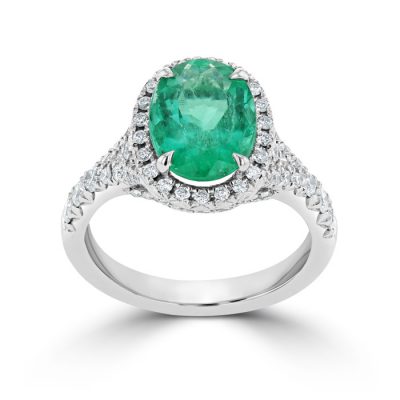 Emeralds are symbols of love, fertility, and fidelity, and are the birthstone for May. A deep green emerald can have a glamorous, vintage feel, which is ideal for brides with their own sense of style. Fine emeralds may be two to three times as valuable as a diamond, so they can be exceptionally pure. Emerald is 7.5-8.0 on the Mohs hardness scale, but they're known for inclusions that can make them fragile. Choose a small emerald with larger diamonds as the main stones.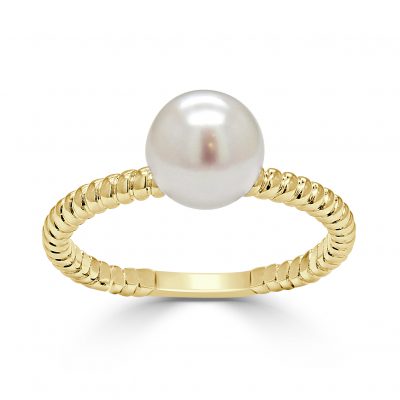 Pearls are some of nature's most beautiful stones. Often found in either freshwater or saltwater oyster beds, the colour and variety of pearls makes them ideal for use in jewellery. However, pearls are relatively fragile, so may not be suitable for engagement rings that will be worn every day. If pearls have significance to you, consider buying a pearl stand-in ring, or give it as a gift to your bride on your wedding day. Pearl is a 2.5 on the Mohs hardness scale so is therefore not recommended for engagement rings. You could, however, choose to use smaller pearls set alongside hardier gemstones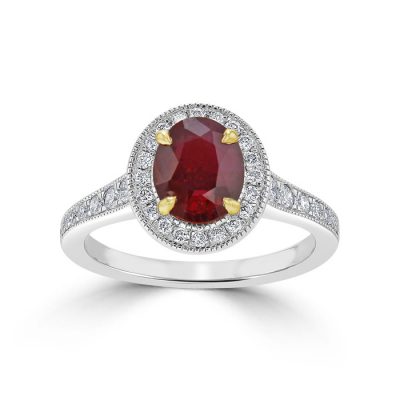 Rubies are a beautiful bright red in colour and look beautiful set in silver or gold. Long a symbol of wealth, they were deemed the most precious of gemstones in the Bible. Traditionally, rubies and diamonds are paired together to create extravagant engagement rings that symbolise love and passion. Rubies are a 9 on the Mohs hardness scale, so they're ideal paired alongside diamonds for a hard-wearing engagement ring that can withstand the rigours of everyday life.
August – Spinel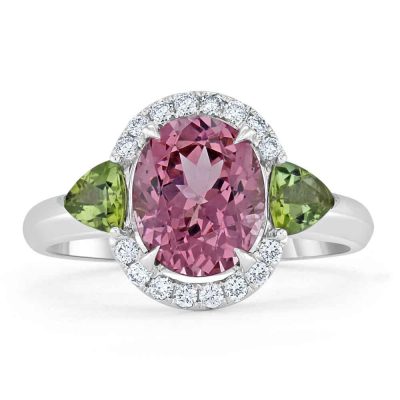 Alongside peridot and sardonyx, spinel is one of August's birthstones. Available in a wide range of colours from blue to pink, each spinel gemstone looks beautiful on a silver-tone metal. Spinel is rated as an 8 on the Mohs hardness scale and is therefore ideal for engagemen
t rings.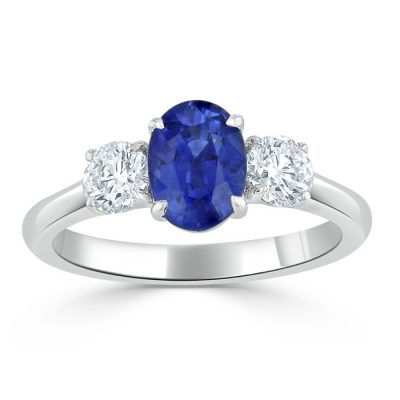 Sapphires are a member of the same family of gemstones as rubies, corundum. Their deep blue colour is the most common, but they can also be found in every colour from pink to green. Some sapphires can even show two or more colours in a single stone, known as 'parti sapphires'. Seen in the engagement ring of Diana, Princess of Wales and Kate, Duchess of Cambridge, sapphires are a truly stunning stone. Sapphire is rated as a 9 on the Mohs hardness scale, perfect for engagement rings.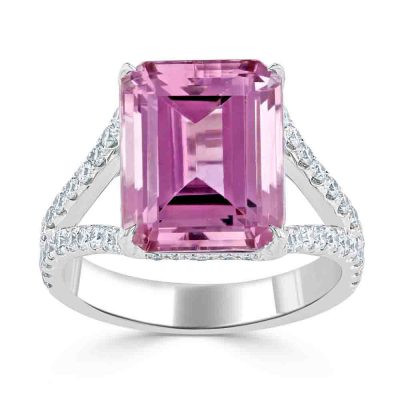 Tourmaline is a stone that is available in pink, green, orange and blue. Paired with diamonds, it can make a stunning piece of jewellery. Representative of feminine energy and love, it could be the ideal choice for same-sex marriages. Tourmaline is a 7-7.5 on the Mohs hardness scale meaning that it could be used carefully on an engagement ring – perhaps with a bezel setting.
November – Topaz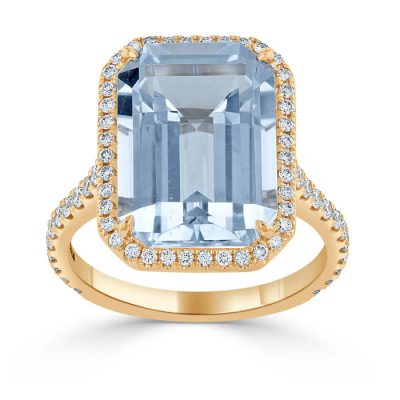 Topaz is a symbol of love, affection and fire. A lot of topaz is heat treated to take on deep blue shades, but it can often appear in colours from orange-yellow to pink-red. Against a silver, rose gold or gold metal setting, topaz will look beautiful. Topaz has a rating of 8 on the Mohs hardness scale meaning that it could be used as the centre stone on your engagement ring. It also looks great with a diamond surround.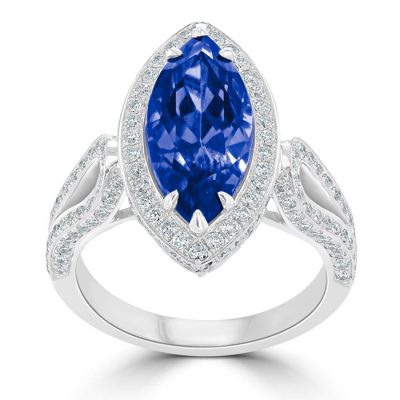 Tanzanite was discovered in 1969 by Tiffany & Co. This exotic and widely coveted gemstone is very rare. It is deep blue, with violet undertones, and looks stunning paired with diamonds against a silver-tone band. Tanzanite has a rating of 6.5-7 on the Mohs hardness scale.