Recent statistics indicate that a staggering 350,000 weddings will take place in the UK this year, which is 75,000 more than the pre-Covid19 national average.
With so many couples tying the knot, it's not surprising to discover that £14.7 Billion is spent on weddings every year – and if you've been invited to attend one, you'll know how expensive being a guest can be.
From the hen and stag parties to the accommodation and travel, while there's no doubt you want to see your loved ones walk down the aisle, sometimes the big expense makes the big day difficult.
To find out more about being a wedding guest in 2022, engagement ring specialists at Steven Stone Jewellers surveyed 2,000 Brits to find out exactly how they feel about forking out for a wedding, and what they expect in return.
We've also uncovered what elements of a celebration are turning guests off, from family feuds to a limited dining menu.
The average cost of being a wedding guest in 2022 is up to £1,203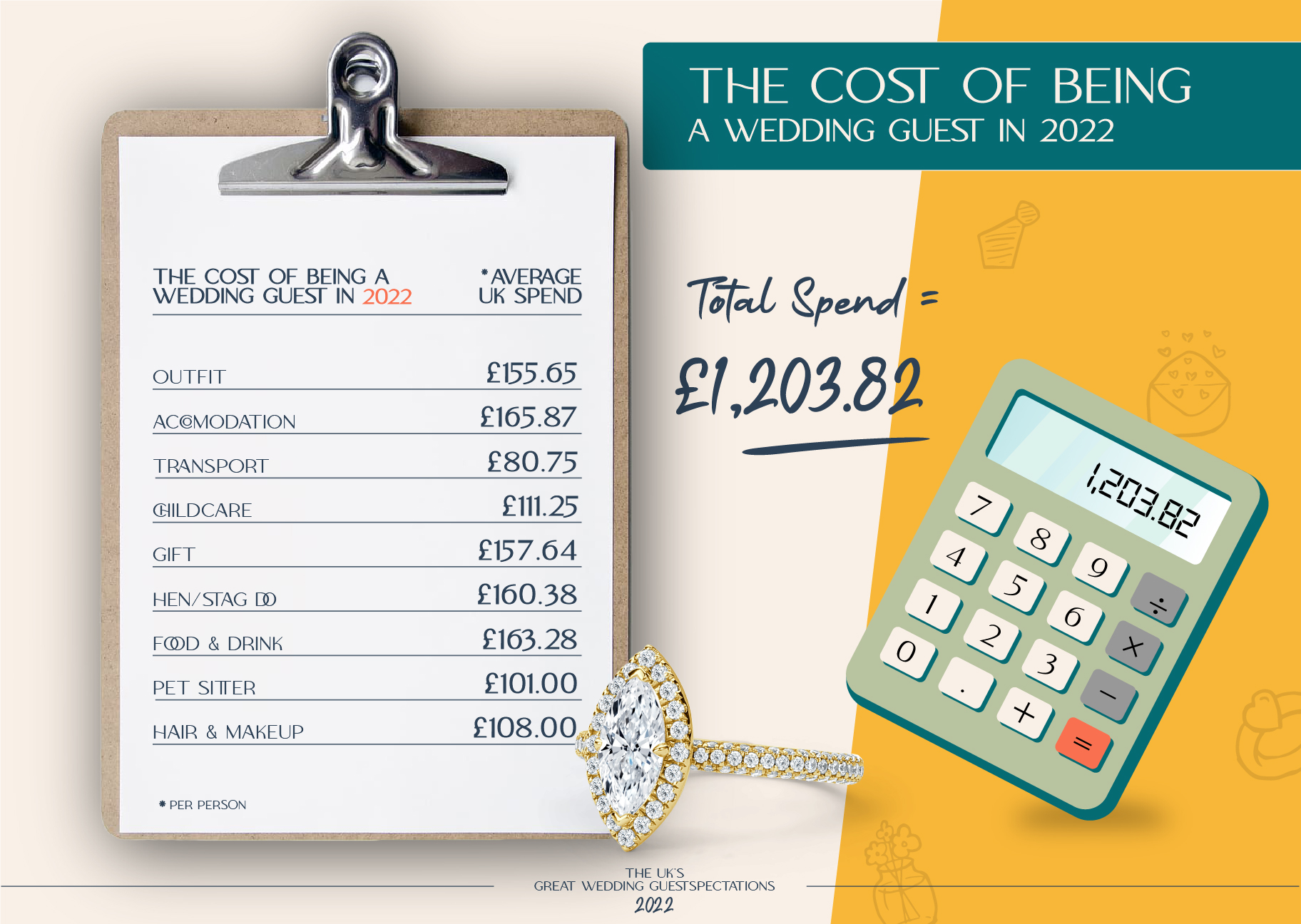 ---
Covering everything from clothing to makeup to drinks and hotels, guests are spending a huge chunk of their monthly salary on glamming up for the occasion.
For those who have to cover the cost of pet care or childcare, they can expect to fork out around another £100 if they attend a wedding without them.
Which city spend the most?
London is undoubtedly the most expensive city to be a wedding guests, with those in London spending £1,692.11 on average – 33% more than the national average.
Next up is Norwich, where the average guest spends up to £1429.33, followed by Birmingham where wedding guests are spending £1,343.51.
On the other hand, Southampton is the cheapest city to be a wedding guest. Here, the average person spends £753.37, 76% less than those in London. This is followed by Newcastle (£798.82) and Plymouth (£954.19).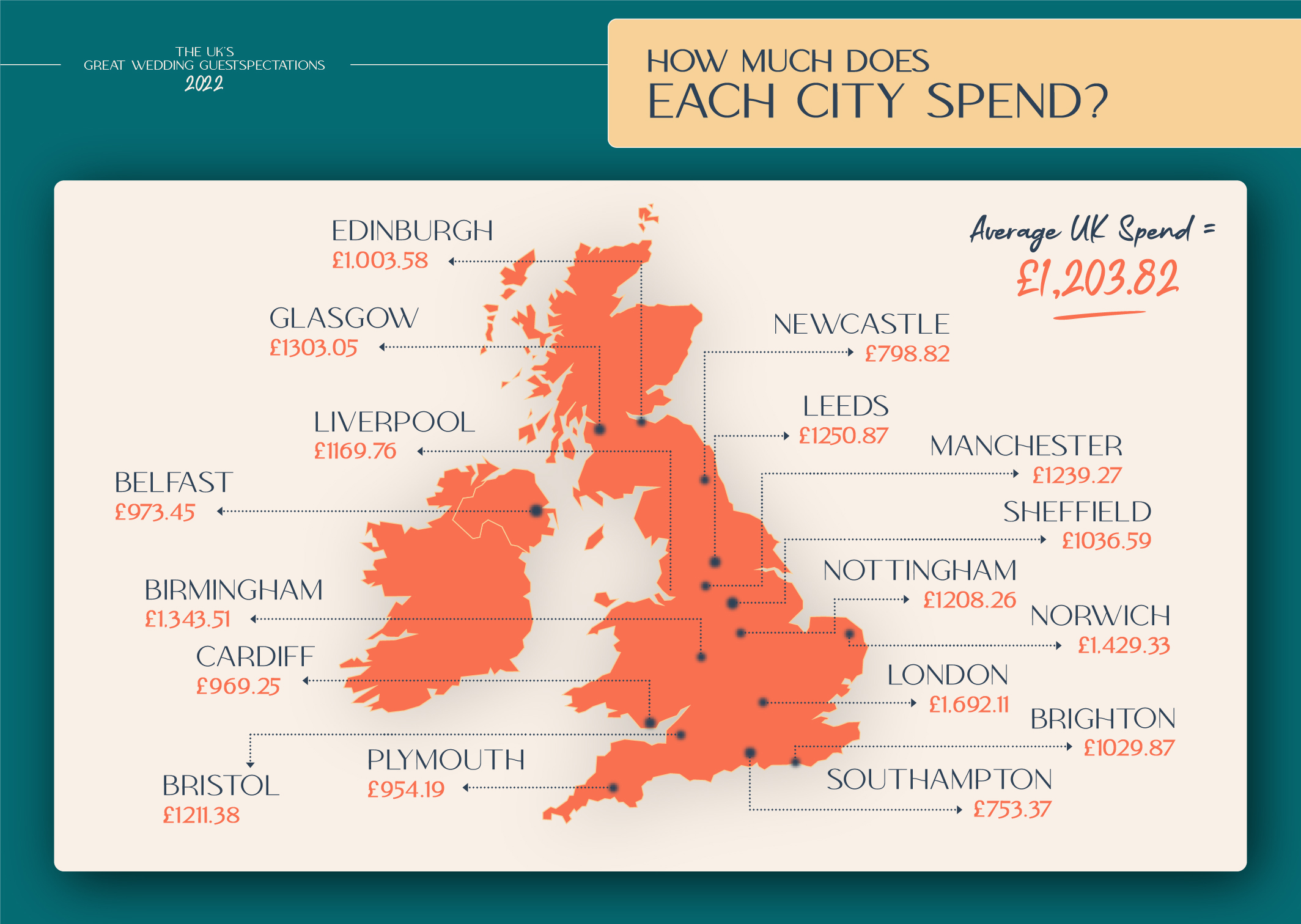 What do wedding guests expect on the big day?
With so much money being spent on weddings, guests who attend no doubt have some expectations. However, with non-traditional weddings becoming increasingly popular after the pandemic, we were keen to find out if guests expectations have changed.
However, it seems a formal invitation by post, evening food, and live entertainment are still the top three most expected elements of a wedding. Over a quarter of those surveyed expect to receive a plus one on their invitation, whilst 23.33% expect free wine on the table.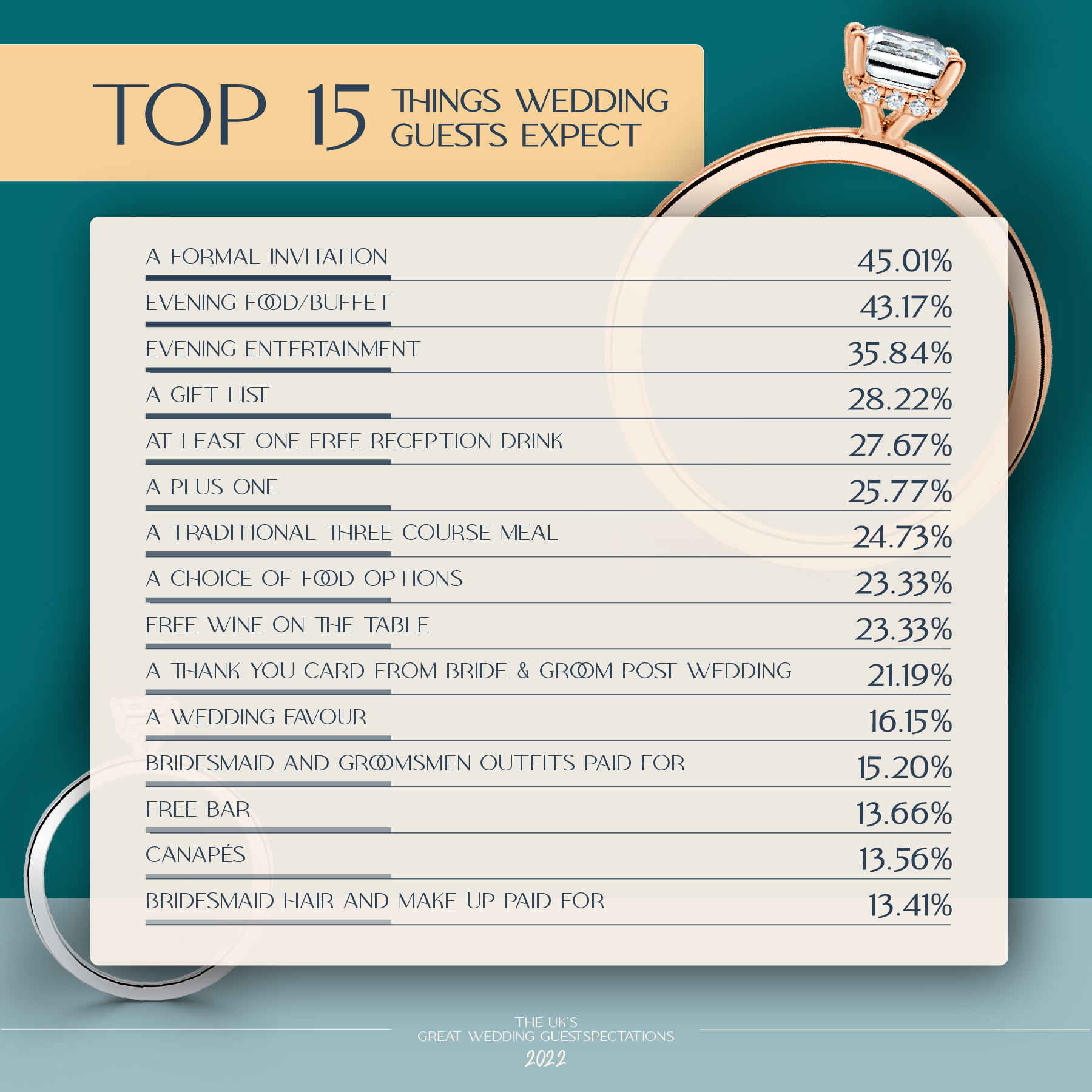 Which cities have the highest expectations?
Breaking our data down by city, we analysed which locations have the most expectations. Wedding guests in Belfast have the highest expectations overall, followed by those living in Edinburgh. Over half of Belfast guests still expect a traditional three course meal (50.91%) and the bridesmaid and best man's outfits to be paid for by the bride and groom (23.64%).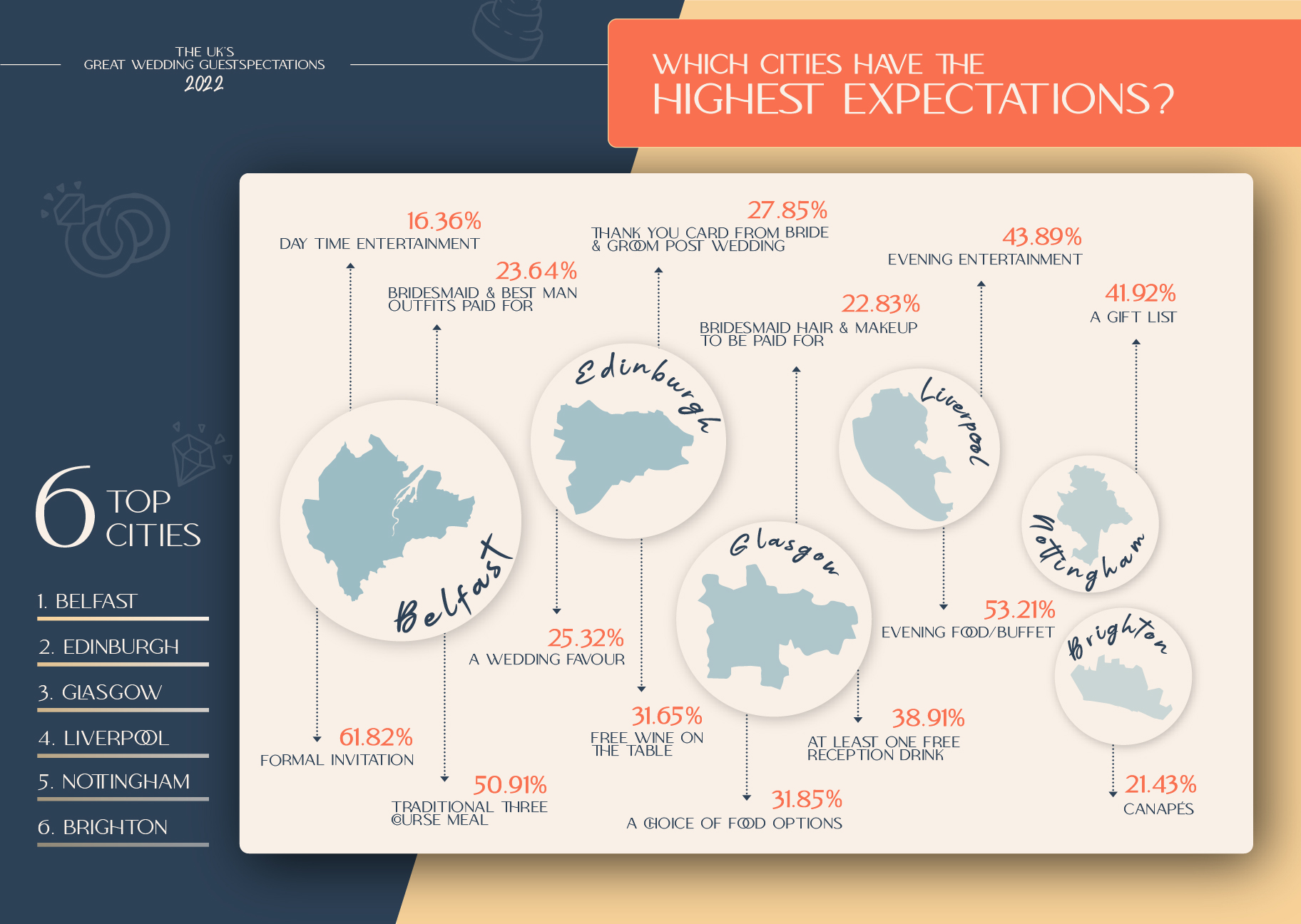 Which cities get invited to the most weddings?
And, while those living in Belfast have the highest expectations as wedding guests, it's probably because they are also getting invited to more weddings than people living in any other UK city.
63.41% of respondents from Belfast said they've been invited to two or more weddings in 2022-23, followed by London (52.75%) and Bristol (48.96%).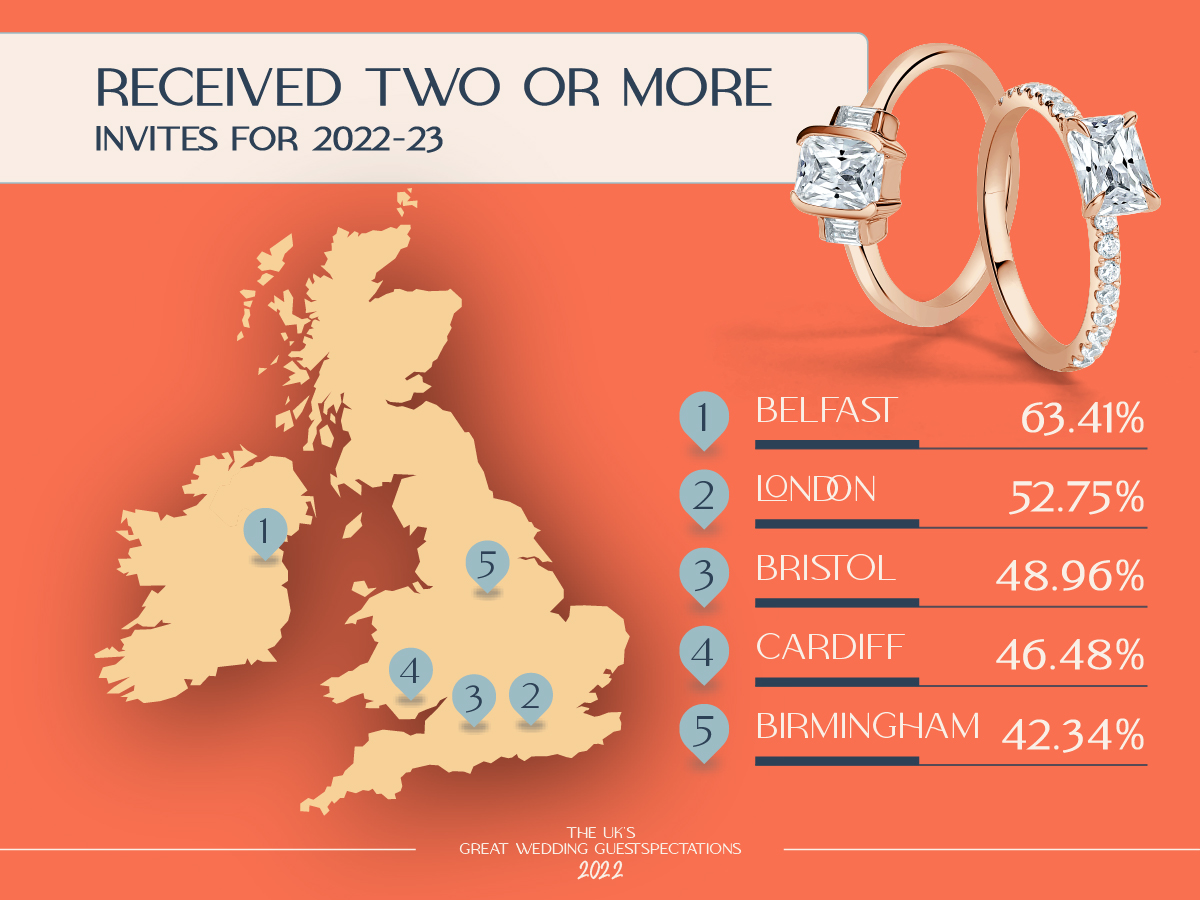 What makes a wedding guest less likely to attend?
When asked about the biggest wedding turn-off's, it's no surprise to see the overall cost at the top of the list, with 27.82% of guests admitting they can't always afford to make the occasion. This is shortly followed by a long commute (23.88%) and the fact that their partner didn't make the guest list (19.94%).
Guests are also less likely to attend if they don't know many other wedding guests, they dislike other guests, or if their children didn't get invited.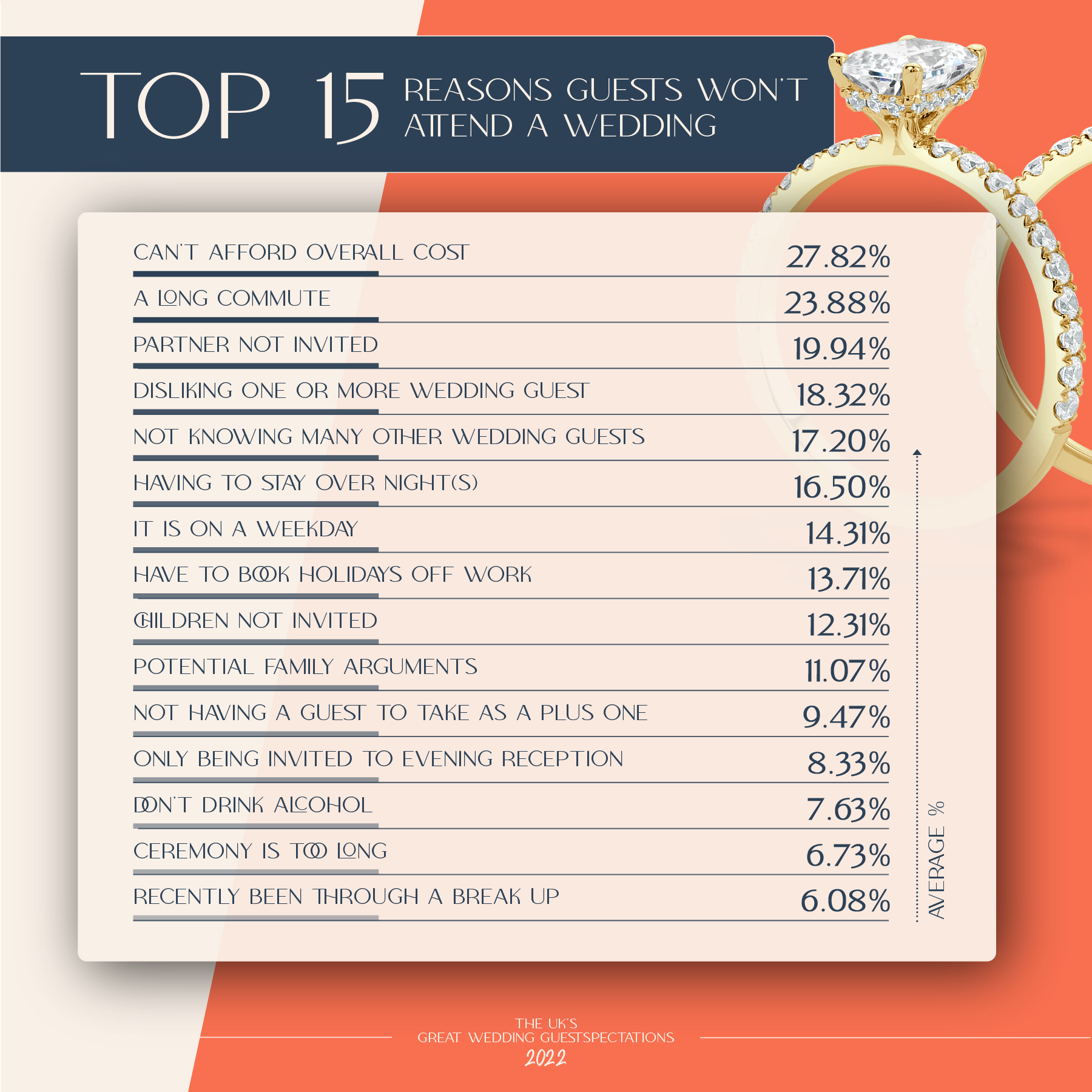 What bothers women more than men?
On average, women are less likely to attend a wedding than men, with money and the commute being their biggest turn offs. In fact, the expense of attending a wedding bothers women twice as much as men.
From our survey, it seems that men are most turned off by a long commute and disliking other wedding guests.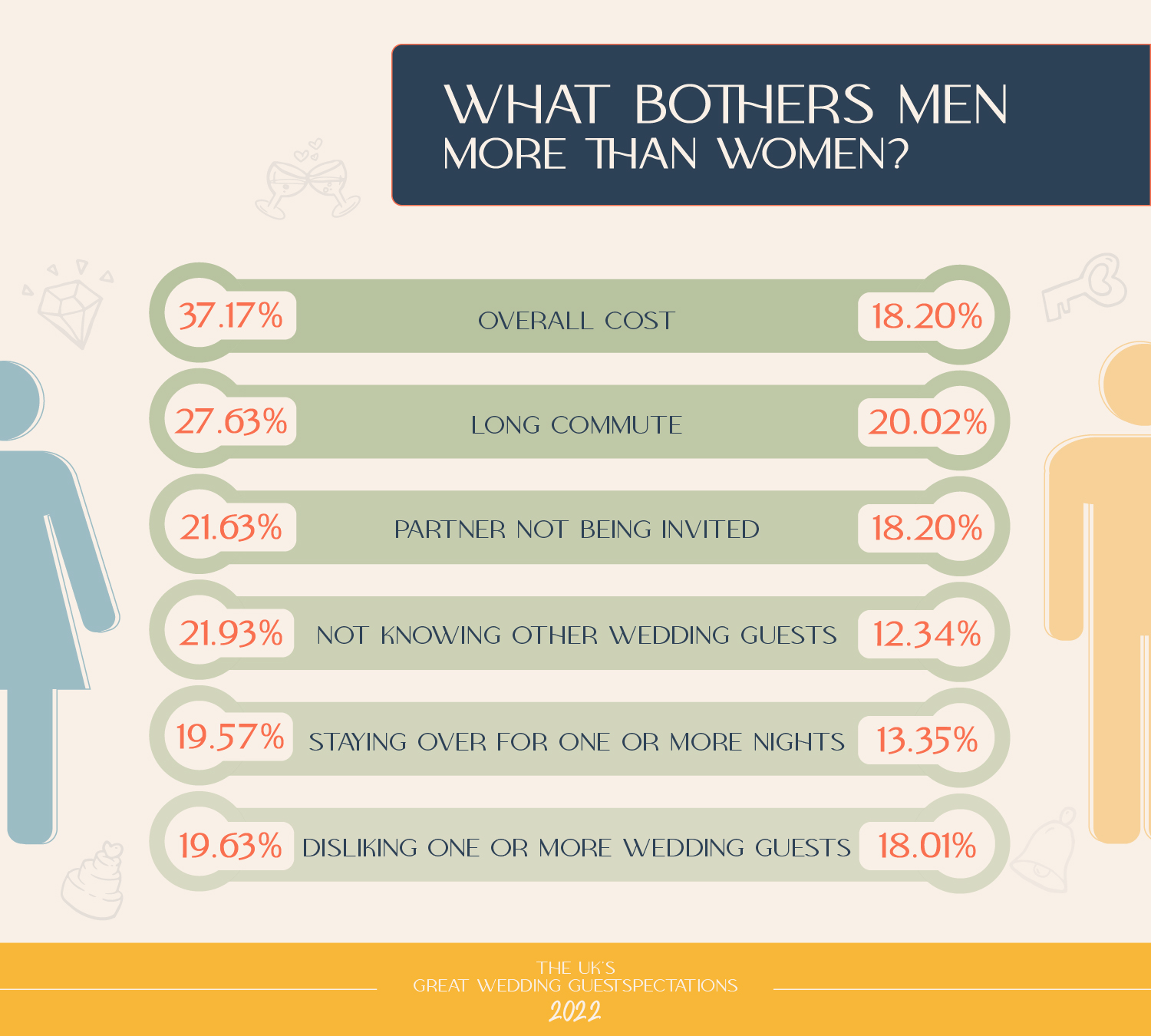 Methodology: We used Censuswide to survey 2,000 people living in the UK in April 2022. The data was analysed and split by city, gender, age, and marital status.
If you're looking for an engagement ring or wedding ring and would like to browse for inspiration, take a look at our ready to wear collection or chat to one of our team for bespoke creations. Why not take a look at our full jewellery collection? We have showrooms in Manchester, not to mention a wide range of engagement rings in London.