When a celebrity gets engaged, we want to know all the juicy details. From the romantic proposal to the stunning engagement ring, fans from around the world rush to Google to find out everything they can about the special event.
When it comes to a celebrity engagement ring, we're all desperate to get a glimpse of the sparkler. But which celebrity ring has attracted the most attention?
Taking a list of 200 celebrity couples who got engaged from 2010-2020, jewellery experts at Steven Stone, used SEO tool AHREFs to explore the number of average monthly Google searches their engagement rings receive globally.
We then analysed the data to reveal the 20 most Googled celebrity engagement rings in the world.
So, who's bling is shining the brightest?
The world's most Googled celebrity engagement rings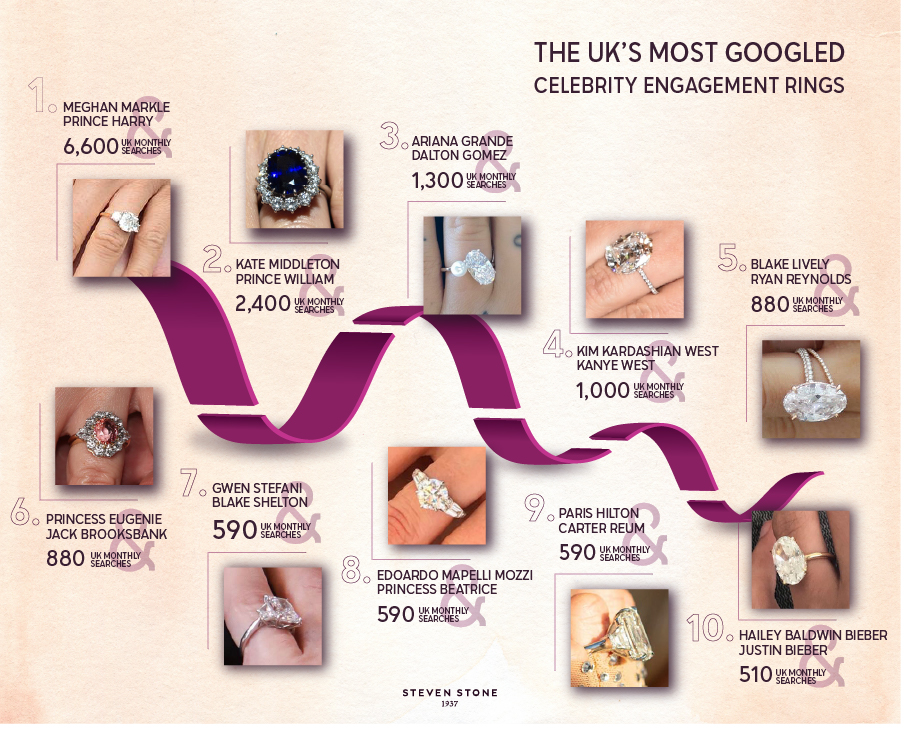 1. Gwen Stefani
Average global monthly searches: 30,000
Gwen Stefani's engagement ring from Blake Shelton is sensational, which is probably why it racks up 30,000 searches on average each month – and is officially the world's most Googled celebrity engagement ring.
The former No Doubt singer gleefully showed off her brand new engagement ring when sharing their big news to fans on October 27, 2020.
From looking at images of the ring, our jewellery experts suggest it's a round or oval cut set in a solitaire or simple pavé platinum setting." The diamond is between eight to 10 carats in weight, putting its value between $700,000 and $800,000 (£500,000 and £600,000).
2. Meghan Markle
Average global monthly searches: 20,000
Meghan Markle received her sentimental engagement ring from Prince Harry in 2017, when he reportedly proposed in their kitchen while cooking chicken.
And, while the world has always been interested in the couple's relationship, it seems everyone also wants to know about the all important ring.
Whilst Princess Diana's jewels make up the side stones, the three-carat cushion cut centre diamond is actually sourced from Botswana, which holds a special place in their hearts. The couple have visited Botswana numerous time, and is a huge part of their love story. Meghan has previously it is a "special" place to her and Harry.
From looking at images of the ring, our experts expect the diamonds used are of the highest clarity, almost flawless to the naked eye. Our diamond experts estimate the centre diamond has a value of around $95,000-$155,000 (£70,000 to £115,000). The two diamonds on the side, owned by Princess Diana have a retail value of about $5,000 (£3,750) each, however it's likely they would be worth much more due to the Royal connection, and the fact they were once worn by the late Princess.
READ MORE: 9 things you need to know about Meghan Markle's engagement ring
3. Ariana Grande
Average global monthly searches: 14,000
Pop princess, Ariana Grande, has been engaged more than once, however her most recent proposal sent fans wild – and it's all thanks to her incredible ring.
Dalton Gomez presented her with an alternative engagement ring, featuring two stones – a diamond and a pearl.
The ring appears to feature a 8 carat oval diamond offset next to 5 to 6mm pearl set on a simple white gold or platinum band.
Our experts estimate the ring is worth around $750,000 (£540,000) thanks to the high clarity of the diamond.
4. Blake Lively
Average global monthly searches: 10,000
Ryan Reynolds presented his long-term sweetheart, Blake Lively, with an incredibly special engagement ring, that's also incredibly rare.
Blake's engagement ring is a solitaire pavé band in 14k rose gold. The actress was one of the first major celebrities to rock a rose gold engagement ring, setting a huge bridal trend.
The ring also features a 12 carat pink diamond, which are among the rarest stones in the world.
With that in mind, this ring is worth over $2,000,000 (£1,440,000).
5. Kate Middleton
Average global monthly searches: 8,200
Kate Middleton's ring, which was formerly Princess Diana's, features a 12 carat Ceylon sapphire, originating from Sri Lanka.
When Prince William proposed in October 2021, globally, the sale of blue sapphires increased by around 300 percent, and even now, thanks to Netflix show The Crown, sales of sapphires are surging, with vintage style halo designs being extremely popular.
Due to inflation and its legacy, we'd estimate the value of this ring to be around £390,000 ($540,000) today, however in 10 years' time it's likely this ring will be worth over $700,000 (£500,000), thanks to its history, beauty, and priceless legacy.
READ MORE: The heartwarming story behind Kate Middleton's sapphire engagement ring
6. Kim Kardashian
Average global monthly searches: 4,800
Despite filing for divorce in the last 12 months, Kim Kardashian's engagement rings from Kanye West are still among the world's most popular.
When Kanye proposed to Kim back in 2013, it was in true Yeezy style: with a 15-carat ring worth between $2.5 and $3 million (£1.8 and £2.1 million).
The cushion-cut diamond, set on a pavé band, was a Lorraine Schwartz original. However, shortly after the engagement, Kanye decided that his wife just had to have a second engagement ring.
In 2016, he commissioned Schwartz to create another, even more impressive jewel for Kardashian, this time a 20-carat diamond with an emerald cut that was worth an estimated $4.5 million (£3.2 million). Sadly, the ring was sadly stolen just weeks later when Kardashian was robbed at gunpoint during Paris Fashion Week in October 2016.
READ MORE: Everything you need to know about Kim Kardashian's engagement ring from Kanye West
7. Demi Lovato
Average global monthly searches: 4,800
While Demi Lovato's engagement to Max Ehrich is a thing of the past, lasting a mere six months, her engagement ring is set to stay, reeling in 4,800 average monthly Google searches.
The ring features an incredible centre diamond, framed by beautiful trapezoid shaped accent diamonds which are estimated at ¾ carats each. Overall, the stones are around 10 to 11 carats, meaning it is worth around $850,000 (£613,000).<
/p>
Just two weeks after their split, Demi officially returned the sparkler to her ex-partner.
8. Scarlett Johansson
Average global monthly searches: 3,900
In May 2019, Scarlett Johansson became engaged to Colin Jost, receiving a very unique engagement ring that attracted a lot of attention from fans.
The ring appears to be an 11 carat uniquely shaped light brown diamond, set on a dark brown or black band. It's unlike any other celebrity engagement ring we've seen – or she's seen, for that matter.
The actress's first ring from Ryan Reynolds was a traditional round cut diamond set on yellow gold; her second from Romain Dauriac was a slightly less traditional Art Deco-inspired diamond style. And the third, is a singularly designed and rare cut stone in a ceramic setting that is—though inspired by Art Deco—created using innovative modern technology.
Depending on the quality and specific characteristics of the centre diamond, the cost of the ring could be between around $400,000 (£325,000).
9. Hailey Baldwin Bieber
Average global monthly searches: 3,800
Hailey Baldwin and Justin Bieber are one of the world's most talked about celebrity couples. They're talented, beautiful, and have great taste in jewellery.
When Justin Bieber proposed to his wifey in May 2019, he presented her with a huge 10 carat oval diamond engagement ring.
It's reported that Bieber visited Jack Solow, the owner of the New York City's Solow & Co to create the bespoke ring, which our experts estimate is worth around $500,000 (£360,000).
10. Lily Collins
Average global monthly searches: 3,100
In July 2020, Charlie McDowell proposed to Emily in Paris star, Lily Collins, who proudly showed off her engagement ring in a series of Instagram posts.
This pretty rose-cut diamond engagement ring weighs between 2 or 3 carats. It's lovely 'light pink' colour and is exceptionally rare, while the bezel setting is an unusual choice for an engagement ring.
While hard to place a value on it, our experts say it would certainly be worth over $90,000 (£65,000).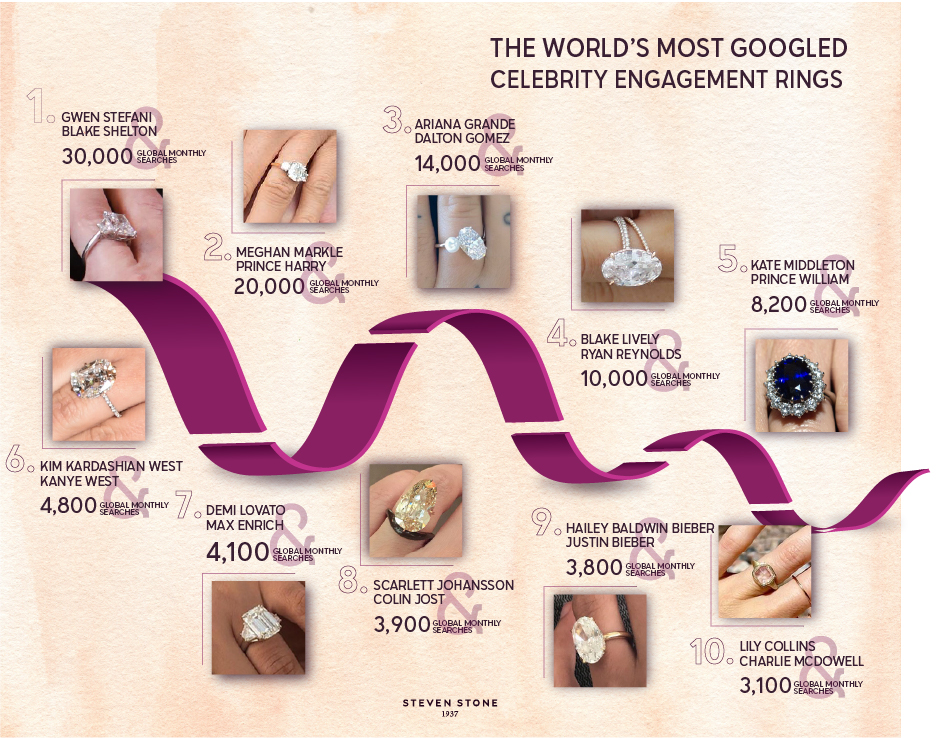 11. Jennifer Lopez
Average global monthly searches: 3,100
She's recently re-coupled with her A-list ex, Ben Affleck, however her engagement ring from Alex Rodriguez is still receiving a lot of attention – probably because it's sensational.
The dazzling emerald-cut diamond, which is estimated to cost anywhere between $1.4 million and $6.9 million (£1 million and £5 million).
The incredible diamond weighs approximately 18 carats, and appears to be the highest clarity.
However, this isn't the only engagement ring J-Lo has received over the years. Alongside jewels from Marc Anthony, Chris Judd, and Ojani Noa, dhe received a 6.1 carat pink diamond from Ben Affleck which is now worth over $2.7 million (£1.9 million).
READ MORE: Why Jennifer Lopez's engagement ring from Ben Affleck is soaring in value
12. Cardi B
Average global monthly searches: 2,600
It's no secret that rapper, Cardi B, loves a bit of bling, however people can't stop googling her massive engagement ring – despite the proposal taking place over four years ago.
In September 2017, Offset dazzled Cardi B with a huge pear shaped diamond that's estimated to be around 8 carats.
The ring has a blinding double halo setting in what appears to be white gold or platinum. Our experts suggest the ring is worth a staggering $500,000 (£361,000).
13. Emily Ratajkowski
Average global monthly searches: 2,100
Emily Ratajkowski's engagement ring is a unique two-stone princess and pear diamond combination, weighing in at a whopping seven carats.
She along with her husband Sebastian Bear-McClard designed this stunning ring together, which is becoming an increasingly popular engagement trend.
The model and actress revealed a close-up look of her stunning engagement ring on Instagram. From looking at the image, our experts estimated the ring to be worth between $50,000 to $90,000 (£36,000 to £65,000).
14. Sofia Vergara
Average global monthly searches: 2,000
Sofia's Vergara's engagement ring is a sparkling pavé halo setting with a huge cushion-cut centre stone, held firmly in place by four prong claws. The stunning platinum or white gold band even has micro diamonds adorning it, which makes the ring sparkle even more.
Our experts estimate the centre stone to be around 7 carats, and it's estimated her partner, Joe Manganiello paid around $500,000 (£360,000) for this incredible piece.
15. Princess Eugenie
Average global monthly searches: 1,600
Princess Eugenie and Jack Brooksbank got engaged back in January 2018, just two months after Prince Harry announced his engagement to Meghan Markle.
Her ring features a rare pink Padparadscha sapphire, surrounded by a halo of sparkling diamonds. Padparadscha sapphires are incredibly rare, much rarer than diamonds.
Our leading diamond expert, Max Stone, said: "These are extremely rare stones which many people haven't even heard of. They are strikingly beautiful with unique shades of pink and orange, often resembling the colours of a sunset."
The stones are set on a Welsh yellow gold band, which is a custom for royal brides, with two stunning tapered diamonds at the shoulders of the yellow gold shank.
Our team valued the ring between $138,000 and $166,000 (£100,000 and £120,000).
READ MORE: Why Princess Eugenie's engagement ring is one of the world's rarest
16. Mariah Carey
Average global monthly searches: 1,600
Mariah Carey's third engagement ring from Australian billionaire James Packer caused a media storm. Despite getting engaged in 1016, the magnificent 35-carat rock still stands as the largest engagement ring ever worn.
After some in depth analysis via various pictorial sources, our diamond specialist Zack Stone confirms it is a 35 carat emerald cut diamond set in platinum ring and between two diamond baguettes. The ring was designed and crafted by fine jeweler Wilfredo Rosado, who is also an old and close friend of Carey's. Packer reportedly commissioned the engagement ring for a whopping $10 million (£7.2 million), and was, according to Rosado designed in two weeks.
READ MORE: The staggering value of Mariah Carey's engagement rings
17. Amal Clooney<
/h1>
Average global monthly searches: 1,600
Back in 2014, George Clooney got down on one knee to propose to Amal, opting for a classic, timeless engagement ring in true Clooney style.
Amal's beautiful ring features an estimated 7-8 carat emerald cut center diamond with tapered baguette diamond accents on each side. It is set in platinum or white gold, oozing elegance and class.
From anaylsing the size of the diamonds, along with the clarity and cut, we estimate the ring is worth around $700,000 (£500,000).
18. Princess Beatrice
Average global monthly searches: 1,600
It was in September 2019 when Edoardo popped the question to his princess, during a romantic holiday in Italy.
The stunning ring was designed by highly reputable British jeweller, Shaun Leane, who worked with Edoardo to create a piece of jewellery that embodied the couple's personality and love story.
Max Stone said: "Princess Beatrice's ring is an absolute stunner. A six claw round diamond takes centre stage, which looks to be around 3 carats.
"The round diamond shoulders two tapered baguettes, which gives the ring a vintage feel and Art Deco-inspired look. For added sparkle, the ring also features small pavé diamonds halfway around the band."
"With this in mind, I would estimate the value of this ring to be around $180,000 (£130,000). Thanks to its royal legacy, this will no doubt increase in years to come."
19. Paris Hilton
Average global monthly searches: 1,200
Paris Hilton has recieved a total of engagement rings, each with an impressive diamond worth millions.
Her latest engagement ring from fiance Carter Reum is a bespoke creation from jeweller Jean Dousset, the great-great-grandson of Louis-Francois Cartier. Fittingly named "Paris," the engagement ring features a huge emerald-cut centre stone which is around 10 to 20 carats. The stone is framed by two shield-cut diamonds, all fit in a tension setting. Around the diamond, on the prongs, and at the base of the ring's head there are also some extra small pavé diamonds for added sparkle.
Our experts estimate this piece is worth over $1,000,000 (£725,000).
However, her ring from Chris Zylka in 2018 also caused a media frenzy, despite Paris only wearing it for 10 months. The 20-carat stunner which reportedly cost Zylka $2 million (£1.5 million) featured a pear-cut center stone surrounded by a halo of diamonds and set on a double diamond pavé band.
20. Olivia Wilde
Average global monthly searches: 1,200
Olivia Wilde's engagement ring picked out by her love Jason Sudeikis was the perfect choice.
The ring features a central diamond surrounded by a halo of tiny emeralds, which catch the light as Olivia moves her hand. It's a vintage ring that reportedly went through Paris around 1921.
Olivia told Brides : "I love imagining the story of this ring. Who had it? It's a bit of an aqua emerald, not a deep dark green. Jason said it reminded him of my eyes, which is very sweet."
The UK's most Googled engagement rings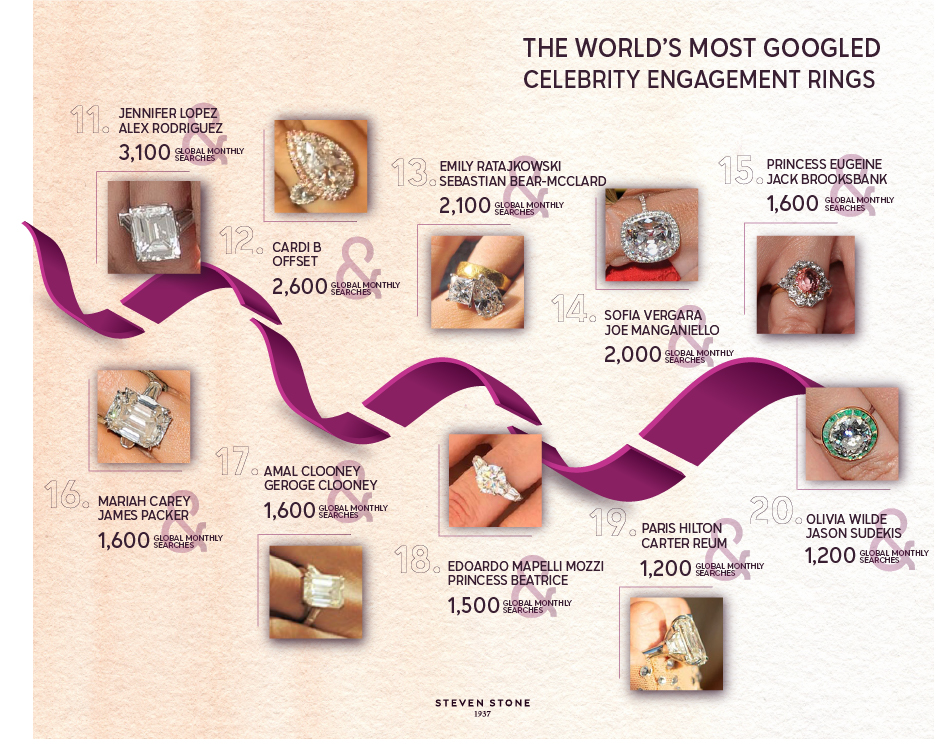 Alongside global search data, our experts at Steven Stone also analysed UK data to reveal the nation's favourite celebrity rings.
Interestingly Meghan Markle's ring is the most Googled in the UK, receiving an average of 6,600 searches each month. Kate Middleton is second with 1,300 searches, while Ariana Grande is third with 1,300.
In sixth place we see another royal, Princess Eugenie, followed by Gwen Stefani and Princess Beatrice.
If you're looking for an engagement ring and want to take inspiration from your favourite celebrity, get in touch with one of our experts who will design your bespoke piece of jewellery.