As the Sex and the City reboot, And Just Like That, has finally aired, fans around the world are enjoying a fresh dose of Carrie and the girls. And, while they have resurfaced with a a new sense of style and some fresh jewellery looks, here at Steven Stone, we couldn't help taking another look at their engagement rings from the original series.
From Carrie's iconic black diamond she received from Mr. Big to Charlotte's Tiffany diamond ring from Trey, we've analysed each ring commenting on the styles, shapes, and the personality types most drawn to each design.
The question is, which one is your favourite?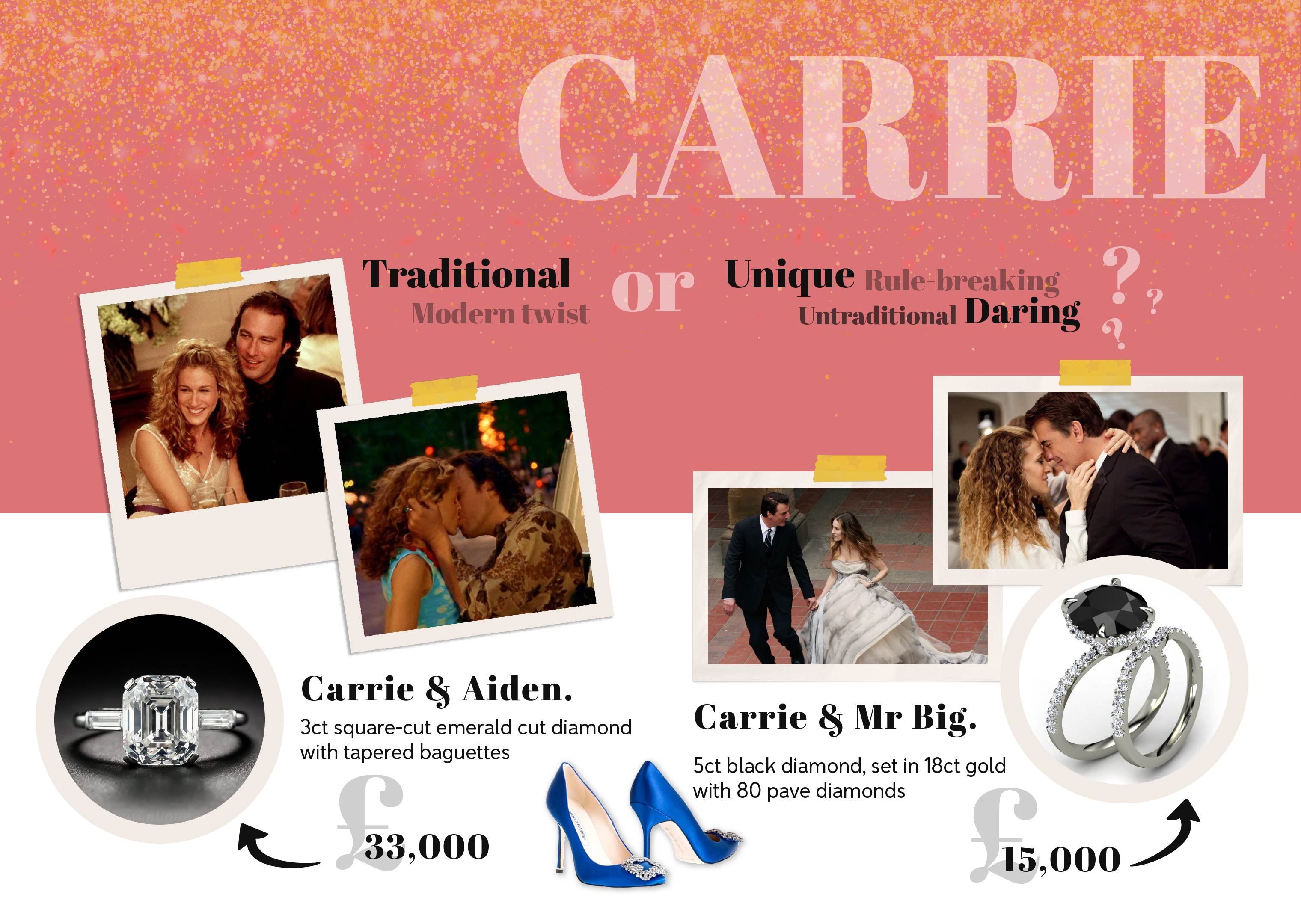 Aiden – Carrie has had a string of romances over the years, and she managed to get not one but two engagement rings. One from her first serious love in the show, Aiden Shaw, and another from her recently bereaved husband, Mr. Big.
After fretting over the pear shaped diamond with a gold band which, Miranda helped pick out, Carrie ends up saying yes to Aidan's proposal when he presents her with a stunning Harry Winston 3-carat Asscher-cut diamond ring. Interestingly, Carrie decides to wear the diamond around her neck so it's "close to her heart" and while Aiden made a mark on her love life, their relationship ended pretty quickly after with that infamous post-it note.
What our experts say: "Set with an E colour, VS1 clarity Asscher shape diamond, this ring is sensational. On today's market it would probably be worth around £33,000.A centre stone flanked with side stones, such as tapered baguettes or pear-cut diamonds, are frequently seen in designs that feature an Asscher cut in the centre as they accentuate the stunning vintage design."
Mr. Big – When Big stepped up and proposed to Carrie with a black diamond in the finale of the original series, we had a feeling the ring was going to be good. Despite a rogue kiss with Aiden in the movie Sex and the City 2, Mr. Big proved his love to Carrie, by presenting her with a 5-carat black diamond engagement ring. "Why black?" she asked, to which he responds "because you are not like anyone else."
Interestingly, Itay Malkin, a luxury Italian jewellery designer worked with Sarah Jessica Parker and Patricia Field to create this unique engagement ring for Carrie. And, thankfully, this time around she wore it on her engagement ring finger, in a traditional fashion."
What our experts say: "Black diamonds are very nontraditional, but also very beautiful. Interestingly, since the show, we've created a selection of bespoke rings featuring black diamonds. They also have a lower price point than white diamonds, despite them being so unusual. If you're looking to make a statement and show your individual style, a black diamond is the way to go."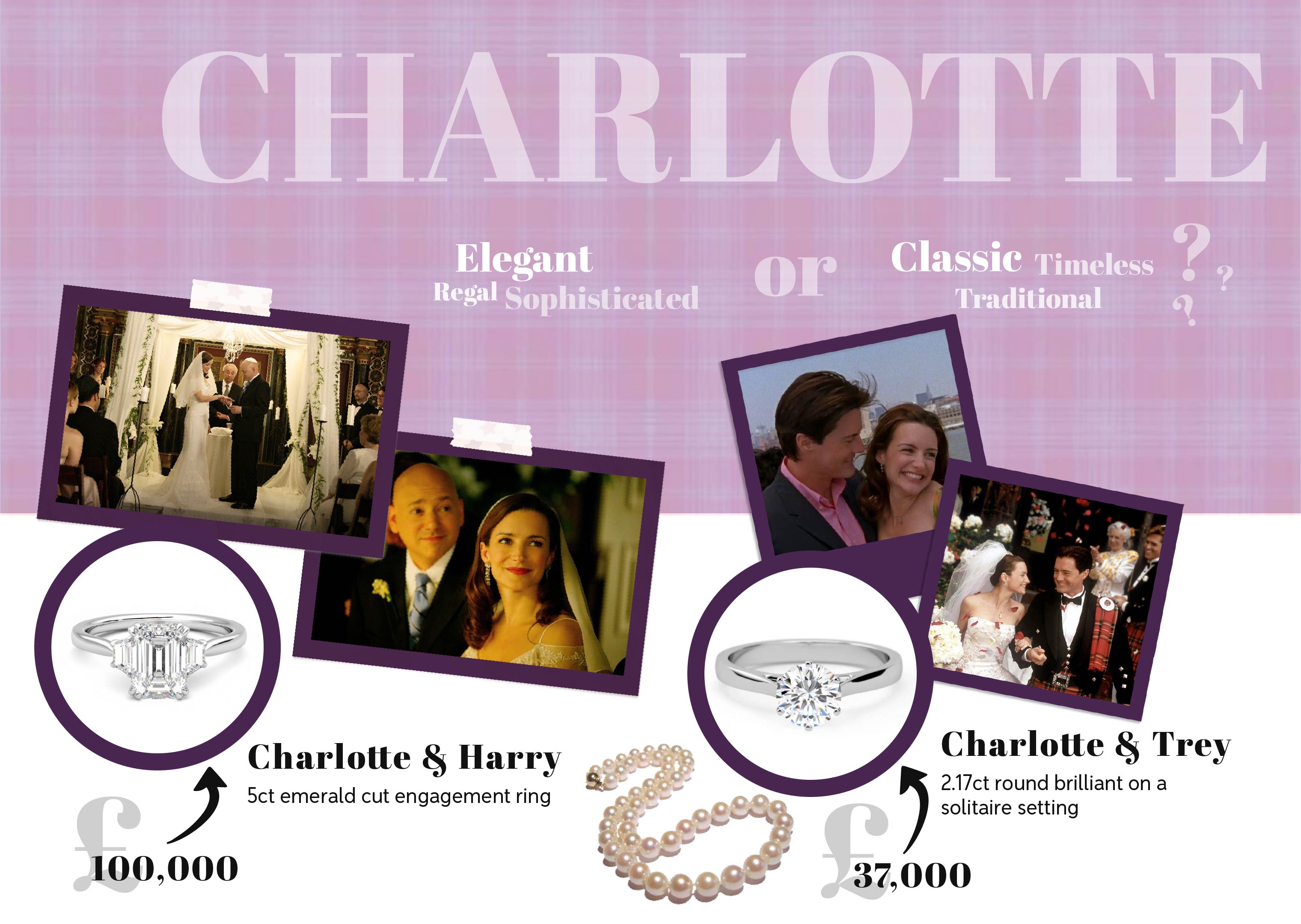 Trey – While Charlotte's engagement to Trey didn't last long, her engagement ring is pretty timeless.This traditional Tiffany & Co is one of Sex and the City's most classic pieces of jewellery. And, if you didn't quite remember what happened to the ring, it was actually Carrie who put it to good use, as she used it to pay off the deposit on her apartment.
What our experts say: "Charlotte's ring from Trey was a classic design, matching her personality perfectly. The solitaire engagement ring with a round cut diamond looks to be around 2.17cts, sitting perfectly on a white gold or platinum band. Charlotte oozes grace, so it's no surprise Trey chose a luxury jewellers like Tiffany and Co. to create the ring."
Harry – After having major concerns about whether she should have a second marriage, Charlotte crumbles when Harry proposes at a local Synagogue. During the tear-jerking proposal, Harry presents his future bride with a 5-carat emerald cut Harry Winston ring, which was inspired by the one given to Elizabeth Taylor by Richard Burton in 1968.
What our experts say: "Charlotte's ring was inspired by Elizabeth Taylor's iconic 33-carat diamond ring from Richard Burton in 1968. Emerald-cut diamonds are perfect for those who love vintage design. An engagement ring featuring a 5ct emerald-cut diamond is likely to cost around £100,000 – perhaps even more."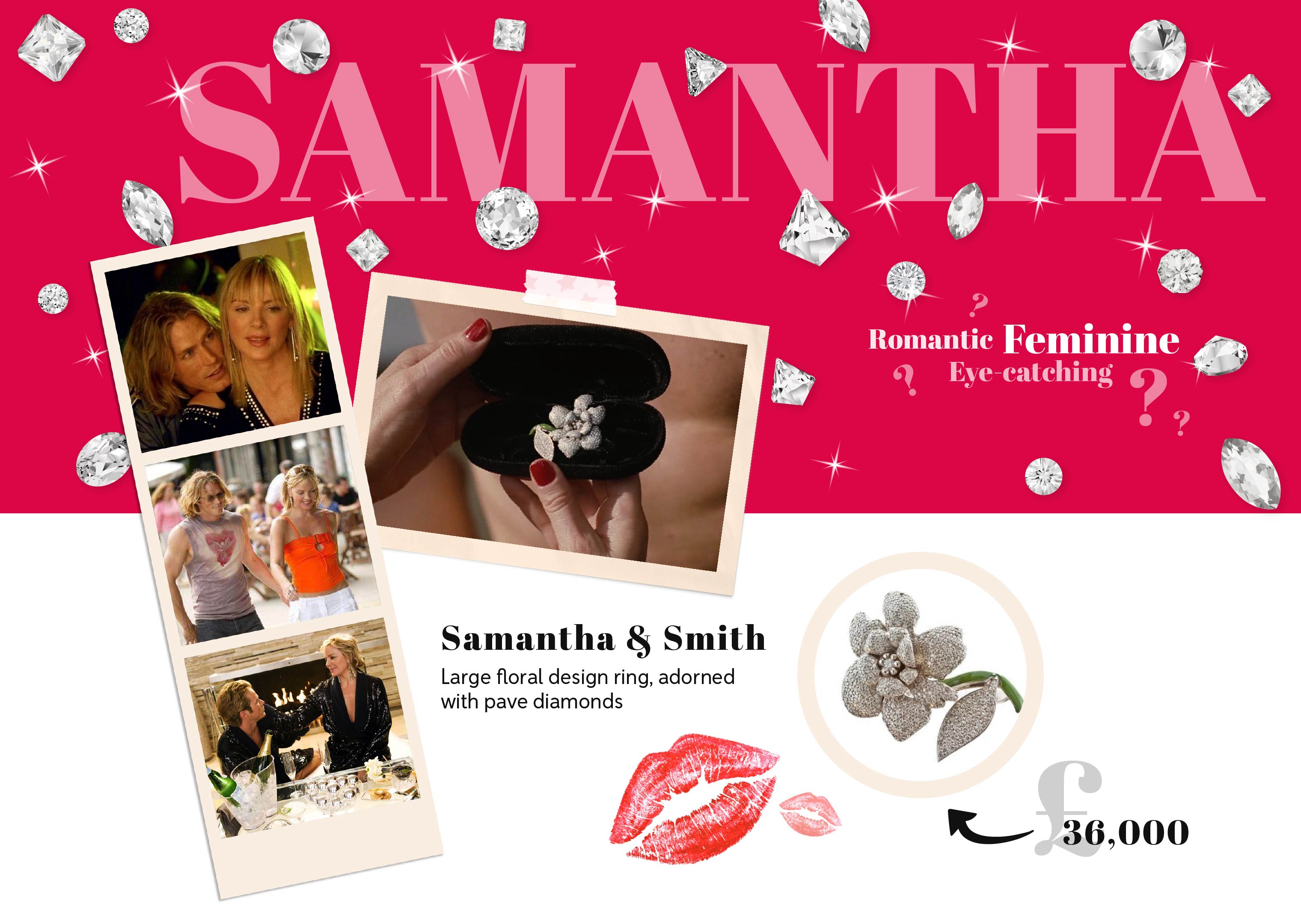 While Samantha didn't officially get engaged, she did get a pretty impressive ring from her long time lover Smith Jerrod. In the show, Samantha bids on a floral ring adorned with diamonds at auction and says that it's perfect for her, as it's "one of a kind, filled with fire". However, at the auction she's out-bid by Smith, who gifts her the stunning ring by Romona. M Boucher of Bastion, worth approximately $50,000. However, in true Samantha style, she decides she wants to be single instead.
What our experts say: "This is a very special ring, but it's not a traditional engagement ring, and actually, more of a dress ring. However, with that in mind, floral designs are becoming increasingly popular for engagement rings, as they are so delicate and pretty. You can easily create this with a halo of diamonds around the centre stone which looks stunning when a colourful gemstone is used. This ring was perfect for Samantha, who as we know, loved to break the rules."
If you're inspired by these iconic Sex and the City designs and are looking for a jewellers in Manchester or engagement rings in London, why not take a look at our unique engagement rings? We also offer a wide selection of other bridal jewellery, including diamond earrings, eternity rings, and wedding rings for women and men.