Undoubtedly, the Queen of Bling, Mariah Carey's love for diamonds is no secret. Her jewellery collection is legendary, with a theme that always says 'bigger is better,' and her engagement rings were no exception. The pop icon first married American music executive, author and producer Tommy Motolla in 1993. Since then, she has been married once more, and engaged twice.
However, even though her personal life has had its share of ups and downs, with divorces and broken engagements, this Grammy award-winning singer continued to wow millions with her stunning engagement rings that ranged from the classic emerald cut, to the pretty and much sought-after pink diamond. Carey has also been proposed with one of the largest and most expensive diamond rings in the world.
Stepping in to have a closer look at these iconic gems that graced the perfectly-manicured fingers of this star vocalist, our diamond expert Zack Stone shares his knowledge about each famous piece, and tells us everything we need to know about Mariah Carey's engagement rings.
The First Bling from Tommy Mottola
Value of engagement ring: £800,000
When Mariah Carey and the Sony Music Moghul announced their nuptials back in 1993, it certainly raised more than a few eyebrows. After all, there was a twenty one year age difference between the rising pop star and her recently divorced beau. But, there were a lot of prettier details that followed, and which successfully held our attention.
Mariah's engagement ring, her stunning Princess Diana inspired ruffled Vera Wang wedding gown, those 50 angelic flower girls, the sparkling tiara which became her style trademark, and the glamorous fairy-tale wedding itself.
Mariah Carey met Tommy Mottola when she was just eighteen years old, and they tied the knot when she was twenty three. Our expert Zack Stone reveals that the engagement ring from Motolla was an emerald-cut diamond, now estimated at £800,000.
Surprisingly, that first piece of bling owned by the pop star, was spotted much less than ardent fans and the world expected. The couple parted ways in 1997, and Mariah eventually sold her engagement ring from Mottola.
Nick Cannon
Value of engagement ring: £1,800,000
Mariah's second walk down the aisle took place in the Bahamas with actor and comedian Nick Cannon, after a whirlwind six-week romance. The pair met while shooting Mariah's music video for her song Bye Bye, and Cannon proposed soon after on the rooftop of Mariah's New York City high rise apartment building with a 17-carat pink and white diamond ring from Jacob Arabo of Jacob & Co.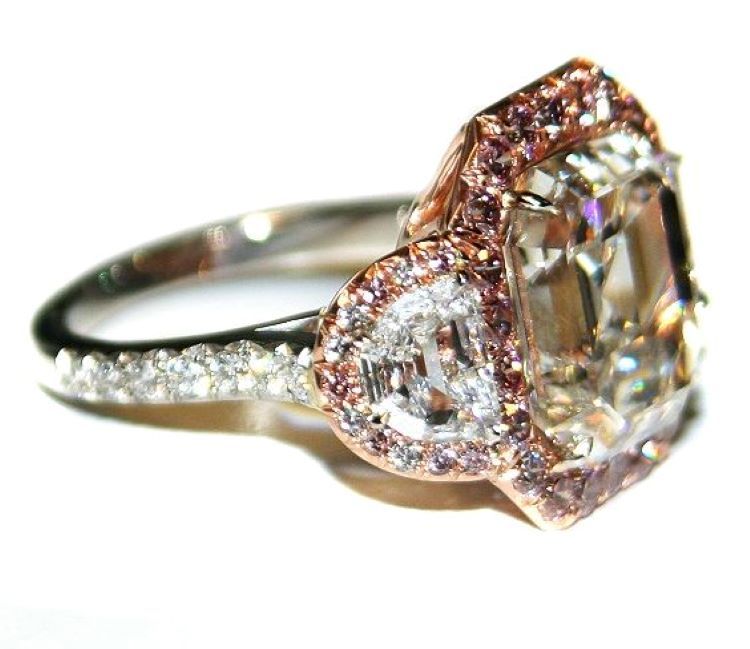 After consulting with Zack Stone again, we've estimated that the head-turning engagement ring holds a value of £1,800,000, and boasts a 10.02 emerald cut, with two smaller diamonds flanking it, and white diamonds encrusted down the sides. In her Memoir '_The Meaning of Mariah Care_y,' the pop diva recounts how Cannon had concealed the engagement ring in the popular childrens' Ring Pop candy wrapper.
The couple went on to have fraternal twins named Monroe and Moroccan in 2011, before their marriage ended in 2014.
The 35-carat and James Packer
Value of engagement ring: £9,400,000
Mariah Carey's third (and hopefully not her last) engagement ring from Australian billionaire James Packer caused a media storm. The magnificent 35-carat rock rivaled all its counterparts by a mile, and still stands as the largest engagement ring ever worn.
Mariah and James met in romantic Aspen at the premiere of Hercules in 2014, and made their relationship public the following year. Packer then proposed in January 2016 with the now iconic 35-carat ring that set the world abuzz.
After some in depth analysis via various pictorial sources, our diamond specialist Zack Stone confirms it is a 35 carat emerald cut diamond set in platinum ring and between two
diamond baguettes. The ring was designed and crafted by fine jeweler Wilfredo Rosado, who is also an old and close friend of Carey's. Rosado designed in two weeks, and it was soon on the superstar's finger.
After taking a close look at the ring, Zack Stone estimates it to be worth a jaw dropping £9,400,000.
Sadly, the relationship between Mariah Carey and James Packer ended in October of that same year, and later in 2018, the pop diva reportedly sold her ring to a private jeweller for a cool $2.1M.
If you're planning to tie the knot and looking for the perfect engagement ring, check out our collection here.