2021 has been a huge year for celebrity engagements. Some of the world's biggest stars showed off their huge rings, leaving fans gasping for air when they took a glimpse of the glittering rocks.
From Paris Hilton and Britney Spears to Kourtney Kardashian and Porsha Williams, in total, we've tallied up 68 celebrity engagements from the UK and US.
To find out more about this year's celebrity engagement rings, our jewellery experts have analysed each and every ring, from the stone, shape, and setting to cost, carat, and even the date of the proposals.
As a result, we can officially reveal the biggest engagement ring trends of 2021.
Diamonds are still a girl's best friend
While precious gemstones such as sapphires and emeralds are becoming increasingly popular for engagement rings, this year, diamonds have reigned, with 51 celebrities showing off classic sparklers.
Britney Spear's received a 4ct round diamond on a solitaire setting from her new beau Sam Ashgiri, whilst Kate Hudson showed of a 10ct fancy champagne diamond with exceptional clarity.
Diana Kruger also joined the stars as she stunned fans with an 8ct emerald diamond ring on a solitaire setting from her partner Norman Reedus.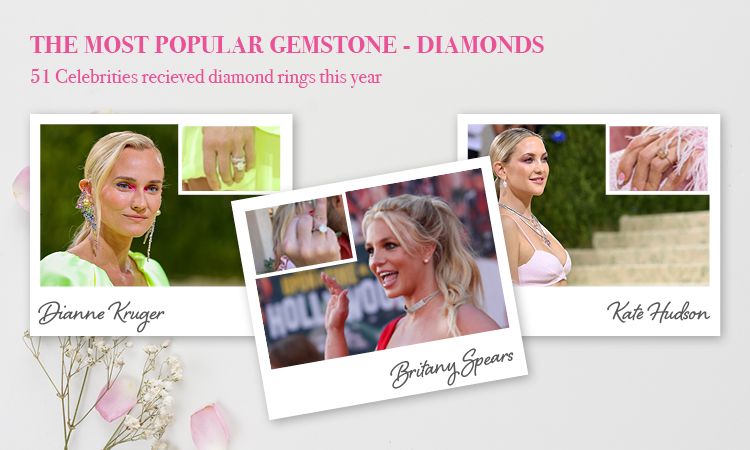 Solitaire is the most popular setting
Celebrities are opting for more traditional styles this year, with solitaire settings being the most popular overall.
This popular term refers to jewellery set with a single diamond. It's simplistic, fuss-free and really make a gemstone or diamond stand out.
49 celebrities received rings on a solitaire setting including Kourtney Kardashian who stunned us in October with her 10ct oval shaped ring worth $1,000,000.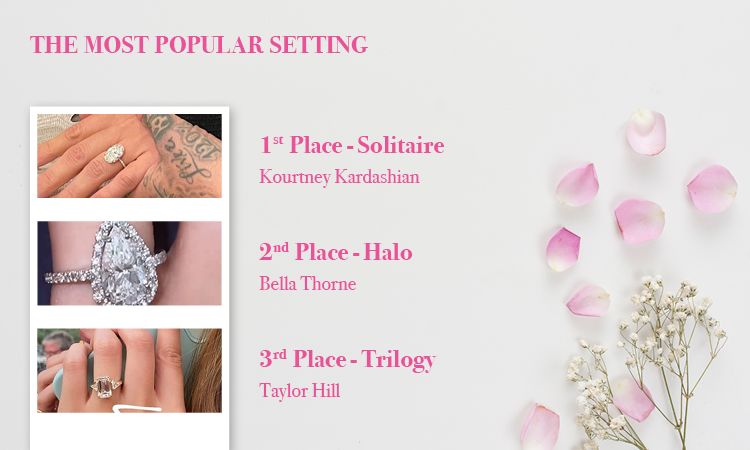 Does size really matter?
Our jewellery experts analysed each and every one of the engagement rings in our study, revealing that the average celebrity ring is 6ct in total. To put this into perspective, in the UK, the average engagement ring is 1ct – meaning that celebrities are of course splashing out on their stones.
The biggest bling award goes to no other than Paris Hilton who is currently rocking a 20ct emerald cut diamond ring from her partner Carter Reum. Porsha Williams came second place with her 15ct emerald cut blinder from Simon Guobadia which she received in May.
Some celebrities opted for more modest rings, however, including Kate Thurston who has a 2ct round diamond ring and Jenni Farley who's wearing a 3ct rock.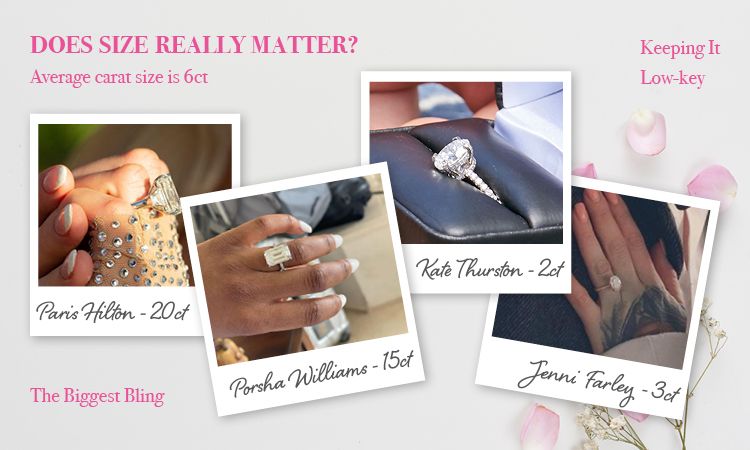 Money talks…
Not only did our experts analyse the carats of each ring, they also took a close look at the valuations. After pricing up all this year's celebrity pieces, we can determine that the average cost of an A-List engagement ring is a jaw-dropping $391,017.
Here are the five most expensive rings of the year…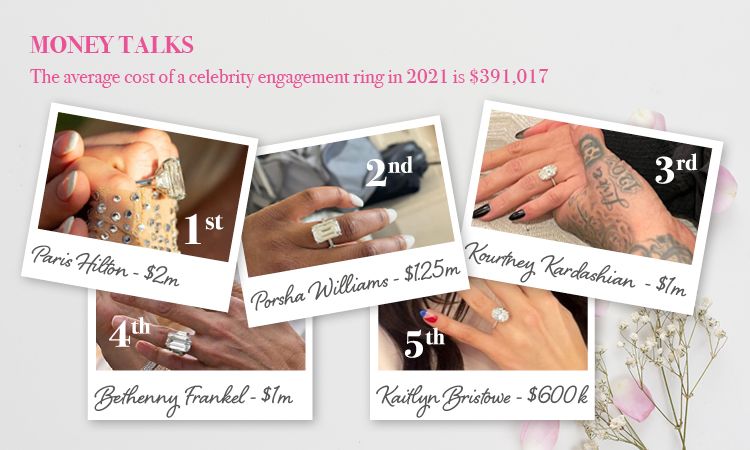 White gold is a winner
42% of celebrity engagement rings in 2021 have been white gold, however this year rose gold engagement rings have been increasingly popular with 27% of celebrities choosing the metal.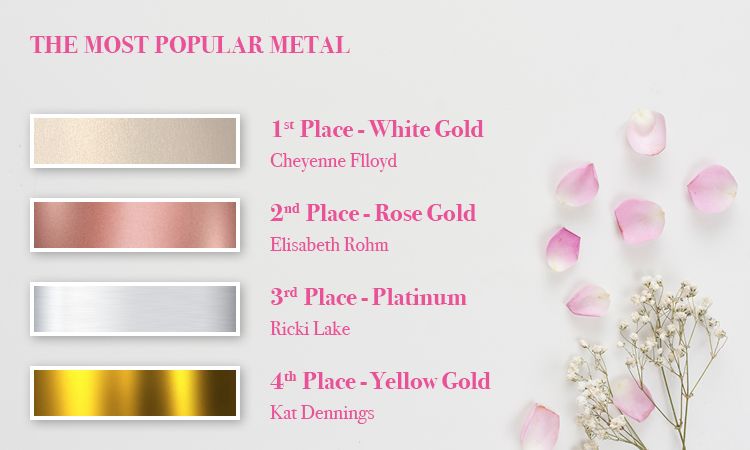 You better shape up
Google Trends reported a hugely exponential increase in "oval engagement ring" searches since Kourtney said "yes" and photos of her $1 million oval diamond graced the pages of her Instagram so it's no surprise that it's the most popular shape of the year. From our study, 21% of celebrities chose oval engagement rings this year, while 16% chose round cuts, and 15% opted for emeralds.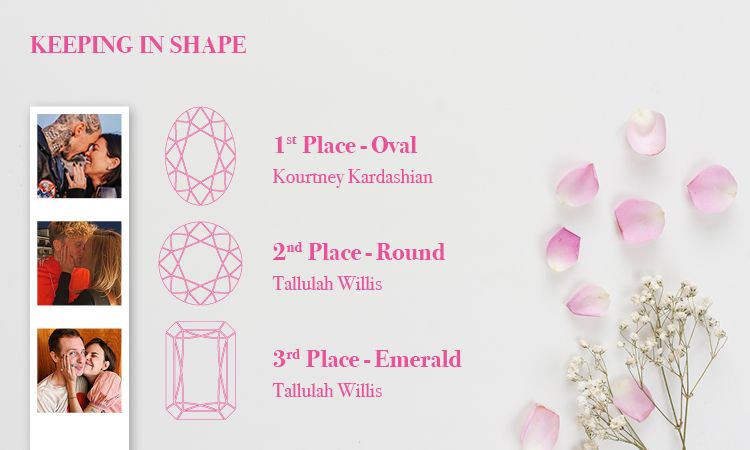 The most popular month to propose
While we know the ring is important, we also explored the most popular time of year for celebrity proposals. After analysing the dates, we can reveal that May is officially the month celebrities are most likely to make their huge announcement. Overall, 16% of this year's celebrity proposals took place in may, whilst August came second with 14%.
When it comes to the date of the month, lucky number seven is no more, as this year the 9th takes the reign, with five celebrities popping the question on that specific date.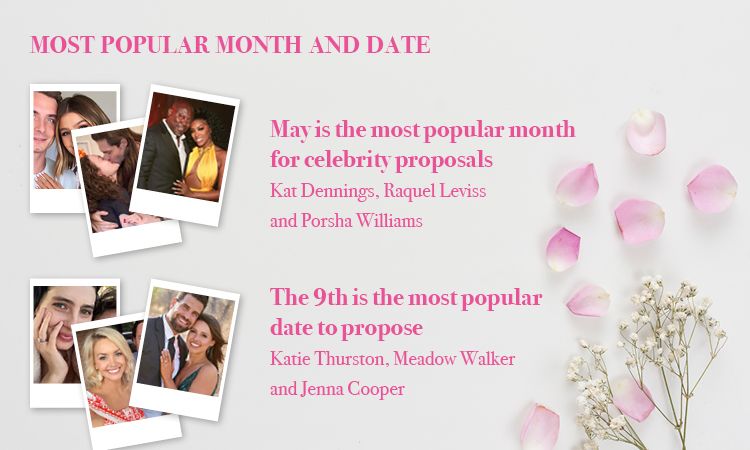 If you're inspired by our celebrity engagement ring report and fancy designing your own, why not check out our gorgeous selection of ready to wear engagement rings?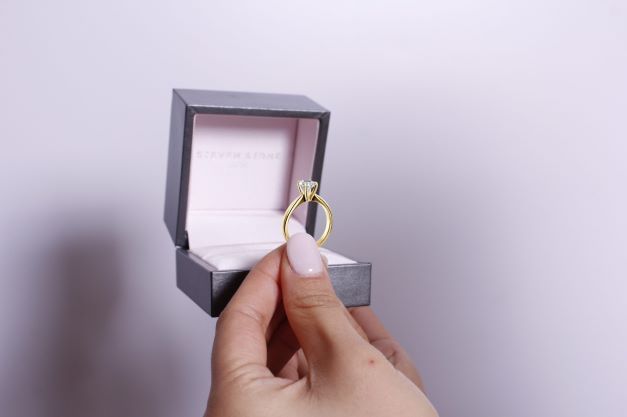 Methodology: To gather this data we analysed 68 celebrity engagement rings from January to November 2021. Our expert jewellers highlighted the cost, carat, stone, shape, and setting of each ring. We then used reputable news sources to gather information on the month and date of the proposals and analyse the most popular time to propose.