Avril Lavigne is engaged to her long term partner Mod Sun, after making a huge announcement on Instagram last night (Thursday, 07 April).
In a series of images, she showed off her dazzling new heart-shaped diamond engagement ring with the caption "Oui! Je t'aime pour toujours 🤍💍🥂Dimanche. 27. Mars. 2022″.
Her new fiance, Mod, proposed with a custom ring designed by Beverly Hills-based jeweller XIV Karats, featuring a huge heart-shaped diamond set on a narrow pave band.
"It has the words 'Hi Icon' engraved in it, which were the first words he ever said to me. And it has Mod + Avril on the inside," Lavigne told People.
Our leading diamond expert, Zack Stone, took a close look at the ring to reveal everything you need to know.
And while this ring is a show-stopper, this isn't the first one Avril Lavigne has received.
Back in 2012, Nickelback lead singer Chad Kroeger gave her a whopping14ct diamond reportedly worth $350,000, which he then upgraded to a 17-ct stone on their anniversary in 2014.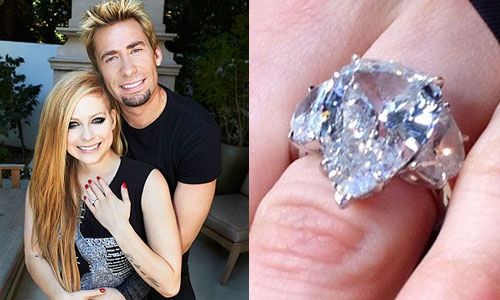 She also received a ring from Sum 41's Deryck Whibley, who proposed with a 4ct diamond solitaire in 2005.
Feeling inspired? We have a stunning collection of heart shaped engagement rings, just like Avril Lavigne's…