Britney Spears has officially tied the knot with her boyfriend of five years, Sam Asghari – the couple got married at her LA home on Thursday evening.
The pair announced the engagement back in September 2021, via an Instagram video that saw her flash a diamond engagement ring.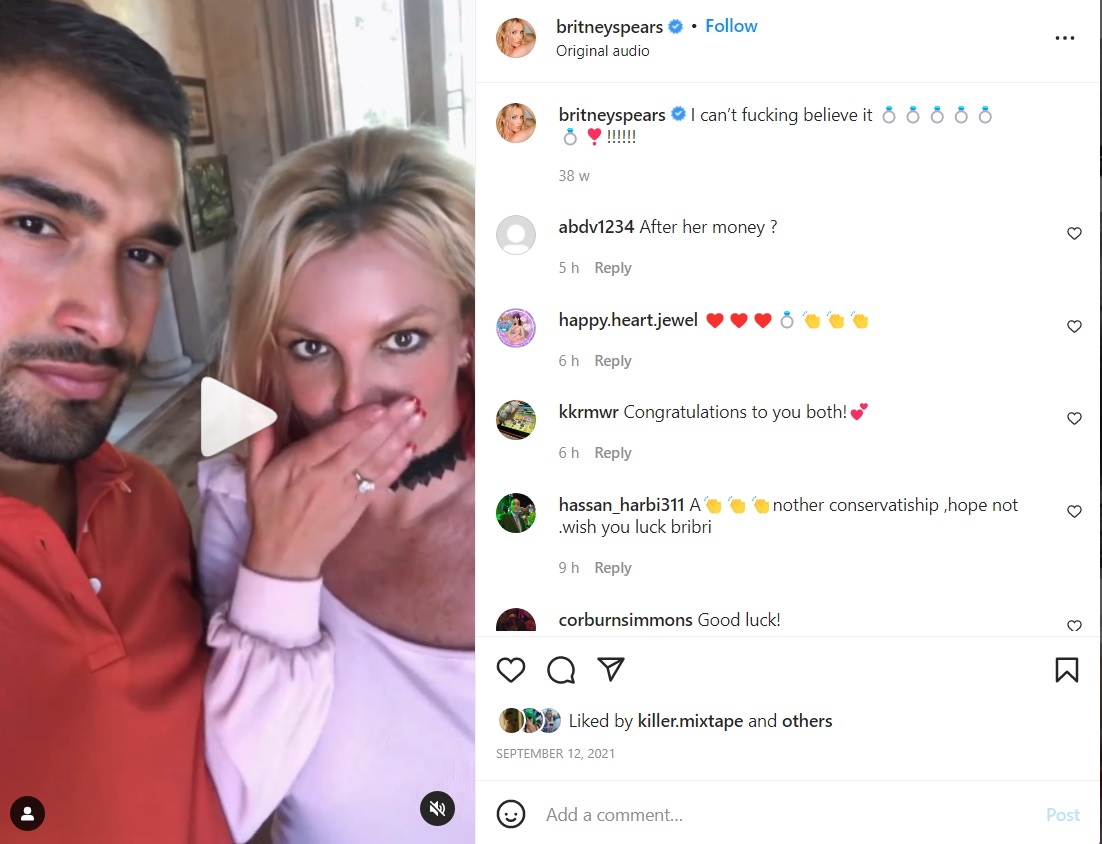 According to Steven Stone's leading engagement ring specialist, Maxwell Stone, the showstopping ring is around 3.5 carats, on a floating solitaire with stunning pavé detailing on the bridge, and another discreet diamond beneath the bridge.
The pop star has since revealed the jewellery – by A-list favourite Stephanie Gottlieb – that she wore during her wedding and our jewellery experts couldn't wait to take a close look.
Diamond Wedding Bands
For her wedding band, Britney chose a stack of two diamond sparklers to pair with her Forever Diamonds engagement ring.
Leading diamond expert, Zack Stone said: "It's interesting that both Britney and Sam have chosen two wedding bands – many brides make this call because they like the symmetry of wearing two bands, though a more romantic outlook is that wearing two bands is said to keep your engagement symmetric.
Britney's Marquise full diamond ring (worth £3,250) is a particularly eye catching and interesting piece as it features a marquise cut – a cut that actually dates back to 18th century France."
Necklace
With an estimated value of £200,000, Britney's elegant diamond tennis necklace is set in white gold and a real showstopper.
Earrings
Perfectly matching her necklace, Britney's gorgeous round diamond and pear shaped drop earrings, set in pave diamond halos have an estimated value of £76,000. Zack said: "Britney's in good company when it comes to drop earrings, with Kate Middleton having recently worn a pair of pearl drop earrings as part of the Queen's Platinum Jubilee celebrations."
It's not just Britney that brought the bling to the couples star-studded ceremony and Sam finished off his smart black suit with a pair of dazzling silver cufflinks that Zack has valued at £70,000. Zack commented: "Though the focus is on Britney, it's incredibly sentimental that she had a pair of cufflinks featuring oval shaped diamonds designed for Sam by Stephanie Gottlieb, who designed her jewellery."
If you're looking for an engagement ring or wedding ring and would like to browse for inspiration, take a look at our ready to wear collection or chat to one of our team for bespoke creations. Why not take a look at our full jewellery collection? We have showrooms in Manchester, not to mention a wide range of engagement rings in London.