Despite currently going through a multi million pound divorce, Kim Kardashian and Kanye West are one celebrity couple we won't forget any time soon. Over the years, the pair gifted each other a lot of expensive jewellery, including a $1million Lorraine Schwartz diamond necklace as her push present for North, two Cartier bracelets, and a vintage Cartier gold plaque necklace with a text from Kanye etched into it.
On top of this, there's Kim's 20-carat engagement ring worth a staggering $3million, making it one of the most expensive celebrity engagement rings of all time. This isn't the only engagement ring Kim's had from Kanye, either, as over time she's had three stunning pieces.
Taking a trip back in time, engagement ring experts at Steven Stone have shared everything we know about Kim Kardashian's engagement ring collection- even if she won't be wearing one on her finger anymore.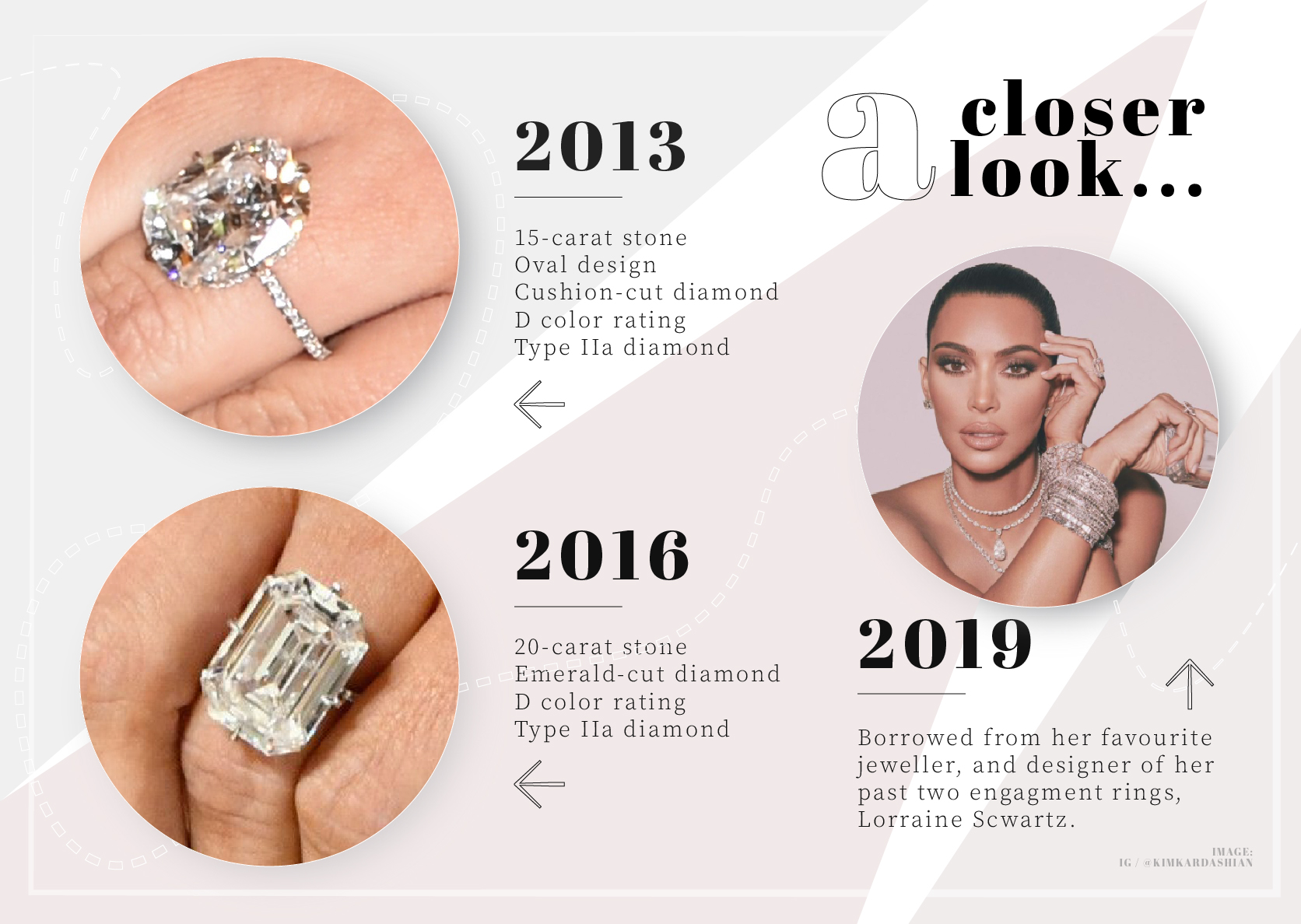 2013: The oval engagement ring 
Back in 2013, when Kanye proposed to Kim in San Francisco, he presented her with the first beautiful engagement ring. It is a stunning oval design, with a huge 15-carat stone.
As you would imagine, the ring is very exclusive, created by celebrity jewellery designer Lorraine Schwartz. The stone is very large, and as you might expect, it's also flawless. It's a Type IIa cushion-cut diamond with a D color rating. In fact, the designer herself described the cut as "perfect."
We estimate that only about 0.001% of all diamonds are flawless, meaning there are no visible inclusions even when the diamond is under 10X magnification. When considering the colour grade, D colour isn't just the whitest. But rather, it's an indicator that the diamond is the clearest.
According to GIA, Type IIa diamonds are free of boron or nitrogen impurities and the most chemically pure gemstones. When it comes to the value of Kim's first engagement ring, our diamond experts estimate it would be worth around $4 – 5 million if sold today. Elements such as the 4c's also add to the value, as well as the jeweller and the celebrity designer.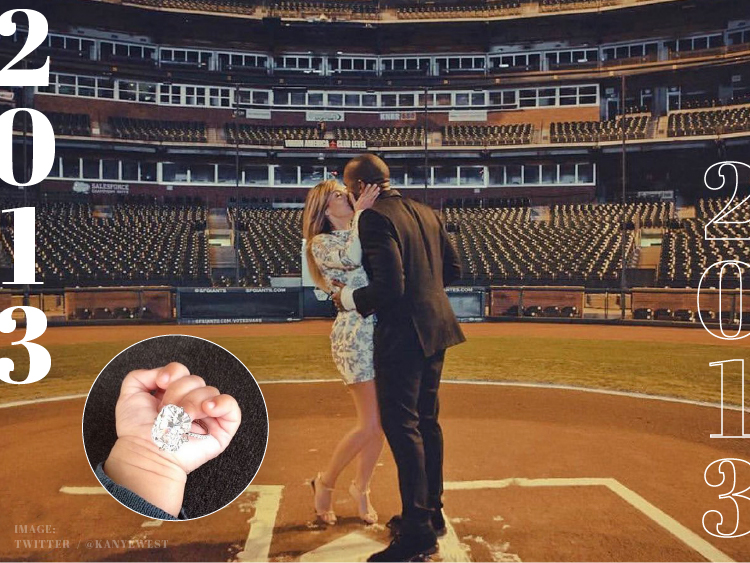 2016: The emerald-cut engagement ring 
Three years later and Kim received a second engagement ring from Kanye which included a 20 carat diamond. However, despite being much bigger than the first one, the second ring isn't actually more valuable. In fact, our experts estimate its value to be around $1.5 million.
For the second ring, Kanye returned to the celebrity jewellery designer, Lorraine Schwartz, as he was so thrilled with her first creation. Again the ring looks to be flawless, with a D colour grade, and Type IIa. This one is an emerald-cut, which are becoming increasingly popular with celebrities.
Emerald-cut diamonds are rectangular and trimmed at the corners. Kim's diamond has step-cut facets, which can sometimes affect the brilliance, however due to the high quality of the diamond in question – it's unlikely this would happen.
However, as this ring is a lot bigger than the first one, it sadly enticed a robbery when Kim was staying in Paris. Kim Kardashian's stylish tour of Paris Fashion Week came to a horrifying end after she was held at gunpoint and robbed of $10 million in jewels, including this engagement ring.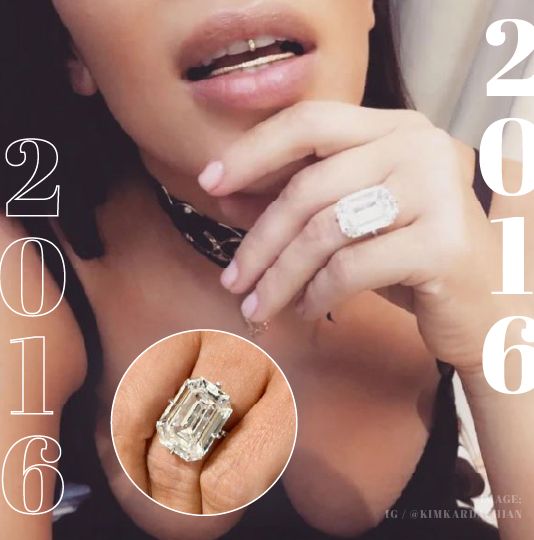 Did Kim have a third ring?
In her 2019 campaign for KKW Diamonds Collection fragrances, Kim posed in an Instagram photo, wearing a ring that resembled the one stolen from her in the robbery.
Shortly after sharing the snap, fans immediately began questioning whether it was the stolen ring, and whether it had been returned to her.
However, according to Kim, it was in fact a replica made by her favourite jeweller, Lorraine Scwartz.
"I borrowed all jewellery from Lorraine Schwartz," she told Entertainment Tonight. "It was nice to borrow it all and it was nice to give it back to her."
If you're looking for an engagement ring in the style of Kim Kardashian's, why not take a look at our ready to wear collection or create your own bespoke design? We also offer a wide range of wedding rings for women and men, along with a stunning selection of diamond jewellery.
---
Follow us on our socials
Pop over to our social platforms to keep up to date with Steven Stone's latest jewellery content and news.