As the 94th Academy Awards is set to take place on Monday 28th March, fans around the globe are placing their bets on who will win this year's golden Oscars.
The iconic golden statue is one of history's most recognised awards, with Hollywood A-Lister's desperate to get one in their trophy cabinets.
However, while the recognition and appreciation that comes with winning an Oscar is no doubt invaluable, the cost of an actual Oscar statuette is easy to calculate.
After digging a little deeper and taking a close look at the Oscar statues, our goldsmiths and jewellery experts at Steven Stone can reveal exactly how much they cost to make in 2022.
How much does an Oscar award cost to make?
Despite being covered in 24 carats, the statues aren't actually made from solid gold, they are in fact made from bronze. The statuettes are dense, clocking in at 8.5 pounds and reaching 13.5 inches in height.
In 2015 it was estimated that an Oscar would cost around $400 dollars to make, however in 2022, as the cost of metal has inflated, our experts estimate it is closer to $1,000.
The cost of a pound of bronze in 2022 is around $1.20 to $1.60 (£1.00 to £1.20), which isn't much at all. The cost to cover the statuettes in 24ct is likely to be around $300 to $400. Overall, we estimate an Oscar is worth no more than $1,000 (£800).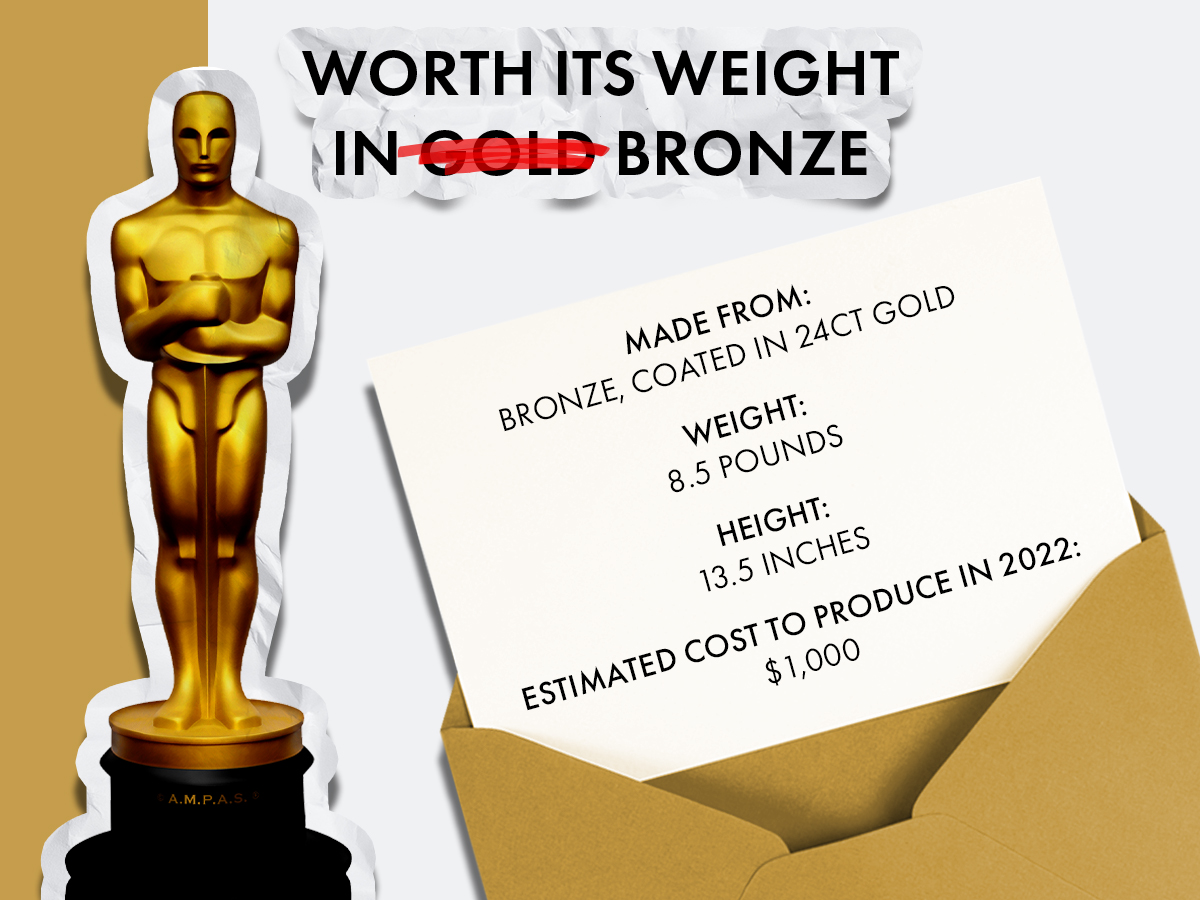 The history of the Oscar
In 1928, the original Oscar was sculpted by Los Angeles artist George Stanley and was cast in bronze. This process remained in place for over 50 years.
However, in 1982, the Oscar statuette was manufactured in Chicago by R.S. Owens & Co. Instead of using bronze to create the bulk of the statue, they produced the figures with a core of Britannia, a pewter-like alloy, which were then plated with pure gold.
During World War II, for three years the prizes were made of painted plaster due to supply shortages, but the winners were later given gold and metal replacements once the war had ended.
According to the official Oscars website, the statuettes are now once again made from bronze.
Where did the name 'Oscar' come from?
While the origins of the moniker aren't clear, a popular story has it that upon seeing the trophy for the first time, Academy librarian (and eventual executive director) Margaret Herrick remarked that it resembled her Uncle Oscar. The Academy didn't adopt the nickname officially until 1939, but it was widely known enough by 1934 that Hollywood columnist Sidney Skolsky used it in a piece referring to Katharine Hepburn's first Best Actress win.
Can you buy an Oscar?
The academy has awarded just over 3,000 awards since its first ceremony nine decades ago, making the statuettes extremely rare. So now you know how much they're actually worth, you might think you can easily pick one up – however, this isn't the case.
The prevent the prestigious statuettes being bought and sold, the academy came up with regulations in 1950 that explicitly tell winners they "have no rights whatsoever in the Academy copyright or goodwill in the Oscar statuette or in its trademark and service mark registrations."
Oscar winners are forbidden from selling or disposing of their trophies unless they've first offered to sell it back to the academy for $1.
And it's not just for the filmmakers, as the provision also applies to "the heirs and assigns of Academy Award winners who may acquire a statuette by gift or bequest."
However, despite this rule, Oscars have reportedly been sold, especially the ones that were awarded before the $1 rule was implemented. Forbes reported in 2006 that about 150 statuettes had been on the market at one point or another due to reasons like debt, death and collector interest.
So who's sold an Oscar?
Michael Jackson
In 1999, Michael Jackson paid more than $1.5 million for a 1939 Oscar that originally belonged to Gone With the Wind producer David O. Selznick, which had been valued at about $300,000, according to People. Sotheby's auction house, which brokered the sale, told BBC News at the time that the late pop-singer had a "lifelong desire to own that particular object."
However, after Michael Jackson's death in 2009, the statuette mysteriously vanished from his home in California. His attorney told The Hollywood Reporter in 2016. "We would like to have that Oscar because it belongs to Michael's children. I'm hopeful it will turn up at some point."
Beatrice Welles
The daughter of Orson Welles inherited his 1942 Oscar for Citizen Kane after his death, and she wrote to the academy when it disappeared. They gave her a duplicate and asked her to sign the $1 agreement. But when the trophy was found — a cinematographer had it all along — Welles sued to take possession of it, according to the New York Times. Ironically, she then got sued by the academy when she attempted to auction it off.
Welles eventually offloaded the original Oscar. It sold for about $862,000 in 2011.
David Copperfield
Word famous magician, David Copperfield, bought Michael Curtiz's 1943 Oscar for Casablanca in 2003. He paid $231,500 for the statuette, NBC News reported. However, just like magic, the trophy was resold in 2012.
Steven Spielberg
While you're probably wondering why Steven Spielberg would want to buy an Oscar, as he has three himself, you might be surprised to find out he's also bought three of them. In 1996, he purchased Clark Gable's 1934 award for $607,500 and in the early 2000's, he paid $578,000 and $180,000 for two of Bette Davis' trophies. However, following the Oscars policy, he then donated all of the statuettes to the academy.
Kevin Spacey
In 2001, Kevin Spacey bought an Oscar won by composer George Stoll in 1945, paying out approximately $157,000 for it, before returning it to the academy.
Spacey, who won two Oscars, in 1996 and 2000. said: "I respect the academy and the integrity of the awards it presents,"
"And I feel strongly that Academy Awards should belong to those who have earned them, not those who simply have the financial means to acquire them."
Angelina Jolie
Hollywood stunner, Angelina Jolie gave her mum her Best Supporting Actress Oscar trophy in 2000, however this story sees another mysterious disappearance as when her mother passed away, the trophy was nowhere to be found.
"Nobody knows where it is at the moment," Jolie told The Telegraph in 2009.
If reading about the glitz and glamour from the Oscars has inspired you purchase your own masterpiece, we might not be able to offer you an Oscar, but we do have a range of stunning diamond jewellery, engagement rings, wedding rings, and eternity rings that will make you feel like a star.