You may have noticed Cristiano Ronaldo's long term partner, Georgina Rodriguez, has a new reality documentary on Netflix.
I Am Georgina is a six-part documentary about her life and the journey she's been on since meeting the world famous football player.
In its blurb describing the documentary, Netflix urges viewers to "Join Georgina Rodriguez – mom, influencer, businesswoman and Cristiano Ronaldo's partner – in this emotional and in-depth portrait of her daily life."
With reflections on how she met Ronaldo, the search for a dress to wear at the Cannes Film Festival and a trip to Budapest to watch Portugal at Euro 2020, the show gives fans a detailed look into their luxury lifestyle.
Here at Steven Stone, alongside the incredible properties, cars, and clothing, we couldn't help noticing the sensational pieces of jewellery worn by both Cristiano Ronaldo and Georgina.
To find out more, we watched every detail of the show, analysed instagram, and did some comprehensive desk research to uncover some of the most valuable pieces in the couple's jewellery box.
Georgina Rodriguez
After watching clips of the show which revealed some impressive jewels worn by Georgina, our experts analysed her Instagram account to see what other pieces of jewellery she's recently been snapped wearing. Checking out over 100 posts which featured jewellery items, we found the most valuable pieces from her collection.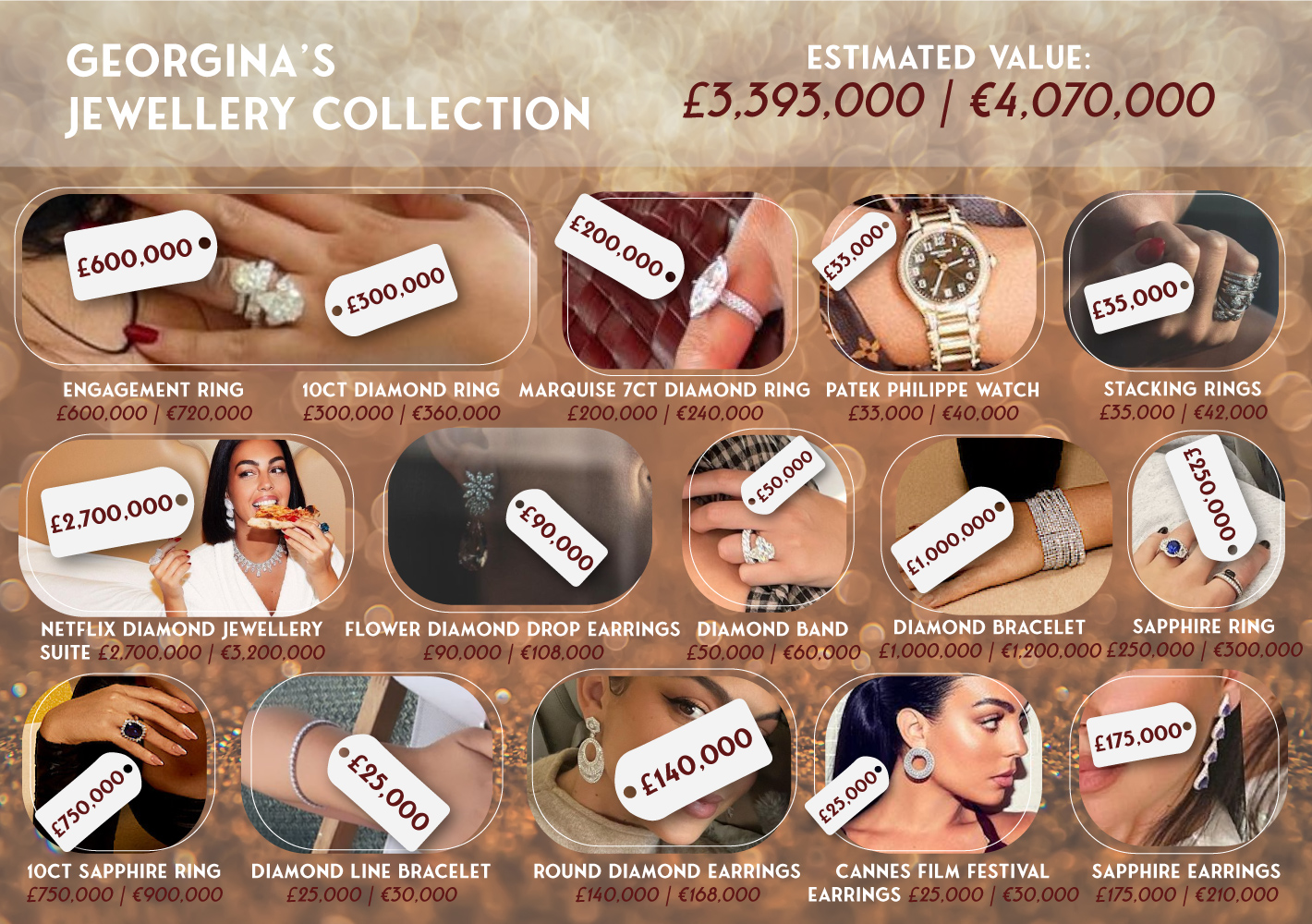 The most expensive items from Georgina's Netflix show include a £2,700,000 diamond suite, consisting of a stunning necklace, drop earrings, and ring. These pieces were featured on the Netflix promo clip advertising the show.
In another shoot for the show, the reality star wears an incredible diamond bracelet, which our jewellery expert, Zack Stone, estimates is worth around £1,000,000. To add some colour to her snaps, not to mention some weight, we also spotted an enormous sapphire ring here, which we think is worth around £750,000.
And because one ring isn't enough, Georgina has many more in her collection. From her £600,000 engagement ring to a glistening diamond band worth £50,000, there's plenty more to add to the list. This Instagram snap, shared in January 2021, also features sapphire and diamond drop earrings worth an estimated £175,000.
It's safe to say Georgina has a love for sapphires, as she was also snapped wearing this beauty in 2021. Posting the pic to her Instagram story, this sapphire and diamond ring blew our experts away, as they valued it at £250,000.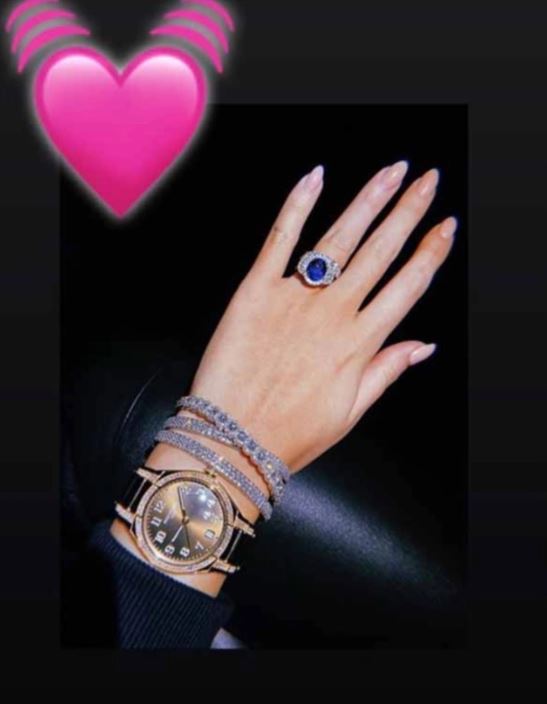 Her collection also includes a pair of large round diamond earrings, which she wore on a flight with her family in earlier this year. Our expert Zack Stone estimates these could be worth around £140,000.
The stunning mum also rocked another incredible pair of hoops at the Cannes Film Festival in July 2021. These spectacular earrings are estimated to be worth £25,000. Alongside the earrings, she can be seen wearing a 10ct marquise diamond ring on her index finger. After seeing this ring on various photos, Zack Stone estimates it to be worth a whopping £200,000.
If that wasn't enough, in another Instagram photograph promoting her Netflix show, Georgina is wearing another set of beautiful jewels. The diamond drop earrings have an estimated value of £90,000, whilst her huge stack of diamond rings would be worth around £35,000.
And, when she's not promoting her series on Instagram, Georgina likes to relax in the sun. In this photo taken in July 2021, she appears to be sunbathing while wearing a £25,000 diamond line bracelet.
It's also known that Georgina owns a lavish £33,000 Patek Philippe watch, and while we're sure she has more gems hidden in her collection, it would take us a lifetime to dig through her entire jewellery box which is worth almost £4,000,000.

Cristiano Ronaldo
From the moment he stepped onto the pitch wearing his diamond stud earrings, we knew Cristiano Ronaldo was going to be the king of bling – and he didn't disappoint.
From his £1,200,000 diamond watch to his casual £15,000 black diamond stud earrings, he's a man who knows how to shine – both on and off the pitch.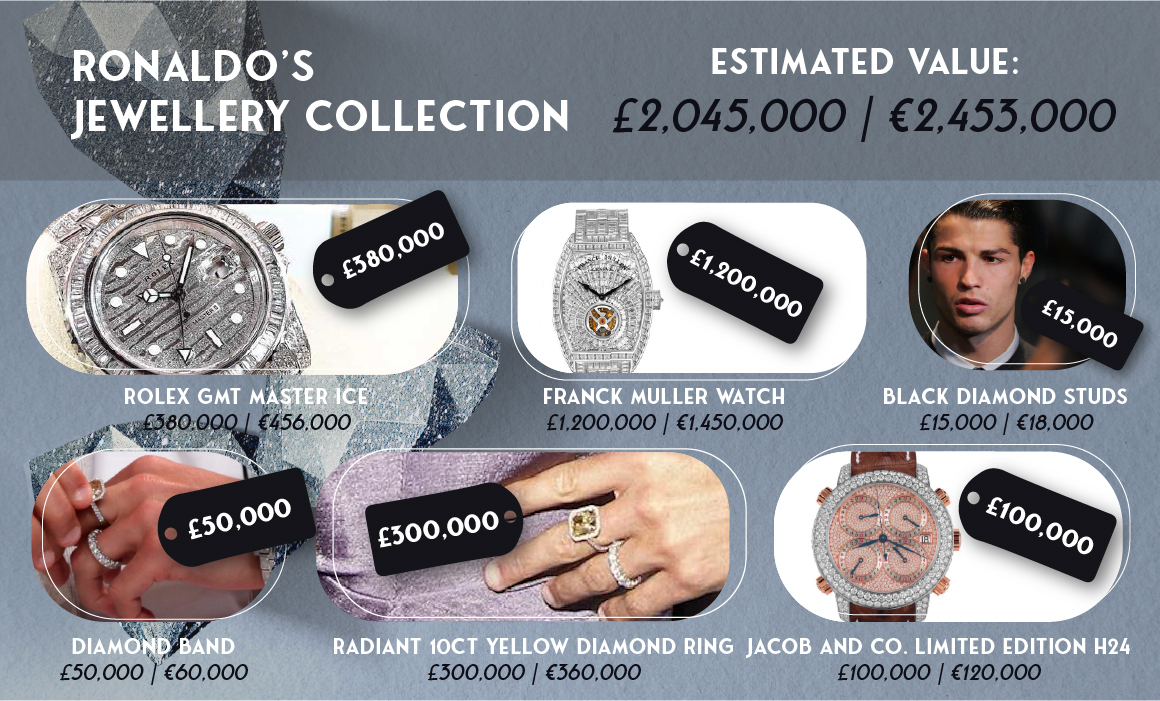 While the football player probably has more time pieces in his collection, we've taken a look at the most lavish items seen on his wrist. The Portuguese powerhouse owns three watches with a combined value of almost £1,500,000.
Alongside this, he gives Georgina a run for her money with some impressive rings, too. He's famously worn a radiant cut yellow diamond ring, which looks to be around 10cts, alongside a thick diamond band. These rings are worth around £350,000 when valued together.
And, while he no longer wears his famous stud earrings, we couldn't help but honour them. These incredible black diamond stud earrings were originally valued at £10,000 back in 2018, however now thanks to inflation and Ronaldo's legacy, we valued them at £15,000.
@the_diamond_brothers

Stacking my rings like Latina reality star Georgina Rodriguez!✨ Rodriguez never disappoints when it comes to styling her impressive jewels – all done with a fun and nonchalant attitude💎💫 As bespoke jewellers with over 80 years of experience, we are experts in creating magnificent jewels that match your unique personality and style. Get in touch now to create your very own bespoke design💌
If you're looking for a piece of jewellery to rival Ronaldo's, why not take a look at our collection? Alongside engagement rings we also offer pendants and necklaces, diamond earrings, eternity rings, and wedding rings for women and men.
---
Follow us on our socials
Pop over to our social platforms to keep up to date with Steven Stone's latest jewellery content and news.