From diamond earrings to pearl necklaces , jewellery experts at Steven Stone analysed the most popular jewels worn by Oscar winning actresses since 1930 in a bid to calculate what nominees should wear if they want to win.
Taking a close look at every Best Actress and Best Supporting actress winner, we reveal the most popular, and maybe even luckiest, jewellery to wear at the Oscars 2021.
To paint a full picture, we also calculated other key trends adapted by winning women, including the most favoured hairstyles and lip colour in the last 90 years.
The most popular pieces of jewellery
It probably comes as no surprise that 80% of all winners who attended the Oscars wore one or more pieces of jewellery, because, well ,who doesn't love a little sparkle?
However, after taking a closer look, our data reveals some interesting trends around the types of jewellery chosen by the stars.
Shockingly, almost 70% (67.09%) of winners don't wear a necklace, opting instead for a bare chest or a high neckline. In comparison, earrings are much more favoured, with just 33% choosing not to wear a pair. From the 158 winners who attended, just 20% didn't wear any jewellery at all.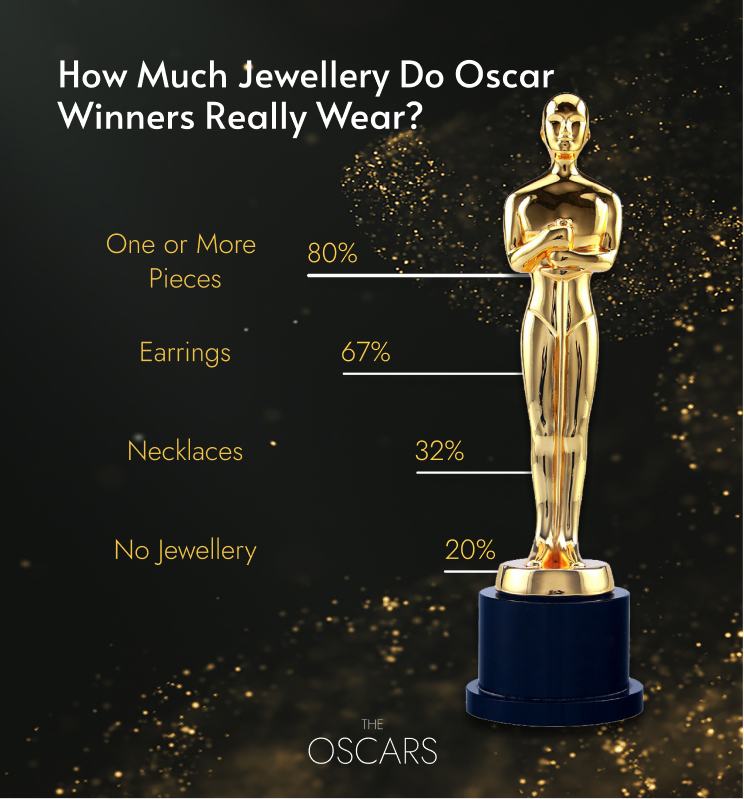 Pearl necklaces are favoured over diamonds
Whilst necklaces appear to be the most unpopular type of jewellery overall, those who do wear one don't always favour diamonds as you might expect.
In fact, pearls are more popular, thanks to the winners in the 30's, 40's, and 50's, who opted for elegant strings rather than large statement pieces.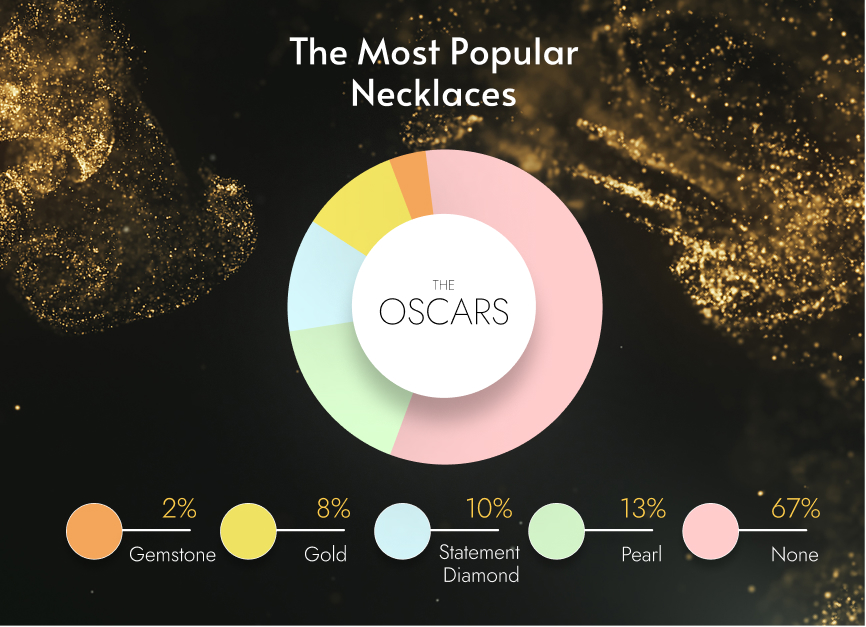 Whilst strings of pearls and statement diamond pieces were the most worn overall, chokers also made a brief appearance in the 1940's, with 20% of winners opting for a fabric piece. Celeste Holmes sported the look when she picked up the award for Best Supporting Actress in 1948 for the film, Gentleman's Agreement.
Drop earrings are a firm favourite
Drop earrings are favoured by Oscar winners the most, proving to be almost twice as popular as studs, and 34 times more popular than hoops, which just one winner (Gale Sondergaard) wore in 1937.
Digging into more detail, diamond drop earrings win the race, with one in four of all winners wearing them. In 1989 Geena Davis teamed diamond drop earrings with a stunning matching diamond statement necklace, when she won Best Supporting Actress for her role in The Accidental Tourist.
Emma Stone, Cate Blanchett, Jennifer Lawrence, and Sandra Bullock have all also won awards wearing diamond earrings.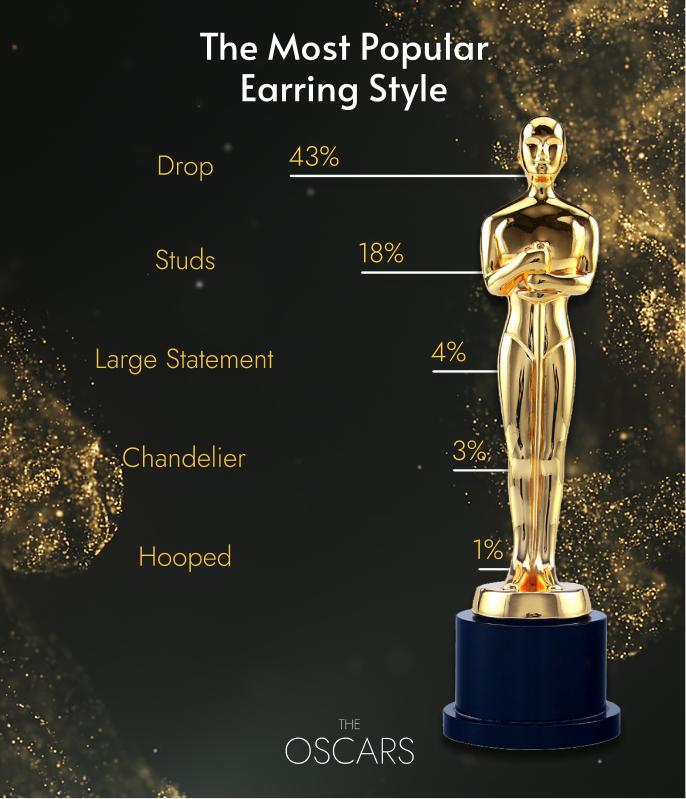 Winners who wore diamond drop earrings

Take a look below to see the Best Actress and Best Supporting Actress winners who wore diamond drop earrings on the big night.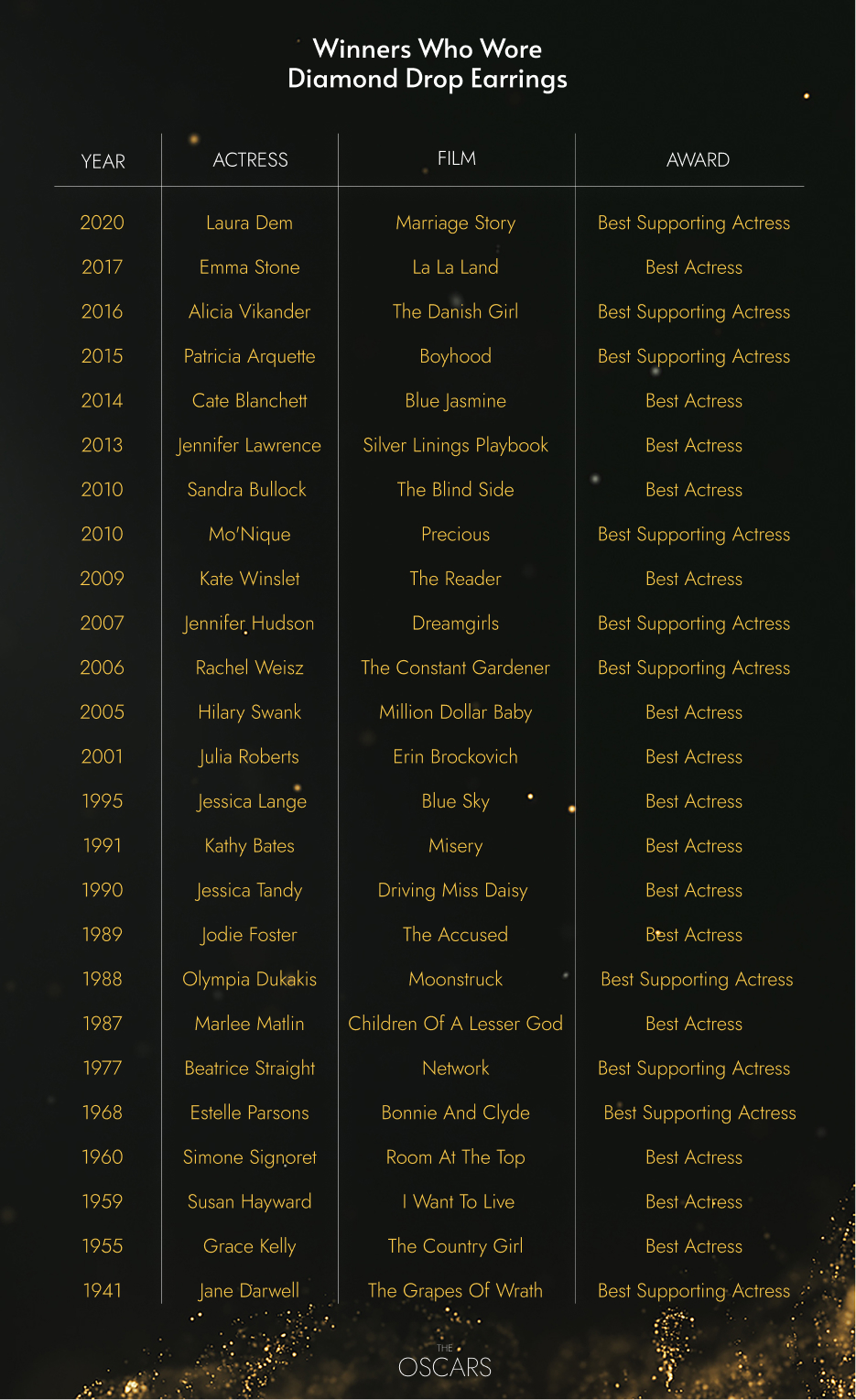 Diamonds are still a girl's best friend
35.44% of winners, when considering necklaces and earrings, opted for diamonds. However, in the 40's and 50's, pearls took centre stage, representing one of the biggest trends during that time. They also made a comeback in the 70's, when Ingrid Bergman wore a stunning pair of dropped pearl earrings, teamed with a colourful, wide sleeved, floral print gown. From all decades, just 13.04% of winners wore pearls, as the trend slowly phased out.
Whilst just 11.39% of winning actresses wear coloured gemstones, they have become increasingly popular since the 80's, when Linda Hunt wore a pair of coloured vintage studs to pick up her award in 1984.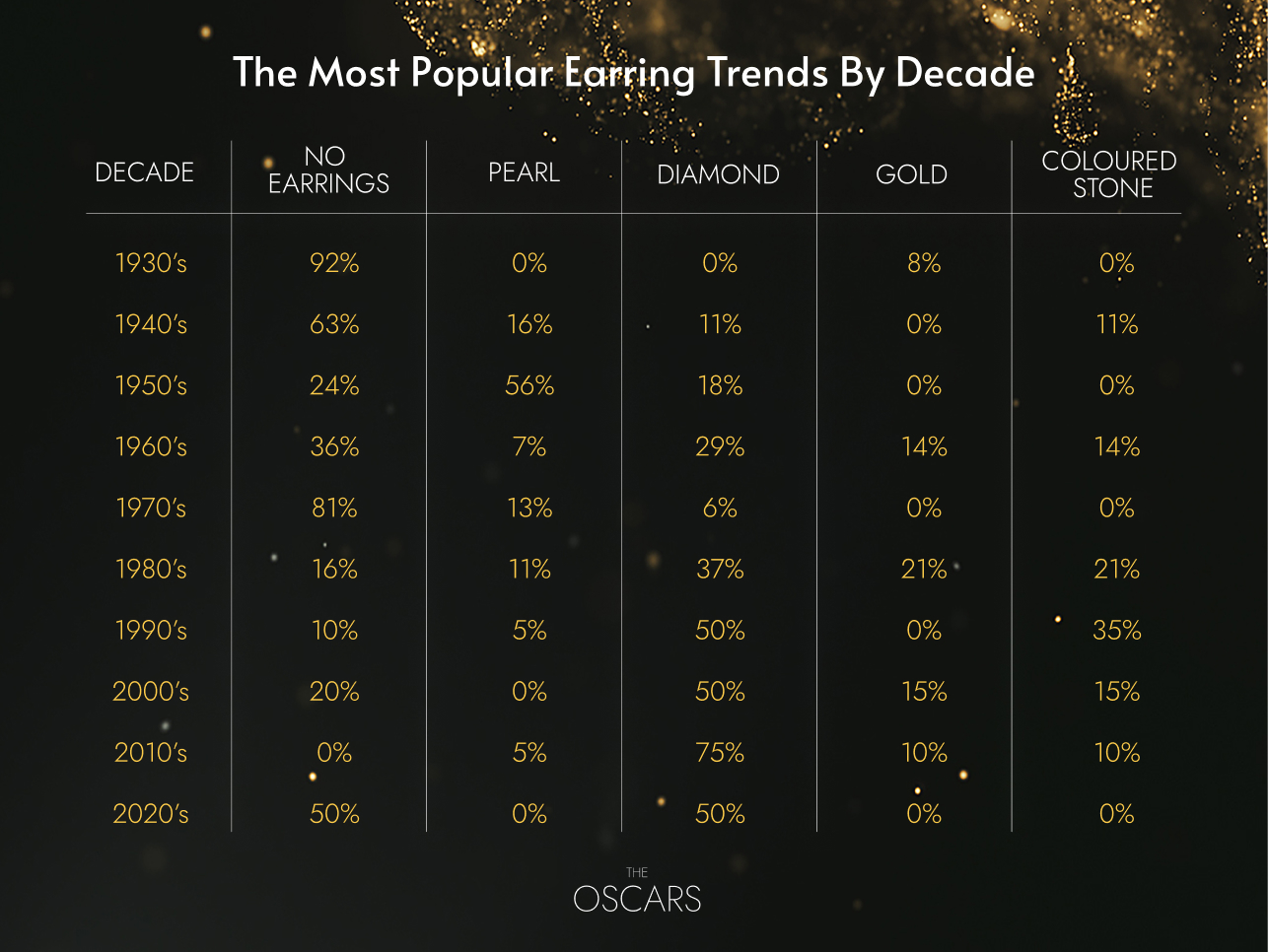 Hair up vs Hair down
With the majority of winners wearing drop earrings, you might assume they'd be wearing their hair up in a bid to show them off. However, after analysing the hairstyles of our leading ladies, it seems most of them wear their hair down.
Since the very first Academy Award ceremony, 60.76% of winners have worn their hair down, or in a half-up, half-down style. In the earlier decades, sleek up-dos ruled the red carpet, along with tight pin curls and hair accessories.
The 70's was all about natural waves, with 87.50% keeping things lose, whilst the 80's went big with curls and power perms. However, the trends have evened out in the last three decades, with more winners choosing a neat, slicked back look to keep the attention on the dress and jewellery.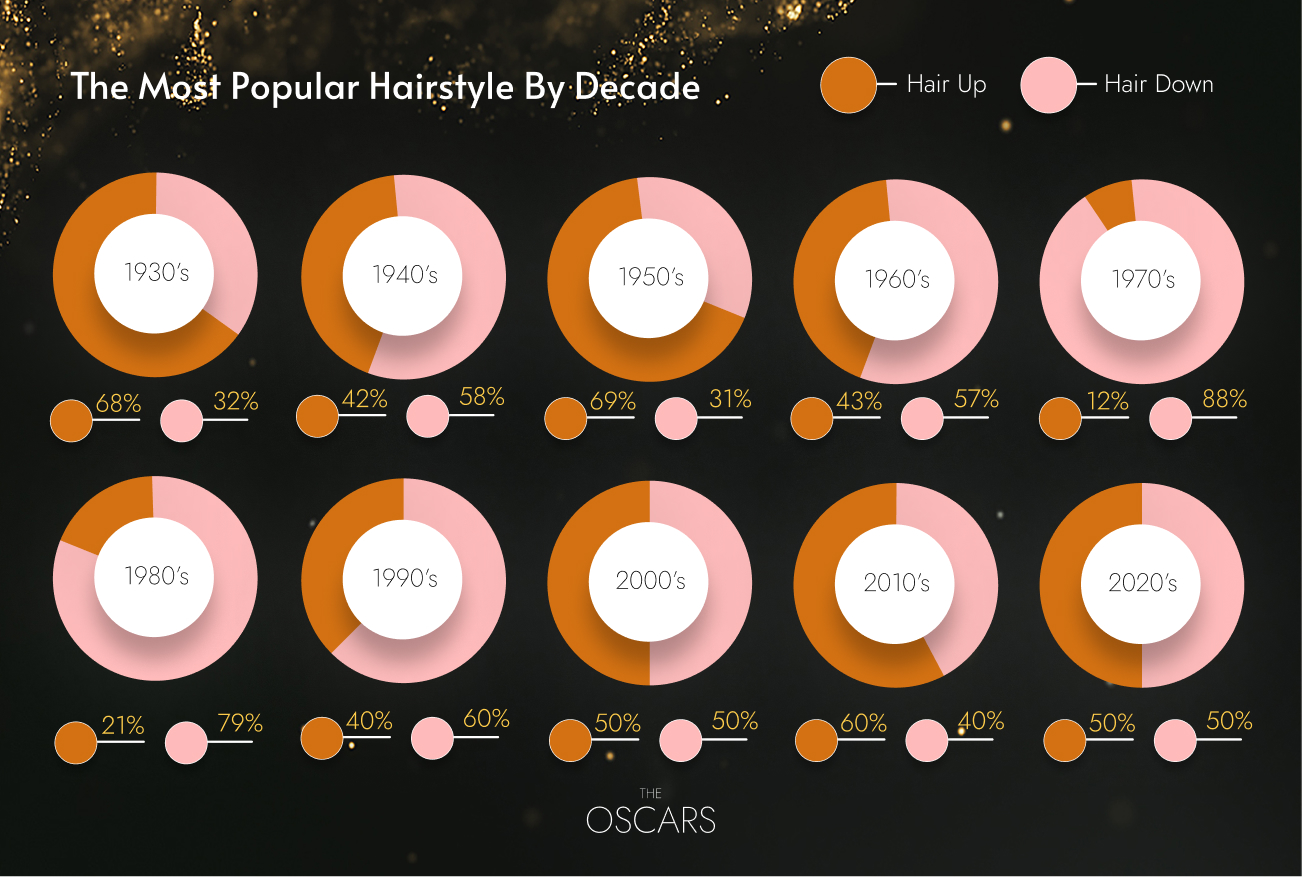 The luckiest lipstick colour
When you think of a Hollywood smile, along with astonishing pearly whites, scarlett red lipstick will probably come to mind.
However, despite red lipstick famed for being worn by the world's most glamorous icons such as Marylin Monroe, our Oscar winners prefer to keep their makeup minimal.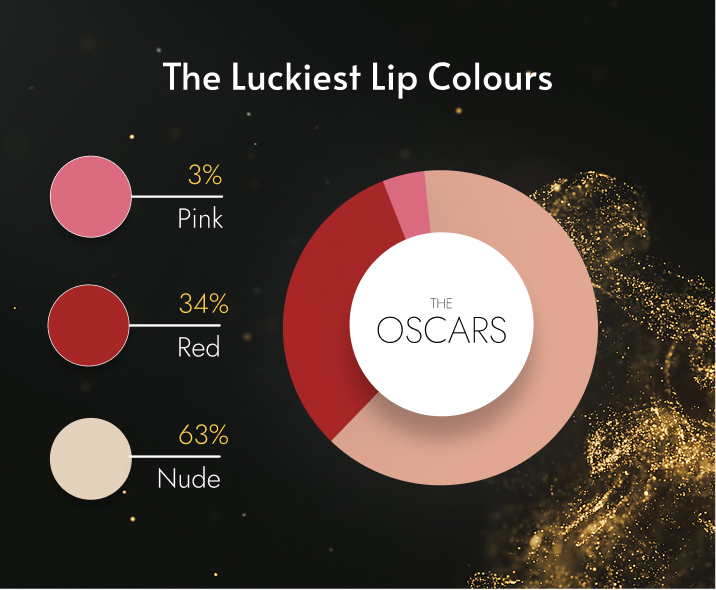 Key Trends by decade
1930s
97% of winners chose not to wear earrings, despite 69% wearing their hair up. Instead, pearl necklaces were a firm favourite, with 25% wearing a simple string.
1940s
This was the most popular decade for red lipstick, with 74% of winners wearing a powerful shade to complement their Hollywood smiles. Chokers were a key trend, with over one in four winners including Anne Baxter and Anne Revere wearing a fabric piece. Hair pieces were also prominent in the 40's, with Mary Astor opting for a laced veil, and Teresa Wright wearing a black hairpiece with pin curls.
1950's
Sleek up-dos were the winning hairstyle in the 50's, with 69% of all winners oozing elegance. Drop pearl earrings were the most worn accessory whilst pearl necklaces (31%) also made a comeback.
1960's
Red no longer stole the hearts of Oscar winners, as during this decade 79% chose a shade of nude instead. Diamond necklaces also made their first winning appearance, as Julie Andrews broke new ground wearing a unique fringed piece.
1970's
82% of winners chose not to wear jewellery in the 70's, keeping bling to a minimum, perhaps reflecting the era's relaxed vibe. This was also the most popular decade for casual hairstyles, with the majority (88%) donning loose waves, and beautiful flowers in their hair.
1980's
The perm was a huge trend in the 80's, however only Gina Davis in 1989 was brave enough to rock the look at the Oscars. Whilst Davis wore a red lip, pink lipstick was worn by winners for the first time. However, despite this, nude still dominated by 63%. Whilst necklaces were still the most unpopular accessory (63%), large chandelier and statement earrings were worn by 50% – including the queen of style statements, Cher.
1990's
Statement earrings continued to be an Oscar winning trend as we moved into the 90's. 90% wore earrings, 88% of which were drop style, and the rest were studs. Coloured gemstones began to pop up, too, with 35% of winners wearing stunning emeralds, rubies, and sapphires.
2000's
Inspired by the hairstyles of our 50's winners, up-dos made a comeback, with power players such as Julia Roberts, Renee Zellweger and Catherine Zeta Jones all keeping things tied up and sleek.
The no necklace trend continued with just four leading ladies wearing one in the entire decade. However, all of these were large diamond statement pieces, including Hillary Swank's $250,000 Asprey and Garrard necklace in 2000.
2010's
Earrings took the lead as the most popular accessory, with every winner of the decade wearing a pair. 75% were diamond, the majority of which were elegant drop style. The most expensive jewellery combination was worn by Cate Blanchett, who donned Chopard earrings, bracelet, and ring worth $18million.
2020's
In 2020, Renee Zellweger took home the Best Actress award for her leading role in Judy, whilst Laura Dem won Best Supporting Actress for Marriage Story. Whilst Renee Zellweger wore no jewellery, with her hair up and a popular nude lip, Laura Dem followed the trend with diamond drop earrings with her hair loosely waved.
2021 saw Viola Davis take home the glory, wearing a pair of stunning statement drop earrings, and no necklace.
Will this year's female nominees follow the winning fashion formula? Or will we see new trends emerge for the first virtual ceremony?
Methodology: Using data and images from www.oscars.org, we gathered a list of all Best Actress and Best Supporting Actress winners from 1930-2020. We then analysed images of each present attendee and used available third-party data to highlight the necklace, earrings, hairstyles, and lip colour they wore on the night of their win. We did not include rings in the study as there was not enough data to reveal notable findings. Where images were in black and white, we used extensive desk research to source the information. Where this was not available, we excluded them from the study. In total, we analysed 158 Oscar winners.

Fair Use: Do you want to share these images? Please do! We just ask that you credit the original source by linking to this page. These images are licensed under the Creative Commons Attribution-Share Alike 4.0 International License