Kate Middleton celebrates her 40th birthday on January 9th and while we aren't quite sure how she'll mark the big occasion, one thing we do know, is that the Duchess is likely to receive some very exquisite gifts.
Since meeting Prince William back at university and officially joining the royal family in 2010, Kate has been gifted and loaned some of the world's most incredible pieces of jewellery – whether it's her birthday, or not!
To celebrate the Duchess's big 4-0 and to show our love for her incredible style, diamond experts at Steven Stone have analysed every piece of jewellery that's she's been gifted or loaned from another royal family member.
After comprehensive desk research, we were able to identify 30 pieces of jewellery, ranging from £600 ($800 USD) to over £66,000,000 ($79,000,000 USD).
In total, the value of the jewellery gifted and loaned to Kate Middleton adds to up to staggering £82,758,368.
From heartfelt jewels from Prince William to sensational pieces from Queen Elizabeth's personal collection, the Duchess has been spoiled with royal jewels over the years.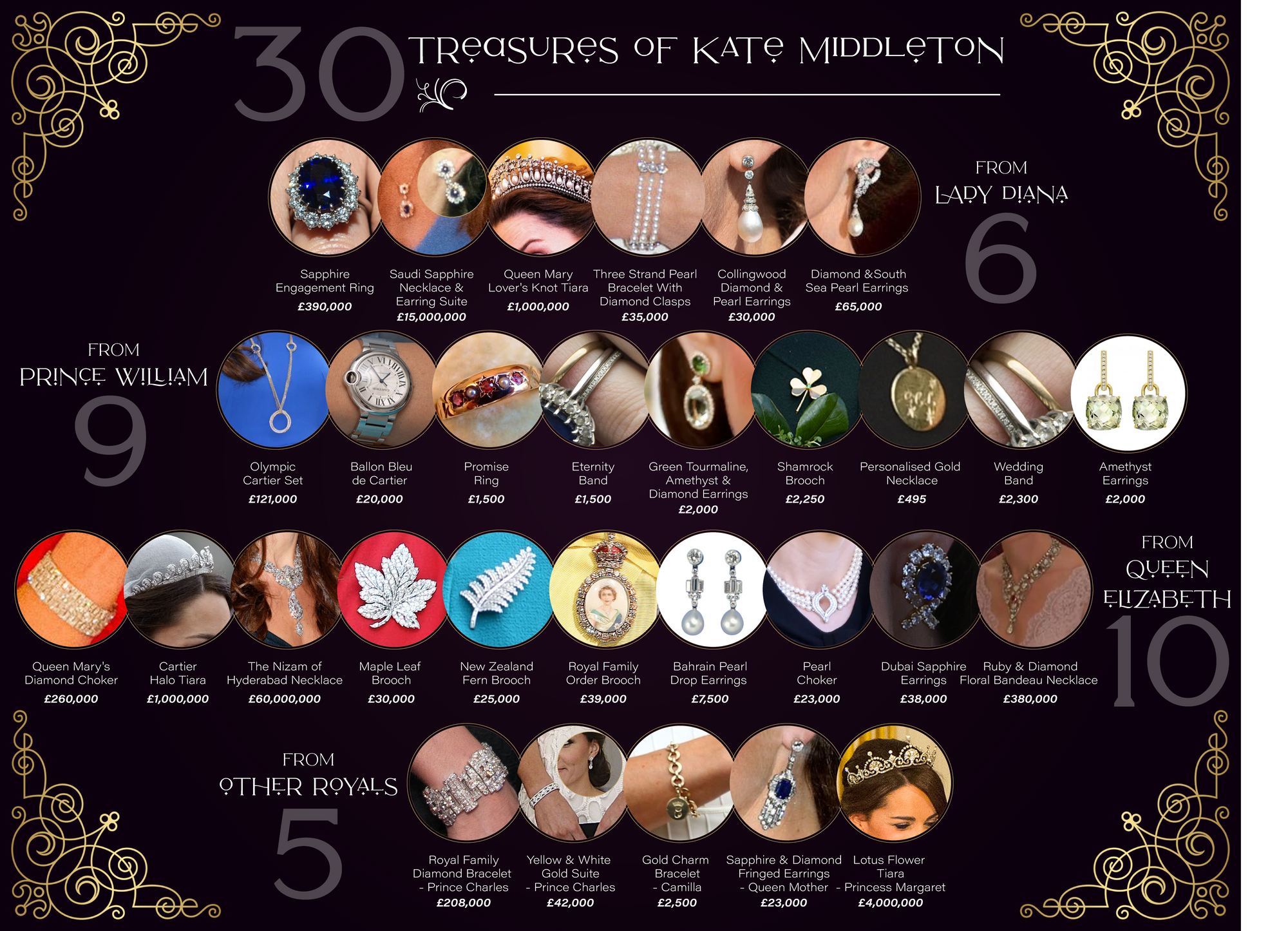 Instagram: @the_princess__of_wales
1. Sapphire Engagement Ring
From: Prince William/Princess Diana
Estimated value: £390,000 ($500,000 USD)
Kate Middleton's engagement ring, which was formerly Princess Diana's, features a 12 carat Ceylon sapphire, originating from Sri Lanka. Like with most precious gemstones, the quality and value of a sapphire is graded by its colour and hue, which can range from a light, pale blue to a dark, royal blue. The sapphire is a deep, royal blue, of AAAA quality, making it amongst the most valuable of its kind. Globally, the sale of blue sapphires increased by around 300 percent at the time, and even now, thanks to Netflix show 'The Crown', sales of sapphires continue to surge, with vintage style halo designs being extremely popular.
2. Saudi Sapphire Necklace & Earring suite
From: Inherited from Princess Diana
Estimated value: £15,000,000 ($20,000,000 USD)
The sparkling suite consists of a diamond-and-sapphire necklace, a matching pair of earrings, a ring, and a bracelet, all of which were a wedding gift by the Crown Prince of Saudi Arabia. This is an incredible jewellery suite, especially the necklace which is a real showstopper.
This sapphire in the necklace alone is around 30 to 35 carats which is almost treble the size of the stone in her engagement ring.
3. Queen Mary Lover's Knot Tiara
From: Inherited from Princess Diana
Estimated value: £1,000,000 ($1,320,000 USD)
The dazzling diamond and pearl tiara was originally designed for Queen Mary back in 1913 which passed on for her granddaughter. Queen Elizabeth II reportedly presented it to Diana for her royal wedding day in 1981, although she respectfully declined and opted to wear her father's Spencer's Family Tiara instead.
Despite this, the Lover's Knot became one of her favourite pieces, although it's claimed to have been so heavy that it hurt her head.
The fact that it's so heavy it hurt Princess Diana's head indicates that this is a valuable tiara, embellished with the finest quality diamonds and pearls.
4. Three strand pearl bracelet with diamond clasps
From: Inherited from Princess Diana
Estimated value: £35,000 ($46,000)
This beautiful three-strand pearl bracelet was created to support the charity Birthright, which Diana supported. It was designed by Nigel Milne in 1988, featuring three rows of cultured pearls with diamond and pearl spacers, with even the clasp having intricate detailing. Like many of Diana's jewellery this piece was made using only the finest quality stones and pearls, which makes it so high in value.
5. Collingwood diamond and pearl earrings
From: Inherited from Princess Diana
Estimated value: £30,000 ($40,000 USD)
These senstational drop-pearl-and-diamond earrings were a wedding gift from the London jeweller, Collingwood, when Princess Diana married Prince Charles. They have been worn by Princess Diana on numerous occasions, both casual and formal.
Kate Middleton inherited the earrings, wearing them to honour her late mother-in-law at the Queen's annual garden party at Buckingham Palace in May 15th, 2019.
While pearls can vary in price, the ones featured in these earrings are of the highest quality as they are South Sea pearls. Earrings like this would cost between £30,000 to £35,000 today.
6. Diamond and south sea pearl earrings
From: Inherited from Princess Diana
Estimated value: £65,000 ($86,000 USD)
Kate Middleton debuted Diana's stunning diamond and south sea pearl earrings at the Baftas in 2019 in London. Diana frequently wore these earrings both with and without the detachable pearls.
The earrings feature various cuts of diamonds, including a cluster of marquise cut diamonds in the centre, and a suspended south sea pearl. We would value them at around £65,000.
7. Olympic Cartier set
From: Gift from Prince William
Estimated value: £121,000 ($160,000 USD)
To pay tribute to the Olympic games in 2021, Kate stepped out wearing some stunning hoops of her own.
Designed by Cartier, the 18-carat chain features pavé diamonds as well as three intertwined circles of pink, yellow and white gold.
The necklace is thought to have been a gift for her 30th birthday from Prince William, but neither Cartier or her aides would be drawn into discussing who bought it.
The Duchess of Cambridge donned the show-stopping necklace worth US$71,600 again for an evening reception in New York, while she wore the matching earrings at an event in 2016.
The earrings and necklace have an estimated combined value of £121,000 ($161,000 USD) on today's market.
8. Ballon Bleu de Cartier
From: Gift from Prince WIlliam
Estimated value: £20,000 ($26,000 USD)
In celebration of their third wedding anniversary back in 2014, Prince William gifted Middleton the Ballon Bleu de Cartier watch complete with sapphire detailing—a timepiece quite similar to both Princess Diana's and his own.
The sapphire details perfectly complements the stone in Kate's engagement ring, making the pair a match made in heaven.
9. Promise ring
From: Gift from Prince William
Estimated value: £1,500 ($2,000 USD)
While Kate Middleton's engagement ring is no doubt her most iconic piece of jewellery, it wasn't the first ring she received from Prince William.
When they were dating back at University, the love-struck Prince gifted Kate with a very meaningful piece of jewellery, that actually reveals a lot about their relationship and their personalities.
The couple started dating in 2001, while at the University of St Andrews.
During that time, William gave Kate a gold ring with pearls and garnets, which she wore on her middle finger.
Set on a rose gold Victorian band, the ring features two garnets which are Kate's birthstone for January, and pearls to represent William's birthstone for June.
10. Amethyst Earrings
From: Gift from Prince William
Estimated value: £2,000 ($2,600 USD)
When most people think of amethyst, the first colour that pops into their mind is purple, however Kate Middleton received a unique pair of green amethyst stones from her beloved husband.
To celebrate their first official Christmas together in 2011, Prince William gifted his new wife a pair of green amethyst earrings designed by one of Kate's favourite designers, Kiki McDonough.
The stunning pair of 5ct pear cut amethysts hand under a group of four 0.10pts diamonds, set in 18ct gold.
11. Green tourmaline, amethyst and diamond earrings
From: Gift from Prince William
Estimated value: £2,000 ($2,600 USD)
Rumoured to have been gifted to the duchess in celebration of Princess Charlotte's birth Prince William, she received yet another pair of custom Kiki McDonough earrings using green tourmaline and amethyst stones.
These earrings have only been spotted on Middleton a handful of times including fittingly on St. Patrick's Day 2019.
12. Shamrock Brooch
From: Royal family
Estimated value: £2,250 ($3,000 USD)
Loaned to members of the royal family by the Irish Guards in celebration of St. Patrick's Day, Kate first wore this simple yet stunning brooch in 2011 and is reported to have exclusively worn it since then.
It is believed to have been designed by Cartier, made from 18 carat yellow gold and featuring a tiny, single emerald at the centre of the textured leaves
. Previously worn by the Queen Mother and Princess Anne also, Middleton has worn the brooch on several visits to Northern Ireland as well as St. Patrick's Day celebrations.
13. Personalised gold necklace
From: Gift from Prince William
Estimated value: £495 ($655 USD)
Just two weeks after her 38th birthday, during a visit to the Ely and Careau Children's Centre in Cardiff, Kate Middleton stepped out wearing a personalised gold necklace that is suspected to have been a birthday gift from Prince William.
The necklace was designed by British jeweller Daniella Draper and is retailed as the Gold Midnight Moon necklace. The personalised piece features the initials G, C and L for her three children: Prince George, Princess Charlotte and Prince Louis.
14. Wedding band
From: Gift from Prince William
Estimated value: £2,300 ($3,000 USD)
The traditional gold wedding band that sits neatly beside the Duchess's engagement ring was made from the royal family's collection of Welsh yellow gold and is similar to the same worn by both the Queen Mother and Queen Elizabeth II.
While this ring probably doesn't hold much retail value on the surface, considering the nugget of gold it was made from, and the legacy of the lady who wears it, it is likely to be worth a lot more in the coming years.
15. Eternity band
From: Gift from Prince William
Estimated value: £1,500($2,000 USD)
Prince William presented the mother of his children a diamond pave set eternity band following the birth of their son, Prince George.
The ring now sits beside her gold wedding band and diamond encrusted engagement ring.
16. Queen Mary's diamond choker
From: Loaned from Queen Elizabeth
Estimated value: £260,000 ($345,000 USD)
Kate has often worn Queen Mary's diamond chain link choker as a bracelet – including paired with the Lotus Flower tiara to meet Chinese President Xi Jinping at an October 2015 state dinner.
The piece was also worn by the queen mother in her 75th birthday official portraits and was loaned to Kate by Queen Elizabeth. Kate wore the sensational bracelet again at a black-tie dinner in Paris, in 2017.
17. The Nizam of Hyderabad necklace
From: Loaned from Queen Elizabeth
Estimated value: £60,000,000 ($79,300,000 USD)
This is by far one of the most precious pieces of jewellery from the British royal family. The necklace, which was made by Cartier in 1935, is extremely intricate featuring over 50 diamonds nestled in an abstract floral design.
With an array of enormous pavé set stones and a detachable double-drop pendant, the necklace features 13 emerald and pear-shaped diamonds linked to a chain of a further 38 brilliant-cut stones. A piece like this is truly one of a kind.
This unique necklace is likely to be worth around £65,000,000 to £70,000,000, making it one of the most valuable royal family pieces we've seen.
The necklace was a wedding gift to Princess Elizabeth from the Nizam of Hyderabad, who was known at the time as one of the wealthiest people in the world.
It is believed that the Nizam of Hyderabad requested Cartier allow Queen Elizabeth II to choose anything she fancied from their impressive collection of jewels. The Queen opted for a tiara with three detachable flower brooches and what we now know as the Nizam of Hyderabad Necklace.
18. Cartier Halo Tiara
From: Loaned from Queen Elizabeth
Estimated value: £1,000,000 ($1,320,000 USD)
The dazzling tiara Kate Middleton chose to wear on 29 April 2011 has become one of the most iconic royal wedding tiaras of all time. Known as the Cartier Halo tiara, it's made up of 739-brilliant cut diamond and 149 baguette diamonds and was lent to Kate by the Queen.
Interestingly Kate was not the first royal to wear it. It was often considered a good 'beginner' tiara of sorts, perfect for a younger family member, with a smaller-than-average size that wouldn't induce headaches. Princess Margaret was the first to borrow the Cartier Halo tiara and it quickly became one of her favourite pieces when she was young. The tiara was also lent to Princess Anne who last wore the piece in public in the 1970s.
Queen Elizabeth has only worn the tiara once, shortly after she received it and before she became Queen Consort. She has never worn the tiara to a public event, as she prefers to wear larger, grander pieces.
The Cartier Halo tiara dates back to 1936, originally a gift from King George VI to Queen Elizabeth (the Queen Mother). He asked Cartier to create something magnificent for his wife, using diamonds and platinum he had purchased.
19. Maple Leaf brooch
From: Loaned from Queen Elizabeth
Estimated value: £30,000 ($40,000 USD)
In 1939 on their state visit to Canada, King George VI gave Queen Elizabeth, the Queen Mother, a stunning diamond brooch to honour their trip.
The Canadian Maple-leaf brooch was made by Asprey and features diamonds set in platinum, formed in the shape of the sugar maple tree leaf, the national emblem of Canada.
It was inherited by Queen Elizabeth II who normally wears it during Canada Day celebrations. She most recently wore it in July 2021 for a video conference with the Canadian Prime Minister.
Not only that, but the Queen has been known to loan the brooch to the Duchess of Cambridge, including her royal tour to Canada with Prince William in 2011.
20. New Zealand Fern Brooch
From: Loaned from Queen Elizabeth
Estimated value: £25,000 ($33,000 USD)
Another gift from across the pond, this diamond and platinum brooch was presented to the Queen by Lady Allum, wife of the Mayor of Auckland, on behalf of the women of Auckland in 1953.
The silver tree fern it represents is one of the most recognisable symbols of New Zealand.
Her Majesty wears the brooch for visits to New Zealand, and in April 2014, she loaned the brooch to the Duchess of Cambridge to wear during her family visit to New Zealand.
21. Royal Family Order Brooch
From: Loaned from Queen Elizabeth
Estimated value: £39,000 ($50,000 USD)
Kate first wore the royal family order brooch to the State Banquet at Buckingham Palace in October 2018. "I can confirm that Her Majesty awarded The Duchess of Cambridge with the Order in 2017," a spokesman for Kensington Palace told Vanity Fair.
The diamond-encrusted brooch is complete with a small painting of the Monarch and happens to be the greatest honour the Queen can give to a female member of the royal family.
And again, like Kate's wedding band, this brooch isn't as materially valuable as some of the other pieces she's worn, however the history and legacy of the piece is priceless.
22. Bahrain Pearl Drop Earrings
From: Loaned from Queen Elizabeth
Estimated value: £7,000 ($10,500 USD)
When Kate Middleton attended Queen Elizabeth II's annual Trooping the Colour parade in celebration of her birthday on June 8, 2019, she opted to wear a pair of earrings borrowed from the monarch herself.
The duchess sported Queen Elizabeth II's Bahrain pearl drop earrings for the occasion, which she previously wore while attending a church service during her visit to Balmoral Castle in Scotland in August 2018. The earrings crafted from a shell containing seven pearls, which was a wedding gift to The Queen from the ruler of Bahrain in 1947.
23. Pearl Choker
From: Loaned from Queen Elizabeth
Estimated value: £23,000 ($30,000 USD)
Along with her Bahrain pearl drop earrings, Kate wore a piece passed down by the Queen: a four-strand pearl choker to Prince Philip's funeral in April, 2021. As reported by People, was commissioned to be created using a collection of cultured pearls gifted to the monarch by the Japanese government. The piece was part of the Queen's regular jewellery collection in the 1980s and 90s, and was too once worn by the late Princess Diana to a state banquet in the Netherlands.
24. Dubai sapphire earrings
From: Loaned from Queen Elizabeth
Estimated value: £38,000 ($50,000 USD)
During her Royal Tour of Scotland, the Duchess of Cambridge visited a drive-in movie showing of Disney's Cruella, starring Emma Stone. For her appearance, Kate loaned a pair of earrings from The Queen's Dubai Sapphire Demi-Parure, the first time the Duchess has ever worn a piece from this particular collection.
The Queen first received the set of Dubai sapphires and diamonds from Sheikh Rashid in 1979, which famously made her "exclaim in amazement" when she first saw the jewels. While the original Demi-Parure contained a necklace, earrings and ring, The Queen altered the pieces slightly, transforming the necklace into hooped earrings, and the rings and earrings into a bracelet.
25. Ruby and diamond floral bandeau necklace
From: Loaned from Queen Elizabeth
Estimated value: £380,000 ($500,000 USD)
This ruby and diamond floral bandeau necklace was bought from Boucheron in 1907 by Mrs. Ronald Greville, who willed her jewellery to the Queen Mother on her death in 1942.
Given to the Queen by her parents as a wedding gift, the long necklace was shortened by the monarch, yet its size still made it a difficult piece to wear and by the 1980s, it was put away. In July 2017, it reappeared around Kate's neck at the Spanish state visit banquet.
The Queen may have been inspired – less than a year later, she wore it to the Commonwealth dinner in April 2018.
26. Gold Charm Bracelet
From: Gift from Camilla
Estimated value: £2,500 ($3,300 USD)
Middleton is often seen wearing a charm bracelet gifted to her by Camilla, Duchess of Cornwall, when she wed Prince William, a gold piece complete with a "C" for each of their names alongside a coronet and a crown.
27. Sapphire and diamond fringed earrings
From: Queen Mother
Estimated value: £23,000 ($30,000 USD)
Sapphires are a royal favourite and feature in a number of crown jewels, including the Queen Mother's fringed earrings Middleton donned at the Women in Hedge Funds dinner in 2015.
28. Lotus Flower Tiara
From: Princess Margaret
Estimated value: £4,000,000 ($5,300,000 USD)
Middleton has stepped out in the Lotus Flower tiara on a couple occasions, each at an official event at Buckingham Palace. The wedding gift to the Queen Mother in 1923 was reworked from a necklace to tiara and then passed down to Princess Margaret before she passed.
29. Yellow and white gold suite
From: Prince Charles
Estimated value: £42,000 ($55,000 USD)
Following her wedding to Prince William, Prince Charles gifted the Duchess a set of matching yellow and white gold pieces consisting of a ring, a bracelet and a pair of drop earrings. she has since worn on multiple occasions
30. Diamond Bracelet
From: Prince Charles
Estimated value: £208,000 (275,000 USD)
Kate's white and yellow gold diamond bracelet was a gift from the British royal family after she married William.
The piece is part of a set that includes matching earrings, but the bracelet alone is valued at more than US$275,000. The precious piece of jewellery is believed to be a gift from her father-in-law, Prince Charles.
If you're inspired by Kate Middleton's jewels, why not take a look at our collection of necklaces, rings, and bracelets in a range of beautiful precious gemstones?
---
Follow us on our socials
Pop over to our social platforms to keep up to date with Steven Stone's latest jewellery content and news.