Grace Kelly's legendary Cartier engagement ring has gone down in history as one of the world's most expensive pieces of jewellery.
She won Best Actress in The Country Girl (1954). The Oscar-winning actress is well-known for her timeless jewellery collection which mirrored her ageless movies such as Rear Window (1954), To Catch a Thief (1955), and High Society (1956). The director Alfred Hitchcock was a great fan of brilliant jewellery, and even introduced Grace Kelly to Cartier.
The brand's designer at the time, Alfred Durante, saw both of them gazing at the decadent jewellery on display at the Fifth Avenue Mansion in New York – years before the actress became a princess.
How did Grace Kelly and Prince Rainer meet?
Hitchcock unintentionally played matchmaker for Grace Kelly when he cast her in the role of Frances Stevens in his 1955 production, To Catch A Thief. Grace Kelly met her soon to be fiancé, Prince Rainier III of Monaco on May 6th, 1955, during the 8th Cannes Film Festival as she was promoting her movie.
She wore a sophisticated floral-print dress for the meeting. Grace Kelly and Prince Rainer stayed in touch for months afterwards through exchanging letters.
What do we know about Grace Kelly's engagement rings?
Then shortly after, Prince Rainier visited Grace Kelly in her hometown of Philadelphia that Christmas where he proposed with a jewel from Cartier. On January 5, 1956 at a press conference in her family's home in Philadelphia, the happy couple announced their engagement to the press, allowing paparazzi to take close-up photos of the stunning engagement ring
The precious piece of jewellery Rainier had made included heirloom red rubies and white diamonds to represent the colours of Monaco's flag. Grace Kelly wore a champagne colored dress of wool with gold metallic dots and gold collar clips and earrings for the monumental occasion.
"While it's incredibly difficult to value a ring without seeing the original item in colour, the fact that the ring was designed by Cartier and features heirloom rubies, which look to be around 1.5 carats,  along with 1.5 carats of diamonds, suggests it could be worth over £15,000 today.
"Although Grace Kelly received the incredible 10.5 carat Cartier diamond ring shortly after, which is now one of the world's most famous pieces of jewellery, the rubies featured in her first ring are likely to be very rare and of the finest quality. Rubies are also soaring in value right now, so it's likely the value of this ring will increase even more over time."
However, the Hollywood Royal turned real-life princess received yet another alluring engagement ring which she showcased shortly after the press conference.
While filming the movie High Society, fans saw the new ring enter the picture.
It's thought that the movie was to be the last that Kelly would star in before she retired and moved to Monaco, and when Rainier heard that the costume designer was going to source a fake ring for her character, he instead bought her one to also wear as a second engagement ring.
Grace Kelly's second engagement ring is worth £30,000,000
Feast your eyes on this incredible jewel. Introducing the huge 10.48-carat Cartier emerald-cut engagement ring, flanked by two baguette-cut side stone, set in platinum.
This astonishing jewel wasn't as delicate as Kelly's ruby and diamond ring and didn't demand a close-up to be seen. She wore it in MGM publicity photographs for High Society – which immediately made it become one of the most talked about engagement rings in the world.
Zack Stone has estimated the value of this ring to be around £30,000,000 ($41,484,000 USD) on today's market. To reiterate, this fact makes this masterpiece of an engagement ring by far the most expensive one in history to date.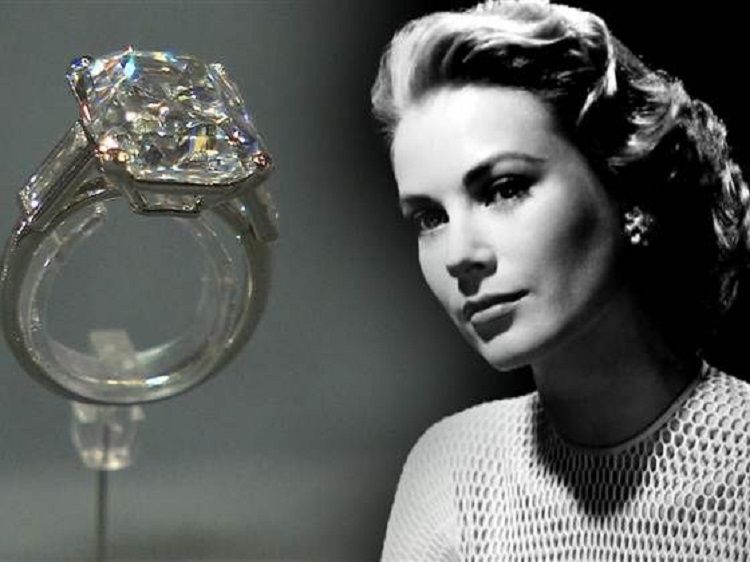 He said: "This is by far one of the most astonishing engagement rings in history. The huge diamond in the centre of the ring is flawless, which goes without saying when designed by Cartier.
"Even to this day, Grace Kelly's ring inspires women around the world. making the emerald cut diamond one of the most popular."
Trading the glamorous life of Hollywood for the royal Monaco Grace Kelly married Prince Rainer of Monaco in April 19,1956.
The eye-watering religious ceremony was held in the Cathedral of Monaco with about 600 guests and over 30 million TV viewers watched the historical nuptials from their homes.
Grace Kelly and Prince Rainier married for 26 years and had three children together (Stephanie, Caroline, and Albert II). Tragically, in 1982, the famous actress suddenly suffered a stroke while driving, which resulted in a car accident that led to her death at the age of 52.
Grace Kelly's engagement rings now remain in the House of Grimaldi.