Engagement before marriage has been a part of our culture for hundreds of years, but what a typical engagement looks like is something that's ever-changing. We were interested in finding out what classic engagement traditions and habits still existed in the 21st century, so we surveyed 2,000 people to find out what public opinion was on a range of elements of engagement – from when the best time of year to propose is to how to share the news on social media. The result is a set of statistics that show what an ideal proposal in the 21st century looks like.

Choosing The Time
You'll remember the day you get engaged forever, so choosing the right time to pop the question is important. It turns out that 46% of you think that lining up the proposal with another special day in the year is the best idea, while 54% don't have a preference for any specific date. Valentine's Day was the most popular choice of ideal proposal date, with 12% of people favouring the supposed 'Hallmark holiday'. Christmas proposals came in second place with 9% and New Year was third with 7% of the votes.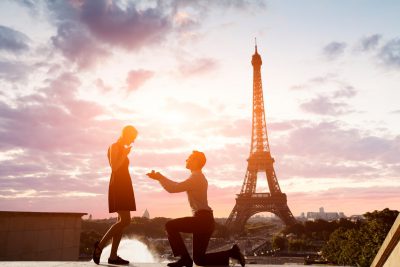 Finding The Place
To make the memory of your proposal special, the where is just as important as the when. There's some clear advice on the right location to be taken from the results of our survey – proposing on holiday is good, in front of other people is bad. 19% of you said that a holiday proposal was the way to go, with 12% saying you'd rather get engaged in the comfort of your own home, and 10% dreaming of somewhere with a view. Grandiose public proposals or getting down on one knee in front of family, however, is not advised, with just 2% of you favouring an attention-grabbing proposal.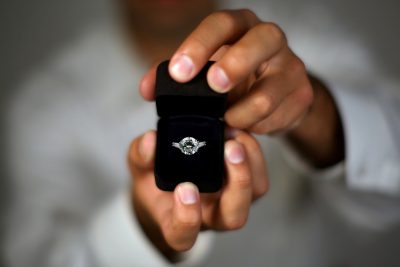 Putting A Ring On It
Choosing the engagement ring is a sensitive, often difficult part of the engagement process – we should know as we help hundreds of people find the right ring every month. People often feel pressured to choose the ring as a surprise, thinking it adds to the sense of romance and makes the gesture grander, but the reality couldn't be any more different. 52% of our respondents said they'd rather choose their ring with their partner, while only 20% were comfortable with their partner choosing their ring all alone. A further 13% of respondents said that their preference would be to design their ownbespoke engagement ring, while 14% would drop hints to their partner about the type of ring they want. Speaking of type of ring, only 4% of our survey respondents think that an engagement ring needs to have a diamond in it, meaning it's likely that more people than ever are breaking with tradition and choosing othergemstone engagement rings.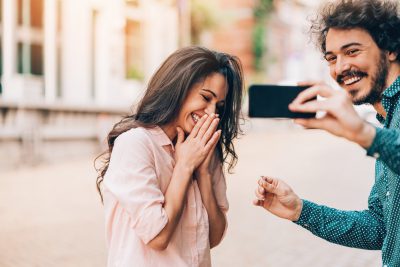 An Untraditional Proposal
One of our main aims with this survey was to find out just what common engagement traditions have made it unscathed into the 21stcentury. With many of the traditional pre-cursors to proposal stemming from archaic ideas, we suspected that a lot of them would now be unpopular. It turns out we were right! Only 19% of male respondents thought it was important to ask their partner's father for permission to propose, just 13% of people expected their partner to get down on one knee while popping the question, and only 16% thought that a proposal should be a surprise. Going further back into engagement tradition, we asked whether announcing your engagement in the local newspaper was important and just 1% of you said it was.
While most engagement traditions are fading away, one that seems to still hold public consensus is that men do the proposing. Our survey revealed that 79% of men would rather propose than be proposed to, while only 10% of women would rather be the one to ask the question.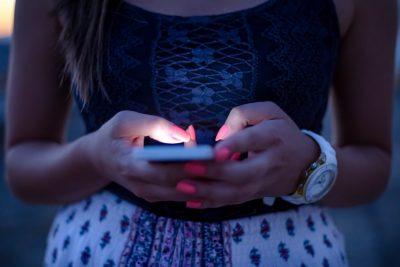 Social Media Engagement
With the popularity of social media networks like Facebook and Instagram, the internet is now filled with proposal announcements and relationship status changes. However, our survey showed that 26% of you would avoid posting anything about the engagement online. Surprisingly, 18-24-year-olds were most likely to abstain from social media sharing, with 32% choosing to stay quiet on their profiles. The next age bracket up, people aged 25-34 years old, were less hesitant to share their happy news, with 9% saying they'd post about their engagement before even telling their family.