There are one million decisions to make when planning your wedding. From the cardinal options such as the venue and wedding dress, to the small details like wedding invitations and centre pieces.
Engagement and wedding ring experts at Steven Stone are here to ease every step of your wedding planning and offer the best, time-tested expert advice – starting with a step by step guide on how to choose Bridal jewellery.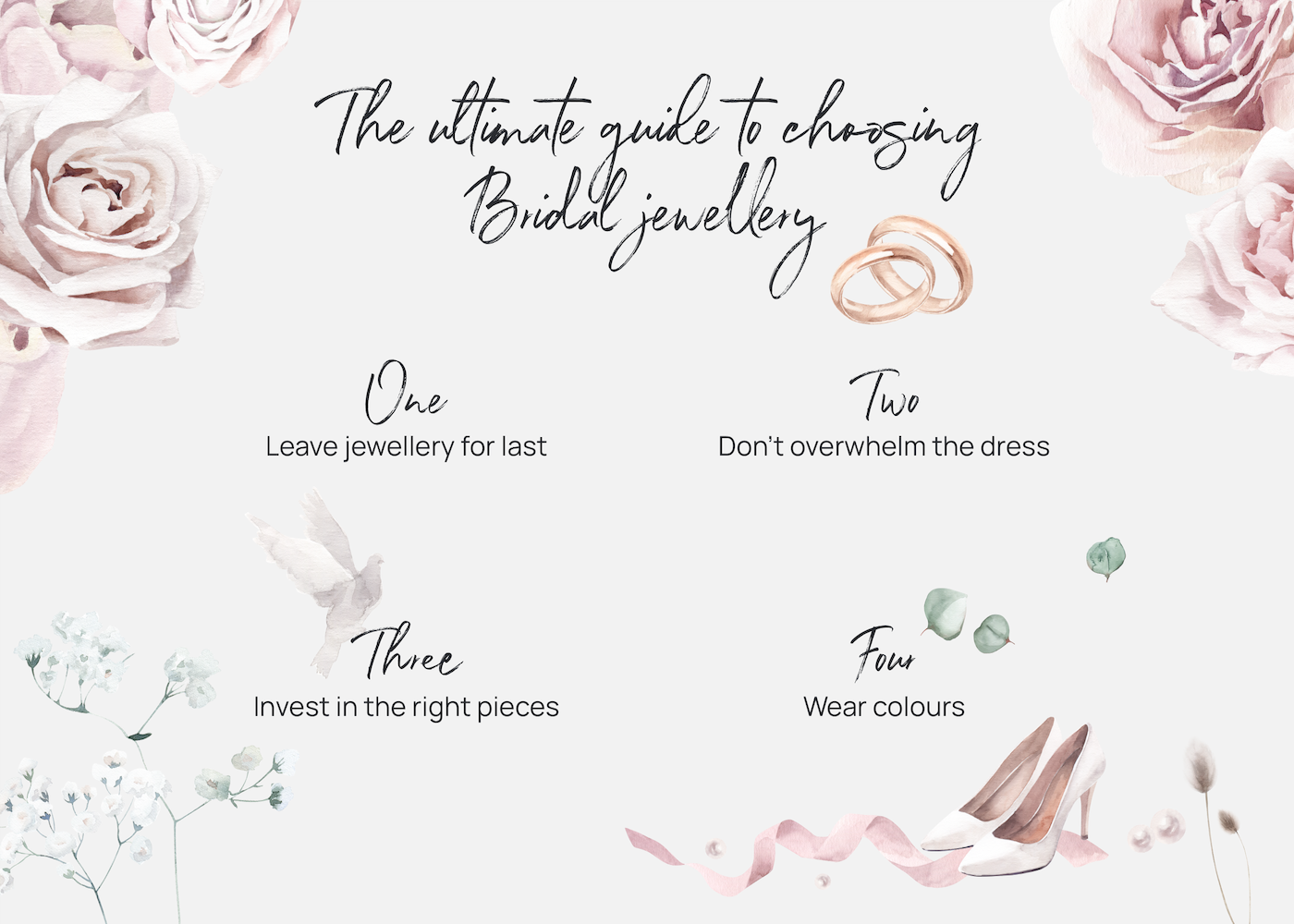 Leave jewellery for last
Perhaps you don't want to invest in bridal jewellery before you have your perfect wedding dress and know pretty much every other detail around your wedding.
To find the suitable pieces, you would need to consider the dress' neckline and sleeves, your hairstyle, make up and wedding theme. If your dress has long sleeves, a bracelet would most likely remain unnoticed. As for the neckline, we recommend wearing short necklaces no matter what the dress design is, as a long piece might tangle or even ruin your gown.
Opt for metals which compliment your dress' tones. Yellow gold to enhance champagne and ivory nuanced dresses or platinum and silver to match white and vintage-inspired looks.
Don't overwhelm the dress
Wedding jewellery is best understated. Tradition says you do need to wear something old, something new, something borrowed and something – those pieces should remain subtle and the focus should be on you and the dress.
When thinking about how to choose bridal jewellery, opt for more universal pieces to wear at other occasions or suitable for casual outfits. A perfect example of a universal piece is the pearl stud earrings – a classic statement jewel, to dress up any casual outfit or add the perfect finishing touch to an evening gown.
Invest in the right pieces
When talking about how to choose bridal jewellery, you are probably asking yourself how much you need spend on bridal jewellery? Price range for bridal jewellery varies, with prices starting from £20 and going through the roof. Of course, it all depends on your personal preferences and the purpose of the piece.
Is it worth spending much on a hair accessory? We don't think so. Is it worth investing in wedding rings or pieces you would wear often? Absolutely.
Our best advice is to opt for high quality jewellery to last a lifetime and pass down to the next generation.
Wear colours
Don't be afraid to add some colour to your bridal jewellery. Coloured gemstones are an everlong classic and have been increasingly popular in recent years.
Sapphires are a popular choice for wedding jewellery, as they have long symbolised friendship and loyalty. represent passion and power and make an excellent eye-catching accessory to wear on your big day.
However, pearls remain the queen of gems – universal, feminine, gorgeous and classical, they make ultimate bridal pieces.
If you're looking for an engagement ring or wedding ring and would like to browse for inspiration, take a look at our ready to wear collection or chat to one of our team for bespoke creations. We have showrooms in Manchester, Cheshire and London.
---
Follow us on our socials
Pop over to our social platforms to keep up to date with Steven Stone's latest jewellery content and news.