A gemstone engagement ring is a type of engagement ring that has a non-diamond centre stone. Often designed using traditional engagement settings such as solitaires, halos, and three-stones, they're becoming more and more popular due to their unique style, large size, and lower cost.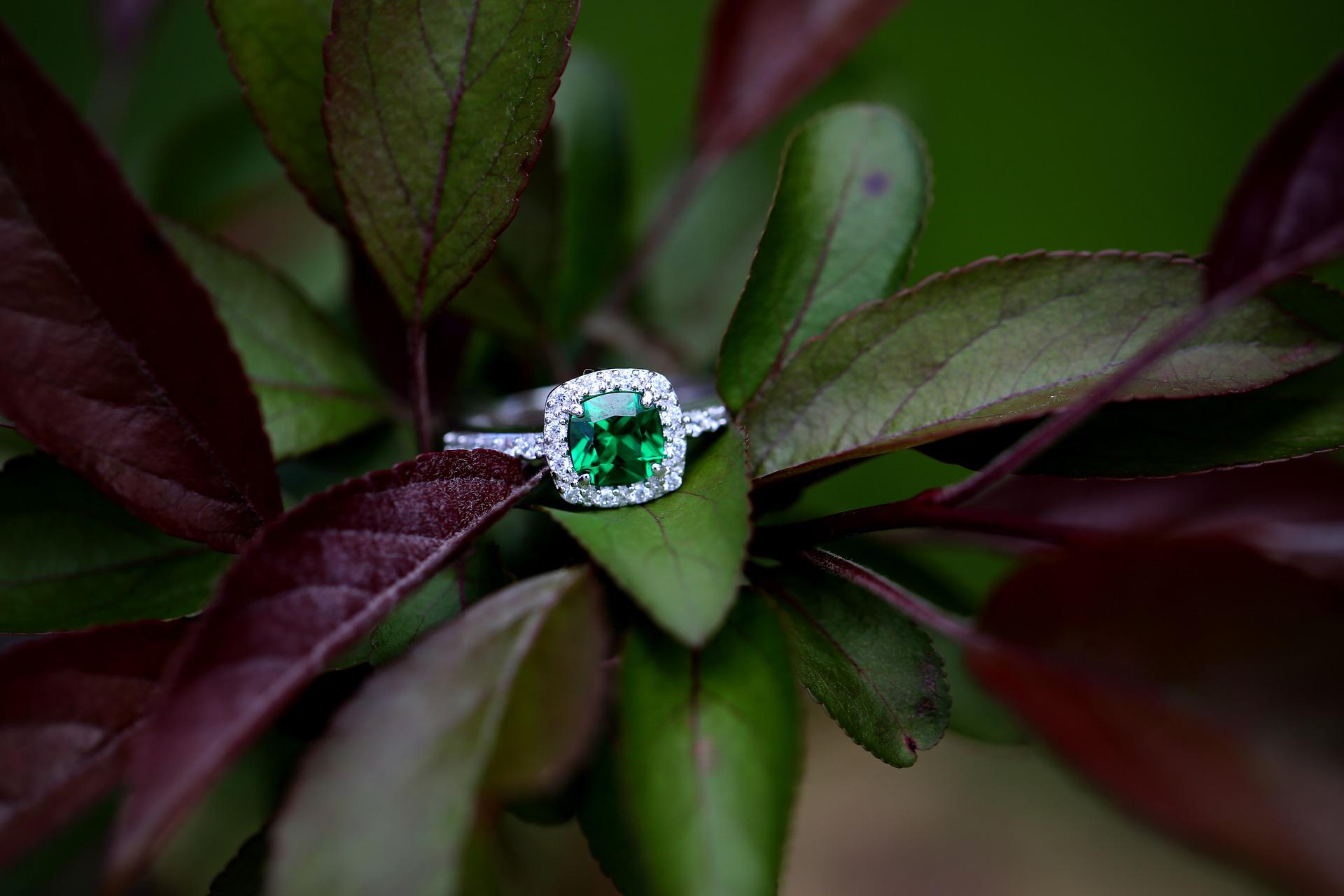 Common gemstone choices
Precious gemstones are becoming increasingly popular for engagement rings – common gemstone choices include sapphire, emerald, and ruby.
Sapphire
Extremely desirable due to its vibrant colour, durability and hardness, sapphire symbolises loyalty – hence why the stone is so popular for engagement rings, wedding rings and bridal jewellery.
Emerald
Traditionally thought to preserve love and passion in relationships, emerald is also seen as a symbol of hope, success in love and domestic happiness. Queen Cleopatra famously worshiped emerald jewellery, believing it would give her eternal youth and beauty.
Ruby
Rubies are a very desirable gemstone due to their hardness and durability and come in a range of shades from red in rich dark nuances to pale pink reds.
Since sapphires and rubies both come from the mineral Corundum, rubies are basically a red variety of sapphires, but due to their historical significance and popular allure they have always remained an individual gemstone.
Celebrities with gemstone engagement rings
Though incredibly popular, it's not just about diamonds when it comes to celebrity engagement rings and they've been known to boast some impressive gemstones.
Megan Fox
Machine Gun Kelly proposed to Megan Fox with a pear cut emerald and diamond engagement ring set on two magnetic bands of thorns that represent two halves of the same soul. Our jewellery expert estimated the stones to be approximately 2.20ct each, meaning that the rings together would be worth around £100,000 ($120,000) on today's market.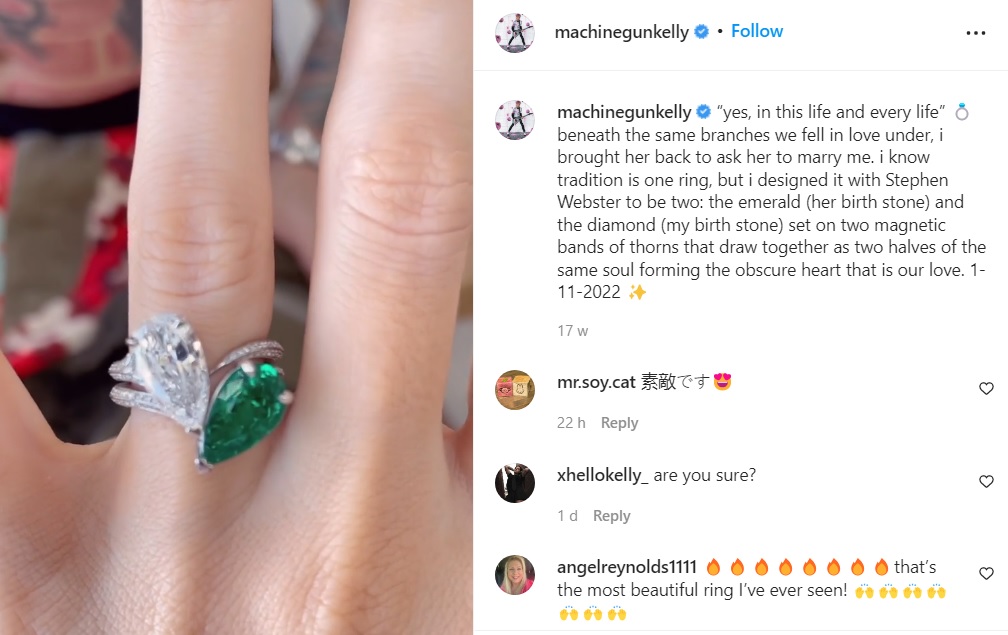 Kate Middleton
Worth £390,000, Kate Middleton's engagement ring – which was formerly Princess Diana's – features a 12 carat Ceylon sapphire, originating from Sri Lanka. Like with most precious gemstones, the quality and value of a sapphire is graded by its colour and hue, which can range from a light, pale blue to a dark, royal blue.
Elizabeth Hurley
When Australian cricketer Shane Warne proposed to Elizabeth Hurley, he did so with a stunning ring that features a huge square sapphire and two diamonds on either side.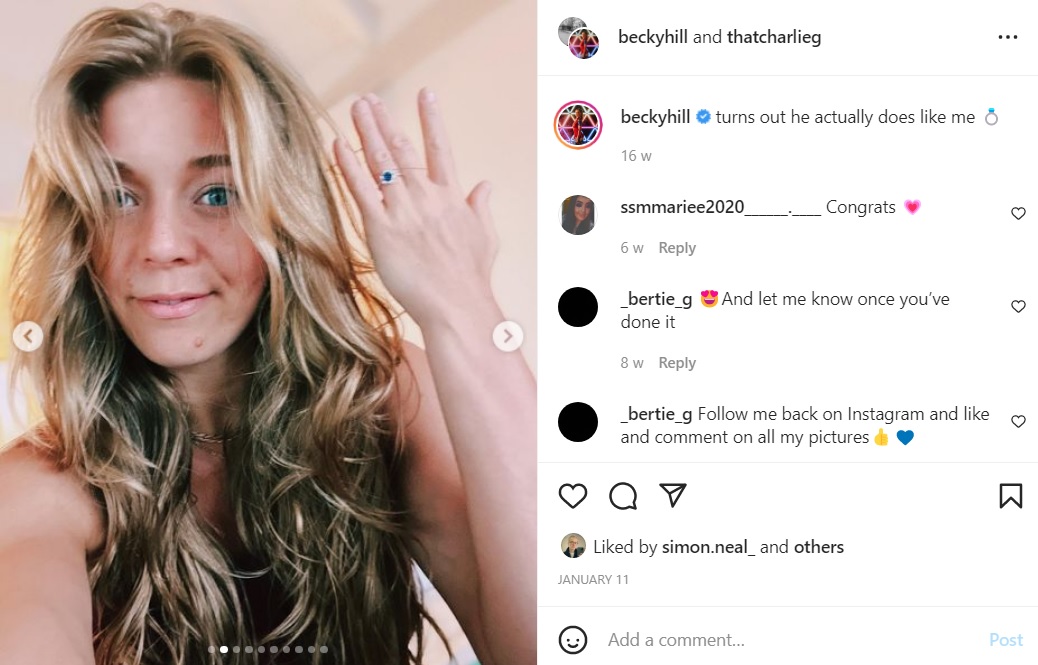 Becky Hill
UK pop singer, Becky Hill, revealed some stunning images of her engagement ring on Twitter after her boyfriend Charlie proposed to her on a private island in the Maldives. Sharing similarities with Kate Middleton's Ceylon sapphire engagement ring, it has a hexagon halo setting, with plain shoulders and a yellow gold band. Boasting a centre stone that looks to be a 1.5ct blue sapphire, our jewellery expert estimated it to be worth around £10,000 on today's market.
Victoria Beckham
From diamonds and rubies to emeralds and sapphires, Victoria Beckham's engagement ring collection contains some of the world's finest precious gemstones and are worth an eyewatering amount of money.
In 2007, Victoria took a break from diamonds and opted for an incredible green emerald ring that features a huge cushion-cut emerald sat inside a sculptural diamond spiral. With mind-blowing 25 carat stone, our experts valued it at £3,000,000.
In 2009, Victoria picked up an oval-cut ruby, mounted in a white-diamond setting. Due to its incredible 15 carat gemstone, our experts gave it a value of around £5,000,000. What's most impressive is that it's a Pigeon Blood ruby, which is the most sought-after colour variety of ruby gemstone.
To complete her set of precious gemstones, Victoria needed a sapphire. In 2010, she gained a huge oval-cut sapphire on a skinny pave band. Our experts thought the stone to be around 15 to 20 carats, giving it a value of £5,000,000. They also described the colour of the sapphire to be considered AAA or AA quality – the rarest and most valuable.
Victoria also owns a moonstone ring, set in a diamond-encrusted platinum band. If you haven't heard of moonstone, it is often seen as a stone for "new beginnings", inner growth and strength. Due to the size and quality of the stone, along with diamond setting, our experts valued it at £30,000.
Jessica Simpson
After just five months together, Eric Johnson proposed to Jessica Simpson with a three-stone Neil Lane engagement ring that features a five-carat central ruby – her birthstone – flanked by two diamonds.
Eva Longoria
Eva Longoria's bling from her husband José "Pepe" Bastén boasts a large ruby centre stone. Often compared to Kate Middleton's engagement ring (but with a ruby), Eva Longoria's jewel also features an oversized halo of diamonds.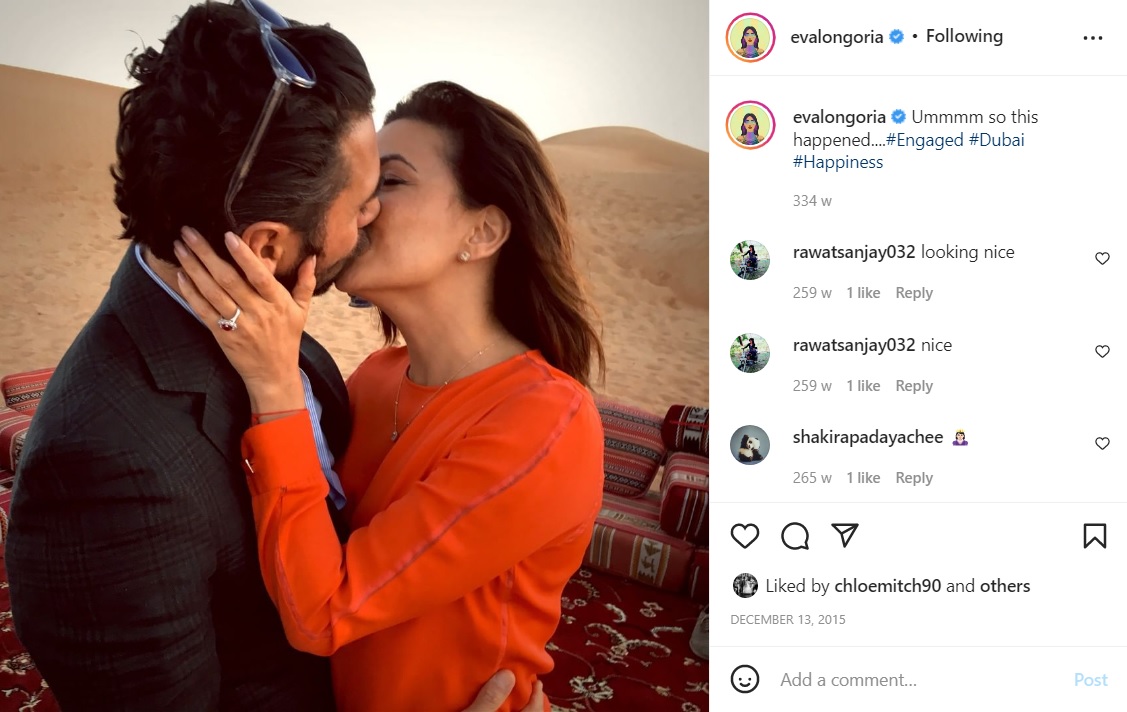 Penelope Cruz
When Javier Bardem popped the question to Penelope Cruz, he did so with a vintage three carat sapphire ring. The precious gemstone is surrounded by a halo of diamonds which give the ring the appearance of a flower.
Lady Gaga
When Lady Gaga was engaged to Christian Carino in 2018, she wore a pretty pink sparkler that featured a pink sapphire gem centre stone, surrounded by a circle of diamonds that created a flower design. Weighing between 6 and 7 carats, the ring has an estimated value upwards of £300,000 ($400,000).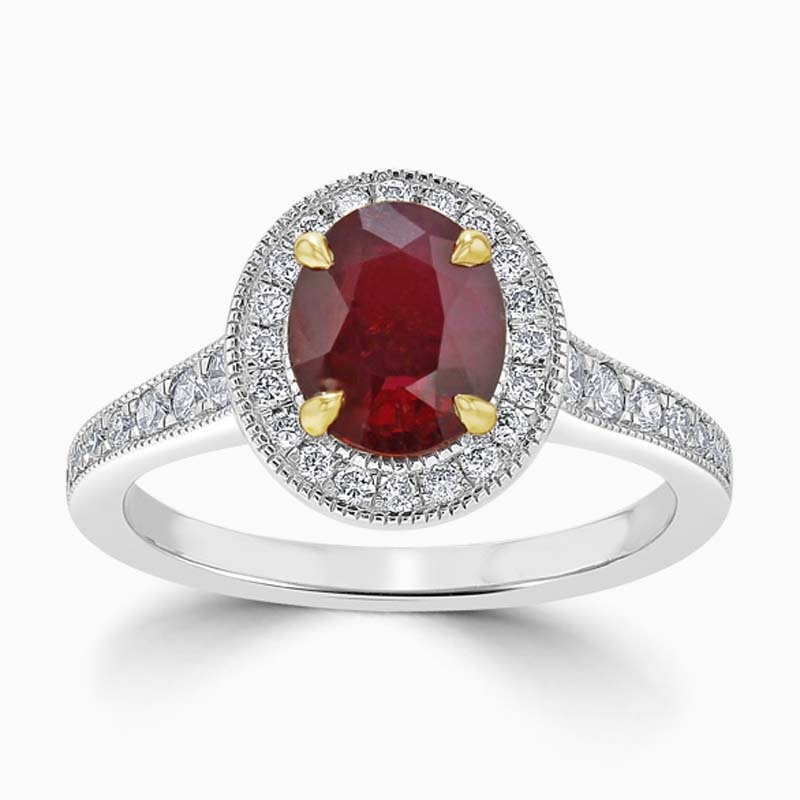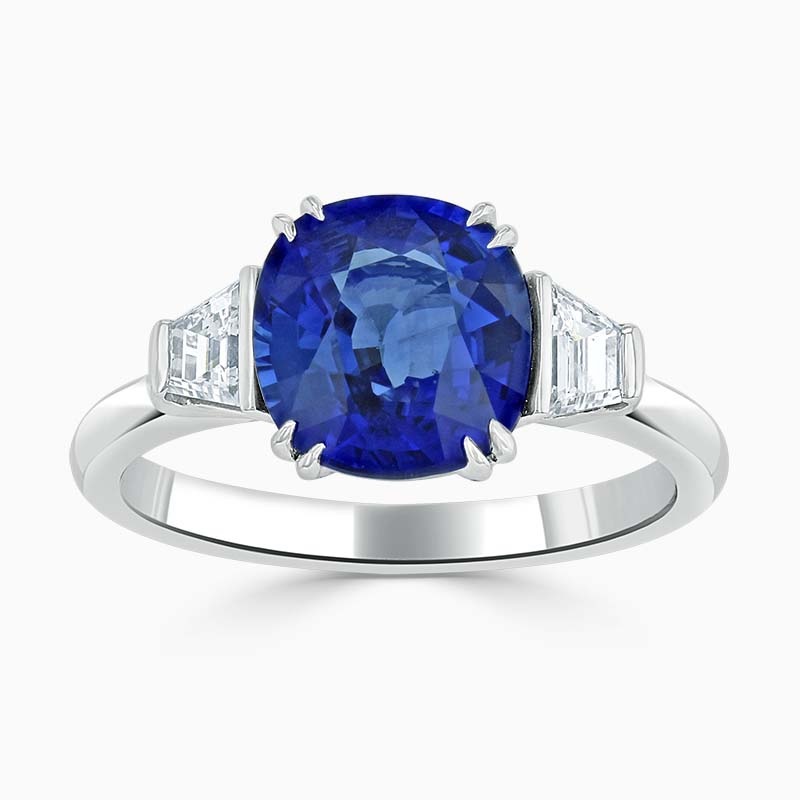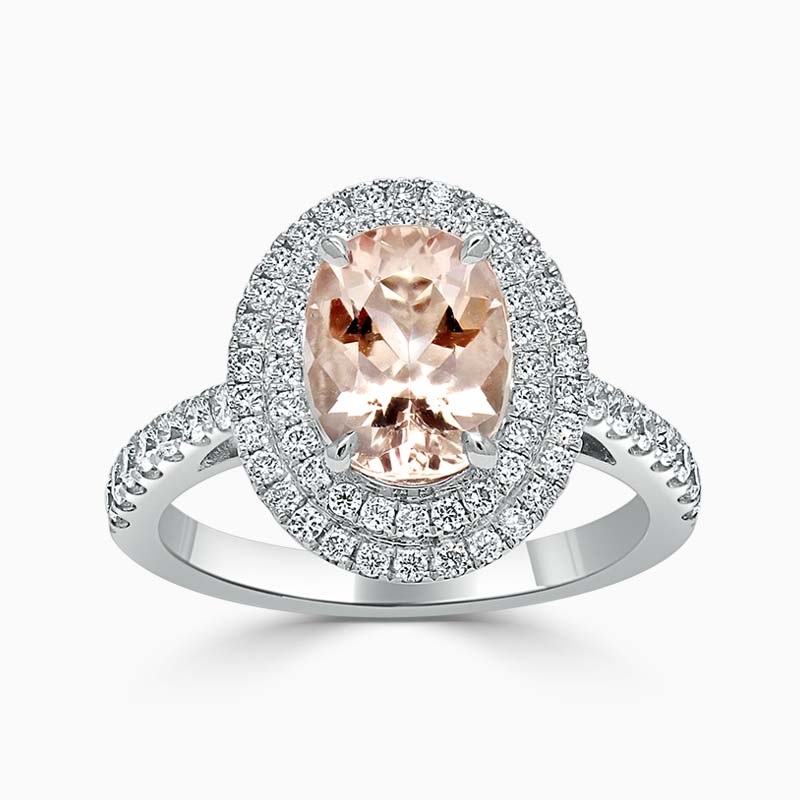 If you're looking for an engagement ring and would like to browse for inspiration, take a look at our ready to wear collection or chat to one of our team for bespoke creations. Why not take a look at our full jewellery collection? We have showrooms in Manchester, not to mention a wide range of engagement rings in London.