Strongly associated with femininity, pink symbolises love and romance, so it's no surprise that pink engagement rings are popular. Just as hard and durable as colourless diamonds, they have the added benefit of offering an eye-catching splash of colour!
What does a pink diamond symbolise?
Throughout history, the colour pink has been said to represent femininity, love and romance.
Pink diamonds symbolize passion and power. They also represent strength and confidence, which links with their durability.
There's also an element of mystery with pink diamonds as their colour isn't caused by chemical impurities – the exact reason that pink diamonds are naturally created is uncertain.
Are pink diamonds rare/expensive?
Found in a small number of diamond mines throughout the world, pink diamonds are one of the rarest coloured diamonds that exist.
Because of their rarity, pink diamonds can be very expensive – the price can be much more than the price of a traditional white diamond. Typical white diamonds are usually pricier the more they lack colour, but with pink diamonds, the more vivid the colour, the more expensive the stone usually is.
Be inspired…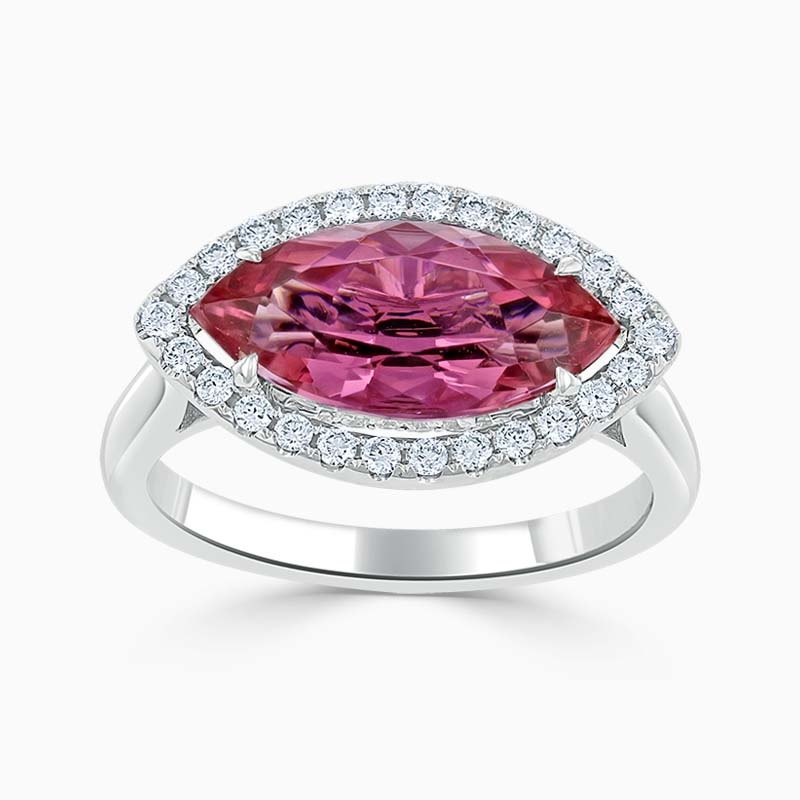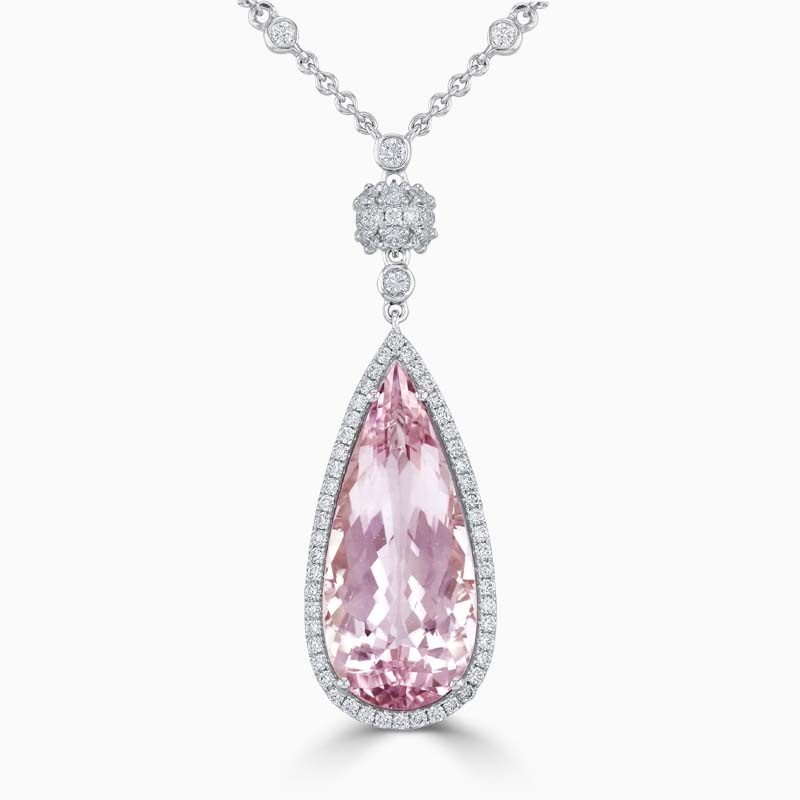 Celebrities with pink engagement rings
The popularity of pink engagement rings is said to have exploded when Jennifer Lopez received one from Ben Affleck in 2002 – the ring boasted a radiant-cut pink diamond, flanked by clear baguettes set in platinum.
Check out our list of other celebrities who ditched clear diamonds in favour of their pink counterparts!
Blake Lively
Designed by Lorraine Schwartz and bestowed to her by husband, Ryan Reynolds, the main focus of Blake Lively's rose gold engagement ring is a large, light-pink oval diamond centre stone.
Setting off a trend for future brides, the ring has a rose gold pavet band that's covered with diamonds – if it didn't dazzle enough, the couple have since added another diamond-studded band as Blake Lively's wedding ring.
READ MORE: Why is Blake Lively' engagement ring one of the world's most valuable?
Lily Collins
Designed by her now husband, Charlie McDowell – with the help of Irene Neuwirth Jewellery – Lily Collins' engagement ring sports an eye catching rose-cut gemstone and commands a retail price upwards of £65,000 ($85,000).
Anna Kournikova
Tennis star, Anna Kournikova was presented with an 11-carat natural pink pear-shaped diamond engagement ring when Enrique Iglesias popped the question. Sourced from the biggest mine in Argyle in Western Australia and with a centre stone that's set between two trillion diamonds, it has an estimated value of £2 million ($2.5 million).
Victoria Beckham
Since their engagement in 1998, Victoria Beckham is said to have worn several different engagement rings from her husband, David. At least two of them are said to have a pink diamond centre stone.
We're particularly fond of the pink oval-cut diamond in a halo setting that David gifted her for her 30th birthday in 2004. Reportedly worth £1 million ($1,300,000) at the time, our experts at Steven Stone believe it to have more than doubled in value since, due to pink diamonds becoming increasingly rare as a result of the closure of the Australian Argyle mine.
READ MORE: How much are Victoria Beckham's 15 engagement rings worth?
Mariah Carey
During her engagement to Nick Cannon in 2008, Mariah Carey sported a stunning pink and white diamond ring from Jacob Arabo of Jacob & Co.
Our diamond expert, Zack Stone estimated that the head-turning engagement ring holds a value of £1,800,000 ($2,400,000) and boasts a 10.02 emerald cut, with two smaller diamonds flanking it, and white diamonds encrusted down the sides.
READ MORE: Mariah Carey engagement ring collection was worth £12 Million
Lady Gaga
When Lady Gaga was engaged to Christian Carino in 2018, she wore a pretty pink sparkler that featured a pink sapphire gem centre stone, surrounded by a circle of diamonds that created a flower design. Weighing between 6 and 7 carats, the ring has an estimated value upwards of £300,000 ($400,000).
If you're looking for a unique engagement ring of your own, chat to one of our team for bespoke engagement rings.
We also offer diamond earrings, eternity rings, and wedding rings for women and men.