After months of teasers, David Beckham's new documentary series from Academy Award–winning director Fisher Stevens is out on Netflix.
Titled 'BECKHAM', the four part series gives fans never-before-seen insights into who Beckham actually is and features interviews from family, friends, and football figures who've been part of his journey.
Not only does it take a look at the former footballers career from the start, but it also follows his relationship with his wife Victoria, who was a Spice Girl when the couple first met in the Manchester United Players Lounge, back in 1997.
While most of us expect to receive just one engagement ring, Victoria has racked up a collection of 15 since David first proposed in 1998.
From diamonds and rubies to emeralds and sapphires, Victoria's engagement rings contain some of the world's finest precious gemstones and are worth an eyewatering amount of money.
To find out exactly how much her 15 rings are worth, Steven Stone's leading diamond expert, Maxwell Stone, has taken a close look at each piece and given them an estimated valuation.
He said: "Victoria Beckham has the most exquisite collection of engagement rings I am yet to see. Whilst most of the rings have a value of over £1,000,000, there is one particular ring that stands out in terms of size and value. Her oval-cut sapphire on a platinum pave band is a magnificent piece of jewellery, with a 15 to 20 carat stone. Today, I would value this ring at around £5,000,000.
"After looking at the entire collection, it looks to be worth over £32,000,000. Whilst some of the jewels were purchased more than 10 years ago, when valued today, they are worth a lot more due to the rarity, and the rise in market value."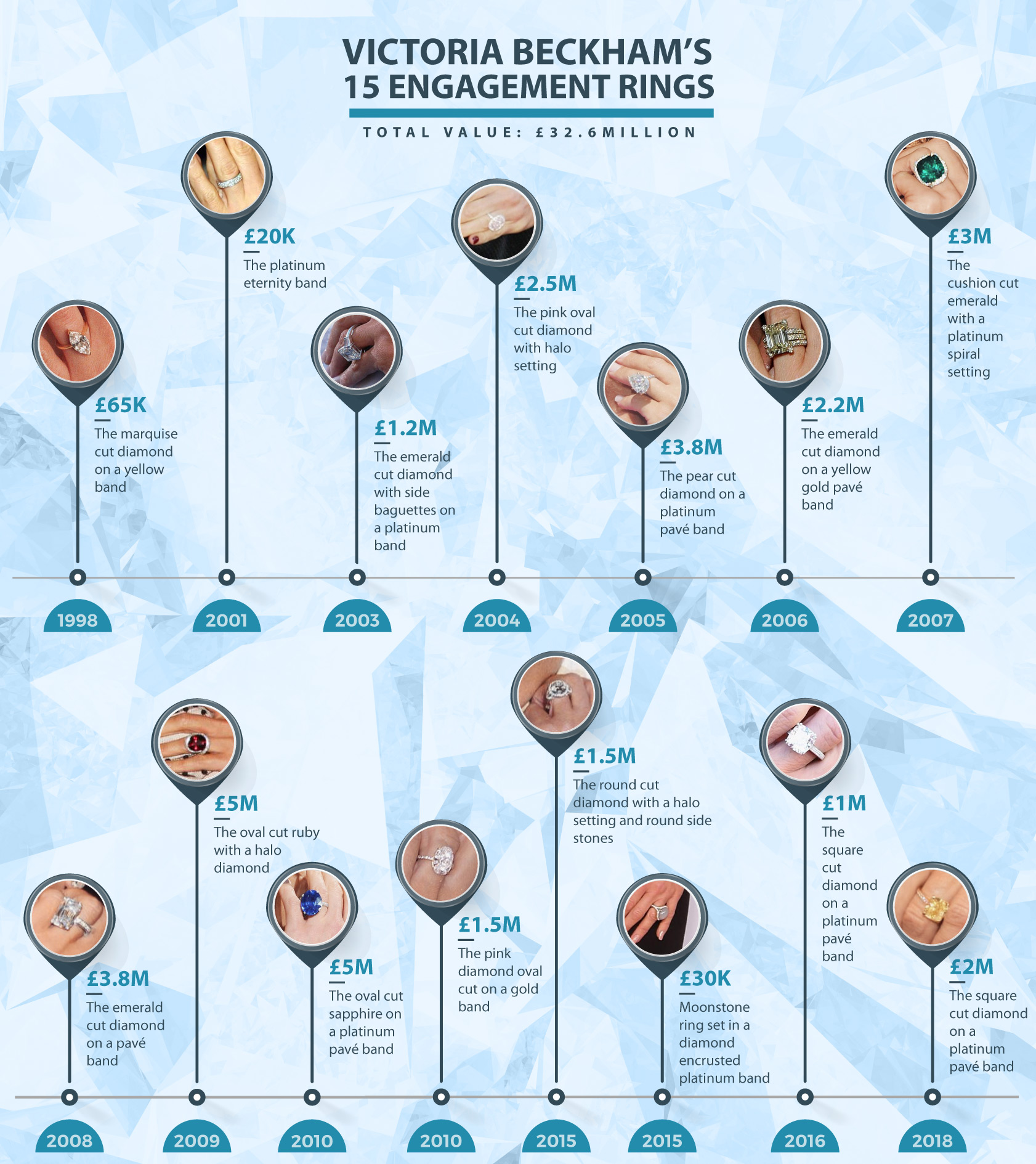 1998: The marquise-cut diamond on a yellow gold band – £65,000
When David Beckham got down on one knee back in 1998, he proposed with a three-carat marquise-cut diamond set on a plain yellow gold band, which our experts estimate is worth around £65,000.
Our experts said: "Whilst this ring is no doubt sensational, it features one of the most modest stones in Victoria's collection. The majority of her rings in more recent years are larger than seven carats."
2001: The platinum eternity band – £20,000
Three year's later, Victoria was ready for her first upgrade and stopped wearing her marquise-cut diamond. Instead, she was seen sporting a platinum set eternity band. It featured a simple, plain design with small white diamonds and a bevelled edge.
Our experts said: "It's interesting that Victoria swapped a statement stone for a simple band. However, as the ring features white diamonds all the way around, it could be worth around £20,000."
2003: The emerald-cut diamond with side baguettes on a platinum band – £1.2M
Moving on to bigger things, in 2003, the former Spice Girl upped her game, and blew us away with this emerald-cut diamond ring with side baguettes.
Our experts said: "Now this is a ring that makes a statement. The emerald cut diamond is a VS clarity, meaning it's almost flawless and amongst the finest quality diamonds. Considering it also has another smaller diamond on either side, we'd estimate this ring to be worth around £1,200,000."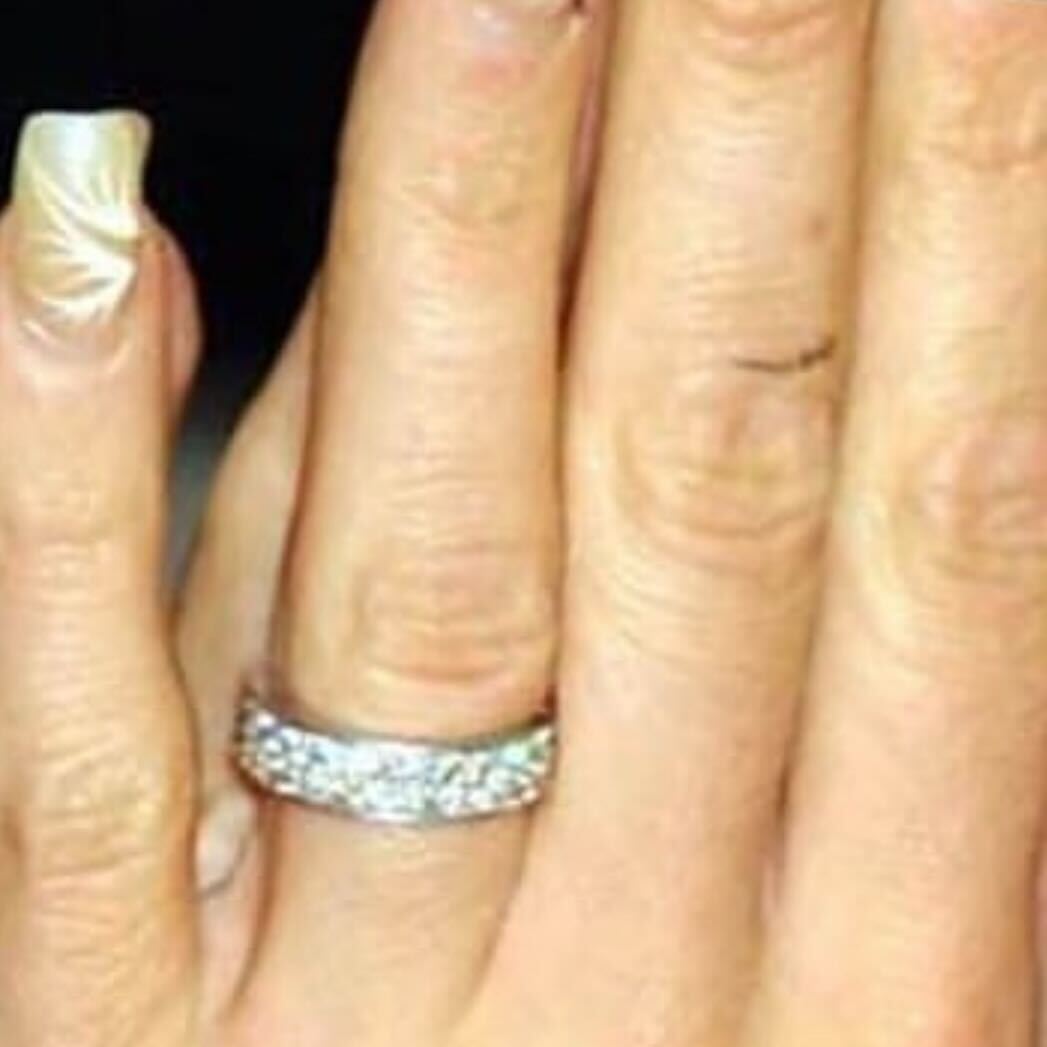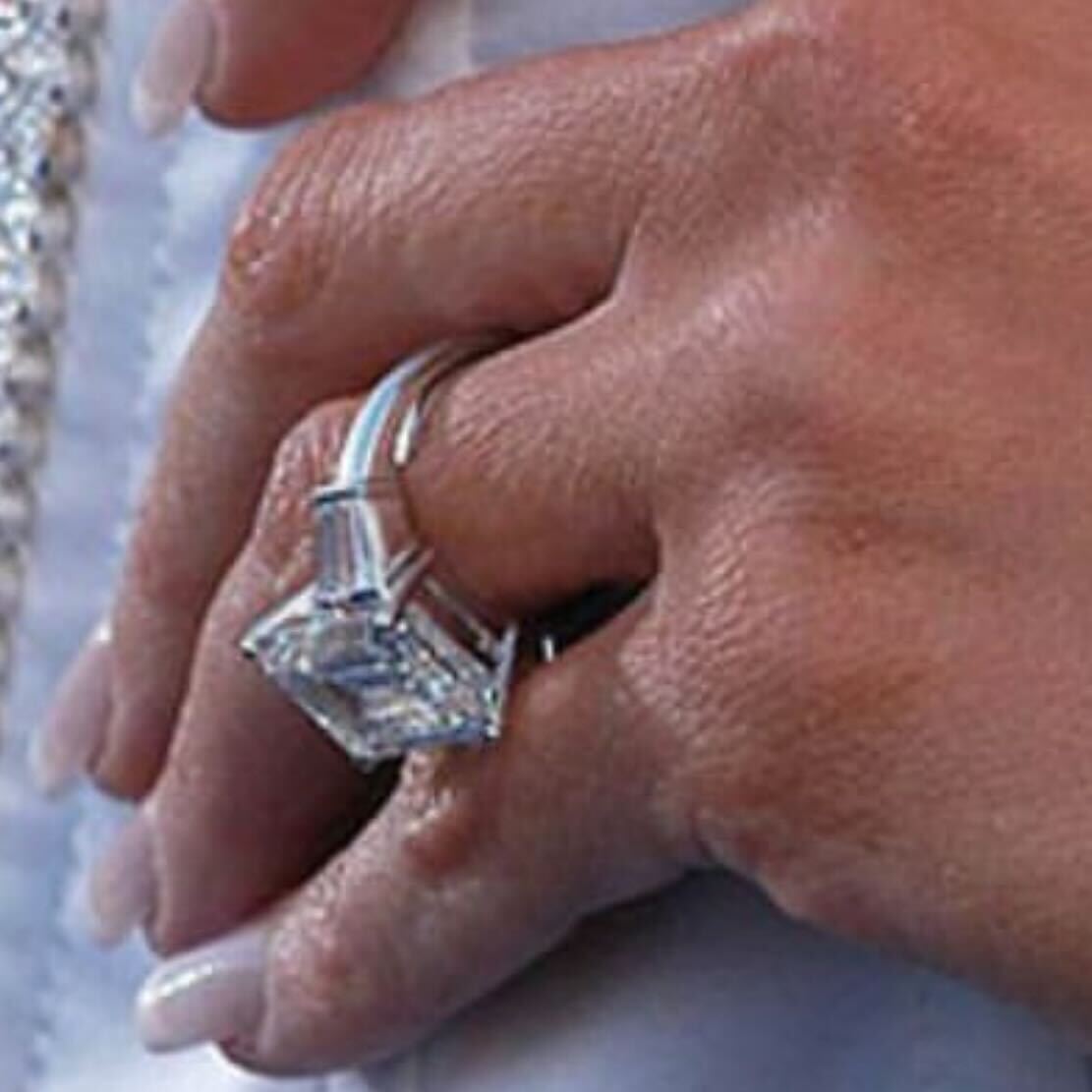 2004: The pink oval-cut diamond with halo setting – £2.5M
Whilst most of us get a bottle of fizz on our 30th birthdays, Victoria received a £2.5M ring from hubby, David. The ring features a pink champagne diamond in a halo setting. It was reportedly worth £1million at the time, however now it's worth much more.
Our experts said: "Pink diamonds have soared in value in recent years, as they've becoming increasingly rare. Whilst this ring was worth £1,000,000 in 2004, it's more than doubled in value, due to the Australian Argyle mine closing down, which was the main source of pink diamonds. The diamond is approximately 7.5 carats, which also adds to the value."
2005: The pear-cut diamond on a platinum pave band – £3.8M
Another year, another ring, as in 2005, Victoria was gifted her biggest diamond yet. This huge pear-cut diamond is a breath-taking 17 carats. It's set on a diamond pave band and is one of the rings she's often seen wearing.
Our experts said: "Of all of the rings in Victoria's collection, this is one of the larger stones in both size and carat. Taking a close look, we'd give this ring a value of £3,800,000."
2006: The emerald-cut diamond on a yellow gold pave band – £2.2M
Whilst she already has a pink diamond, now it's time to explore the colour spectrum and make way for a yellow stone. Introducing her incredible emerald-cut yellow diamond, that looks to be around 12 carats. The huge diamond is set in a yellow-gold pave band to enhance the colour. Interestingly, she frequently wore this ring with two huge eternity bands to flank it.
Our experts said: "What a beautiful ring. This yellow diamond is a magnificent stone of the highest clarity, whilst the emerald cut reflects the light perfectly for added sparkle. With a pave band, we'd value this ring at around £2,200,000."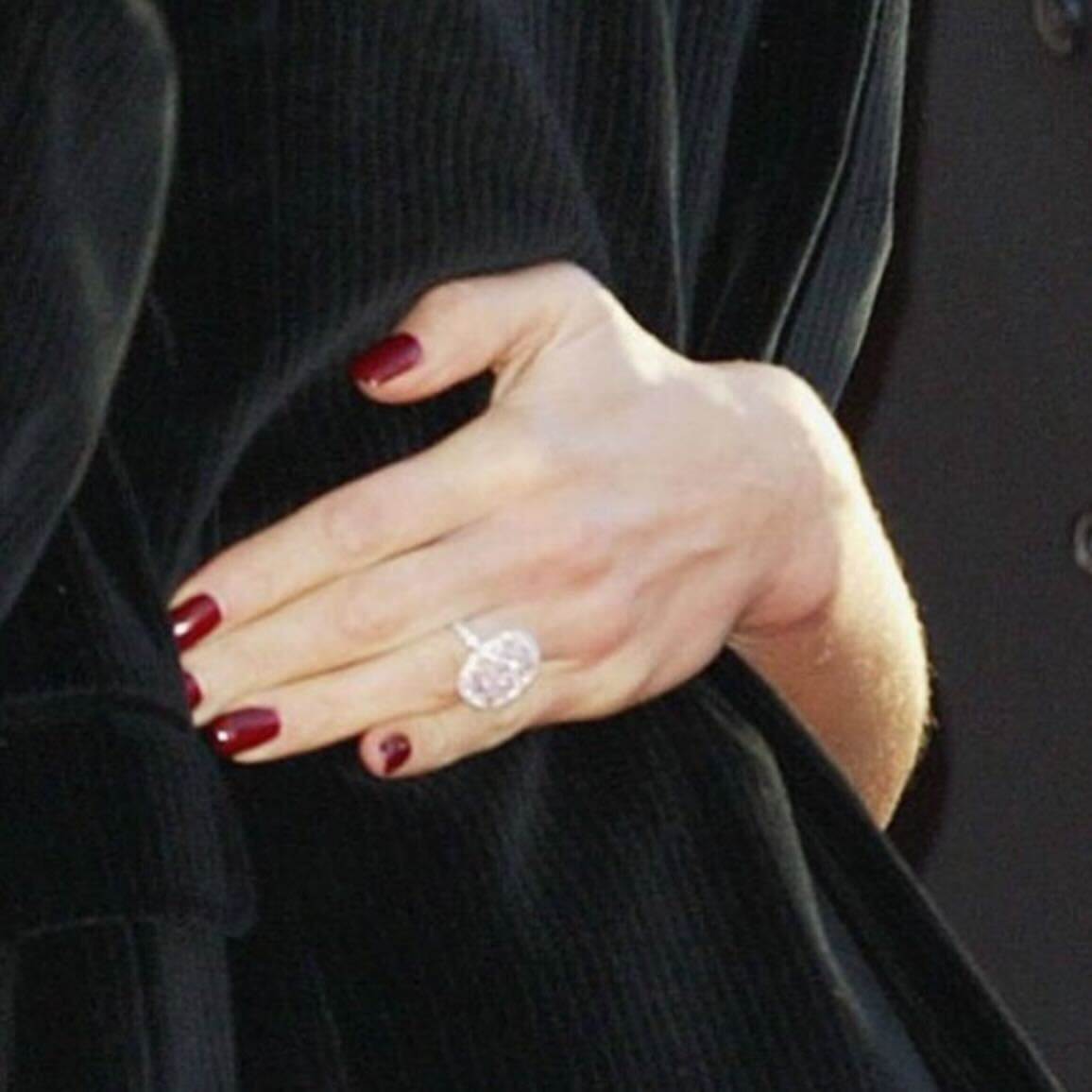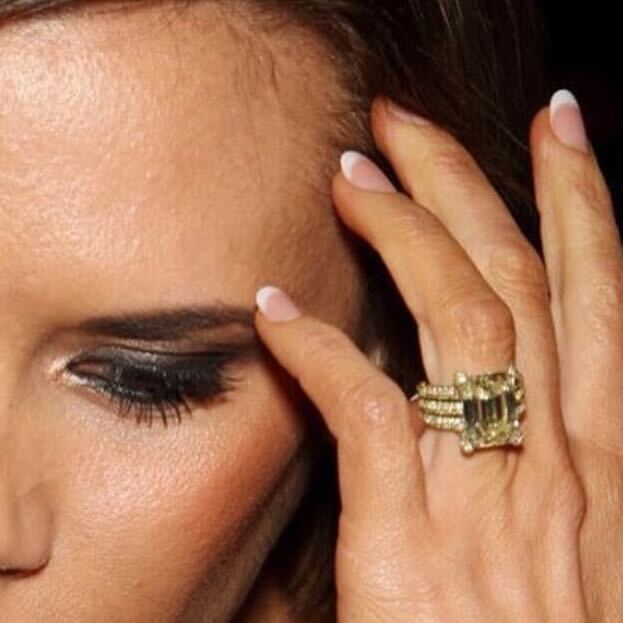 2007: The cushion-cut emerald with a platinum spiral setting – £3M
Next up, in 2007, Victoria took a break from diamonds and opted for this incredible green emerald ring. This huge cushion-cut emerald sitting inside a sculptural diamond spiral looks be a mind-blowing 25 carat stone.
Our experts said: "This is definitely one of our favourite rings from Victoria's collection. The huge emerald looks to be an incredible 25 carats, which would be worth around £3,000,000 today."
2008: The emerald-cut diamond on a pavé band – £3.8M
In 2008, Victoria was gifted another emerald-cut, which looks very similar to her 2006 ring, the only difference being that this one weighs slightly more, approximately 15 carats. It was designed by Chopard and has a value of around £3,800,000.
Our experts said: "It's clear that Victoria is a fan of emerald stones as this is her third one so far. When choosing an emerald cut, it can often be more expensive as inclusions are more visible, and you need to choose a higher clarity stone. However, this isn't a problem for the Beckham's as this stone is of the highest quality, worth around £3,800,000."
2009: The oval-cut ruby on a diamond halo setting – £5M
First emeralds, now rubies. In 2009 Victoria picked up this incredible oval-cut ruby, mounted in a white-diamond setting. As we know, this lady doesn't do things by half as this ring is worth an estimated £5,000,000.
Our experts said: "This is a Pigeon Blood ruby, which is the most sought-after colour variety of ruby gemstone. It displays bright red hue with a slight tint of purple that appears deep red when seen in light. Due this incredible 15 carat gemstone, we'd give this a value of around £5,000,000."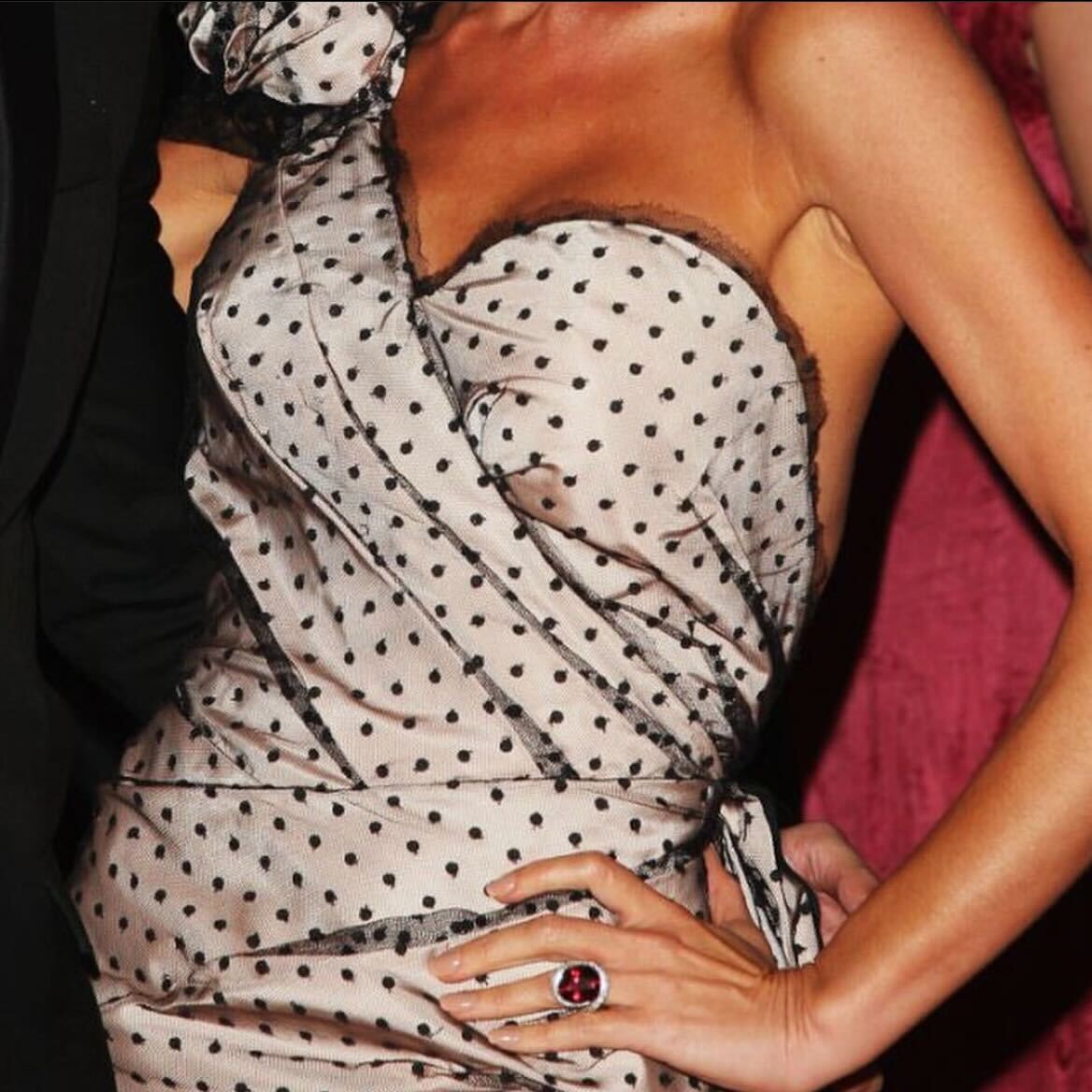 2010: The oval-cut sapphire on a platinum pave band – £5M
To complete her set of precious gemstones, Victoria needed a sapphire. In 2010, she swapped her ruby for this huge oval-cut sapphire on a skinny pave band.
Our experts said: "This is an incredible sapphire. The best quality natural blue sapphires are an intense, velvety, deep royal blue. This colour of this sapphire would be considered AAA or AA quality, the rarest and most valuable. The stone looks to be around 15 to 20 carats giving it a value of £5,000,000."
2010: The pink diamond oval-cut on a gold band – £1.5M
The weight of that enormous sapphire must have been taking a toll on Victoria's finger, as later in the year she swapped it for a smaller, yet by no means less beautiful, pink diamond ring. From our estimation, this oval-cut pink diamond, set on a yellow gold pave band, is around seven carats.
Our experts said: "Another pink diamond makes Victoria's set of engagement rings, and this one is very similar to her pink oval cut diamond ring from 2004. Looking at the cut, clarity, and colour of the stone, we'd estimate this ring is worth £1,500,000 on today's market."
2015: The round-cut diamond with a halo setting and round side stones – £1.5m
Opting for a classic, round-cut diamond in 2015, VB switched up her style, stepping away from emerald and oval cuts. This stunning diamond is set in a halo design with two half moon side side stones.
Our experts said: "As the most popular diamond shape, the round cut diamond offers immense brilliance and fire. This particular diamond is around 8 to 9 carats, whilst the half moon side stones are 1.5 carats. Considering this, it would have a value of around £1,500,000."
2015: Moonstone ring set in a diamond-encrusted platinum band – £30,000
A few months later, we see Mrs. Beckham wearing a new ring. This time it's a moonstone ring set in a diamond-encrusted platinum band. If you haven't heard of moonstone, it is often seen as a stone for "new beginnings", inner growth and strength. Moonstone enhances intuition, promotes inspiration, success and good fortune in love and business matters.
Our experts said: "This is a large cabochon moonstone set in a stunning diamond-encrusted platinum or white gold band. Whilst it isn't one of the most popular stones chosen for engagement rings, this, along with other gemstones and birthstones is definitely increasing in popularity. Due to the size and quality of the stone, along with diamond setting, we'd value this at £30,000."
2016: The cushion-cut diamond on a platinum pave band – £1M
In 2016, she received she wore a simple squared cushion-cut diamond mounted on a platinum pave band. She was first seen wearing it at the Cannes film festival in the May.
Our experts said: "Victoria's rings are usually on a pave band, suggesting she's a huge fan of the added sparkle. This cushion-cut centre stone is 7 to 8 carats with a value of around £1,000,000."
2018: The square-cut yellow diamond on a platinum pave band – £2M
Her most recent engagement ring made an appearance in 2018. Whilst in New York, fans spotted her wearing a square-cut yellow diamond on a pave diamond band.
Our experts said: "This is the star's second vivid yellow diamond, and yet again it's of exceptional quality. It's VVS2 clarity, meaning it's amongst the best you can get, with an estimated worth of £2,000,000."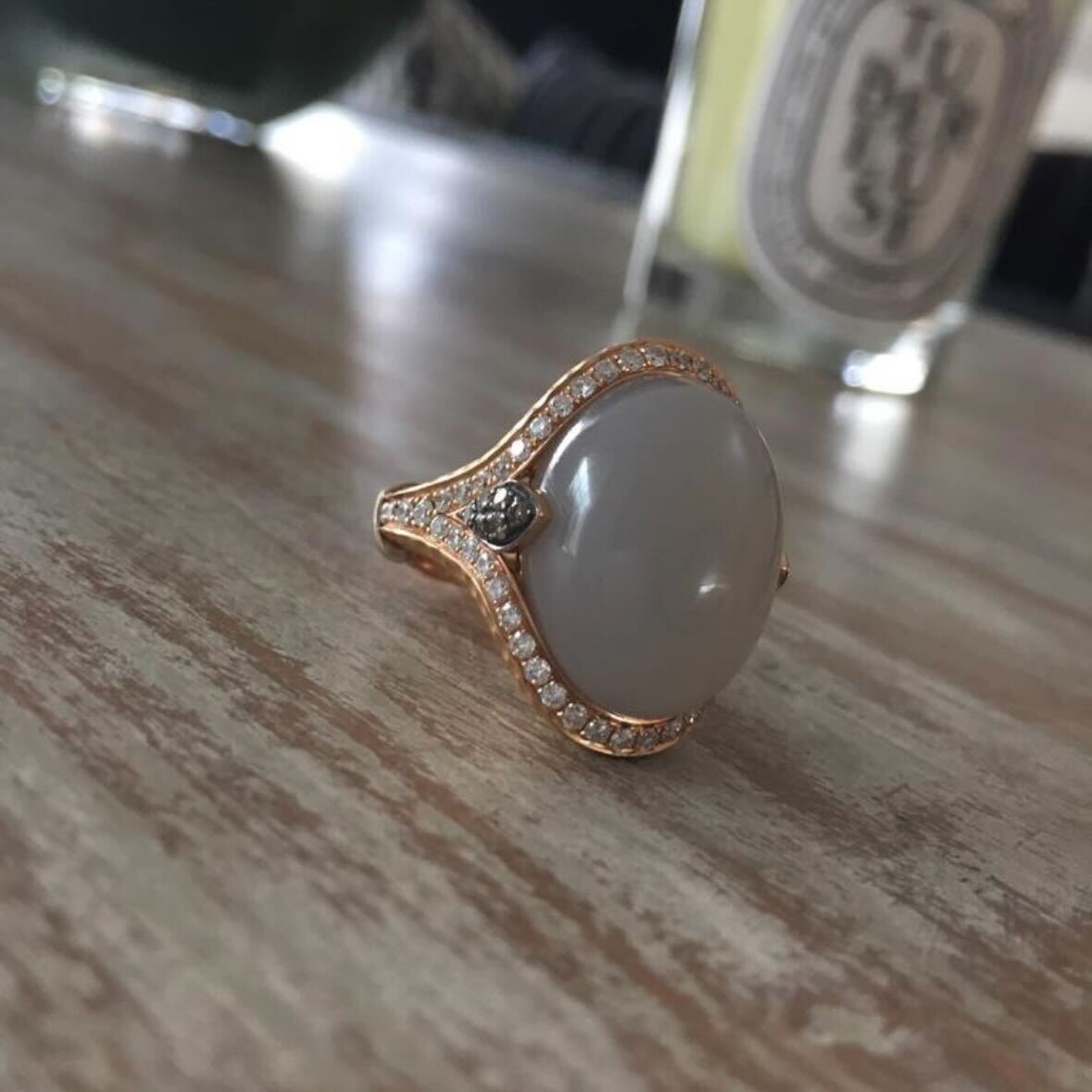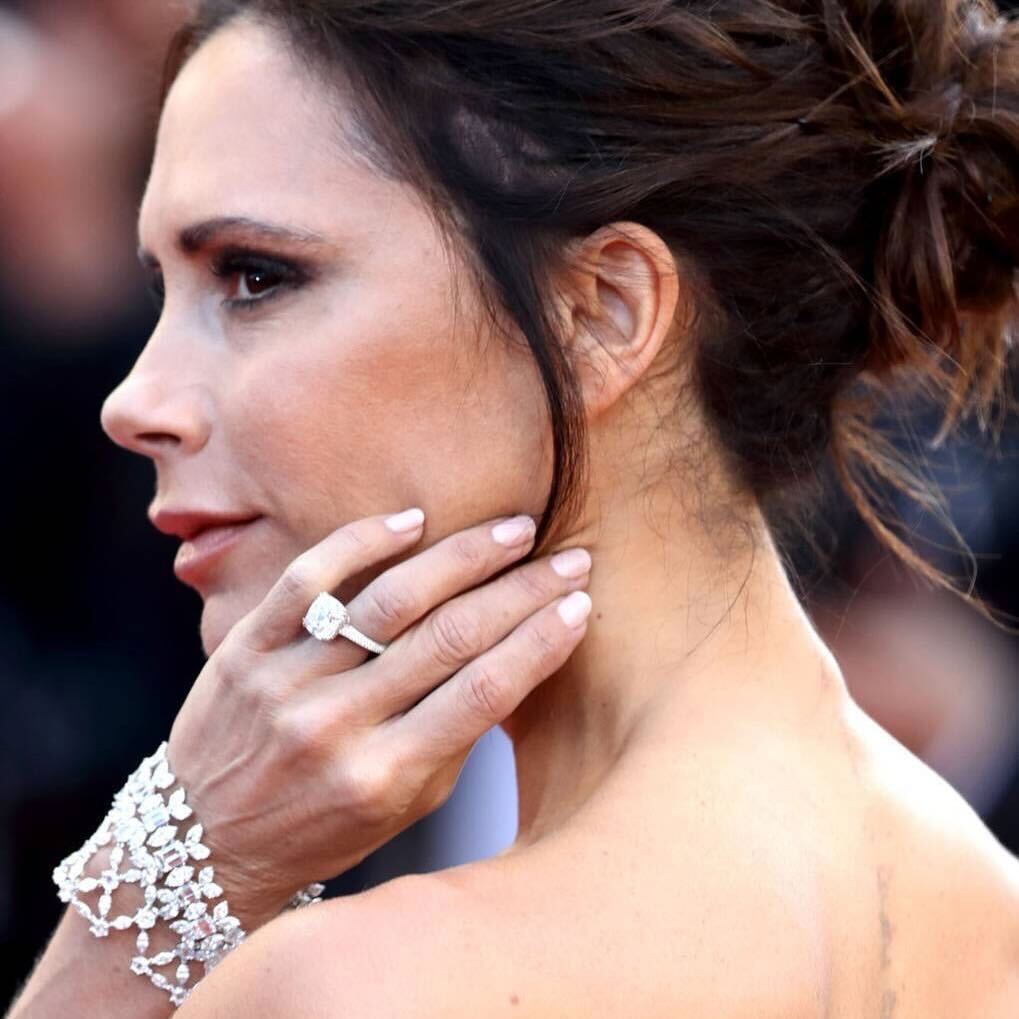 If you're looking for an engagement ring or wedding ring and would like to browse for inspiration, take a look at our ready to wear collection or chat to one of our team for bespoke creations. We have showrooms in Manchester, Cheshire and London.
---
Follow us on our socials
Pop over to our social platforms to keep up to date with Steven Stone's latest jewellery content and news.