Jennifer Lopez has announced her engagement to Ben Affleck, a staggering 19 years after their first breakup.
JLo shared the news on Friday March 08, on her OnTheJLo newsletter. The singer and actress, wowed fans with a video which showcased a huge green diamond engagement ring on her finger. She then follows by saying "You're perfect."
JLo and Ben Affleck first got engaged in November 2002 before postponing their wedding and then splitting two years later in 2004. Now, with the return of Bennifer 2.0, we hope this time we'll get to see this love-struck pair walk down the aisle.
In the meantime, let's take a look at THAT incredible engagement ring she's wearing – as it's unlike anything we've ever seen before.
Taking a close look at the impressive sparkler, Steven Stone's leading diamond expert, Zack Stone reveals everything you need to know.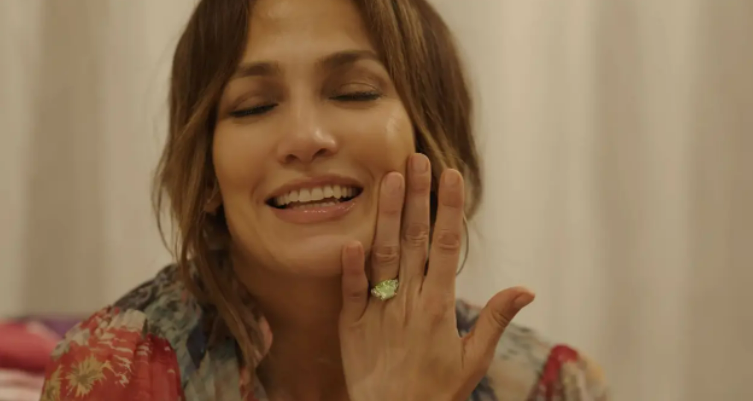 Jennifer Lopez has been engaged six times and married three times – which means she has built up an impressive ring collection.
Zack Stone has valued these sensational jewels, estimating that, collectively, they are worth a staggering £9.1 million.
Ojani Noa
Value: £100,000
In 1997, Jen was fresh on the block when she married restauranteur Ojani Noa, who swept her off her feet with her very first engagement ring. When he popped the question he presented her with a pear-shaped diamond ring
thought to be worth a £100,000.
However, the two parted ways after a year together and then it was not until 2001 that Jennifer was offered another hand in marriage.
Cris Judd
Value: £200,000
Chris Judd and Jennifer Lopez first crossed paths in 2000, on the set of the "Love Don't Cost a Thing" music video, where Cris was a backup dancer for J-Lo. That same year, in June, he reportedly proposed at a barbecue, before the couple wed in a "secret" ceremony in September, where 170 guests attended.
And, while the wedding may have been low-key, her engagement ring certainly wasn't. The incredible emerald-cut diamond ring is worth double the amount of her first ring – boasting a six figure value.
Taking a close look at the ring, our experts think it's worth around £200,000.
"This was the first emerald-cut diamond Jennifer Lopez received, and it's clear she was a huge fan of this design, as it's not the only one she wore over the years. The quality of the diamond featured will no doubt be very high, and from looking at images, I estimate it to be worth around £200,000 today."

ZACK STONE, MANAGING DIRECTOR, STEVEN STONE
Unfortunately, soon after their love story began, J-Lo then ended her marriage to the dancer in July 2002, citing irreconcilable differences.
"Jennifer Lopez and Cris Judd have announced they have resolved all issues arising out of their marriage," the couple's lawyers shared in a statement at the time. "The resolution was extremely amicable . . . The two will remain friends."
Ben Affleck
Value: £2,000,000 (£2,800,000)
When Ben Affleck and J-Lo announced their first relationship way back in in 2002, the world followed their every move, in awe of the A-list couple. And, they didn't leave fans waiting for long as they got engaged that same year. However, they didn't quite make it down the aisle the first time round, as they postponed their wedding in September 2003 and officially split in January 2004.
Despite us being disappointed when the news broke, we couldn't help but wonder what would happen to her incredible pink diamond engagement ring.
Flashing the huge rock in an interview with Diane Sawyer, J-Lo said: "It's the most magnificent thing I've ever seen," and she's completely right. The engagement ring is a massive 6.10 carat radiant cut, designed by celebrity jeweller Harry Winston, which reportedly cost Ben Affleck a whopping £855,000 ($1.2 million) at the time.
However, now, as pink diamonds have soared in value, J-Lo's ring is worth a lot more than it was back then. Our diamond experts estimate it's worth over double the price now, valuing the ring at £2,000,000 ($2.8million).
"There are certain types of diamonds which can make good investments. These include pink diamonds, which are much rarer and generally very expensive, starting from £50,000 to around £10,000,000.

"Pink diamonds have seen the biggest growth in value recently as the Argyle Diamond Mine in Western Australia, the world's major source for pink and purple stones, closed down at the end of 2020, therefore prices have increased in recent months due to the increased rarity."

ZACK STONE, MANAGING DIRECTOR, STEVEN STONE
Marc Anthony
Value: £3,000,000
After splitting from Ben Affleck, Jen dated pop sensation, Marc Anthony, and yet again we saw another huge rock be unveiled. According to US Weekly, the pair first met way before this in 1998 while backstage at singer Paul Simon' Broadway show "The Capeman," which Anthony was starring in.
It's also rumoured that the two reportedly dated after Jen's first marriage to actor Ojani Noa ended in 1998.
However, when the pair finally rekindled in 2003, he didn't let her slip away, asking her to be his wife with a sparkling Harry Winston diamond. In 2011 before finalising their divorce in 2014.
"This is no doubt one of the most valuable celebrity rings of all time. It weighs in at a huge 8.5 carats and was designed by one of the world's most prestigious jewellers, Harry Winston. It's a blue diamond, which like pink diamonds, are very rare. With this in mind, we think this sparkler is worth over £3,000,000."

ZACK STONE, MANAGING DIRECTOR, STEVEN STONE
Alex Rodriguez
Value: £1,500,000
Just when we thought J-Lo's engagement ring couldn't get any bigger, Alex Rodriguez proved us wrong.
Confirming their relationship in 2017, their first date took place at Hotel Bel Air, where Alex reportedly went to the bathroom and sent Jen a text saying: 'You look sexy AF'.
For his romantic beach proposal in March 2019, A-Rod unveiled a very classic emerald-cut diamond with simple but elegant solitaire mounting. The diamond looks to be around 15 carats and is completely colourless with the highest clarity.
"J-Lo's ring from Alex Rodriguez has a timeless design as it features an emerald cut diamond. Emerald-cut diamonds are one of the most elegant shapes, and behave a little differently from most other diamonds. Instead of a sparkle, emerald-cut diamonds reflect light off the surface of the stone in big, brilliant flashes. These are extremely dramatic, and a diamond of J-Lo's size will catch eyes across any room."

ZACK STONE, MANAGING DIRECTOR, STEVEN STONE
If you're like J-Lo and love emerald cut engagement rings, we have a stunning selection to choose from. Or, perhaps you've already got a ring and your finger and are on the hunt for some wedding rings? If so, get in touch. We have jewellers in Manchester not to mention a huge range of engagement rings in London.
---
Follow us on our socials
Pop over to our social platforms to keep up to date with Steven Stone's latest jewellery content and news.