Mariah Carey's engagement ring from ex-fiancé James Packer has been named the most expensive item of celebrity jewellery in history and we can't say that we're surprised!
Designed and crafted by fine jeweller Wilfredo Rosado, the stunner is a 35 carat emerald cut diamond set in platinum ring and between two diamond baguettes. Fine jewellery and engagement ring experts at Steven Stone valued it at a jaw-dropping £9,400,000 ($11,425,000).
We couldn't help but wonder which were the most expensive celebrity engagements rings of 2022, so far…
Luckily, we've been keeping track of all the celebrities who've gotten engaged so far this year, along with the juicy details on their engagement rings.
1. Jennifer Lopez: £2,400,000 ($3,000,000)
JLo and Ben Affleck first got engaged in November 2002 before postponing their wedding and then splitting two years later in 2004. Now, with the return of Bennifer 2.0, we hope this time we'll get to see this love-struck pair walk down the aisle.
Taking a close look at the impressive sparkler, our leading diamond expert, Zack Stone commented: "Jennifer Lopez's engagement ring is sensational. With an incredibly vivid colour, it looks like it could be a natural green diamond that's been enhanced using HPHT temperature treatment, which is a well known method to change the colour of a diamond. I've never seen a diamond quite like it.
Just like the pink diamond engagement ring she received from Ben Affleck previously, this ring is worth millions. The centre stone is an estimated 9 to 10 carats, with an elongated cushion cut. It also looks to feature two tapered baguettes, making this a three stone ring.
Taking all this into consideration, this is no doubt the most expensive engagement ring we've seen in a long time, with an estimated value of over $3,000,000 (£2,400,000)."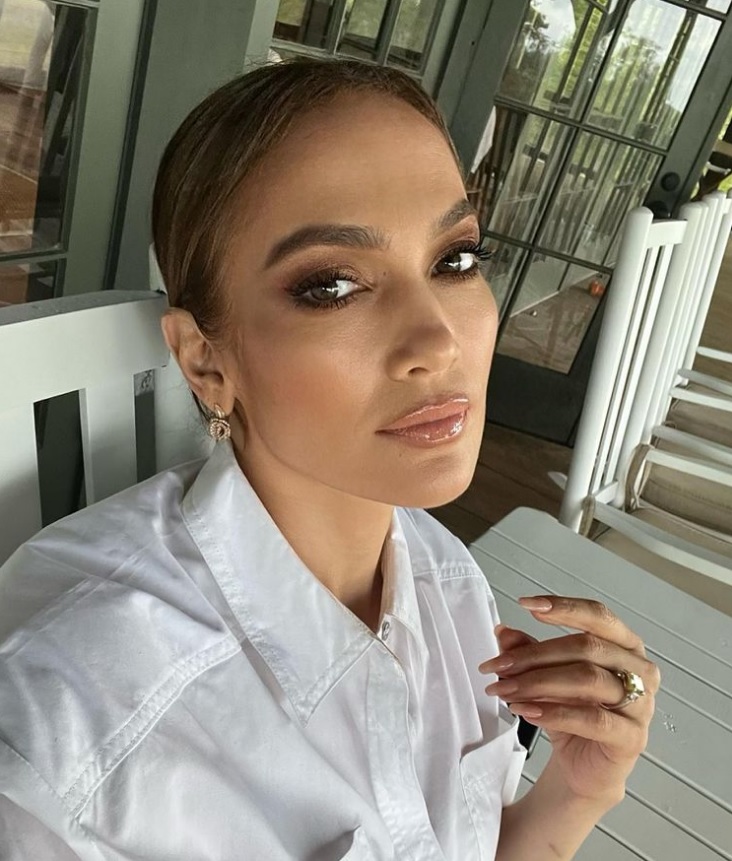 2. Vick Hope: £2,000,000 ($2,500,000)
Having only been dating since January 2022, Calvin Harris and Vick Hope have had quite the whirlwind romance – the DJ reportedly popped the question under his favourite tree on his farm in Ibiza.
Revealing everything you need to know about her sparkling emerald cut engagement ring, Zack said:
"Set on a yellow gold band, Vick's ring features an emerald cut diamond, which is one of the most popular shapes for engagement rings, with celebrities such as Jennifer Lopez and Nicola Peltz sparking a huge trend. However, what's interesting is that Vick's is set horizontally – something that makes this ring particularly rare and unique. It's common for emerald cut diamonds to be set vertically, but this design is one of a kind.
The stone is quite something – it looks to be 12 carats, making it a real show-stopper. From looking at the images of the ring, I'd estimate its worth to be around £2,000,000 ($2,500,000) thanks to the size of this huge diamond that steals the show."
3. Lauren Silverman: £1,820,000 ($2,500,000)
When Simon Cowell proposed to Lauren Silverman during a family getaway to Barbados earlier this year, fans around the world were desperate to see a photo of her engagement ring and it did not disappoint.
Zack analysed the shots of the ring which appear to show that it's oval-shaped: "Lauren Silverman's ring looks to be oval shaped, which was the most popular shape of 2021 for celebrities. The centre diamond is huge, approximately 20ct. It looks like it's D colour, which makes it an incredibly high value stone.
A ring like this would be worth $2,500,000 (£1,820,000) which is the highest value celebrity ring we've seen in the last 12 months."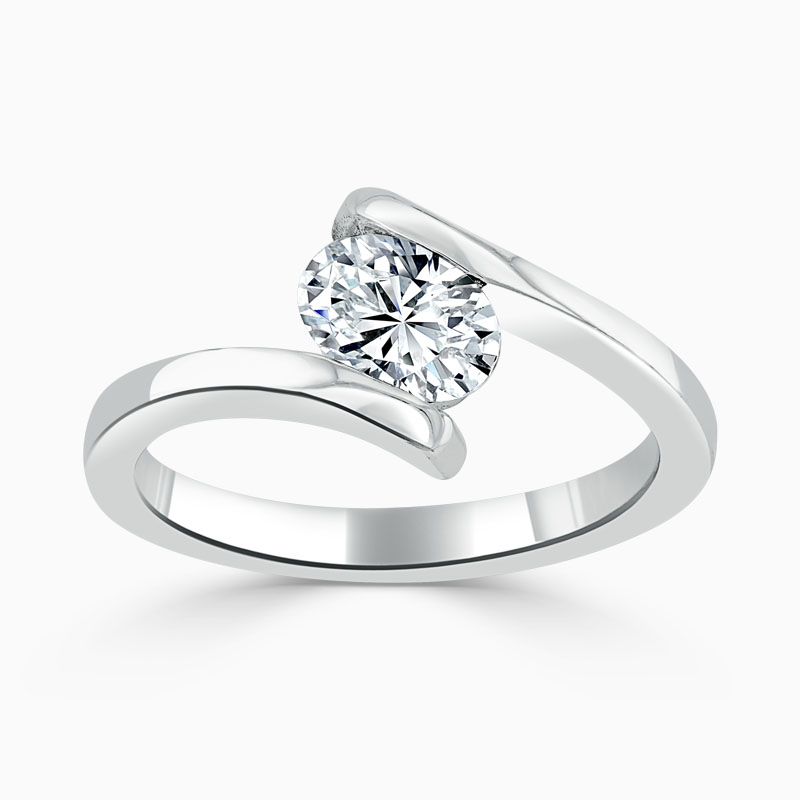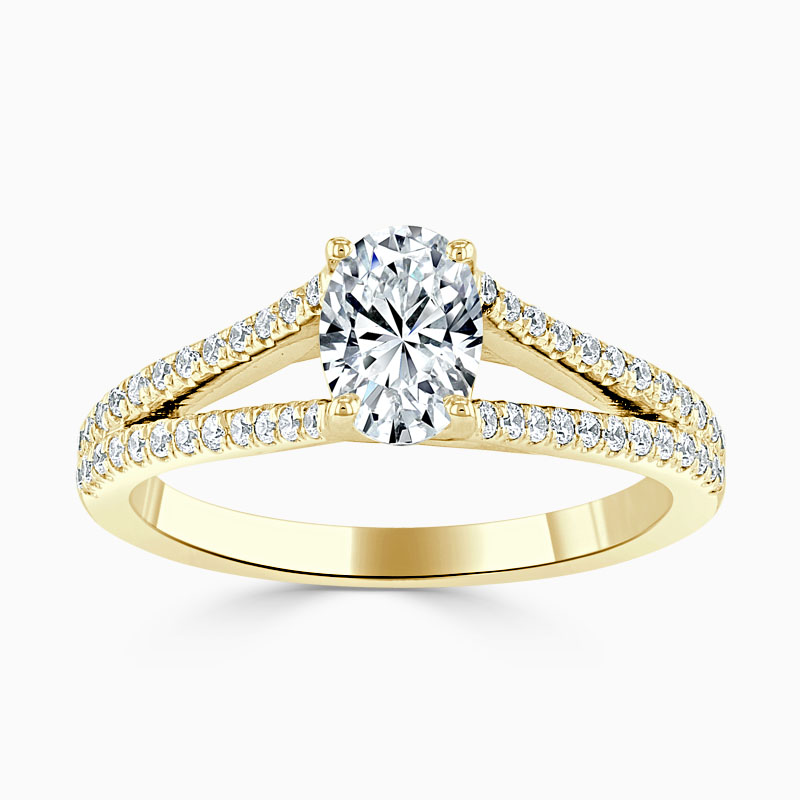 3. Maya Jama: £500,000 ($695,000)
Basketball player Ben Simmons supposedly popped the question to Maya Jama during the Christmas 2021 period and in images of Maya and Ben walking to the gym in Philadelphia, her stunning sparkler undeniably took the limelight.
Zack analysed the images – and was blown away by the size of the stone: "Maya Jama's ring is sensational. From the images it looks to be an emerald cut diamond set on a white gold or platinum band. The centre stone is around 10 carats, which is huge, and will no doubt be of the highest quality. With this in mind, it could be worth around £500,000 ($695,000) on today's market.
"Emerald cut stones have been a popular choice from celebrities in the last 12 months, with Paris Hilton, Porsha Williams, and Bethenny Frankel all opting for this style in 2021.
Paris Hilton's emerald cut ring is a whopping 20cts and has an estimated value of $2,000,000. Porsha Williams is 15cts and worth around $1,250,000, whilst Bethenny Frankel's 10ct solitaire ring is worth a staggering $1,000,000."
4. Brenda Song: £495,000 ($600,000)
'Home Alone' star Macaulay Culkin and former Disney star, Brenda Song confirmed their engagement on 25th January, when Brenda stepped out in Beverly Hills with an incredible gorgeous diamond ring on her ring finger.
Steven Stone's Creative Director, Maxwell Stone couldn't wait to take a look at the huge ring in question: "From the images online, Brenda Song's engagement ring looks magnificent, and the large diamond featured in the ring makes a huge statement on her finger. It looks like a single stone ring with a 6 to 8 carat diamond, which could be round or cushion cut. With this in mind it's likely to have a value of around $400,000 to $600,000."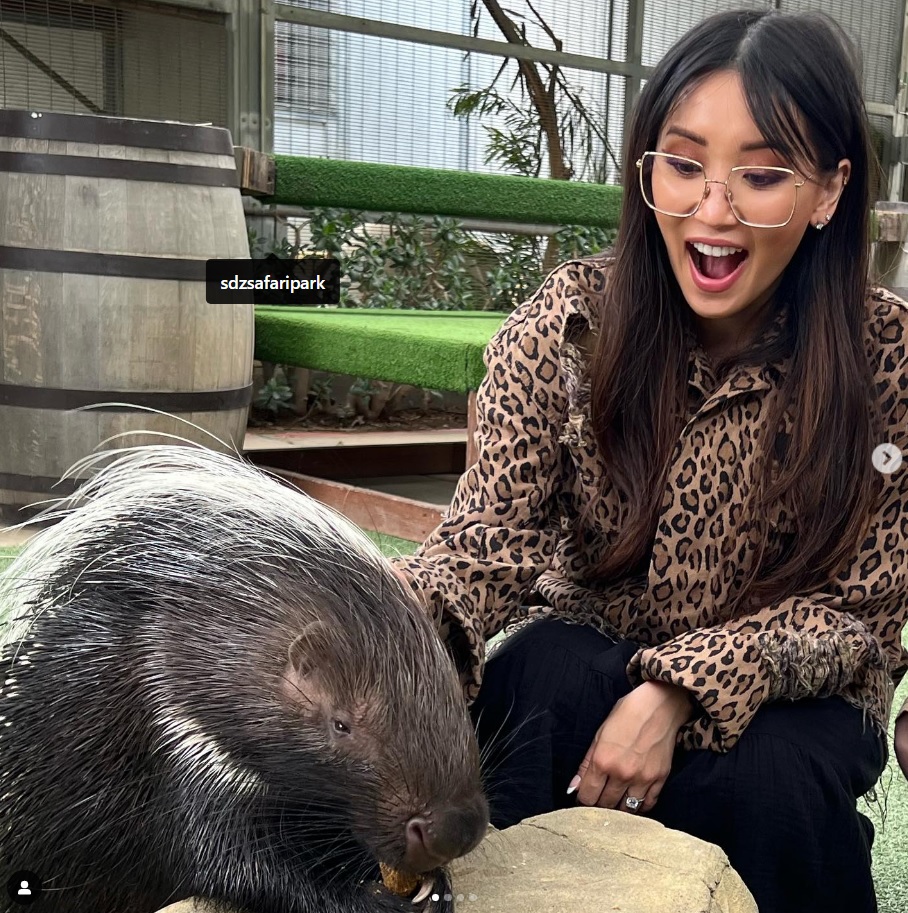 5. Avril Lavigne: £400,000 ($486,000)
Avril Lavigne announced her engagement to her long term partner Mod Sun via a series of images on Instagram, in which she showed off her dazzling new heart-shaped diamond engagement ring with the caption "Oui! Je t'aime pour toujours 🤍💍🥂Dimanche. 27. Mars. 2022″.
Her new fiance, Mod, proposed with a custom ring designed by Beverly Hills-based jeweller XIV Karats, featuring a huge heart-shaped diamond set on a narrow pave band.
Zack took a close look at the ring to reveal everything you need to know: "Avril Lavigne's heart shaped engagement ring features a huge white diamond which looks to be around 5ct. It's set on a thin pave band which accentuates the size of the stone, making it look even more spectacular. I would estimate it's worth around £350,000 to £400,000 depending on the exact quality of the stone.
Heart shaped rings are no doubt romantic as they illustrate the traditional symbol of love, and the story behind why Mod Sun chose this is very sentimental.
Interestingly, they aren't the most popular cut of diamond, with only a few other celebrities opting for a similar design. Lady Gaga received a gorgeous 6ct heart-shaped engagement ring from Taylor Kinney in 2015, whilst Gwen Stefani received one from Gavin Rossdale in 2002, although both couples unfortunately split."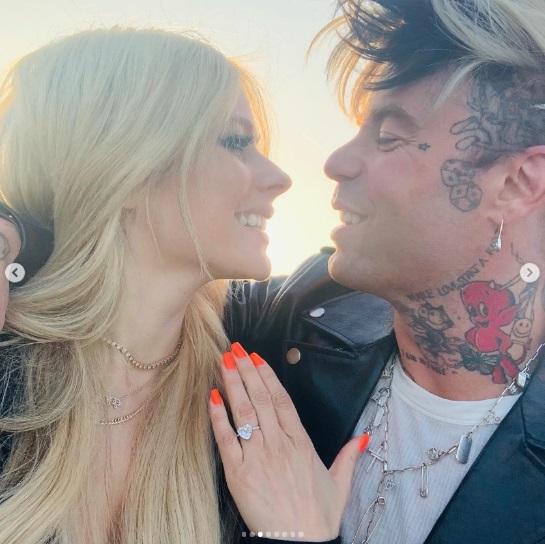 6. Sofia Richie £380,000 ($500,000)
Sofia Richie – the daughter of music legend, Lionel Richie – couldn't wait to show off her huge emerald-cut diamond ring when she confirmed her engagement to Elliot Grainge back in April.
Maxwell commented: "Sofia Richie's engagement ring is a real showstopper. An emerald-cut diamond is a timeless choice, offering both modern and vintage elements. This cut has become increasingly popular over the last few years, with celebrities such as Paris Hilton, Beyonce, and Nicola Peltz all wearing this style of ring.
Sofia's ring looks to be around 5cts and is no doubt worth around £380,000 ($500,000)."
7. Jessica Szohr: £318,000 ($400,000)
'Gossip Girl' Jessica Szohr took to Instagram in May to share a black and white photo of herself cuddled up with her new fiancé – armed with a bottle of bubbly and a huge, sparkling ring.
So, what do we know about her ring? Zack took a close look: "Jessica's engagement ring looks to be a 5ct round brilliant diamond, making it quite the showstopper. Representing over two thirds of all diamonds sold, round cut diamonds are traditionally the first and most popular diamond that's given as a symbol of commitment and Jessica's perfectly encapsulates the happy couples journey.
This shape of diamond shows no sign of slowing down, either as data shows Google searches for this style have increased by 23% in the last 12 months, suggesting it's a timeless trend that's set to stay.
Round brilliant diamonds are also the most expensive diamond shape and the only one that the GIA grades for cut. With this in mind, I'd estimate its value to be around $400k."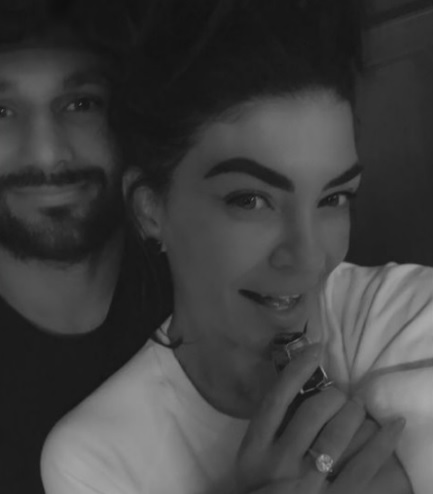 8. Lucia Loi: £250,000 ($313,000)
Marcus Rashford reportedly popped the question to his childhood sweetheart Lucia Loi at a lavish villa in LA, where the pair enjoyed a post-season getaway.
Confirming the news on his Instagram account, he shared a photo of the happy couple kissing in front of a giant heart-shaped arch made of flowers, surrounded by candles, and rose petals.
Fans eagerly awaiting photos of Lucia's engagement ring, with Marcus answering their prayers on his Instagram story.
Zack commented on the gorgeous ring: "We always knew that Lucia's engagement ring would be impressive and she's not let us down. The ring features an emerald cut diamond – a timeless choice that offers both modern and vintage elements.
An emerald cut diamond is one of the most popular diamond shapes and Lucia will be joining a wealth of celebrities who sport the style – including Paris Hilton, Beyonce and Nicola Peltz.
With a centre stone that looks to be 7cts, I'd estimate the ring to be worth around £250,000."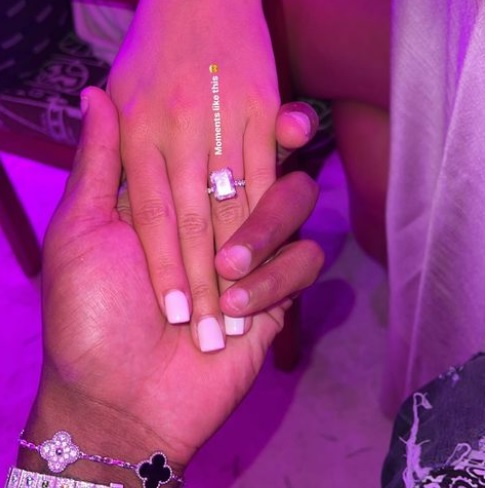 9. Simone Biles: £240,000 ($300,000)
Olympic gymnast Simone Biles and NFL player Jonathan Owens announced their engagement in an Instagram post on February 15th, with a series of photos from the proposal.
"THE EASIEST YES I can't wait to spend forever & ever with you, you're everything I dreamed of and more! let's get married FIANCÉ " she captioned the post. Owens, a safety for the Houston Texans, also shared the same post on his own Instagram. "Woke up this morning with a fiancé. Appreciate my dawg @don_julio314 for helping me set everything up, she really had no clue what was coming @zofrost you went crazy on this one bro really made the night special " he wrote in the caption.
Maxwell couldn't wait to see Simone's ring. He commented: "Simone's ring is impressive. The oval cut diamond featured in the centre appears to be around 8 carats and her band features at least 35 smaller diamonds. I'd estimate the value to be around $300,000. It's a timeless design and looks stunning on Simone."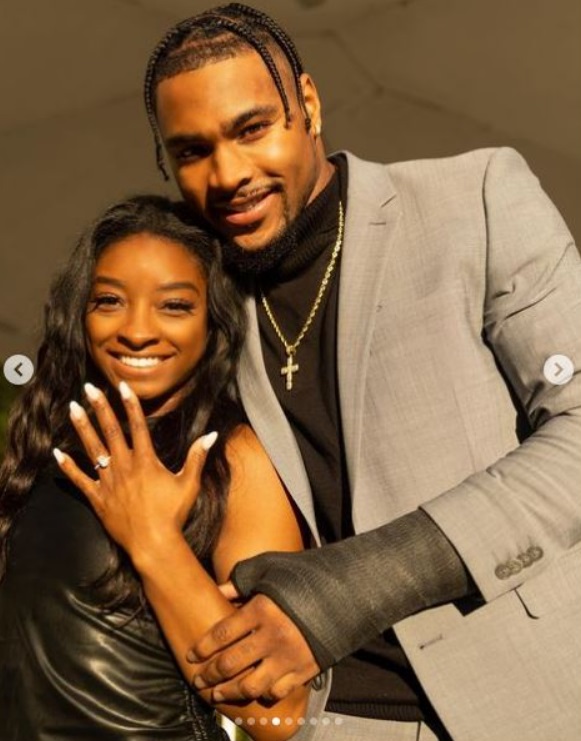 10. Kimberly Stewart: £135,000 ($170,000)
Kimberly Stewart, daughter of music legend, Rod Stewart her engagement to producer Jesse Shapira on Instagram back in February, showing off a pretty incredible ring on her finger.
Kimberly, 42, snapped a stunning photo of her and her now-fiancé, which she simply captioned: "Forever ❤️."
The ring was designed by Anita Ko, a luxury LA jewellery designer. Zack has revealed everything you need to know about it: "Kimberly Stewart's ring is sensational. It features what looks to be a 4ct oval diamond, set on a thin gold band. Oval stones are the most popular shape for celebrity engagement rings, with Khloe Kardashian reigniting the trend last year. A ring like this would have an estimated value of around $170,000, possibly more thanks to its designer label."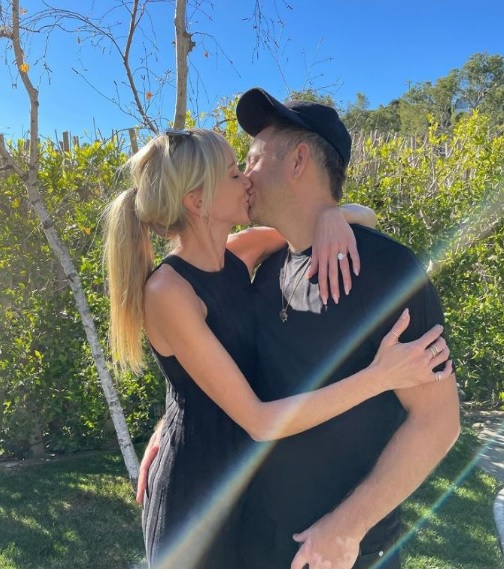 If you're looking for an engagement ring or wedding ring and would like to browse for inspiration, take a look at our ready to wear collection or chat to one of our team for bespoke creations. Why not take a look at our full jewellery collection? We have showrooms in Manchester, Cheshire and London.