A new year brings new celebrations, and we can't wait to find out which celebrities will get engaged in 2022. Last year some huge Hollywood A-Listers including Paris Hilton, Kourtney Kardashian, and Lindsay Lohan received huge sparklers from their partners, but who will be next?
This year, we'll be keeping track of all the celebrities who get engaged, along with the juicy details on their engagement rings.
January
Maya Jama and Ben
Value of ring: £500,000 ($695,000)
The news is out that the 25-year-old basketball player supposedly popped the question during Christmas 2021, asking Maya, 27, to tie the knot. Now, in recent snaps from the Daily Mail, the star has been spotted with a huge engagement ring on her finger.
The images show Maya and Ben walking to the gym in Philadelphia, revealing a stunning sparkler which undeniably takes the limelight.
To reveal everything you need to know, managing director, Zack Stone, analysed the images – and was blown away by the size of the stone.
Read more: Maya Jama is engaged! Here's what you need to know about her engagement ring
Becky Hill & Charlie Gardner
Value of ring: £10,000 ($15,000)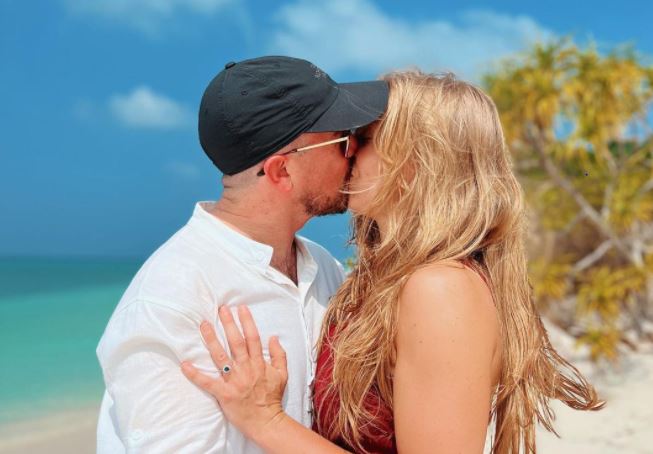 UK pop singer, Becky Hill, has revealed some stunning images of her engagement ring on Twitter after her boyfriend Charlie proposed to her on a private island in the Maldives.
In a series of photographs, the star showcases an incredible engagement ring which looks very similar to Kate Middleton's Ceylon sapphire engagement ring, inherited from Princess Diana.
Taking a close look at Becky's ring, expert jeweller from Steven Stone, Maxwell Stone, reveals everything you need to know. He said:
READ MORE: Becky Hill is engaged- and her ring has Kate Middleton vibes
Simon Cowell and Lauren Silverman
On Wednesday January 12, Lauren was sporting a brand new engagement ring from Simon Cowell. We took a close look – and it didn't disappoint.
The newly engaged socialite, 44, was first spotted wearing the recently gifted, giant diamond ring on her left hand as she stepped out in Malibu.
A source told Page Six earlier this week that the former American Idol judge proposed during a recent family getaway to Barbados, where he owns a home.
Our leading diamond experts analysed the shots of the ring which appears to show that it's oval-shaped.
READ MORE: Lauren Silverman flashes $2.5M engagement ring from Simon Cowell
Megan Fox and Machine Gun Kelly
Value of ring: £87,000 ($120,000)
On Wednesday January 12, Hollywood star, Machine Gun Kelly proposed to Megan Fox after over a year of dating and we didn't have to wait long to see the incredible engagement ring.
Kelly shared an up-close video of a sensational emerald and diamond engagement ring shortly after.
In the caption of his post, Kelly explained more about the ring, revealing the meaning behind the design.
"i know tradition is one ring, but i designed it with Stephen Webster to be two: the emerald (her birth stone) and the diamond (my birth stone) set on two magnetic bands of thorns that draw together as two halves of the same soul forming the obscure heart that is our love," he wrote.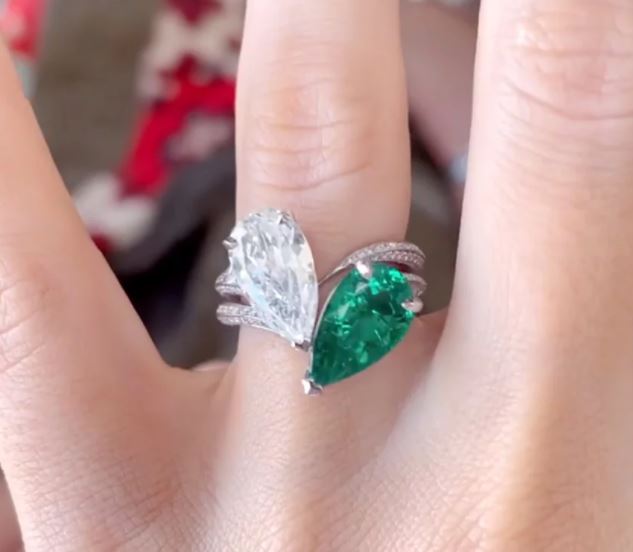 READ MORE: Megan Fox reveals a showstopping emerald and diamond engagement ring worth $120K
Psssst, we'll be updating this article regularly so keep your eyes peeled for updates