They say diamonds are forever, but humans have recognised pearls as precious for much longer than any other stone. Found in natural oyster beds, pearls were presented as gifts to Chinese royalty as early as 2300 BC, and in ancient Rome, pearls were considered so valuable that they were restricted to the ruling classes.
With such a long history, pearls have become enveloped with mystery and intrigue. And, while we're less likely to subscribe to the symbolic value of pearls in the modern age, it's still widely agreed that they carry an air of effortless beauty, despite the passing of time. It's no wonder then that pearls have come to be one of our most precious stones.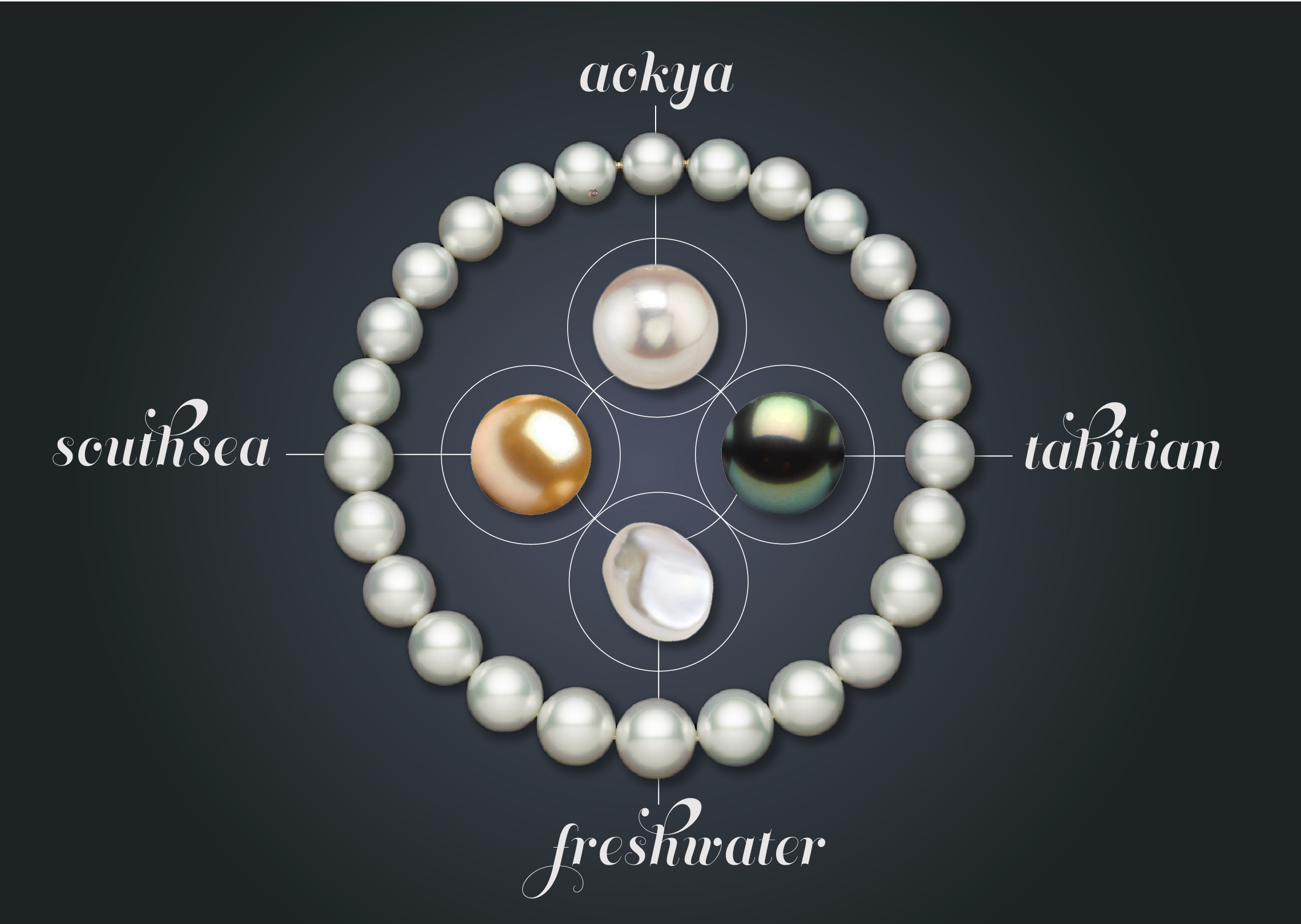 Types of Pearl
The first thing to know when choosing pearl jewellery, is that faux pearls are no match for the real thing. As a starting point, you'll want to look for cultured pearls, which are naturally grown stones, organic in shape, size and colour, and available in a few varieties.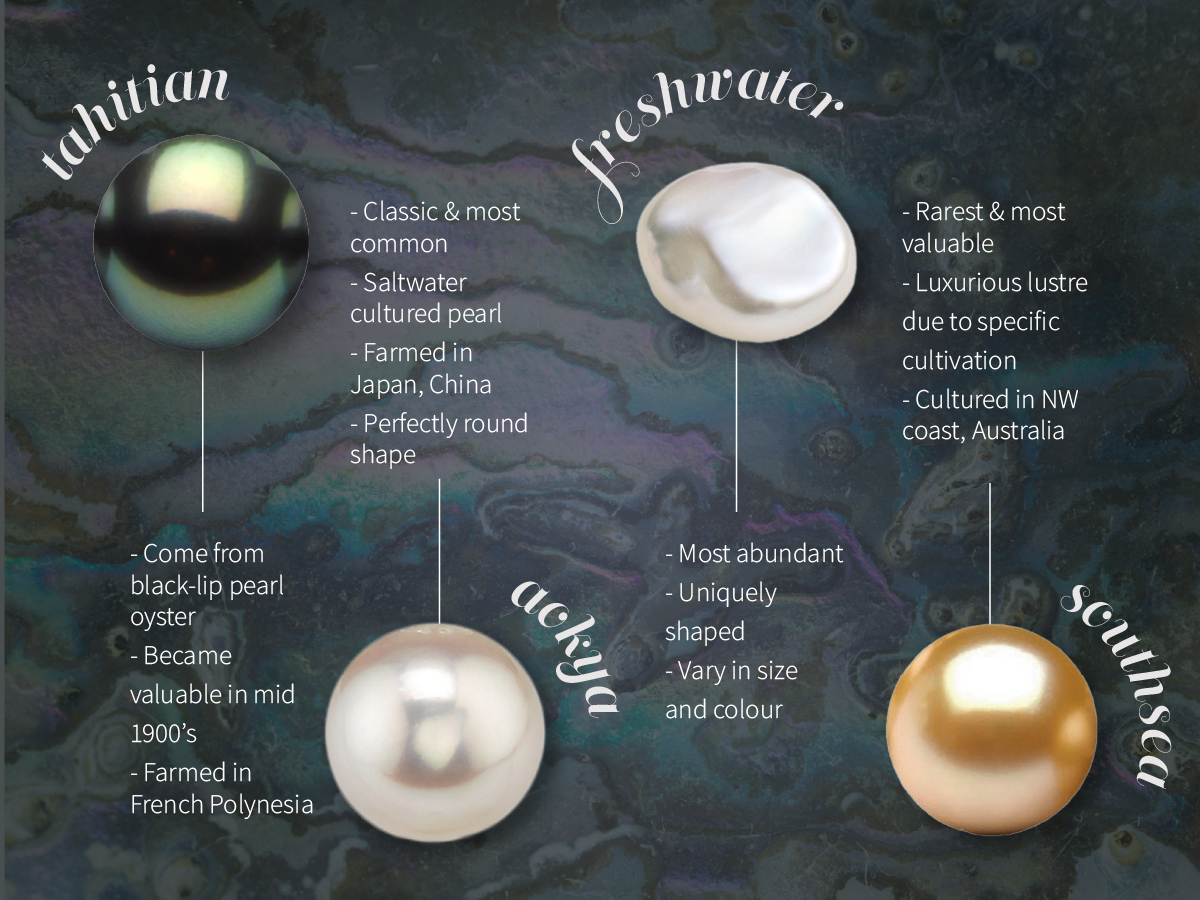 ---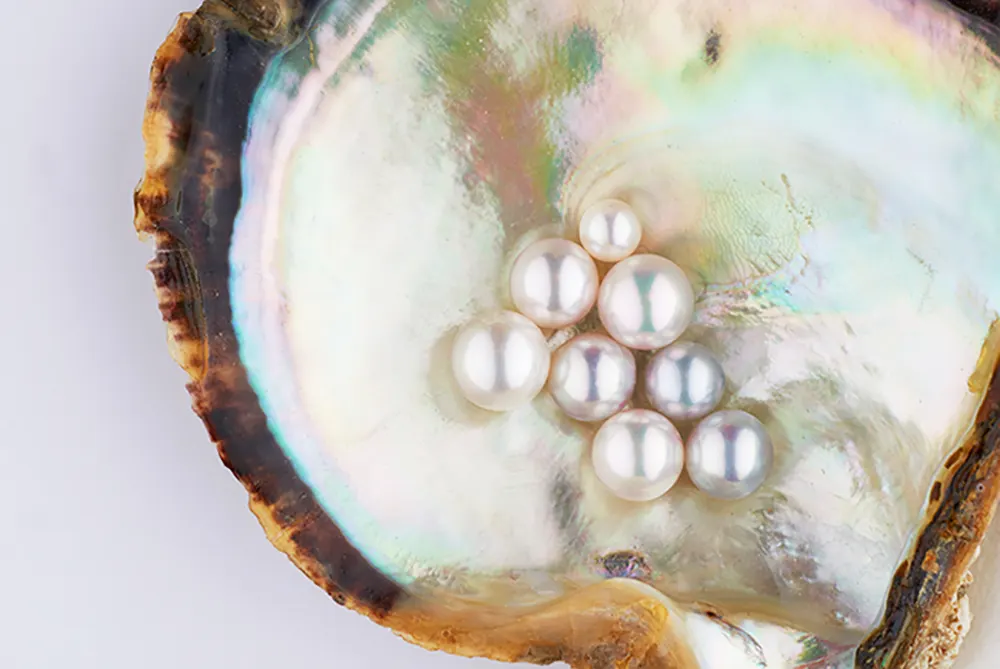 Akoya Pearls
Otherwise known as the classic pearl, Akoya pearls are the most common of the pearl varieties used in jewellery. They are saltwater cultured pearls, farmed in Japan, China and in lesser cases, Vietnam.
In most cases, the Akoya pearl is perfectly round, making it the perfect gem for jewellery. It is the smallest commercial pearl, being only 7mm in diameter. It comes in shades of white and cream, and with rose and silver overtones.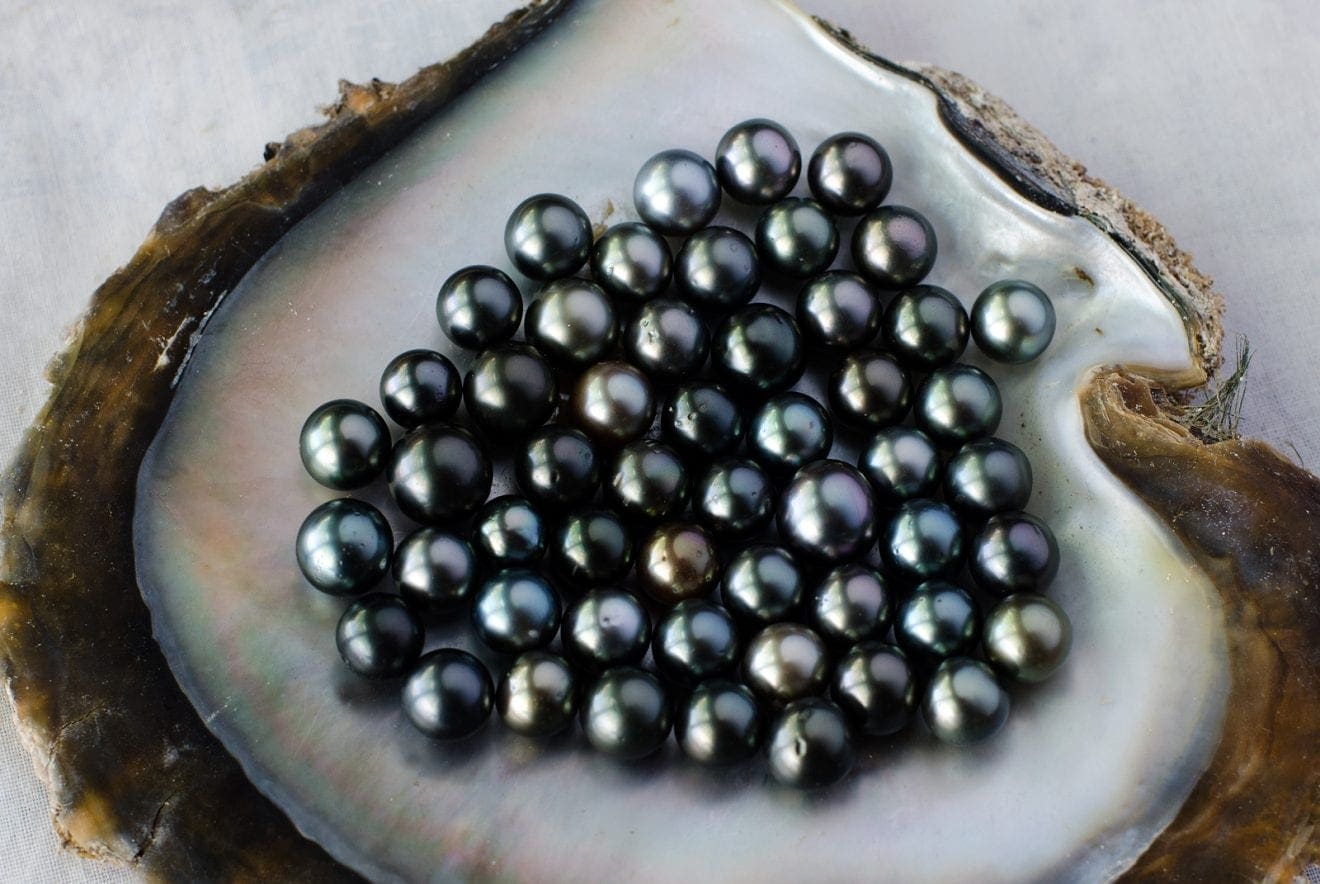 Tahitian Pearls
Tahitian pearls, also known as 'black pearls', come from the black-lip pearl oyster. They were mostly unknown until they became commercially valuable in the mid-1900s, and now they are some of the rarest and most expensive pearls in the world. Despite their name, they don't come from Tahiti.
They are mostly farmed in French Polynesia, the Cook Islands the Micronesian Islands, and Japan. But only those farmed in French Polynesia can be called Tahitian Pearls. And despite being known as 'black pearls' they are very rarely pure black. Variations of Tahitian pearls are silver, dove grey, very dark charcoal grey and chocolate. And their overtones are chocolate, pistachio, sky blue, cherry, aubergine, silver, steel and blue green.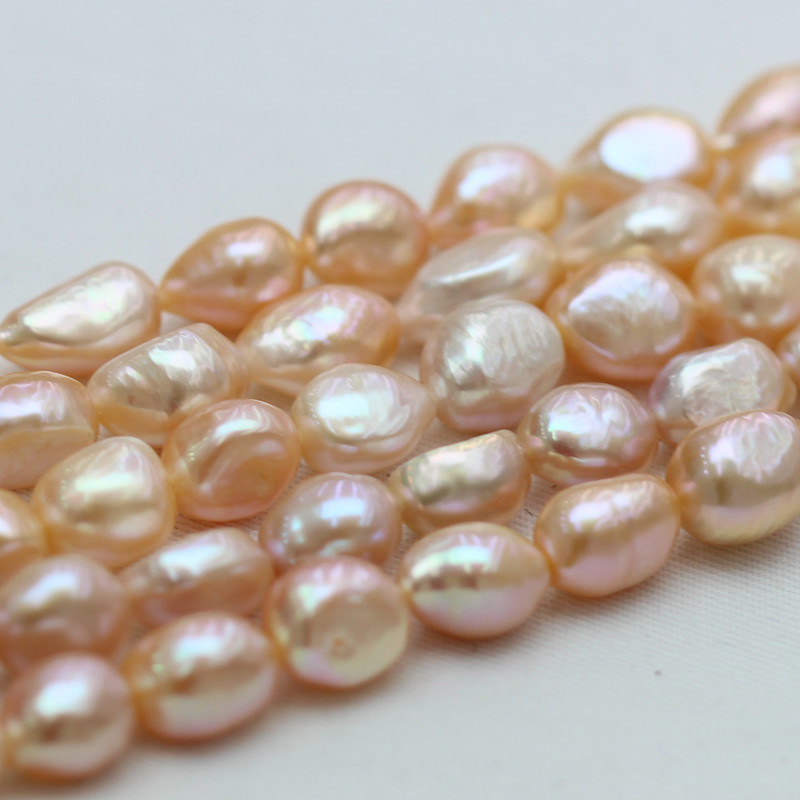 Freshwater Pearls
Freshwater pearls are the most abundant of all the types of pearl and while they don't have the same shine as the Akoya pearl, they come in very unique shapes and are sought after by jewellers for their eccentricities.
Freshwater pearls also vary in size and come in many colours and overtones such as white, pink, lavender, and creamy and rosy whites.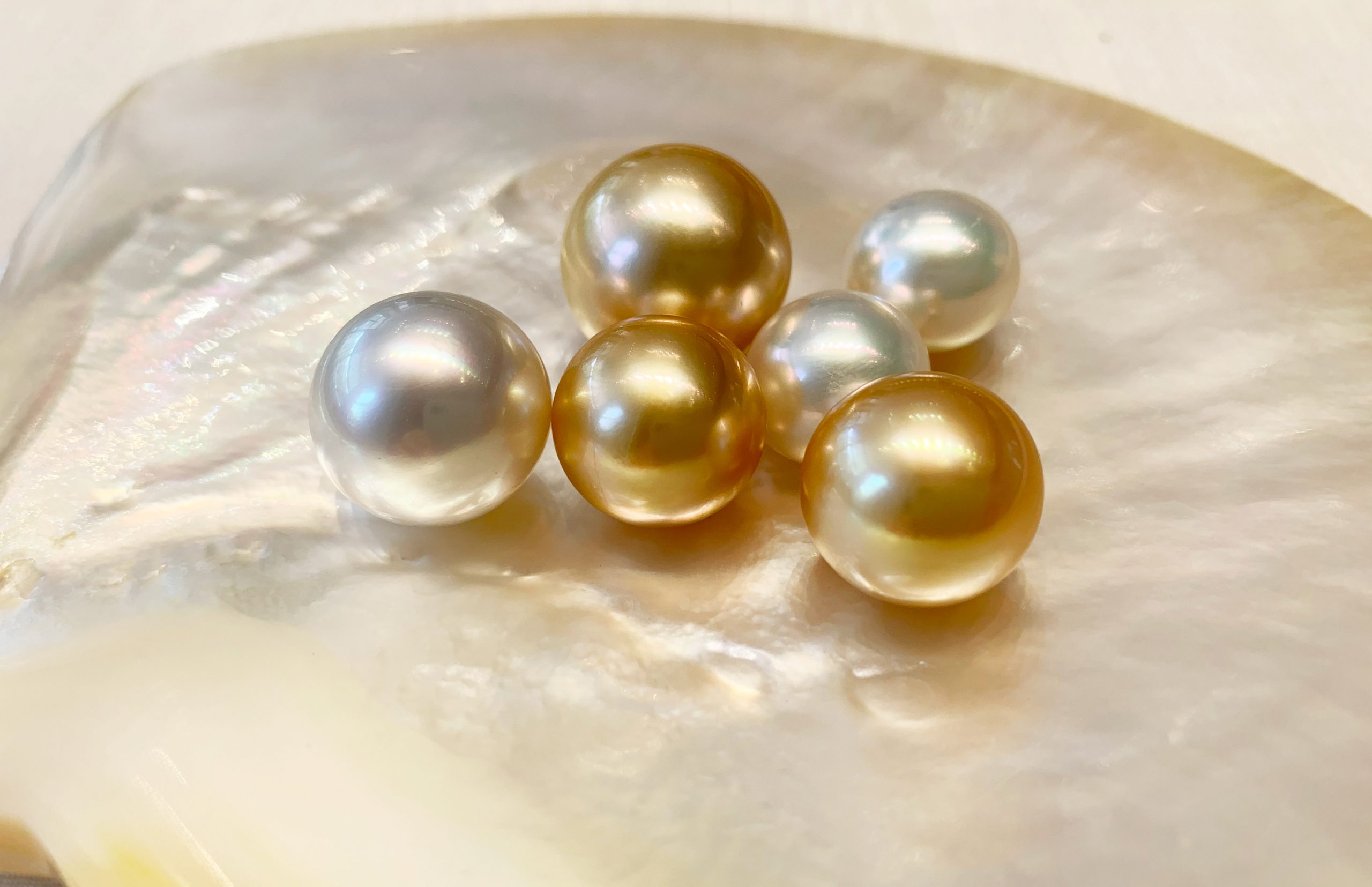 South Sea Pearls
South Sea Pearls are the rarest and most valuable pearls in the world. They have a soft and luxurious lustre due to their limited cultivation area and extended cultivation time. Their colours range from optic white to deep honey gold.
They are rarely perfectly round which is why it is unlikely to ever see long strings of pearl jewellery made of south sea pearls. They are cultured along the northwest coast of Australia, as well as the Philippines and Indonesia.
READ MORE: The heart warming reason why Queen Elizabeth always wears a pearl necklace
If you're looking for a pearl necklace and would like to browse for inspiration, take a look at our ready to wear collection or chat to one of our team for bespoke creations.
We also offer diamond earrings, eternity rings, and wedding rings for women and men.