Jewellery experts at Steven Stone have seen a huge increase in demand for birthstone jewellery this year…but can it really make you sparkle?
Meghan Markle, Gwyneth Paltrow, Nicole Kidman, and Kate Middleton are huge fans of the trend, and in the last 12 months, jewellers at Steven Stone have seen a surge of interest in birthstone jewellery.
With sales of birthstone engagement rings increasing by over 50% this year, and Google searches soaring by 51% when comparing YOY data from August 2020, it's becoming clear that more people are looking to harness the power of their birthstone.
Alongside looking fabulous, we spoke to crystal healing expert Angela Richardson who believes these gems also have some incredible health benefits.
She said: "Science has proven that everything vibrates at certain frequencies. I personally believe that wearing crystals help us change our vibration slightly so that we experience the healing properties. On a more practical level having an external focus such as a beautiful birthstone helps us concentrate on positivity."
When it comes to the most powerful stones, Angela says each stone has different properties to promote health: "I have personally found I've had the most benefits from Amethyst. I often use it for headaches. I pick one up and lay it on my forehead and I often find it improves. Amethyst, along with peridot, are also believed to keep you motivated on your weight loss journey."
With each birthstone having its own health benefits and the potential to create a powerful energy, Steven Stone jewellery experts reveal the hidden meaning behind the most popular gems.
---
January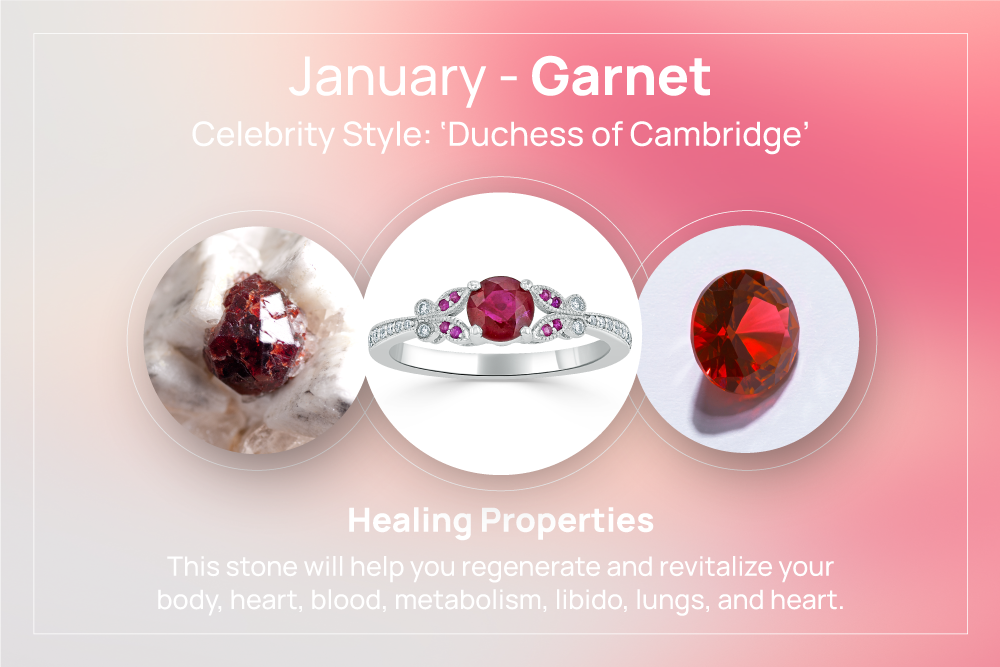 Birthstone: Garnet
History: The Egyptians even referred to the garnet as the symbol of life, while the Romans used it as a talisman for protection for warriors going into battle and those who wanted to ward off pestilence and plague. Some ancient healers even placed garnets in wounds and praised its healing powers.
Spiritual meaning: Garnet is an energising stone used to attract and activate passion and success. It can remove emotional and energetic blocks and create emotional balance in the body.
Healing properties: It is believed that this stone will help you regenerate and revitalize your body, heart, blood, metabolism, libido, lungs, and heart.
Celebrity style: The Duchess of Cambridge, born January 9, has a stunning Victorian eternity band made from garnets (her birthstone) and pearls (the birthstone of Prince William).
---
February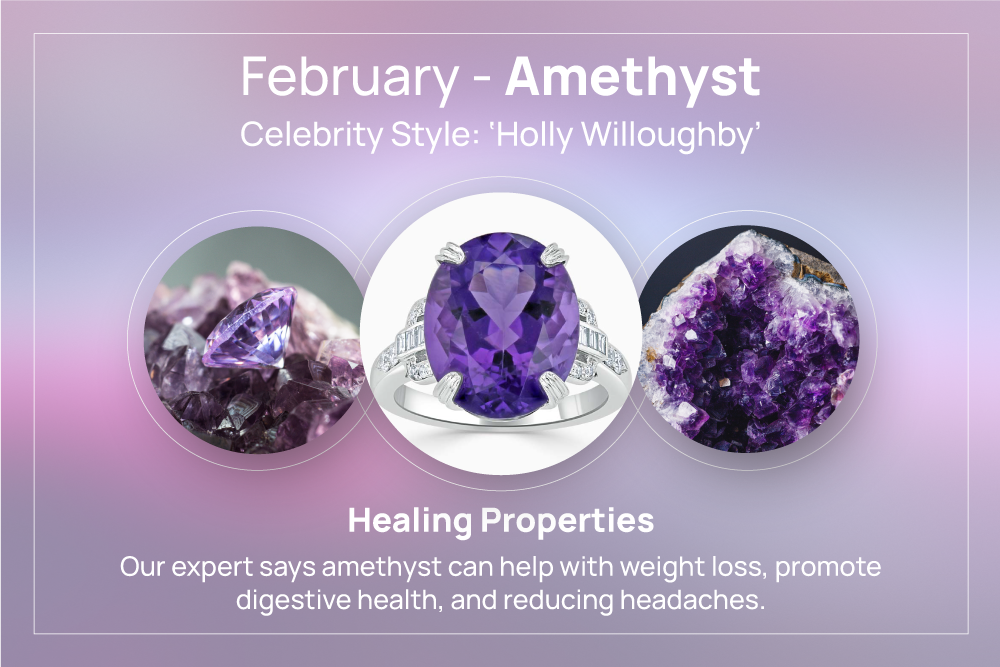 Birthstone: Amethyst
History: Ancient Egyptians believed that, because of its name, which translates to "sober", amethyst could prevent alcohol intoxication. Throughout history, many people would wear or carry an amethyst to prevent themselves from getting drunk.
Spiritual meaning: It is said to dispel rage, help manage fears and anger, and calm rage and anxiety.
Healing power: Our expert says amethyst can help with weight loss, promote digestive health, and reducing headaches.
Celebrity style: Holly Willoughby is a huge fan of amethyst and the power of crystal healing. In 2020, she took an Instagram snap of her donning an energy amulet, featuring her birthstone, to help her rock and recharge.
---
March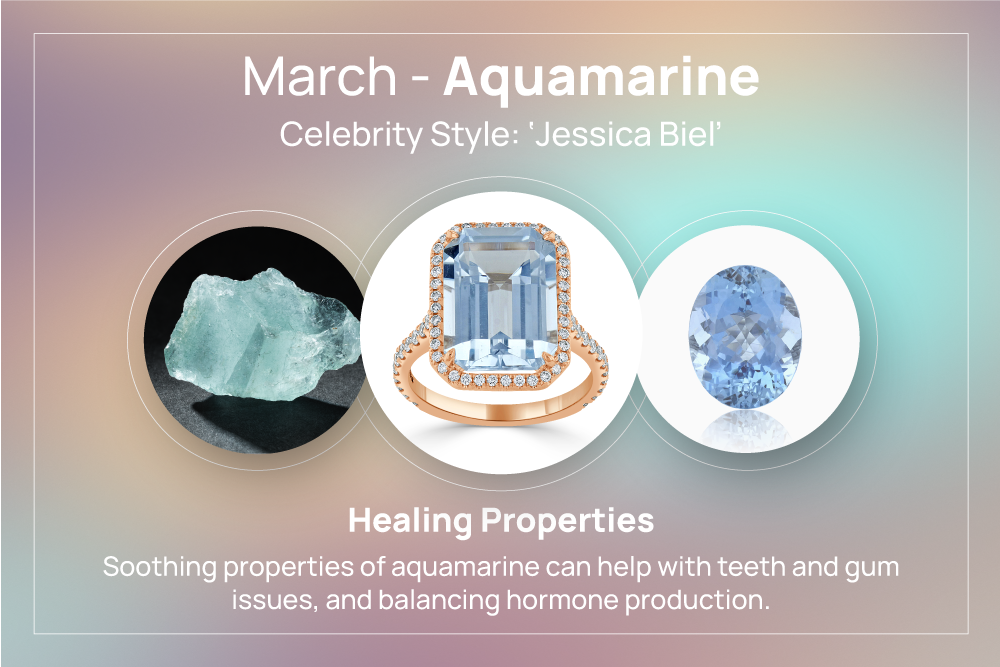 Birthstone: Aquamarine
History: As its name suggests, the gem is named after the ocean. Part of the history of this gem is that it was used by sailors to give them good luck on the seas and to ensure a safe voyage.
Spiritual meaning: Aquamarine is a stone of courage. Its calming energies reduce stress and quiet the mind. Aquamarine has an affinity with sensitive people. It can invoke tolerance of others and overcomes judgmentalism, giving support to those overwhelmed by responsibility.
Healing power: Soothing properties of aquamarine can help with teeth and gum issues, and balancing hormone production.
Celebrity style: Born in March, Jessica Biel has an incredible six carat diamond and aquamarine engagement ring, which was given to her by Justin Timberlake back in 2011.
---
April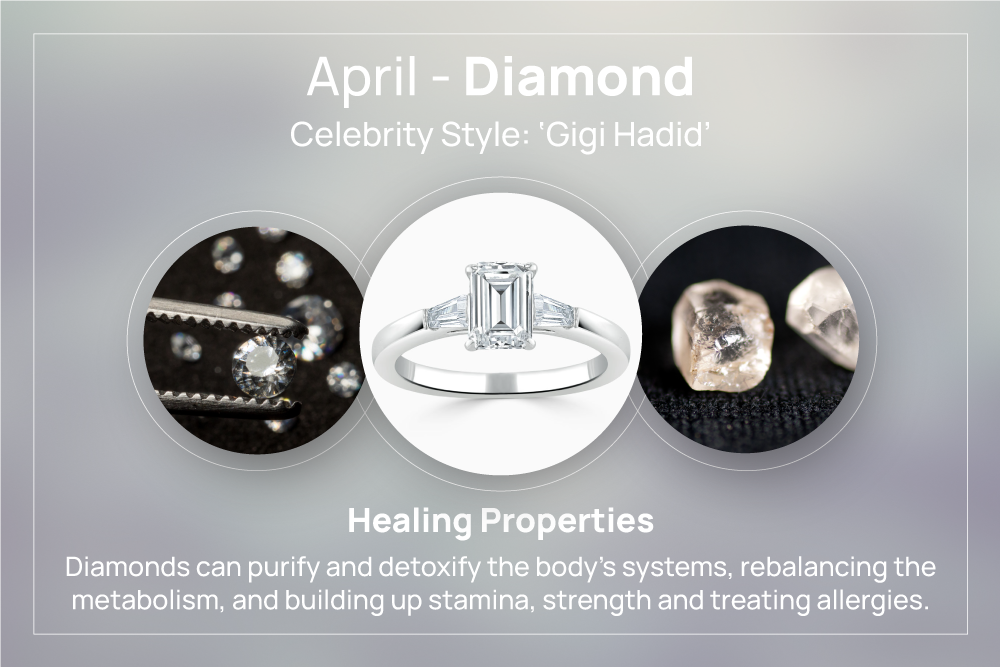 Birthstone: Diamond
History: The world's most popular stone, diamonds are no doubt a girl's best friend. The ancient Romans and Greeks believed that diamonds were the tears of the Gods and splinters that had broken off falling stars.
Spiritual meaning: For those born in April, diamonds are thought to provide the wearer with better relationships and an increase in inner strength. Wearing diamonds is also said to bring other benefits such as balance, clarity, and abundance.
Healing properties: Diamonds can purify and detoxify the body's systems, rebalancing the metabolism, and building up stamina, strength and treating allergies.
Celebrity style: Gigi Hadid who has an April birthday was most recently seen wearing an incredible jewellery set featuring 10 carat diamond earrings and 118 carat diamond necklace at the 2021 Met Gala.
---
May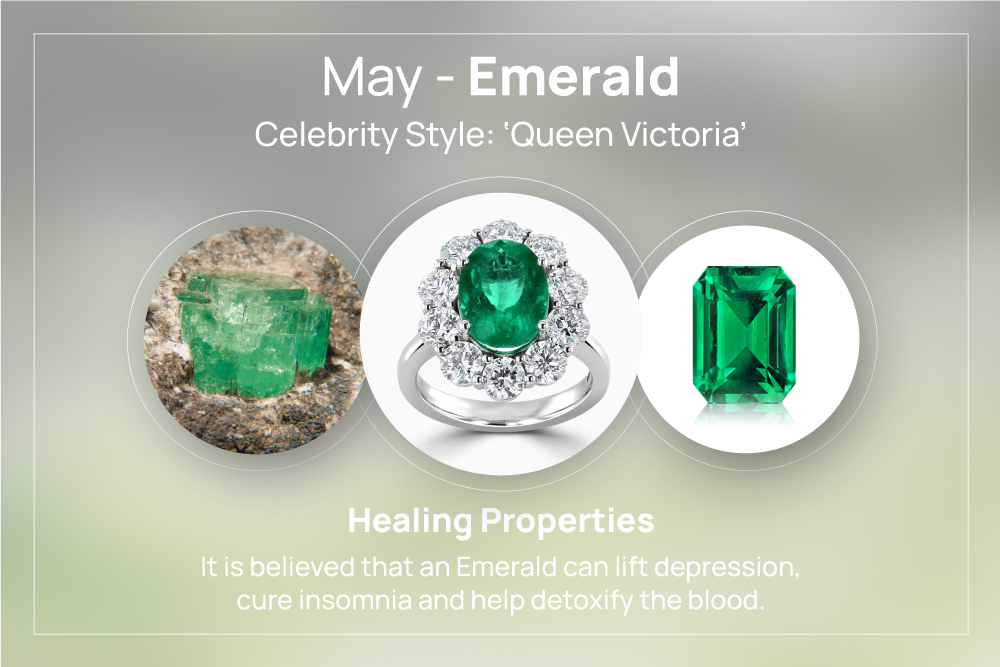 Birthstone: Emerald
History: Egyptian Queen Cleopatra is claimed ownership of all emerald mines in Egypt during her reign. Cleopatra dressed in emeralds from head to toe because it was believed the gem contained the secret to eternal youth. Later, Ancient Romans went so far as to dedicate this stone to Venus, the goddess of love and beauty.
Spiritual meaning: Wearing an emerald can create abundance, prosperity, and growth within all aspects of life. It is said to be a symbol of rebirth can bring the owner foresight and good fortune.
Healing properties: It is believed that an Emerald can lift depression, cure insomnia, and help detoxify the blood.
Celebrity style: Queen Victoria, born on May 24, 1819, was a huge fan of emeralds. Her husband, Prince Albert, designed her an incredible emerald tiara which she wore on many formal occasions.
---
June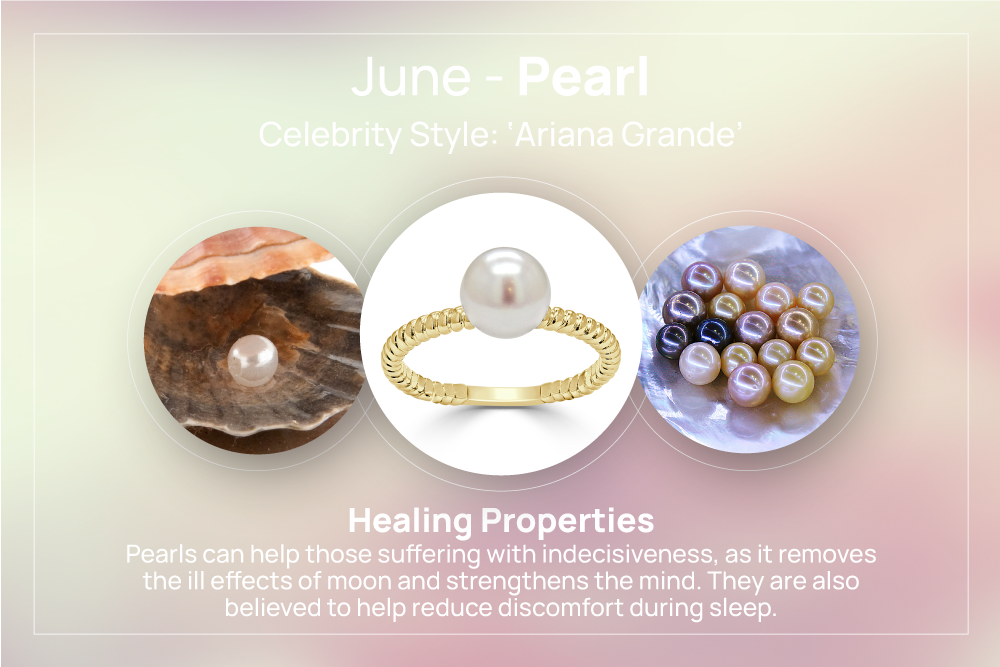 Birthstone: Pearl
History: Ancients from the Middle East believed that pearls were teardrops from heaven, while the Chinese thought they came from the brain of a dragon. Two thousand years ago, pearls were considered the ultimate symbol of wealth
Spiritual meaning: The pearl birthstone stands for innocence and sincerity. If you wear it as your birthstone, it is said to bless new life beginnings – like marriage, house moves and babies – with love and luck.
Healing properties: Crystal healers believe pearls can help those suffering with indecisiveness, as it removes the ill effects of moon and strengthens the mind. They are also believed to help reduce discomfort during sleep.
Celebrity style: Ariana Grande's alternative engagement ring from Dalton Gomez features her birthstone, along with an oval diamond which is from 5 to 7 carats.
---
July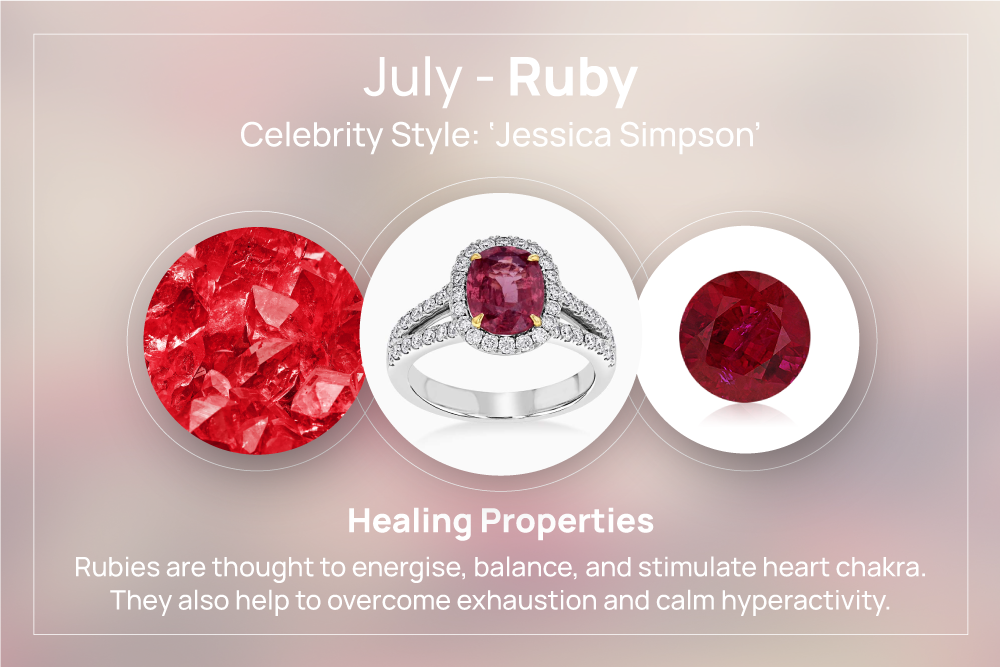 Birthstone: Ruby
History: Historically, Chinese noblemen adorned their armour with rubies because they believed the gem would grant protection. People also believed wearing the stone on their left side (the heart side), would allow them to live a peaceful life.
Spiritual meaning: Because the ruby's hue is close to the color of blood, which carries oxygen to all parts of the body, the gemstone also represents vitality and vigor; it is believed that the stone has the power to align and lend energy to the body. The ruby is also believed to protect the wearer from negative entities that leach positive energy, promoting spiritual vitality and wellness overall.
Healing properties: Rubies are thought to energise, balance, and stimulate heart chakra. They also help to overcome exhaustion and calm hyperactivity.
Celebrity style: Born on July 10, Jessica Simpson opted for a ruby engagement ring. Set in a classic trilogy setting, Jessica Simpson's ring combines a five-carat ruby flanked by two diamonds.
---
August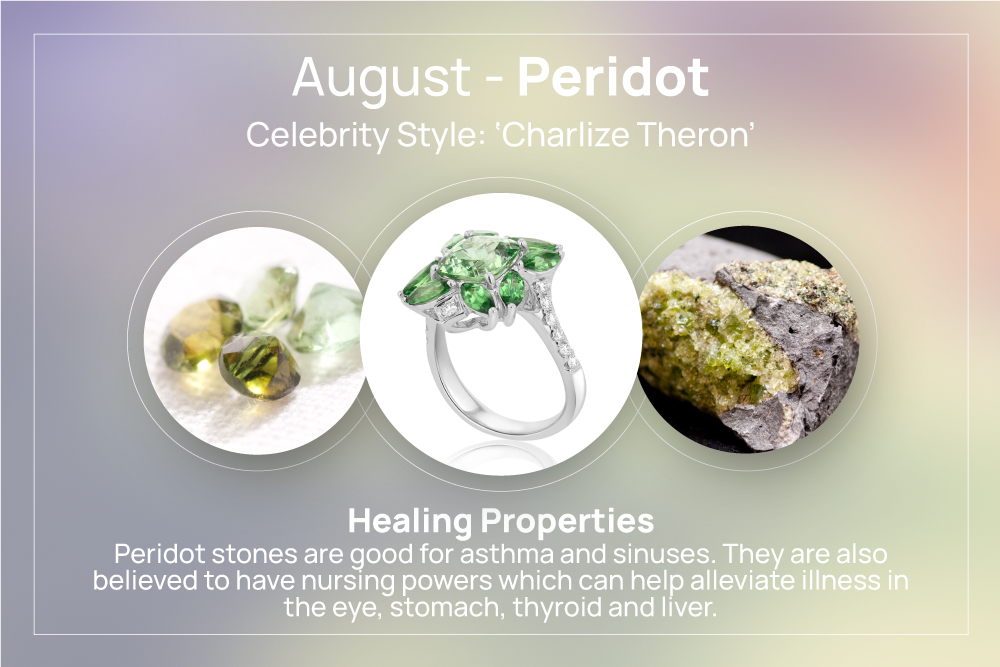 Birthstone: Peridot
History: The fabled origin of Peridot stretches back to Ancient Egypt, on the volcanic island of Zebargad. The gemstone was so treasured by the Egyptians that they kept the island's location a secret. Shockingly, it wasn't rediscovered until 1906.
Spiritual meaning: Known as the stone of compassion, peridot is believed to bring good health and peace to relationships by balancing emotions and mind. The gorgeous bright green stone also has the uncanny ability to inspire eloquence and creativity.
Healing properties: When worn as a necklace, peridot stones are good for asthma and sinuses. They are also believed to have nursing powers which can help alleviate illness in the eye, stomach, thyroid, and liver.
Celebrity style: Charlize Theron is an August born celebrity who has previously been spotted wearing peridot on the red carpet. She wore these stunning earrings with an emerald green dress to compliment the colour of her eyes.
---
September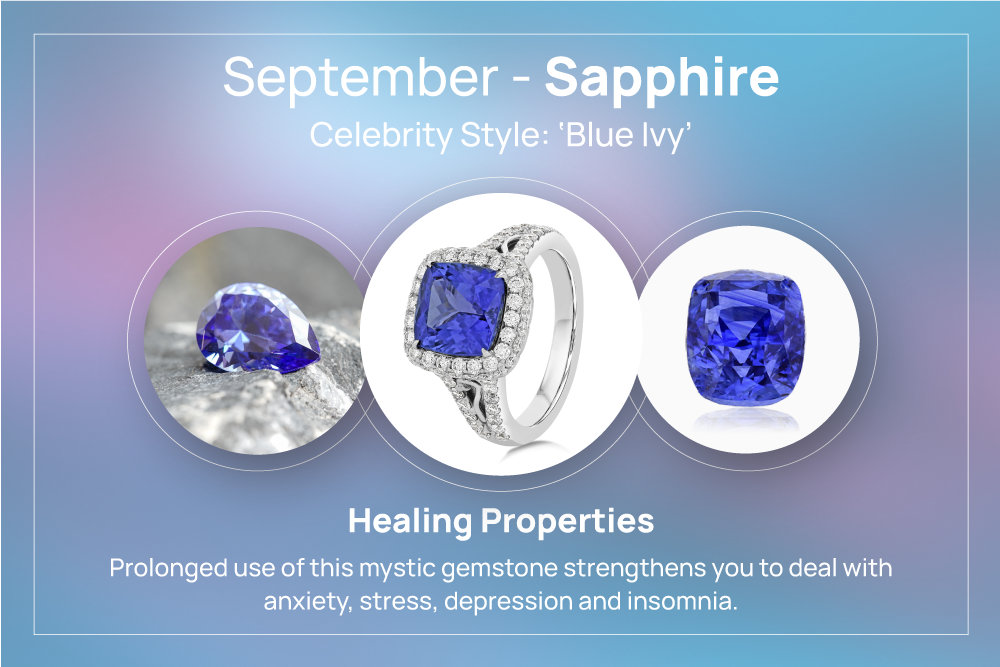 Birthstone: Sapphire
History: The elite of ancient Greece and Rome believed that blue sapphires protected their owners from harm and envy. Meanwhile, Ancient Persians believed the earth rested on a giant sapphire, which is what made the sky blue.
Spiritual meaning: Sapphire is a gemstone associated with royalty. It is believed to attract abundance, blessings, and gifts. It has been used to protect against negative energies, as well as calm the mind, strengthen intuition, and invite spiritual clarity.
Healing properties: Prolonged use of this mystic gemstone strengthens you to deal with anxiety, stress, depression, and insomnia.
Celebrity style: Beyonce was born in September and gave a nod to her birthstone when she stepped out in the incredible 18 carat sapphire ring to mark the birth of Blue Ivy.
---
October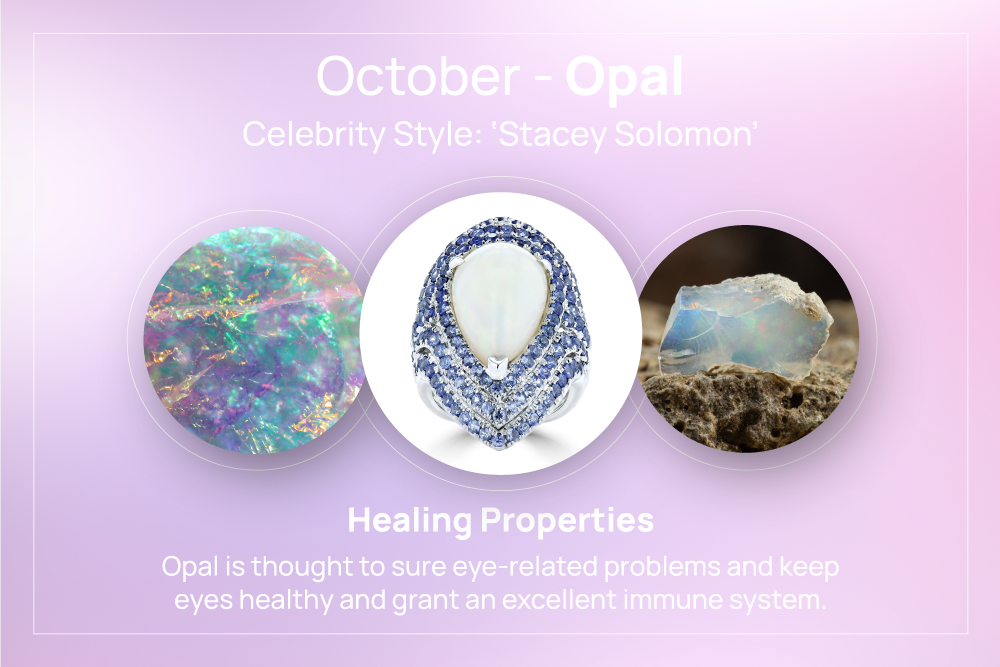 Birthstone: Opal
History: The ancient Greeks believed opals gave their owners the gift of prophecy and guarded them from disease. Europeans have long considered the gem a symbol of hope, purity, and truth.
Spiritual meaning: It represents justice and harmony, offering protection in dangerous places. Opal is a seductive stone that intensifies emotional states and releases inhibitions, enhancing the creativity and artistic abilities of a person.
Healing properties: Opal is thought to cure eye-related problems and keep eyes healthy and grant an excellent immune system.
Celebrity style: Stacey Solomon, who became engaged to Joe Swash last year, chose opal stones for her engagement ring. She chose Australian opals to represent her birthstone and the place they fell in love.
---
November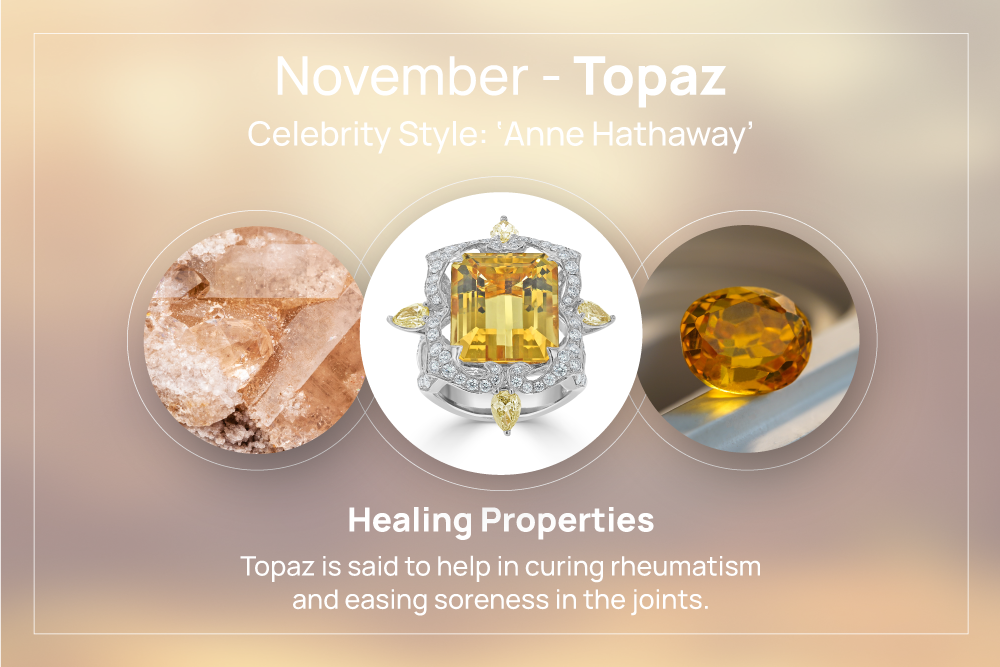 Birthstone: Topaz
History: The ancient Greeks believed that topaz could make a wearer invisible. In mythology, it is portrayed as a gem of peace and healing.
Spiritual meaning: This is a stone of nobility, love, passion, and purpose. Thanks to its fiery energy, this
sun-filled gemstone brings high self-esteem and confidence to the wearer.
Healing properties: Topaz is said to help in curing rheumatism and easing soreness in the joints.
Celebrity style: Anne Hathaway is a huge fan of orange topaz, reaping the benefits in this gorgeous necklace.
---
December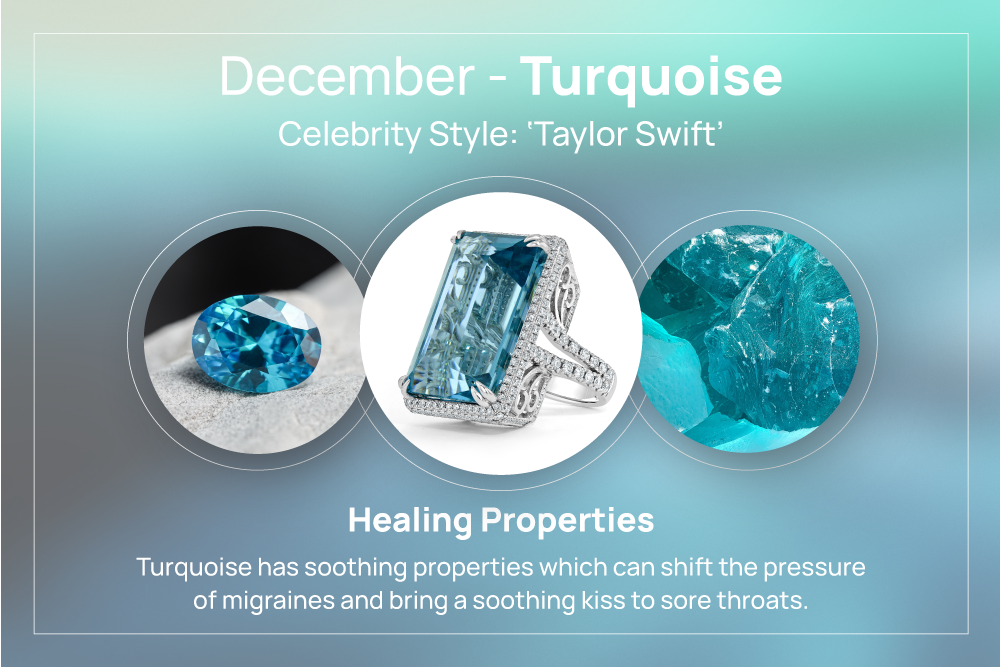 Birthstone: Turquoise
History: In European tradition, the gift of a turquoise ring means "forget me not." Turquoise is considered a national treasure in Tibet, where it is believed to grant health, good fortune and protection from evil.
Spiritual meaning: It's a stone that brings good luck, heals old wounds, and generally weaves more life affirming fortune into your world.
Healing properties: Topaz has soothing properties which can shift the pressure of migraines and bring a soothing kiss to sore throats.
Celebrity style: Taylor Swift
If you're looking for inspiration, why not take a look at our full jewellery collection? If you don't see anything that takes your fancy, we also offer a bespoke service, where our jewellery designers will create a unique piece of jewellery that ticks all the boxes – from diamond earrings to engagement rings.
---
Follow us on our socials
Pop over to our social platforms to keep up to date with Steven Stone's latest jewellery content and news.