Sometimes, when an engagement ring has sentimental value, it's important to cherish it for decades. However, over time, even the highest quality stones become tarnished and need a little TLC.
When Fran and Kiera came to see us, we fell in love with their beautiful story and knew we could help them bespoke a vintage family heirloom.
The three stone sapphire and diamond engagement ring was originally Fran's grandmother's ring. Sadly, as Fran's grandmother developed dementia, she would misplace her jewellery, in turn, making the decision to pass them to Fran's mother who would look after them until Fran became engaged.
Fran's mum gave the ring to Kiera who then proposed. The couple came into Steven Stone to have the ring remodelled, as it was approximately 60 years old.
On their visit, we spoke to the couple to find out more about their story, and what new style they were looking for.
What made you decide to have the ring remodelled?
"Although the ring was sentimental, Fran wanted it to be her own. She found Steven Stone and decided to have it remodelled using the same stones to have the sentiment from her grandmother, but also incorporate her own individual style."
Where did you get the idea for the design of your new piece?
"I didn't want to change the ring too much, but I didn't like Yellow Gold. Instead, I was lookin for a very similar design but more modern. wedfit design set in platinum."
Were all the stones used from this piece, or did we supply any stones?
"We used all but one diamond, as unfortunately it wasn't the same quality or correct size for the new piece."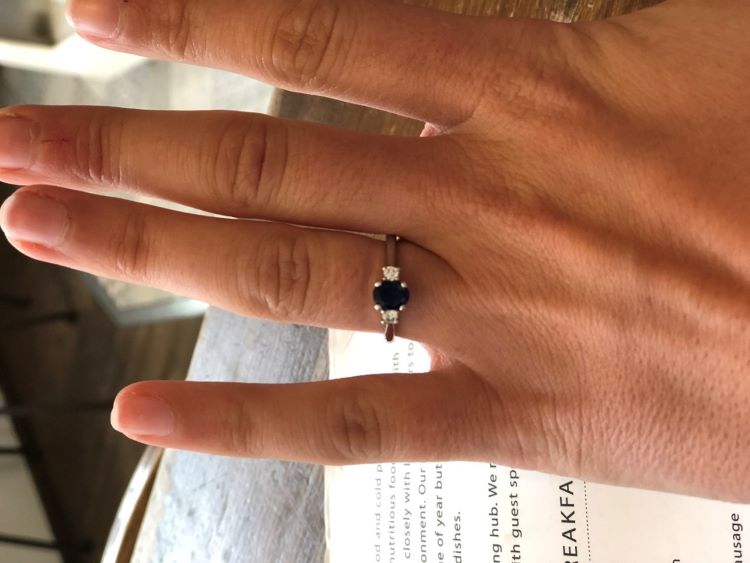 How did you find the whole bespoke process?
"The whole process was great. It is really nice to have gran's ring remodelled and to see it be worn still. My family are really happy and shocked at the new lease of life my gran's ring now has. They think it looks incredible, especially my grandad who bought it originally. He got a little emotional when he saw it, and when he sees me wearing it. Not only that but the knowledge of the team and the turn around was amazing. It was all done really quickly."
Is your piece as you imagined?
"More than as imagined, it is done so well to such a high quality – looks amazing!"
If you're interested in having a ring remodelled, find out more about our bespoke process.