Not only do we create bespoke engagement rings, here at Steven Stone we also offer a remodelling service.
Sometimes, the design of your engagement ring isn't quite what you had in mind. Perhaps you want an extra dose of sparkle with some added diamonds, or a splash of colour with the addition of emeralds, sapphires, or rubies.
In other instances, you may have another meaningful piece of jewellery you want to entwine with your engagement ring, in which case we would redesign your engagement ring by adding these precious stones.
Recently, we helped one of our customers create the engagement ring of her dreams. Afterwards, our team had a quick chat with her to find out how she found the process and why she wanted to remodel her original design.
Can you tell me a bit about your original piece?
My original piece was white gold, with a sapphire in the middle, and two triangle diamonds. I remodelled my diamonds and sapphire.
Why did you decide to have the piece remodelled? Why bespoke?
I've always had an idea of my dream engagement ring in my head. I always wanted a sapphire ring with a halo of diamonds. After the consultation for my wedding band I decided that I wanted a platinum ring with diamonds going half way around the band. I told Steven Stone that I also wanted to get my engagement ring dipped in platinum, at which point they advised me that they offer a remodelling service. I described the idea of my dream engagement ring to the team, who explained that this is something they could definitely do and arranged a quote. I was shocked at the price as I initially thought it would cost a lot more and that I wouldn't be able to afford it.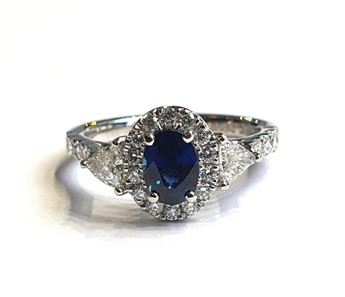 Did you need to source any more stones? If so how easy was that?
A few months on from the wedding, having paid most of it off, I had a bit of extra money to go and finally remodel my ring. I told the team exactly what I wanted – diamonds going around my sapphire and across the band to match my wedding ring. I also explained how I wanted to incorporate my existing triangle diamonds into the design too. I gave them a rough budget to which he simply advised to leave it with him as he knew exactly what to do. The extra diamonds necessary to create this ring were sourced from Steven Stone.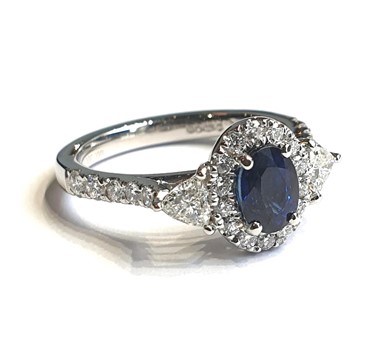 Where did you get the idea for the design of your piece?
I've seen many designs in stores and online over the years, but for some reason I've just always wanted this specific piece – platinum band, sapphire stone, with a diamond halo.
How visually did you imagine the new piece before the manufacturing process started? (eg sketches, CAD, resins)?
Having always had the perfect image in my head I was unsure whether the proposed CAD drawings would be up to scratch (I'm very picky!). However when I was shown the sketches I instantly knew I'd made the right decision. I already trusted Steven Stone because of my wedding band, but they really did bring my dream to life. It's just perfect!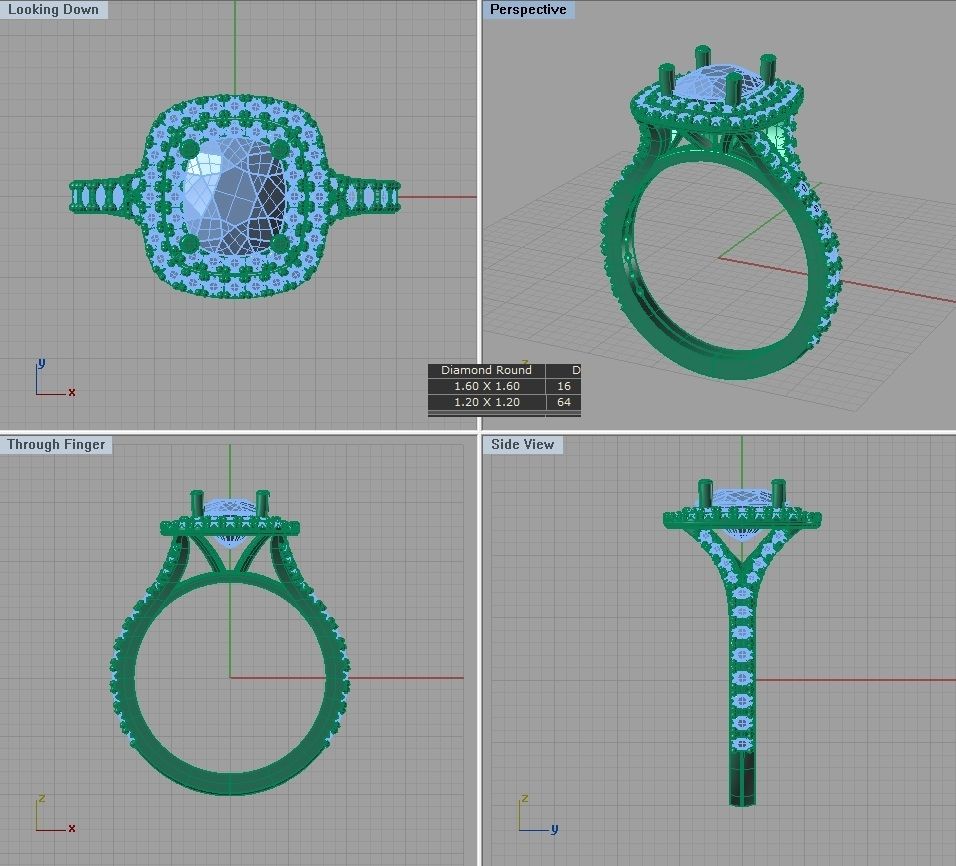 How did you find the whole remodelling process? Is your piece as you imagined?
From my perspective I found it incredibly easy. I never once doubted the team when they were in possession of my ring and they kept me updated throughout the entire process. I gave them a budget and they stuck to it. When I turned up to collect the finished piece, the sketches honestly didn't do it justice. It was remodelled precisely how I imagined, truly perfect. I'm so over the moon and just can't stop looking at it!
If you're interested in our remodelling service, whether it's an engagement ring, wedding ring, eternity ring, or even a pair of diamond earrings, get in touch with our team to find out more.