Meghan Markle and Prince Harry are in the spotlight right now, sparking controversy with their recent CBS documentary with Oprah, and dividing the nation with their choice to leave the British Royal family to find their freedom.
However, despite the recent scandal, it's clear to see that the pair are in love, and well, we can't help but feel a little warm and fuzzy inside.
When Harry proposed, Meghan claimed that the two were "trying to roast a chicken". In a TV interview, Harry said: "She didn't even let me finish. She said, 'Can I say yes, can I say yes? ' and then were hugs and I had the ring in my finger and I was like, 'Can I give you the ring?"
So, what type of engagement ring did Harry give to Meghan? If you don't already know, here are interesting facts about the incredible piece of jewellery on her finger.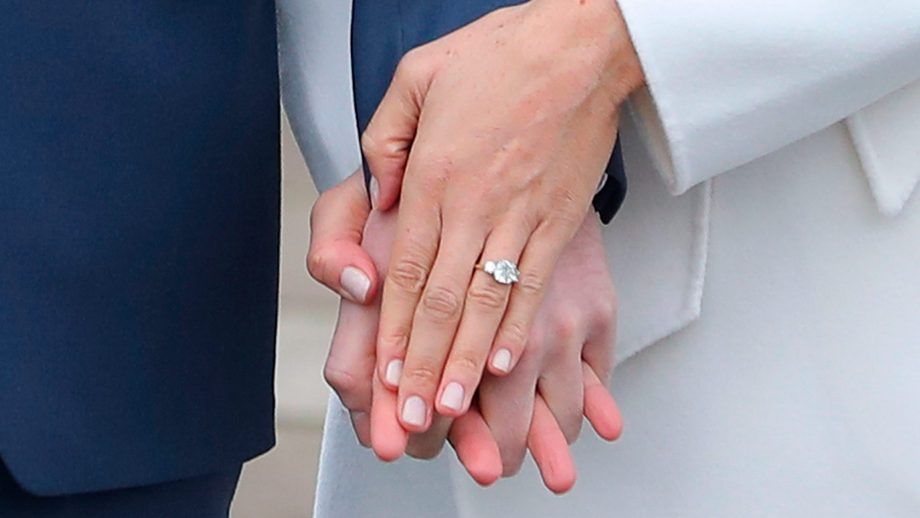 1. Price Harry designed the ring himself
Just when you thought Harry couldn't be more smitten, he proved his love to her by designing the unique engagement ring himself. From using family heirlooms and gems sourced from meaningful places, the diamond engagement ring will no doubt hold a special place in Meghan's heart.
2. Diamonds from Princess Diana's jewellery collection were used
Yes, it's true, Harry used diamonds once worn by his late mother to feature in Meghan's stunning ring. While Kate Middleton received Princess Diana's engagement ring when Prince William proposed, Harry still followed in his footsteps by choosing jewels that have a sentimental meaning. The two round side diamonds on the ring, estimated at just under a carat each, are from Diana's personal jewellery collection.
3. The centre stone is a cushion-cut diamond from Botswana
Whilst Princess Diana's jewels make up the side stones, it's time to talk about the centre stone. The three-carat cushion cut centre diamond is actually sourced from Botswana, which holds a special place in their hearts. The couple have visited Botswana numerous time, and is a huge part of their love story. Meghan has previously it is a "special" place to her and Harry.
4. It's worth around £100,000
We know that the colour and clarity of diamonds determine the price and value of an engagement ring, so how much is Meghan's worth? From looking at images of the ring, our experts expect the diamonds used are of the highest clarity, almost flawless to the naked eye. Our diamond experts estimate the centre diamond has a value of around £70,000 to £115,000 ($95,000-$155,000). The two diamonds on the side, owned by Princess Diana have a retail value of about £3,750 ($5,000) each, however it's likely they would be worth much more due to the Royal connection, and the fact they were once worn by the late Princess.
5. Yellow gold is Meghan's favourite
Whilst it's much more common for white gold or platinum to be used for the setting of an engagement ring, Harry opted for yellow gold. Yellow gold is rumoured to be Meghan's favourite, suggesting Harry knows what his lady likes. It was made by royal jeweller Cleave and Company.
6. She had the ring adjusted
When Meghan's pregnancy was announced to the world, Royal fans were overjoyed that the couple were bringing a new member into the Royal family. However, during the pregnancy, Meghan fuelled rumours as she stopped wearing her engagement ring. While many speculated pregnancy-induced fluctuations meant Meghan's ring size had increased, it was later revealed that the ring had been in the hands of a celebrity jeweller who was redesigning it.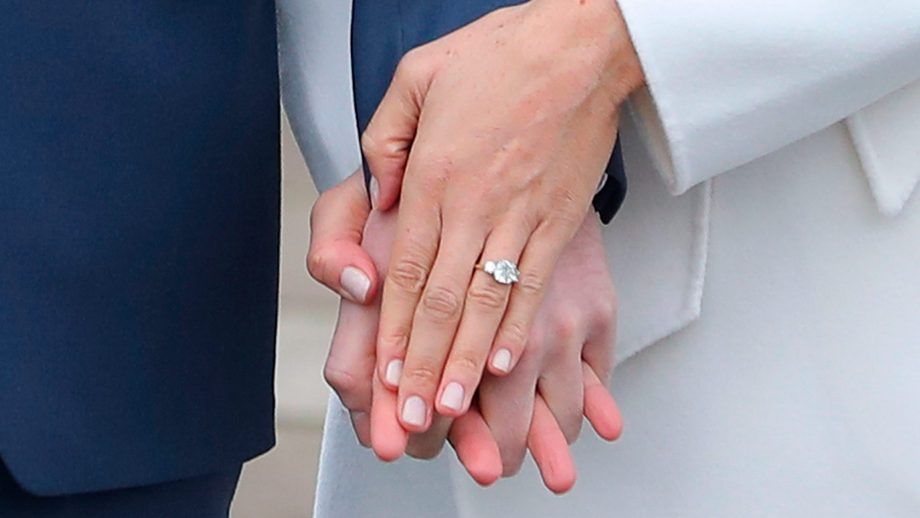 7. It was Harry's idea
Whilst Meghan was called out by many for changing the sentimental ring design, it has now emerged that it was Prince Harry's decision to upgrade the band.
He made the decision to resize and reset the ring so that the original simple band was replaced with a thin, yellow gold band set with micro-pavè diamonds. The new ring first appeared on Meghan's finger when she attended the Trooping the Colour Parade in June 2019.
8. Kim Kardashian's favourite jeweller redesigned the ring
The jeweller Harry chose to redesign the engagement ring was not a Royal jeweller, but an expert designer loved by A-List celebrities.
Lorraine Schwartz has designed many famous engagement rings, including the huge rock worn by Kim Kardashian when Kanye West proposed.
9. Megan almost received Kate Middleton's sapphire engagement ring instead
While Kate Middleton wears the stunning Ceylon sapphire engagement ring, once worn by Princess Diana, it could have ended up on Meghan Markle's finger instead.
While Prince Harry inherited the ring in 1997 in the wake of Diana's tragic death, it's said he offered the cherished ring to his brother, Prince William, so he could propose to Kate Middleton with it.