Queen Letizia of Spain has impeccable taste, oozing elegance and grace. In true royal style, she often teams her chic outfits with some lavish jewels, and our experts at Steven Stone couldn't help but take a closer look at her collection.
While Kate Middleton and Queen Elizabeth are famed for their love of luxury jewellery, Queen Letizia also knows how to make a statement through beautiful, and often sentimental, pieces.
From multi-million euro tiaras and diamond necklaces to a multitude of bracelets, we've rounded up some of the most expensive items she's been spotted wearing.
Our leading diamond expert, Maxwell Stone, has taken a close look at each piece of jewellery, giving an estimated value for each one.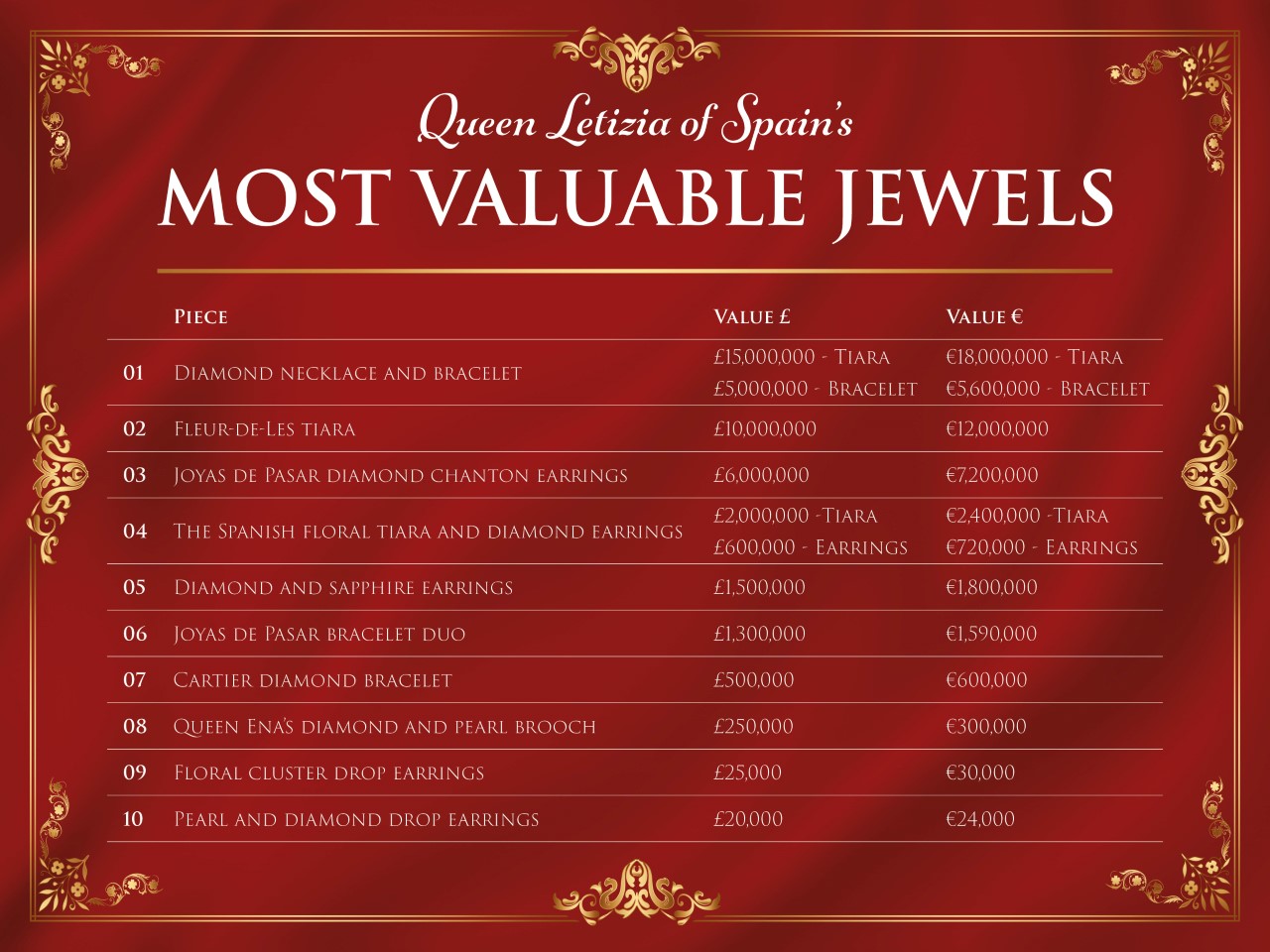 Diamond necklace and bracelet
Combined estimated value: € 23,600,000 (£20,000,000)
On a visit to Japan, Letizia wore yet another piece that had been given to Victoria of Spain by Alfonso XIII, a gorgeous diamond necklace. Every anniversary, the King would add two stones to her necklace, which resulted in a stunningly large jewel. Sofia decided to split the piece between her daughters and Letizia who debuted the item during their trip to the Asian country. Letizia also sported a matching diamond bracelet.
The necklace has an estimated value of 18,000,000 EUR, while the bracelet is worth around 5,600,000 EUR.
"Everything about this necklace is breath-taking. The diamonds look to be the same size all the way around, and are probably around 15cts each. The bracelet also looks as though it features very similar stones, of the same size and cut." said Maxwell Stone, Creative Director, Steven Stone.
READ MORE: 10 stunning celebrity halo engagement rings
Fleur-de-Les tiara
Estimated value: € 12,000,000 (£10,000,000)
King Alfonso gave Queen Ena a grand diamond tiara to wear on their wedding day, which he had commissioned from the Spanish royal jewellers – Ansorena. The diamonds were set in platinum in the design of three Fleur-de-Lis, the symbol for his family – the House of Bourbon.
As it was part of the Joyas de Pasar collection, it was passed on to Queen Sofia in 1978, before reaching Queen Letizia who is a clear fan of the piece.
Letizia has sported the huge tiara on many occasions, including at Buckingham Palace in 2017 and to the Imperial Enthronement in Tokyo in 2019.
READ MORE: The sentimental meaning behind Queen Elizabeth's Nizam of Hyderbad Rose brooches
Joyas de Pasar diamond chanton earrings
Estimated value: €7,200,000 (£6,000,000)
Part of the Joyas de Pasar collection, which means "jewels that are passed down", these diamond earrings have been worn frequently by Queen Letizia. In June 2019, she wore the earrings at the Order of the Garter Service, teaming them with a stunning diamond floral brooch, belonging to her mother-in-law Queen Sofia, 80.
She most recently wore the earrings in November 2021, at a State banquet hosted by Swedish King Carl XVI Gustav and Queen Silvia at the Royal Palace of Stockholm.
READ MORE: Kate Middleton had a wedding ring disaster on her big day…here's how to avoid it
Spanish floral tiara and diamond earrings
Estimated value: € 2,400,000 (£2,000,000)
As mentioned earlier, the pretty diamond floral tiara from Queen Sofia's collection has also been one of Letizia's favorite sparklers. The piece was made in the nineteenth-century for a Spanish queen, then meandered through exile before being reunited with Queen Sofia in the 1960s. The lightweight, classic piece is one of the easiest Spanish royal tiaras to wear with modern clothes and hairstyles.
The earrings she pairs with the tiara are stunning. Featuring three diamonds from 3ct to 1ct they are likely to be worth around 720,000 EUR (£600,000).
READ MORE: Adele wore an incredible ring on THAT finger – but is she engaged?
Joyas de Pasar bracelets
Estimated value: € 1,590,000 (£1,300,000)
When Queen Ena made her will in 1963, she also included a due of diamond bracelets as part of the Joyas de Pasar collection that would be passed down through the monarchs. These bracelets are described as "dos pulseras iguales de brillantes" (two matching diamond bracelets). These beautiful bracelets feature ribbon-like designs and can be worn alone or together.
While she's worn these incredible bracelets on numerous occasions, Queen Letizia wore them to match the earrings above, at the same State banquet in Sweden, November 2021.
READ MORE: Inside Cristiano Ronaldo and Georgina Rodriguez's multi million pound jewellery collection
Diamond and sapphire earrings
Estimated value: € 1,800,000 (£1,500,000)
Never afraid to make a statement, Queen Letizia of Spain wore a stunning pair of diamond and sapphire statement earrings for a banquet at the Guildhall in London, July 2017; teamed with the Spanish floral tiara.
These earrings feature four huge sapphires and what looks to be over 100 diamonds, meaning not only are they incredibly valuable, but also very heavy, which is one potential reason why she hasn't worn them as frequently as her other pieces.
READ MORE: The most Googled wedding dresses from the British Royal family
Prussian tiara
Estimated value: € 900,000 (£750,000)
Worn on her wedding day, this tiara was an early favorite of Letizia's. The piece is a German imperial heirloom, passed down from mother to daughter until it reached Letizia's mother-in-law, Queen Sofia of Spain. (Sofia also wore the tiara on her wedding day.) The tiara was Letizia's go-to jewel for the first five years of her royal marriage.
READ MORE: The World's Most Googled Honeymoon Destinations for 2022
Cartier diamond bracelet
Estimated value: € 600,000 (£500,000)
King Felipe's mother, Queen Sofia gifted her daughter-in-law a custom diamond bracelet from Cartier. The sparkly stunner is inspired in Greek columns and Letizia has been seen wearing it on numerous occasions, including at the Princesa de Asturias awards in 2017.
READ MORE: The secret Engagement ring Grace Kelly received from Prince Rainer
Queen Ena's diamond and pearl brooch
Estimated value: € 300,000 (£250,000)
On January 6, 2022, Queen Letizia wore one of the most sentimental accessories from the royal collection, Queen Ena's brooch.
This beautiful brooch is known as Queen Ena's grey pearl drop brooch. The piece features a delicate grey pearl encircled by two rows of brilliant diamonds, with a pearl pendant suspending from it. Interestingly, in the 1920's Queen Ena reportedly wore the piece as a pendant on a necklace.
Another piece from the Pasa de Joyas collection, it is extremely valuable, perhaps even priceless, thanks to its legacy. However, when Letizia wore the brooch earlier this year, it dropped from her jacket and was almost destroyed as it flew towards the pavement.
Thankfully, King Phillipe managed to catch it before it hit the ground. Phew.
READ MORE: These are the most bizarre wedding traditions from around the world
Diamond and white gold engagement ring
Estimated value: € 36,000 (£30,000)
Unlike the typical style of royal engagement rings, which features a centre stone, the engagement ring that Felipe gave Letizia has a different, yet distinctive design. Felipe presented his fiancé with a classic diamond engagement ring with a white gold band and 16 baguette-cut diamonds. The bespoke piece was designed by Spanish jewellery brand Suárez.
The couple got married within less than a year of their engagement, but since then, the princess, now the Queen of Spain, has rarely been spotted wearing her engagement ring in public. Instead, she regularly opts to wear her Karen Hallam gold-plated ring. And, while it's never officially been confirmed as to why she doesn't wear the ring, there is an interesting theory.
Queen Letizia herself explained once that "the continuous handshakes at the receptions had injured her hand", which could mean the engagement ring was causing extra pain due to the thickness of the band.
READ MORE: Camilla Parker Bowles' brooch was once a £100,000 necklace worn by Princess Diana
Floral cluster drop earrings
Estimated value: € 30,000 (£25,000)
Consisting of a diamond floral cluster with a round drop pearl, these pearl and diamond earrings previously belonged to Queen Sofia's, who often paired them with her many pearl necklaces. One of the earliest notable appearances of the earrings was at King Juan Carlos' Enthronement in 1975.
In recent years, the Pearl and Diamond Earrings have been in the hands of Queen Letizia, who notably wore them to the Israeli State Banquet at the Royal Palace of Madrid in November 2017.
READ MORE: The heartwarming reason why Queen Elizabeth always wears a pearl necklace
Pearl and diamond drop earrings
Estimated value: € 24,000 (£20,000)
Clearly a huge fan of the diamond and pearl drop earrings, Queen Letizia also has another pair, resembling similar features to the earrings above, passed down from Queen Sophia.
She's been spotted wearing this pair of statement earrings quite a lot over the years, suggesting they are one of her favourite pieces. In 2019, when the Queen of Spain was celebrating her 47th birthday, she teamed them with a chic taupe dress during an exhibition in Seville.
If you're searching for jewellery that's worthy of Queen Letizia's collection, why not take a look at our stunning range of diamond earrings and necklaces? We also specialise in bespoke engagement rings and wedding rings for women and men.