The State Opening of Parliament taking place tomorrow – and King Charles and Queen Camilla both set to wear dazzling headpieces.
King Charles will deliver his first State Opening of Parliament speech as monarch tomorrow. Last year, the King and the Prince of Wales stood in for the ailing Queen Elizabeth II as Counsellors of State during a reduced ceremony.
The King is expected to wear the Imperial State Crown, which the late Queen Elizabeth II last wore for the 2016 State Opening of Parliament – and he wore during his Coronation.
Meanwhile, Queen Camilla is expected to wear Queen Elizabeth II's iconic diamond diadem. Instantly recognisable as the headpiece worn by the late monarch on postage stamps from 1953-1971, the diamond diadem is probably the most well recognised of all her pieces of jewellery.
Jewellery and diamond experts at UK retailer, Steven Stone have taken a close look at the stunning pieces and revealed everything you need to know.
Imperial State Crown
Value: £3.5 billion
Fitted with a purple velvet cap and an ermine band, the Imperial State Crown was commissioned for the coronation of King George VI in 1937, but is similar to a headpiece created for Queen Victoria in 1838. Though renowned for being worn by the monarch as they leave Westminster Abbey after their coronation, it is also used on other State occasions including the annual State Opening of Parliament.
The gold, silver and platinum crown is decorated with 2,868 diamonds, 269 pearls, 17 sapphires and 11 emeralds. It weighs 1,060 grams and is 31.5 centimetres tall.
The second-largest stone cut from the Cullinan Diamond – the largest diamond ever mined – adorns the front. Above the pear-shaped diamond is amethyst surmounted by a cross pattée encrusted with an emerald and small diamonds.
The Imperial State Crown also contains St Edward's Sapphire. Dating back to 1066, the sapphire is said to be from the ring of King Edward the Confessor – one of the last Anglo-Saxon Kings of England.
St Edward was buried with his treasure at Westminster Abbey, but his tomb was opened and the ring removed when his coffin was moved from one part of Westminster Abbey to another shine in the 12th century.
Diamond Diadem
Value: £6 million
Created for the coronation of King George IV in 1821, the diamond diadem consists of a band of two rows of pearls, either side of a row of diamonds, with 1,333 brilliant-cut diamonds making up the design.
Queen Elizabeth II was not the only monarch to have worn it when modelling for postage stamps – her great, great-grandmother Queen Victoria was also featured wearing it on the Penny Black stamp.
The famous Dorothy Wilding portrait of Queen Elizabeth wearing the diadem was taken just weeks into her reign.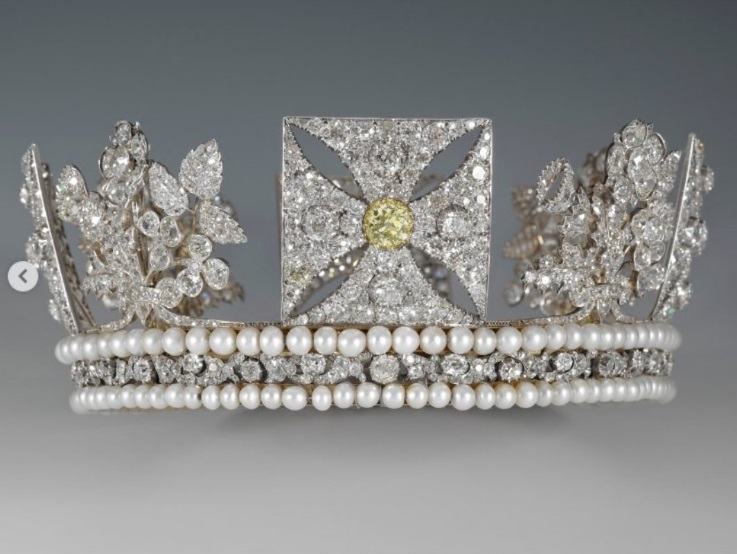 If you're looking for jewellery to rival royalty, our team can design bespoke creations, tailored to you. From engagement rings and wedding rings to necklaces and diamond earrings, your options are limitless.
---
Follow us on our socials
Pop over to our social platforms to keep up to date with Steven Stone's latest jewellery content and news.