As Meghan Markle and Prince Harry celebrate their wedding anniversary on May 19th, jewellery experts at Steven Stone have taken a close look at their incredible royal wedding, which took place back in 2018.
The average cost of a UK wedding is estimated to be around £19,017, however our study reveals this royal wedding cost up to £32,000,000 at the time and would cost £33,700,572 in 2022 thanks to inflation.
Taking a close look at the stunning bride, we can reveal that from head to toe, her wedding day outfit is worth a staggering £2,493,325
To find out more, we teamed with experts from the wedding and fashion industry who have uncovered all the details.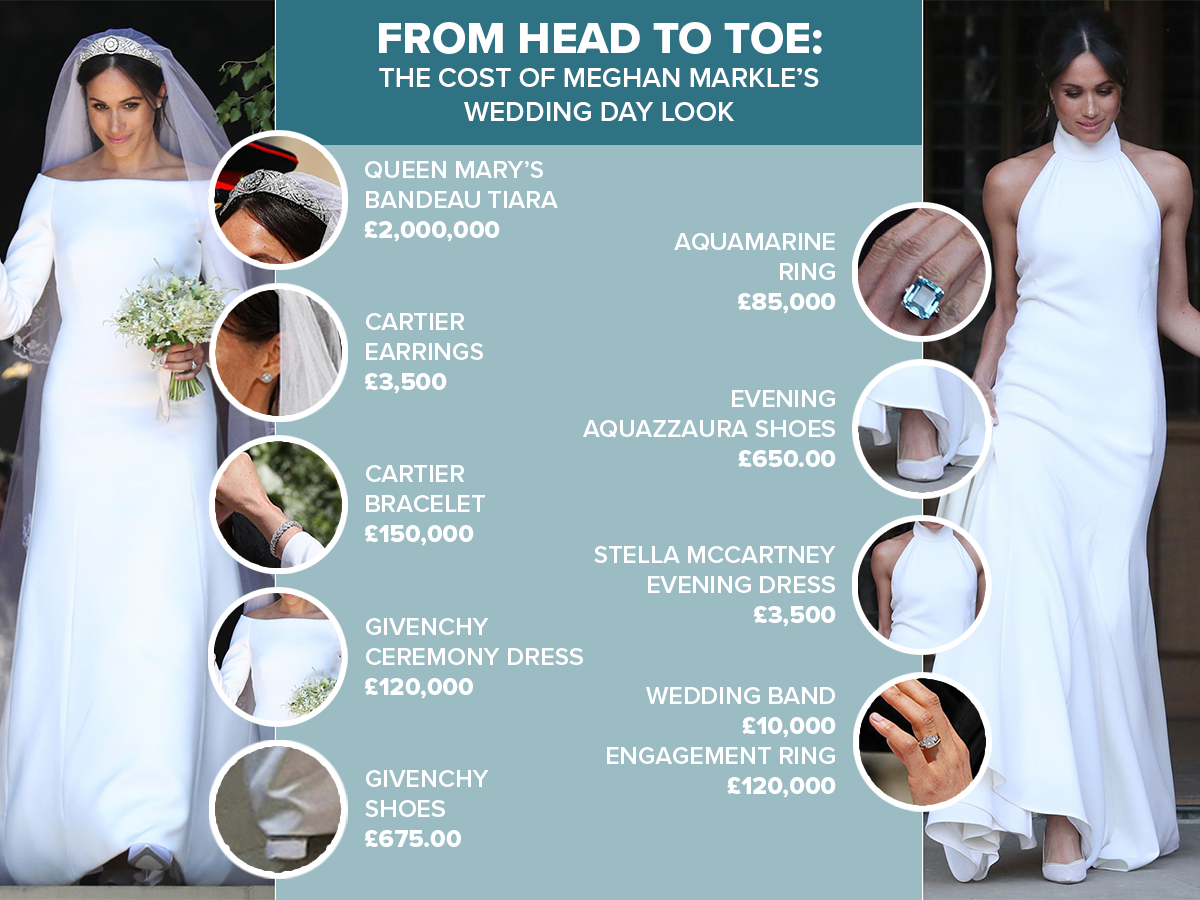 The Givenchy ceremony dress – £120,000
Meghan's dress was a real showstopper, and it's no surprise to hear that her dress has had a major influence on wedding dress trends.
Zoe Burke, editor at Hitched.co.uk said:
"Meghan Markle's wedding dress sparked a fair few trends – and is it any wonder? The sleek silhouette and unusual neckline was so refreshing, and such a striking change at a time when lace wedding dresses were everywhere. After her wedding to Prince Harry, searches for 'satin wedding dresses' spiked dramatically, and they've shown no sign of slowing down."
The term 'satin wedding dress' receives 18,100 average Google searches each month, while more specifically 'meghan markle wedding dress' received 2,240,000 searches in May 2018 and still receives 27,100 searches each month in 2022.
"Her dress was certainly not in line with the average bridal spend, but at £110,000 it was one of the cheaper royal wedding dresses we've seen in recent years (yes, really!). However with inflation it's now worth an incredible £120,000 – meaning it's increased in value by £2,500 per year so far, and we can only expect that value to keep climbing, particularly if satin wedding dresses continue to be in such demand!"
The Givenchy shoes – £675.00
To compliment her dress, Meghan wore silk satin pumps based on a Givenchy refined pointed couture design. To find out more, we asked fashion and shoe expert, Susannah Davda, from Shoe Consultant to tell us everything you need to know.
"Meghan opted for plain duchesse satin heeled court shoes on her wedding day. The Givenchy pumps had 105mm heels, which enabled her to wear a longer gown than if she had worn a more comfortable mid heel. The pointed toes gave Meghan's look a stronger, more fashion-forward look than the ultra-feminine rounded toe favoured by some brides. Without embellishment, these shoes were not intended to draw attention away from other elements of Meghan's bridal attire. High-heeled, pointed-toe court shoes are a timeless favourite of brides, as popular in 2022 as they were in 2018."
"These shoes will have been made to order, so I estimate they cost approximately £675.00″
Queen Mary's bandeau tiara – £2,000,000
Queen Mary's Bandeau tiara from Her Majesty's collection, worn by Meghan Markle, is worth an estimated £2M.
According to the official description, "The bandeau, which is made of diamonds and platinum, is formed as a flexible band of eleven sections, pierced with interlaced ovals and pavé set with large and small brilliant diamonds. The centre is set with a detachable brooch of ten brilliant diamonds."
Maxwell Stone, Creative Director at Steven Stone, said:
"Reportedly, Meghan Markle visited Queen Elizabeth at Buckingham Palace to choose what tiara she would wear on her wedding day. The tiara she picked belonged to Queen Mary, who was married to King George V and is Queen Elizabeth's grandmother.
"The centre stone featured in the tiara is actually a brooch, comprised of 10 diamonds and which Mary of Teck received as a wedding gift from the County of Lincoln in 1893. In 1932, the diamond and platinum bandeau tiara was specifically made to accommodate the brooch. A piece like this is likely to be worth over £2,000,000."
Princess Diana's aquamarine ring – £85,000
When Meghan stepped out of her burgundy Rolls Royce and onto the grounds of Windsor Castle's St George's Chapel, we were keen to see if she was wearing 'something blue'. However, it wasn't until the evening reception we finally got see Meghan's striking aquamarine emerald cut cocktail ring.
Many speculate the ring was Harry's wedding day gift for Meghan, originally part of Princess Diana's extensive jewellery collection.
The first appearance of the ring came when Diana, attended the Victor Chang Cardiac Research Institute Fund raising Dinner in Sydney, in October 1996, a few months after the couple's divorce. She paired the ring with a coordinating pearl bracelet, featuring a huge aquamarine clasp.
Maxwell stone said:
"Aquamarine is one of the most visually beautiful gemstones. With an enchanting pale blue colour, the ring was a perfect addition to Meghan's wedding day outfit.
"Now having been passed down to Meghan Markle from Harry, it's interesting to know that the Aquamarine's are often associated with tranquility, serenity, clarity, and harmony. As the first of the spring birthstones, the sea blue crystal represents transformation and rebirth. It embodies youthful vitality, purity, loyalty, hope, and truth."
"While the ring is no doubt priceless, if it were available to buy, it would be worth around £85,000."
Cartier stud earrings – £3,500
Meghan's earrings were her 'something new' and she didn't hold back when it comes to making a statement. She debuted the diamond and white gold Galanterie de Cartier studs, which she'd previously worn just a couple of weeks before.
The Cartier bracelet – £150,000
Meghan also wore a dramatic Reflection de Cartier diamond bracelet, which added an extra touch of glamour to her chic and sophisticated dress.
The stunning bracelet composed of 18K white gold, set with 104 brilliant-cut diamonds totalling 4.50 carats, and 52 baguette-cut diamonds totalling 5.61 carats.
The bracelet, available to buy from the luxury brand, is estimated to be worth £150,000.
The wedding band – £10,000
The wedding band Harry gave to Meghan was made of Welsh gold gifted by Queen Elizabeth. It was made from the same nugget of gold that was used to make her ring, along with the Duchess of Cambridge's.
Prince Harry's wedding band is crafted in platinum and has a textured surface. Both rings were made by Cleave & Company, the same jeweler who created Meghan's three-stone diamond engagement ring.
The engagement ring – £120,000
When Prince Harry proposed in 2017, he presented Meghan with a beautiful three stone engagement ring, featuring diamonds from Princess Diana's jewellery collection.
Over 18 months later Meghan made some alterations to the ring, replacing the yellow gold band with a delicate diamond pave band instead.
Prince Harry custom designed the ring which includes a centre cushion cut diamond, sourced from Botswana – a place that holds a special place in the couple's hearts. Botswana diamond mining has contributed to transforming Botswana into one of Africa's most prosperous countries, and Botswana diamond mines are dedicated to minimizing their environmental footprint.
Our experts estimate this 3 to 4 carat stone is extremely high quality with incredible colour and clarity, flawless to the naked eye. The two round diamonds supporting the centre stone are from Princess Diana's jewellery collection are around 0.5 to 0.75 carats each.
The Stella McCartney evening dress – £3,500
The Duchess of Sussex opted for not one but two dresses on her wedding day. From her Givenchy gown to a more modern Stella McCartney number she wore for the evening celebrations, Meghan did not disappoint awe-struck fashion fans.
After the wedding, Stella McCartney released two versions of the halter-neck design worn by Meghan, which have been available to buy from £3,500.
The evening shoes – £650.00
The Duchess of Sussex wore custom shoes from Aquazurra for her evening wedding reception. The pointed-toe 'Shiver' pumps are made in white silky satin with a mesh overlay. The soles are painted in baby blue.

The Italian luxury footwear brand AQUAZZURA was founded by Columbian-born Edgardo Osorio in 2011. The label takes the designer's passion for modern design to create stylish, comfortable, yet beautiful footwear for the modern woman.
Aquazzaura shoes are available to buy from around £500.00, however as these were custom made for Meghan Markle, we estimate the value to be slightly higher, at £650.000.
If you're looking for a piece of wedding jewellery to add some sparkle to your wedding day look, we have a stunning selection of necklaces, diamond earrings, and bracelets perfect for a bride to be. If you're looking for wedding rings, we have an impressive collection of wedding rings for women and wedding rings for men.