When Prince Andrew and Sarah Ferguson announced their engagement on 16th March 1986, all eyes were on the soon-to-be Duchess's ring and despite the couple's separation in 1996, it's safe to say that it's still one of the most talked about pieces of jewellery today. Bearing a resemblance to Princess Diana's Garrard ring, it has one big Burmese ruby surrounded by ten diamonds that form a flower pattern on a yellow gold band.
How did Sarah Ferguson and Prince Andrew meet?
Though they first crossed paths in their early twenties, it wasn't until 1985 when Prince Andrew and Sarah Ferguson began to see each other in a romantic light. Rumoured to be down to Princess Diana's matchmaking, the Queen invited Sarah to an event at Windsor Castle during Ascot week and she just so happened to be seated across from the Prince.
By February 1986, the pair were engaged, with Prince Andrew's proposal taking place at Scotland's Floors Castle, in the spot where the couple shared their very first kiss.
What do we know about the ring's design?
The Duchess of York's engagement ring features a huge 3ct Burmese ruby surrounded by ten glittering diamonds, and the stones form a flower pattern which is also known as a cluster ring. The precious gems are arranged on a yellow gold band and the gorgeous colours are so attention-grabbing.
The stunning ring is believed to have been crafted by British jewllery house, Garrard, the same place that made Princess Diana's iconic sapphire piece, as well as Sophie Wessex's dazzling ring.
When discussing the ring's design in their engagement interview, Prince Andrew explained the choice of colour to be down to the mutual conclusion that red was the best option for Sarah, whilst the "extra bits on the outside" were to meet the couples desire for something unconventional.
At the time, Sarah's ring is reported to have cost around £25,000, but inflation and the royal history behind it now means it could be valued in the region of £70,000, according to our expert, Maxwell Stone.
Where is the ring now?
With jewellery absent from the couples divorce settlement, it's unclear whether Sarah Ferguson is the owner of the ring today – though if she was granted the same rights as Princess Diana, then she will have been able to hold on to her jewels.
How is it similar to Princess Eugenie's?
It is believed that Princess Eugenie look inspiration from her mother, as both rings have notable similarities.
Our experts analysed both rings, revealing that while they feature different centre stones, the design is remarkably similar.
Maxwell Stone, said: "Princess Eugenie doesn't have a traditional diamond at the centre of her engagement ring design. Instead, she received a Padparadscha sapphire from Jack Brooksbank. These are extremely rare stones which many people haven't even heard of. They are strikingly beautiful with unique shades of pink and orange, often resembling the colours of a sunset."
"The centre stone is an oval cut Padpardscha sapphire, which looks to be around 3 to 4 carats. This is a notably rare gemstone, thanks to its unparalleled salmon hue. It is surrounded by 10 brilliant cut diamonds and two pear cut diamonds, which do a remarkable job of emphasising the sapphire, to create an eye-catching finish. This sapphire is mainly obtained in Sri Lanka and resembles the area's peach coloured flowers.
"The stones are set on a Welsh yellow gold band, which is a custom for royal brides, with two stunning tapered diamonds at the shoulders of the yellow gold shank."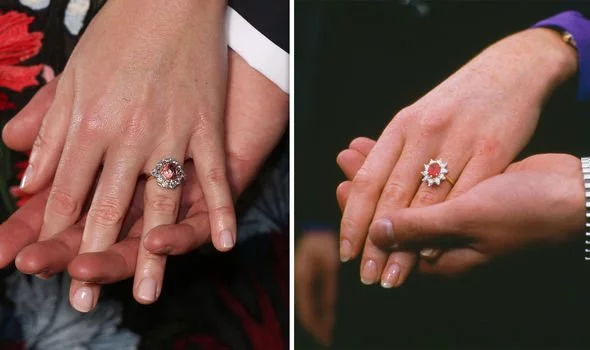 In need of some inspiration?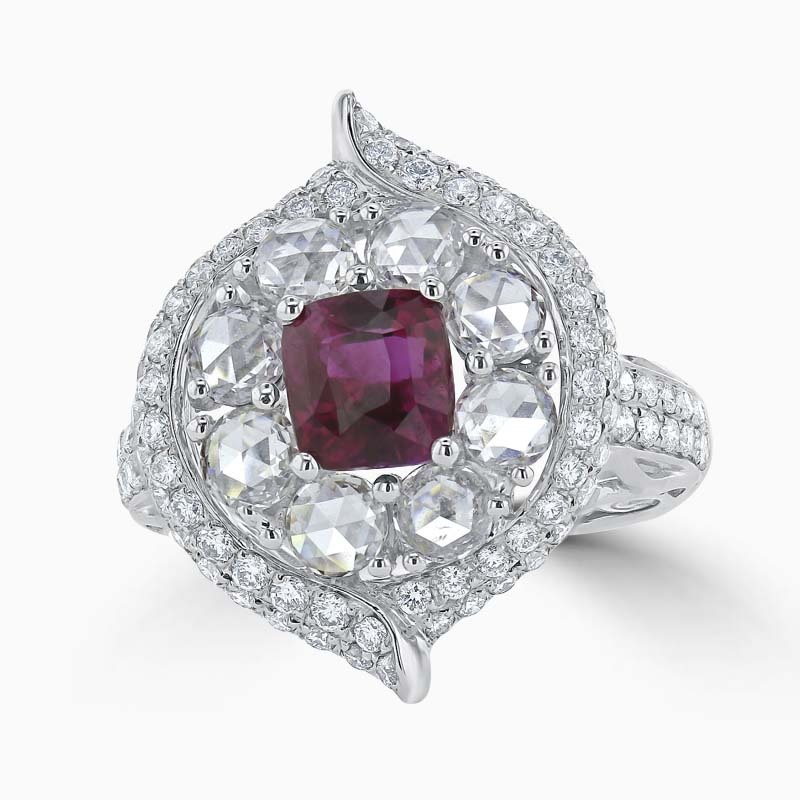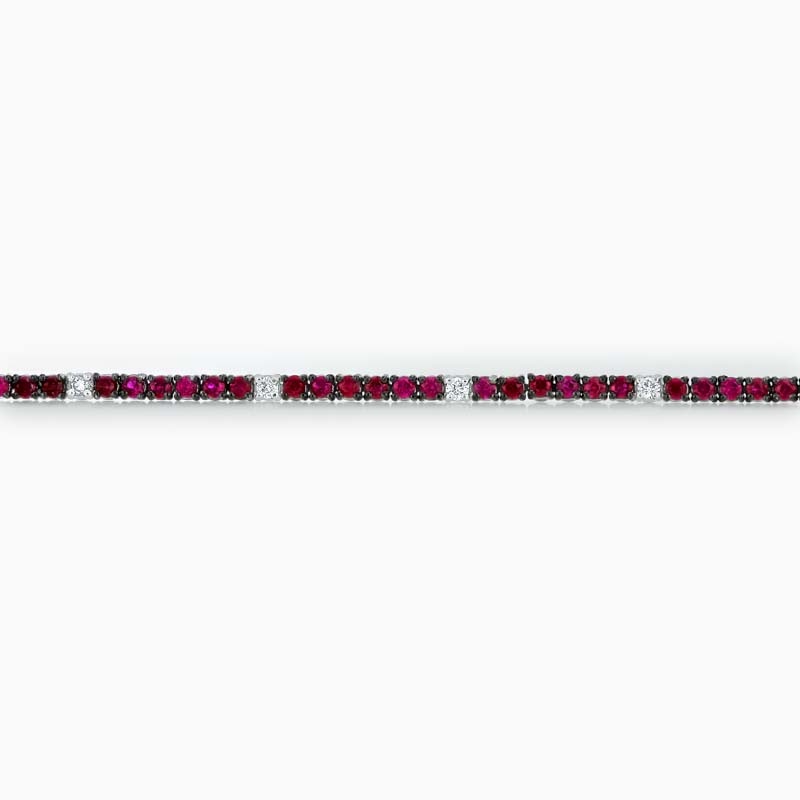 If you're looking for a unique engagement ring of your own, chat to one of our team for bespoke engagement rings.
We also offer diamond earrings, eternity rings, and wedding rings for women and men.