We're all familiar with the terms stag do and hen party – but what is a Sten Party?
A Sten Party is a combined stag and hen do and there are a wealth of reasons why couple's would opt for one instead of seperate Stag and Hen Parties.
To find out more, engagement ring experts at Steven Stone chatted to Zoe Burke, Leading Wedding Expert and Editor of Hitched. Armed with expert comments from Zoe, we've put together a handy guide that covers everything you need to know about the growing trend.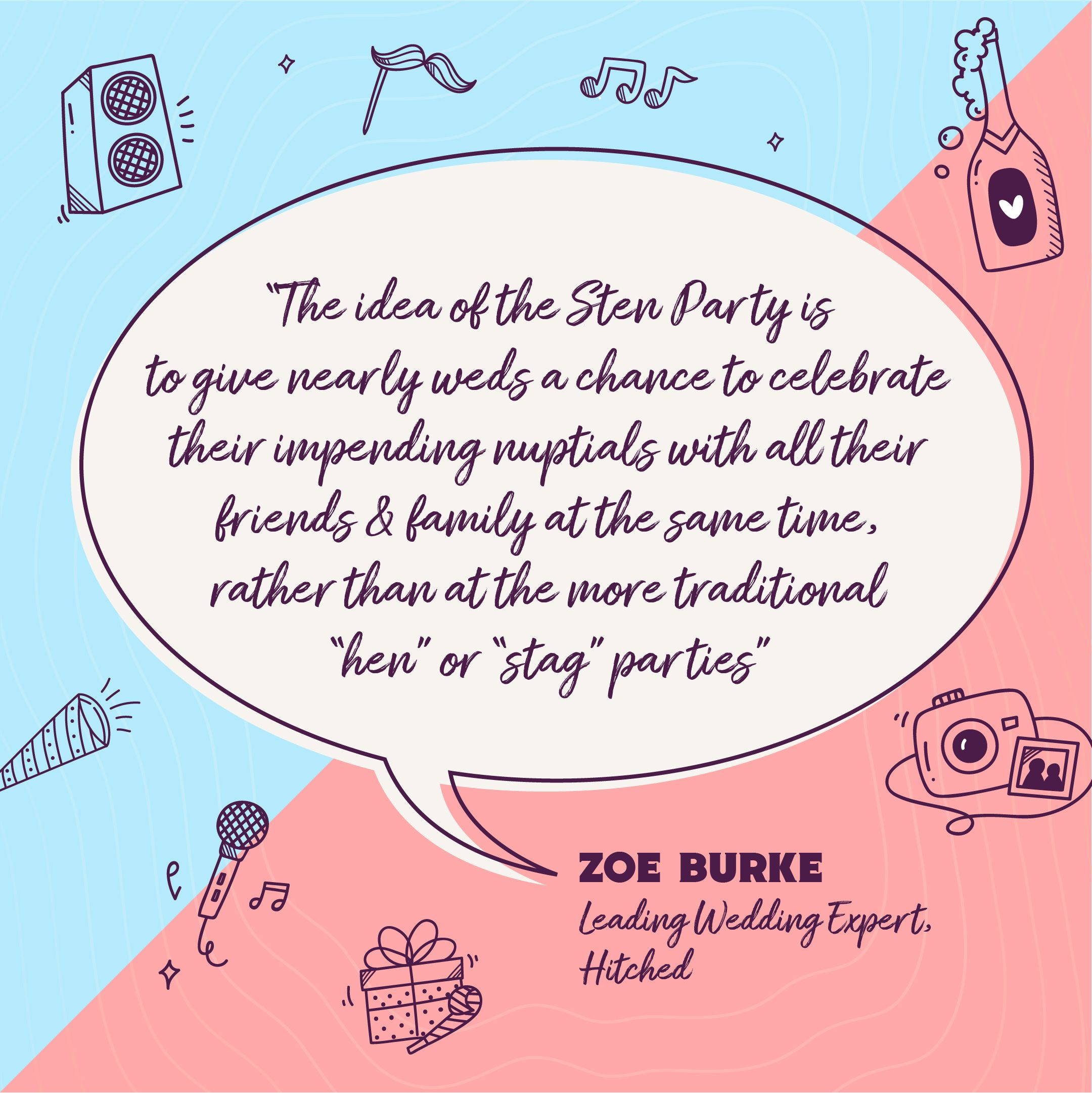 The Rise of Sten Parties
With Google Trends showing searches for Sten Parties in January 2023 to have doubled in comparison to January 2022, it's safe to assume that Sten Parties are on the rise!
Zoe commented: "We've seen more couples moving away from the traditional single sex pre-wedding celebrations and towards choosing to include their entire friendship group – regardless of gender – in the last few years.
Searches for 'Sten Do' on Hitched.co.uk are up 125% in the last year, with nearlyweds looking for options that buck the usual party trends of couples planning their weddings."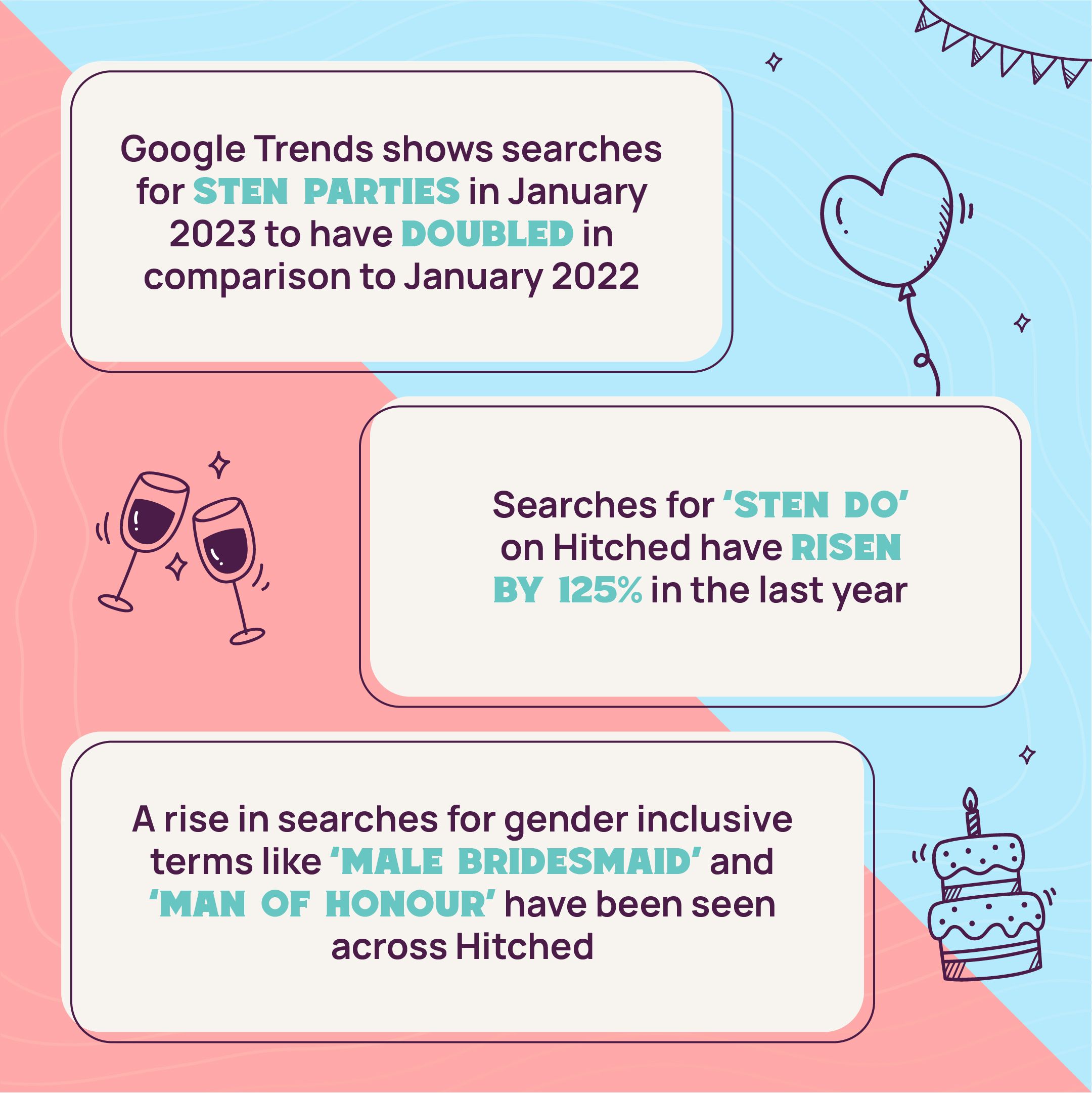 Why Sten Parties are so popular
Essentially a big gender-neutral party where the groom's and the bride's friends come together to celebrate the upcoming marriage, it's easy to see why sten parties are so popular.
Zoe said: "The idea of the Sten Party is to give nearlyweds a chance to celebrate their impending nuptials with all their friends and family at the same time, rather than at the more traditional "hen" or "stag" parties. This is ideal if a couple has an overlapping friendship group, or maybe a mixed wedding party where the traditional gender roles aren't being observed in terms of having a maid of honor or a best man.
We've seen a rise in searches for gender inclusive terms like 'male bridesmaid' and 'man of honour' across Hitched.co.uk as couples choose to create wedding parties that reflect their actual friendship groups, rather than the gender specific groups that are the archaic 'norm'. Other terms like 'bridesmates', 'wedding squad' and 'I do crew' are just some of the new terms couples are adopting as inclusive names for their wedding party.
Having a Sten Party is a great option if a couple prefers gender-non-conforming terms in general, as the simple change to the language makes them feel much more inclusive to all friends and family."
The benefits of Sten Parties
With more and more stag and hens planning activities together that get both friendship groups involved and joining forces for the night of their lives, there are a wealth of benefits.
Zoe commented: "There are loads of reasons for couples to combine their pre-wedding parties, but the biggest factor is probably financial. Rather than having two expensive events, this gives nearlyweds the chance to celebrate together and pool expenses into one additional party for all their friends and family instead.
This is also great if the many friendship groups don't really know each other very well, as it brings everyone together ahead of the wedding for some introductory time, and a way to loosen everyone up before the big day.
And obviously, a Sten Party is far more inclusive than a stag or hen party would be, so it allows for non binary or gender non-conforming guests to feel welcome and included right from the off."
The disadvantages of Sten Parties
Though the benefits are aplenty, if you're wondering if you should have a joint stag and hen party then there are a few things worth considering.
Zoe said: "The only downside to a Sten Party is that the couple don't get any individual time to spend with their own friends and family, but you would hope they could do that anytime anyway!"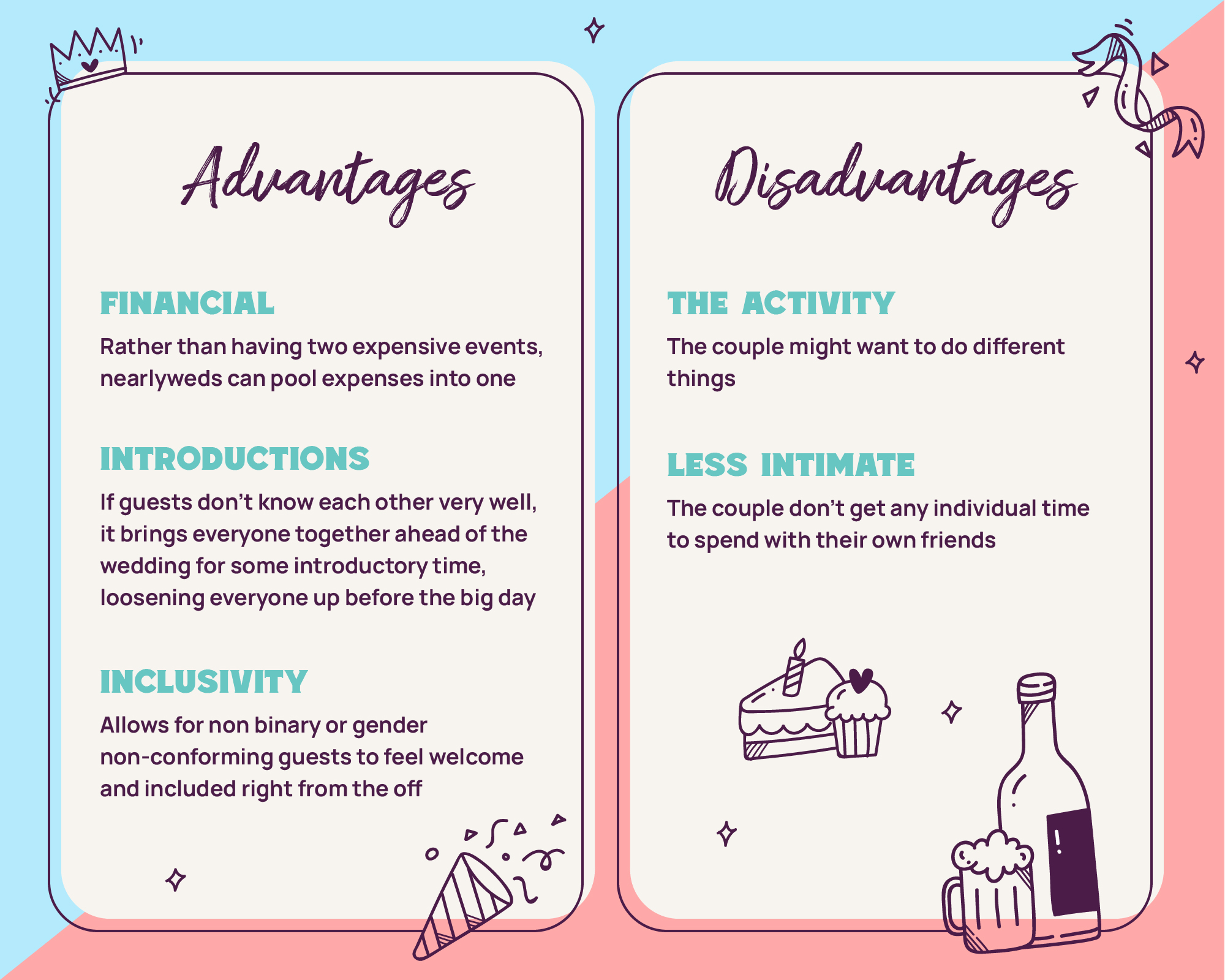 Ideas for Sten Parties
A huge advantage of Sten Parties is that the activity is completely up to you and your partner, and you can have a lot of fun making plans.
For those after a traditional celebration, options include a group weekend away or a night out. You could even spice things up by disguising a nice meal as a Murder Mystery.
For those looking for a little bit more adventure, the world is your oyster – from assault courses to escape rooms, there's a lot of fun to be had!
If you're looking for an engagement ring or wedding ring, have a browse of our ready to wear collection or chat to one of our team for bespoke creations. Why not take a look at our full jewellery collection? We have showrooms in Manchester, Cheshire and London.
---
Want to stay up to date?
Follow us at @StevenStoneUK to keep up to date on the latest news and events.