With foreign travel back on the cards right now, couples around the world are planning the honeymoons of their dreams. While in 2020 and 2021 'mini-moons' were the biggest trend, in 2022 couples are set to splash out on exotic getaways.
But which destinations are the most desired? Taking a list of 100 popular honeymoon destinations from around the world and using data from Google, engagement and wedding ring experts at Steven Stone jewellers were able to determine the world's most searched for Honeymoon hot spots.
To find out more, we also teamed with London luxury travel expert, Britt-Marie Monks, Founder & Director of The Honeymoon Fixer who has shared her thoughts on 2022's biggest travel trends.
The top 50 Honeymoon destinations around the world
With a whopping 177,600 Google searches, the term 'hawaii honeymoon' is the most popular overall. From the island of Maui, surrounded by beautiful rainforests to Big Island where you'll find the world's tallest volcano, it's no surprise to see Hawaii top the list. With a YOY increase of 50%, it seems more couples are being captivated for this luxury getaway.
The Maldives joins Hawaii, with the same number of searches, however as it's always been famed for 5* honeymoons, it's no surprise to see the YOY increase at 0%. This is followed by Bali, and then Costa Rica which has seen an increase of 81%.
Moving away from exotic islands, Iceland is the first European entry in 12th place with 22,800 searches in 2021 and a staggering increase of 90% YOY. The city of romance, Paris, is shortly behind, along with the city of lost keys, Santorini.
What our expert says
"Definitely what we are noticing for 2022 is that people in the UK are willing to stretch their budget a bit. After many weddings being postponed and holidays abroad being curtailed, couples have more money saved to put towards their honeymoon allowing them to splurge a little more and go away for longer."

"We are seeing a bigger demand for adventure style honeymoons. Also we're seeing a big increase in people booking holidays in Costa Rica and South American countries. Hawaii has always been a well-researched destination from the UK but interestingly a lot of my couples tend to switch to a destination in the Indian Ocean once they start to compare the prices and/or style of hotels on offer."

Britt-Marie Monks, The Honeymoon Fixer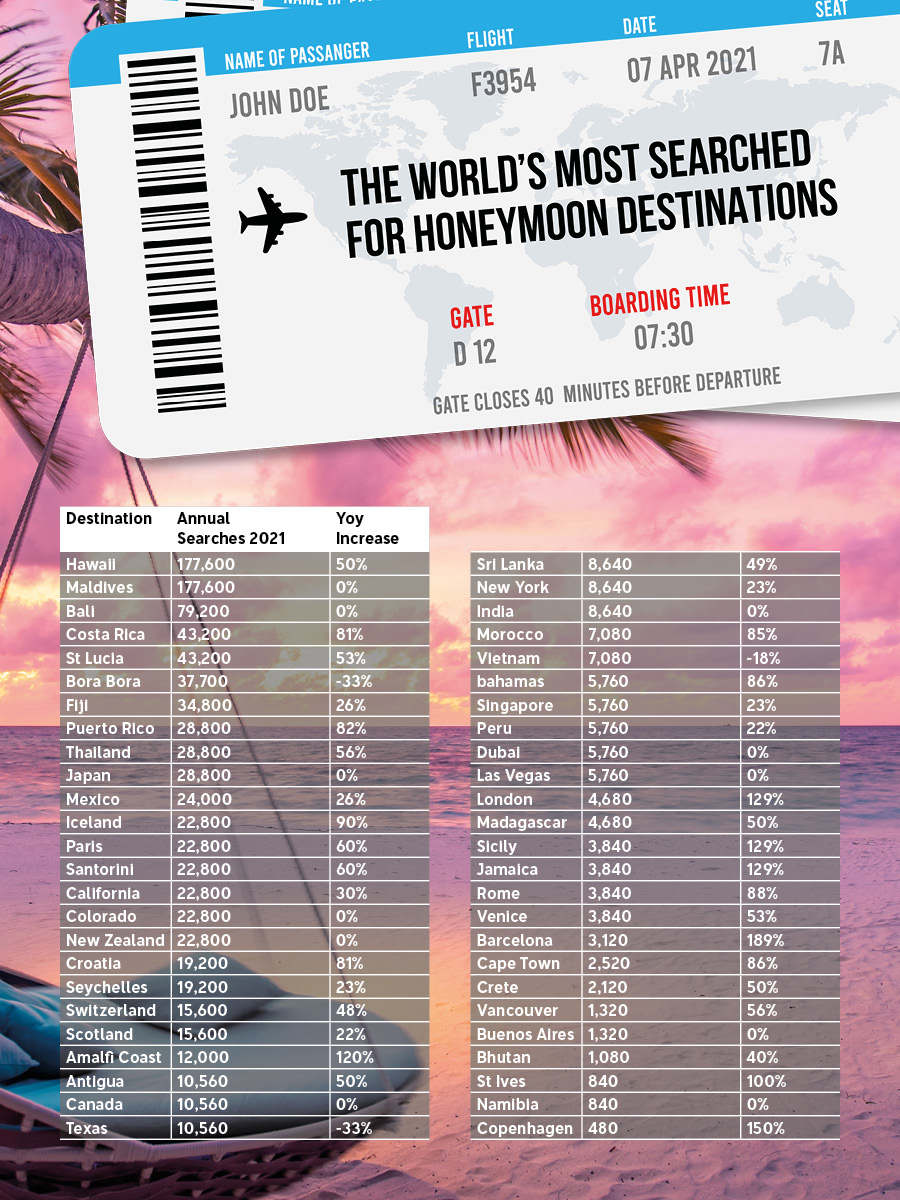 The destinations growing in popularity
Despite not receiving the highest number of searches overall, thriving in art, history and culture, Barcelona has seen the biggest search increase of 2021, growing by 189%. This is followed by Copenhagen, and the UK capital, London.
Our data suggests European honeymoons are definitely growing in popularity, as seven spots dominate the top 10, with Iceland, Sicily, and the beautiful Amalfi Coast all appearing on the list.
What our expert says
"Europe has always been a popular destination, and now with travel moving more freely I imagine people will be keen to explore Europe once again. European cities are perfect for mini moons so we would expect to see a surge of interest especially around this time of year."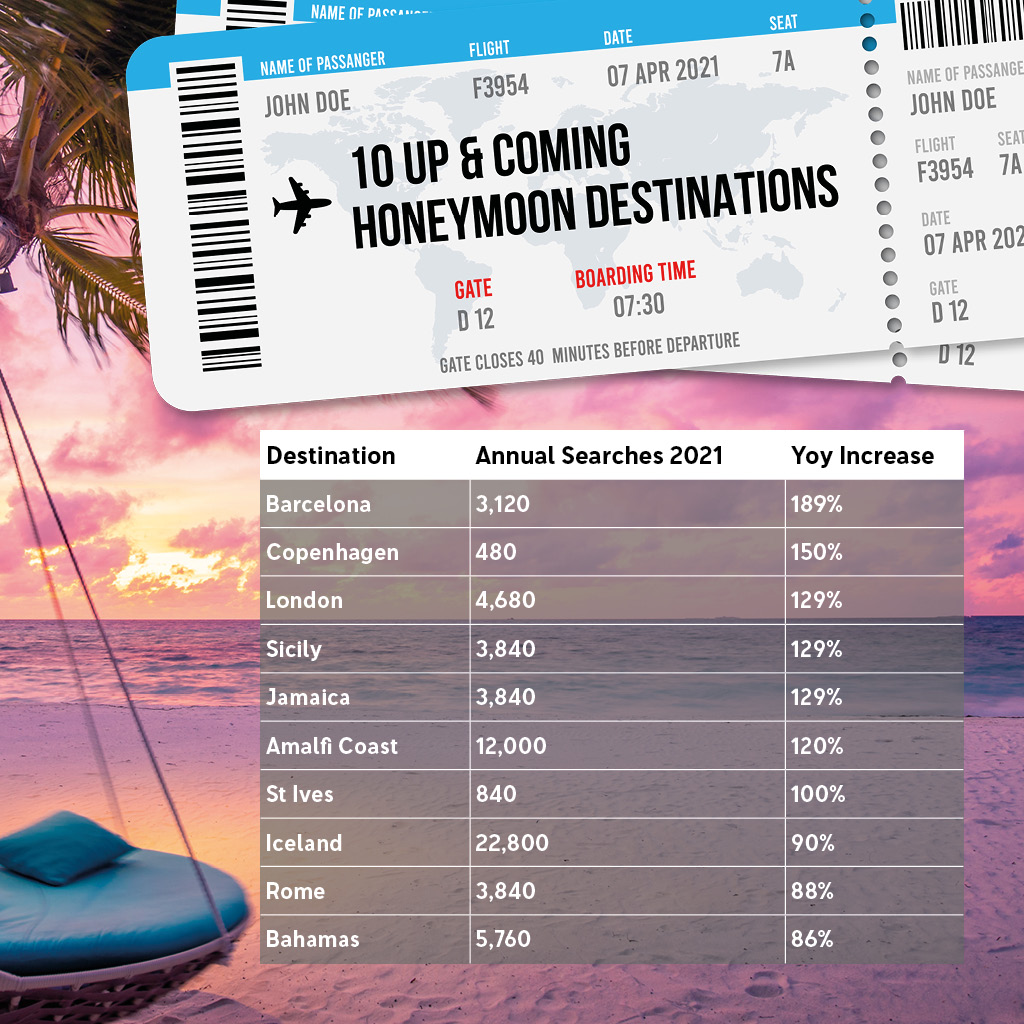 If you're planning your wedding, have you purchased your wedding rings? If not, take a look at our collection of stunning designs, perfect for all budgets. If you haven't popped the question just yet, we also have a beautiful selection of ready to wear and bespoke engagement rings to choose from.