As Kardashian fans around the world recently heard the news that Travis Barker proposed to Kourtney Kardashian after a year of dating, we're all desperate to feast our eyes on the engagement ring he gifted her.
The Kardashian's aren't afraid to splash the cash on engagement rings, with Kim receiving a $3million showstopper from Kanye back in 2013.
To reveal the facts on Kourtney's latest gem, diamond expert, Max Stone from engagement ring specialists Steven Stone, have taken a close look at the photos of the sparkler.
The ring features one huge dazzling centre stone – an oval shaped diamond which looks to be around 8 carats.
It has a simple design, set on a thin pave band which only emphasises the size of the huge centre stone.
Our experts estimate it's worth $1 Million (£750,000)
Max Stone said: "In true Kardashian style, Kourtney's ring is a real showstopper. The huge oval diamond is a VS2 grade, which is of the highest quality. From looking at the photographs posted on Instagram it looks to be around 8 carats.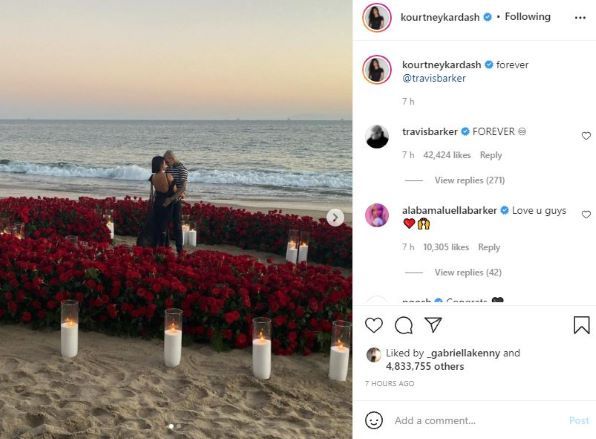 "The huge stone is set on a thin pave band for extra sparkle. The simplicity of the setting extenuates the size of the stone, making it look even larger. With this in mind, it is most likely worth around $1 million (£750,000)."
If you're a huge fan of Kourtney's ring and want to create your own piece of jewellery, get in touch with our team who specialise in bespoke designs.