With Mother's Day coming up this weekend, many of us will be sending our love to the women who we care for the most. If you're a new mum, you may even expect to receive a push present from your other half to thank you for bringing a new bundle of joy into the world.
If you're not quite sure what a push present is, don't worry, as we're about to tell you everything you need to know about these unique gifts. A push present (also called a push gift) is a present a partner or family gives to the mother to mark the occasion of her giving birth to their child.
The notion was popularised by Kim Kardashian back in 2012, when she openly asked Kanye West to treat her to a Lorraine Schwartz diamond choker, which she, of course, received.
However, it's not just celebrities who receive push presents, as data shows they are becoming increasingly popular in the UK and the US. Looking at Google searches, we found that the term 'push present' received 266,400 searches in the last 12 months, not to mention the phrase 'push gift' increased by 23%. 'Push gift jewelry' has increased by 50% in the last three months, suggesting partners and family are looking to give new mothers a splash of sparkle.
'Luxury push present ideas' has also increased by 22% since January 2022, which also indicates these gifts are perceived to be extra special. And, when it comes to splashing the cash on push presents, celebrity couples know exactly how to do it. From supercars and motorcycles to diamond earrings, chokers, and stud earrings, we've rounded up the most expensive and outrageous push presents received by our favourite celebs in the last 20 years.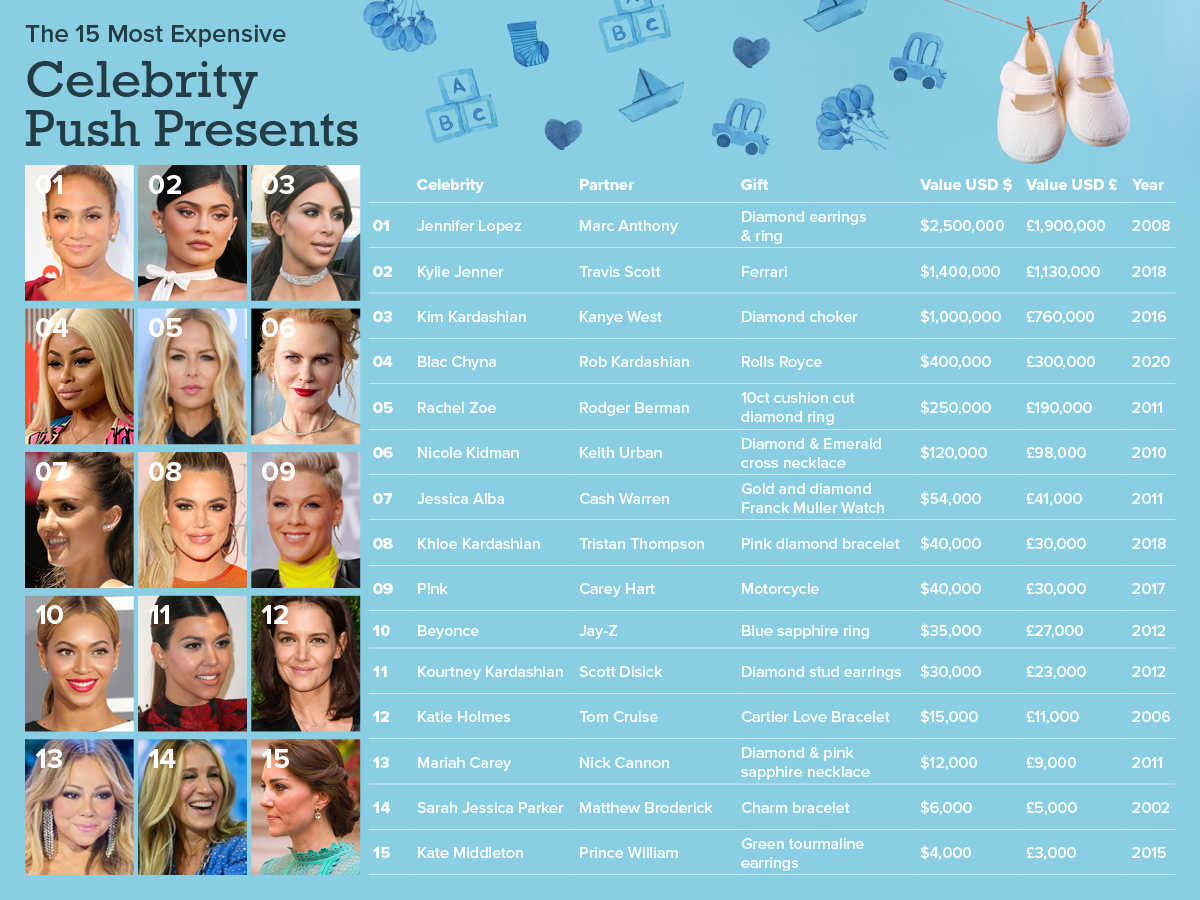 The 5 most expensive push presents
1. Jennifer Lopez's $2,500,000 ring and earrings from Marc Anthony
Marc Anthony gifted Lopez with an incredible pair of earrings and canary diamond ring, worth $2.5 million (£1.9 million) after they welcomed twins Max and Emme. The twins turned 14 this February, and J-Lo showed her love to them on Instagram with a sweet post.
So this is 14!!!! My babies, my sunshine, my loves. Happiest of birthdays to my two coconuts #MaxAndLulu. 🥥🥥 You have taught me the true meaning of life and have changed me forever in the most amazing way…I am so grateful for you both!!! I only hope I can be half of the blessing you have been to my life.✨Today marks a very special day…it's 2/22/22…they say this day is a rare once in a lifetime moment for humanity…today breaks open the door to a more fulfilling sustainable and aligned future…a day to move forward and stop living in the past. A rebirth. It's no wonder to me because this day 14 years ago has always symbolized for me the first day of the rest of my life. Max and Lulu, I will love you forever and ever and ever… #UntilItBeatsNoMore. Thank you to all the beautiful JLovers for your videos…I love them so much. #Rebirth #14 #HappyBirthdayCoconuts 🎥
From all the celebrity push presents we analysed, we can reveal this is by far the most expensive.
2. Kylie Jenner's $1,400,000 Ferrari from Travis Scott
After going through childbirth, every new parent deserves a Ferrari, however, Kylie Jenner actually received one from Travis Scott in 2018 after she gave birth to Stormi. The beauty queen took to Instagram to share video footage of her impressive jet-black Ferrari LaFerrari. The model is known for its ability to reach 60 mph in less than three seconds, not to mention being very exclusive. The Ferrari LaFerrari Kylie Jenner received is a limited-production car, with only 500 ever manufactured.
Shortly after she snapped to social media, the couple took the new car for a test drive to mark their first joint outing welcoming their new daughter, Stormi, into the world on February 1.
Sharing her pregnancy journey with fans, in 2018 Kylie shared an intimate video revealing never seen before footage of the couple's most intimate moments. It was titled 'To Our Daughter.'
3. Kim Kardashian's $1,000,000 choker
Before she gave birth to son Saint, Kim Kardashian hinted to hubby Kanye that she would "really like" a diamond choker. "I like the idea of a push present—after nine months of pregnancy it's a sweet and well-deserved thank you," she wrote. "This pregnancy, I would love a Lorraine Schwartz diamond choker like the ones I've worn before to the Art + Film Gala. Too much? LOL!" And, if anyone's going to get what they wish for, it's Kim Kardashian. After she gave birth to their son Saint, Kim was spotted wearing the stunning choker, worth $1,000,000 (£760,000).
4. Blac Chyna received a $400,000 Rolls Royce from Rob Kardashian
When Blac Chyna gave birth in 2020, she didn't wait for Rob Kardashian to give her a push present – she bought her own.
"A little gift to myself for working this hard all year! Cant wait to bring my baby girl home!" the 28-year-old reality star captioned an Instagram photo of her standing next to a white Rolls Royce, which cost her a reported $400,000 (£300,000).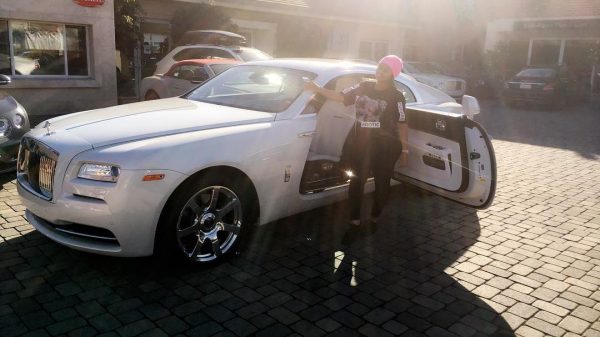 5. A 10ct cushion cut diamond ring for celebrity stylist, Rachel Zoe
In 2011, the celebrity stylist welcomed her and Rodger Berman's first son Skyler Morrison into the world. Her push present was an incredible 10-carat cushion-cut ring, designed by celebrity jewellery designer, Neil Lane. "It was their first baby and she's been working so hard that Rodger wanted to do something very special. Rachel was thrilled and hasn't taken it off since," Lane told People. The ring reportedly cost a staggering $250,000 (£190,000).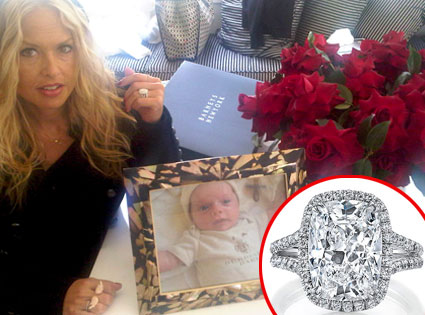 However, these stars aren't the only ones who received mega expensive push presents…
Nicole Kidman received a $120,000 diamond and emerald cross pendant from Keith Urban in 2010, while in 2011, Jessica Alba was seen sporting a $54,000 Franck Muller watch after welcoming her new daughter, Faith.
Khloe Kardashian was never going to be left out of the push present party, as Tristan Thompson bought her a $40,000 (£30,000) pink diamond bracelet, which unfortunately caused controversy amidst cheating rumours. The same goes for sister, Kourtney Kardashian who was given a pair of diamond stud earrings worth $30,000 (£23,000) from Travis Scott.
Gearing things up a notch, iconic punk chick, P!nk, received her very own motorcycle from hubby Carey Hart in 2017. The 37-year-old singer gave birth to her and Carey's second child – a son called Jameson – on Boxing Day 2016, and her caption on Instagram labelled the bike, which Carey reportedly made himself, a 'push present'.
The most sentimental push presents
Beyonce famously sported a stunning sapphire ring after the birth of Blue Ivy in 2012. The huge sapphire, which perfectly symbolises the name of their first child, was a sentimental gift from Jay-Z, and is worth around $35,000 (£27,000).
Tom Cruise gave Katie Holmes an iconic Cartier Love Bracelet after the birth of their daughter Suri. And, while their relationship didn't quite make it, the sentiment of the Love bracelet was no doubt there at the time.
Kate Middleton and Prince William are also fans of push presents. When Prince George was born in 2013, Prince William gave his wife a circular pendant inscribed with their firstborn's full name, George Alexander Louis. After Princess Charlotte's birth in May 2015, Kate received a pair of £3,500 tourmaline, green amethyst and diamond earrings designed by Kiki McDonough.
Perfect for a new mother, Green Tourmaline is a stone that warms the heart and helps one rejuvenate vital life force energy. It's vibrations help one tap into their emotional body to understand the emotions they feel.
If you're looking for a push present, why not take a look at our stunning jewellery collection…