An eternity ring is a beautiful piece of jewellery that takes precious metals such as platinum or yellow gold and sets several diamonds around them. With origins that can be traced back to the Egyptian era, the eternity ring has been a symbol of everlasting love for centuries.
Eternity rings are usually set with diamonds all the way around the band – full diamond eternity rings – or with diamonds half way set across the visible side of the ring – half diamond eternity rings. Though three quarter diamond eternity rings are also available.


There are four main eternity ring setting types – claw set, channel set, pavé set and cut down set. All of which are designed to hold different diamond shapes and usually made in platinum or 18 carat white and yellow gold.
If you're still unsure, don't worry – fine jewellery and engagement ring experts at Steven Stone have put together a handy guide to the different settings.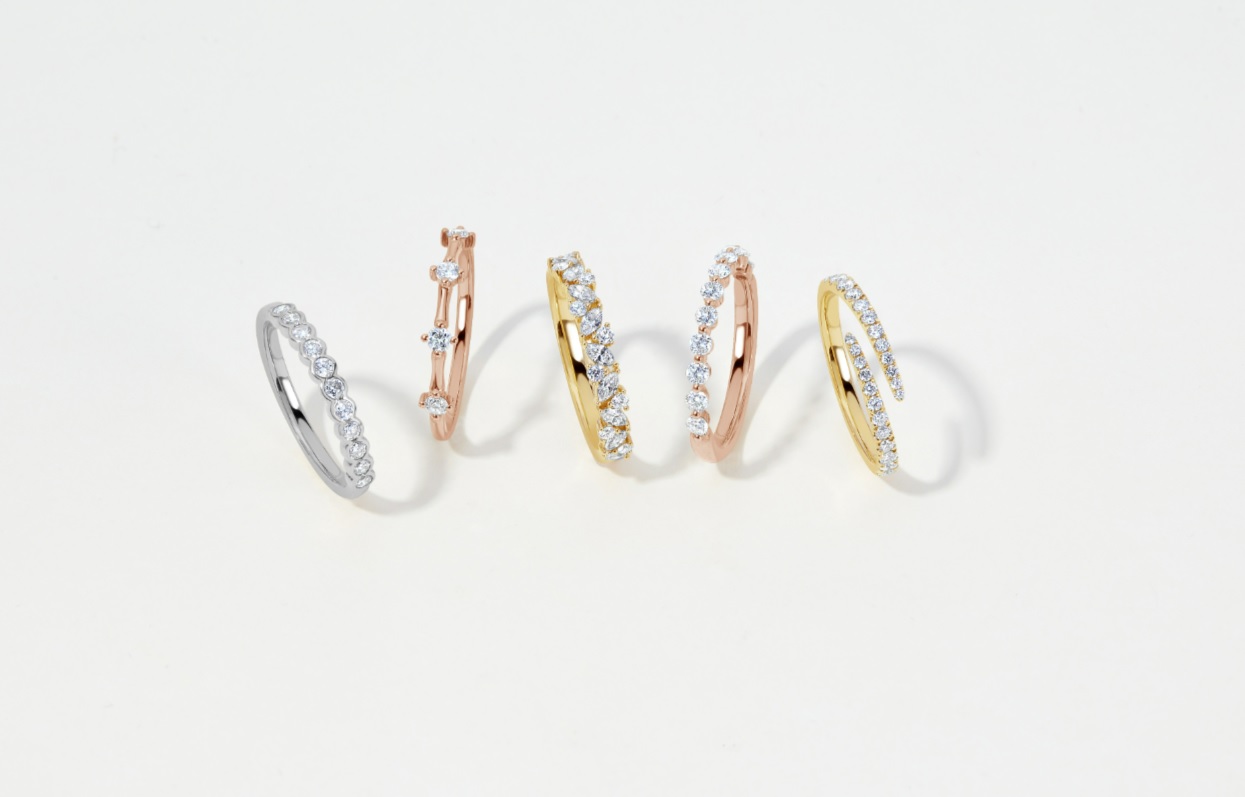 Claw Set Eternity Rings
Claw set eternity rings are perhaps the most traditional of setting. To hold the diamonds securely in place on the eternity ring four prongs rise up from the band.
The major benefit of claw set eternity rings is that they can easily hold most diamond shapes and sizes.
Channel Set Diamond Eternity Rings
The diamonds on a channel set eternity ring are placed into a metal channel where the stones flow in a continuous row as no metal is used to separate them. The diamonds are set right against each other with no prongs, so the stones look like they are invisibly set.
A huge benefit of the channel setting is that it's incredibly safe and protects the diamond from exposure. If you were to knock your eternity ring on something, the metal will protect the diamond – they also don't tend to snag on things, making them much more comfortable to wear, particularly for those with an active lifestyle.
Pavé Set Diamond Eternity Rings
Pavé set eternity rings come from the word 'pavement' as the diamonds on a pave set eternity ring are set like cobble stones laid down close together. The diamonds are set in clusters with encrusted small diamonds creating extra sparkle and dazzle.
Though highly brilliant and visually stunning, there is a downside to the pave set eternity ring as they can be difficult to clean and maintain, due to the increased number of smaller diamonds.
Cut Down Eternity Rings
Allowing the diamond to sparkle with minimal hindrance from the metal, cut down set eternity rings have no visible strip of metal either side of the diamonds.
Instead of strips of metal either side of the diamonds, the cut down setting keeps the diamonds in place using a few well-placed prongs.

If you're looking for an engagement ring or wedding ring and would like to browse for inspiration, take a look at our ready to wear collection or chat to one of our team for bespoke creations. Why not take a look at our full jewellery collection? We have showrooms in Manchester, not to mention a wide range of engagement rings in London.
---
Follow us on our socials
Pop over to our social platforms to keep up to date with Steven Stone's latest jewellery content and news.