Jewellery is often an investment and, for many people, has a great sentimental value attached to the pieces. By taking good care of your jewellery, you'll keep it looking its best and prevent any unnecessary damage or tarnishing.
From regularly cleaning your jewellery, to avoiding costume jewellery with a high price tag, fine jewellery experts at Steven Stone have put together a list of those all important jewellery Do's and Don'ts.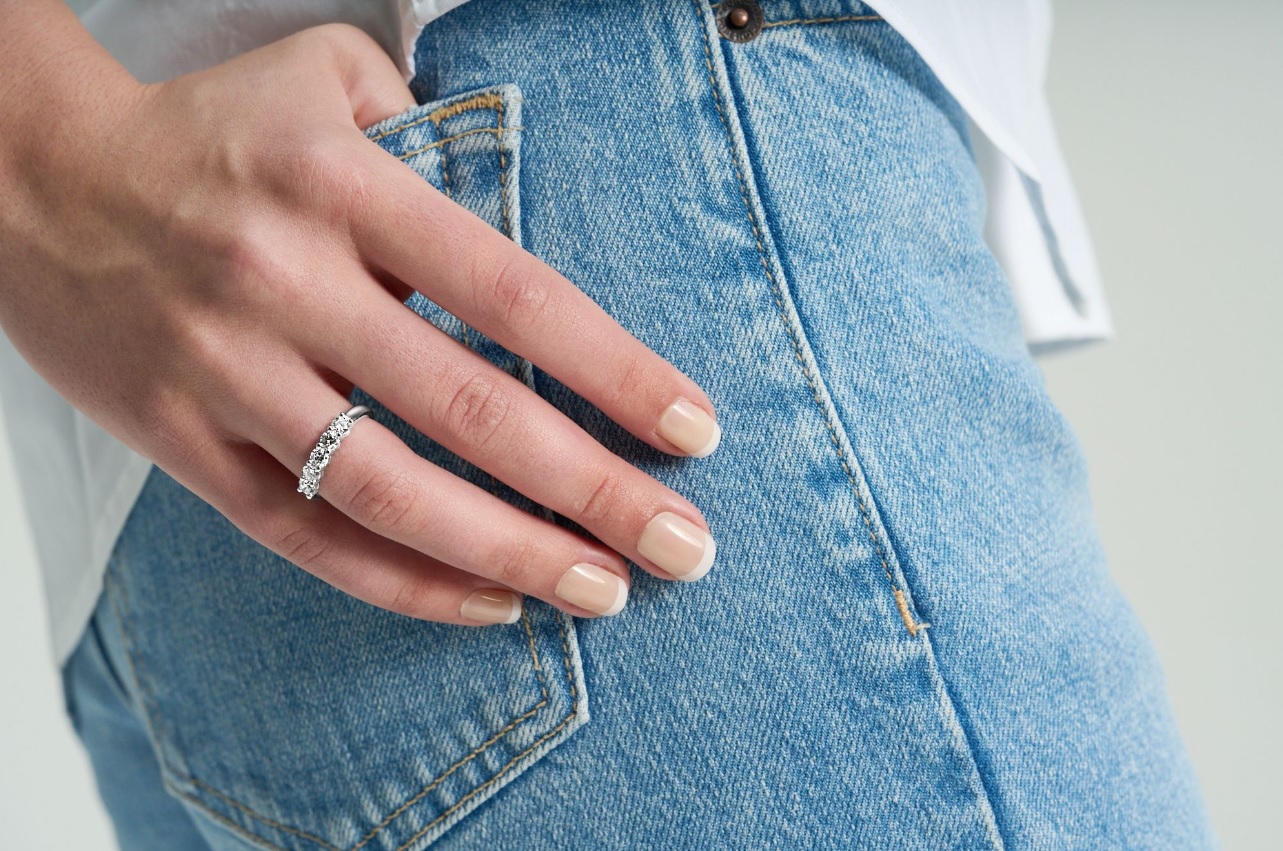 DO clean your jewellery
Maintaining your jewellery in pristine condition does not require any specific equipment or detergents.
Diamonds can easily be cleaned with warm water, soap and a soft brush. It is very important to regularly clean your diamond jewellery and engagement ring, as diamonds naturally attract dirt.
We advise that you have your jewellery inspected as often as possible – you don't want to risk losing a diamond, gemstone or even an entire bracelet if the clip is not secure.
DON'T abuse your jewellery
Engagement rings and jewellery go through plenty of abuse on a daily basis.
To preserve your jewellery and engagement ring, avoid wearing them when working out, gardening, swimming in the sea or a swimming pool. High temperatures, detergents, cosmetic products, salt and harsh impacts are just a few of the factors which may damage your jewellery.
DO invest in diamond jewellery
Jewellery and engagement rings are an excellent investment to enjoy on a daily basis and pass down to the next generation. Whether you are participating in auctions for vintage jewellery or buying brand new pieces, you are very likely to purchase an item which will increase in value over time. The risky aspect of investing in jewellery is the label – when purchasing a designer piece, you might be paying extra for the designer name instead of the superior craftsmanship and flawless diamonds.
When buying jewellery, always make sure you understand all characteristics which determine the price, value and quality of your purchase. However, investing in jewellery does not necessarily mean you should buy ready to wear pieces – loose diamonds or gold bullion is another way to go. Bear in mind that gold and diamond investments need time to increase their value and wearing the item can automatically decrease its value, especially if any damages occur. Purchasing high quality jewellery guarantees you will have a stunning piece to enjoy for years to come.
DON'T spend too much on fashion or costume jewellery
This type of jewellery emerged during the great depression and is still highly popular. Classed as fashion jewellery, it is an accessory which is made of something other than precious metals, diamonds or precious and semiprecious gemstones. While it is perfectly fine to purchase eye-catching trendy pieces to wear with specific outfits or on single occasions, this type of jewellery should not break the bank.
If you fell in love with costume jewellery with a high price tag, you could instead go for bespoke jewellery and get the same design with better value for your money. For instance, a bespoke piece could be inspired by any design you like and incorporate diamonds, gemstones and precious metals of your choice.
DO buy classic and universal pieces
Diamonds, pearls, and are just a few examples of classic gems which have not gone out of fashion for centuries and will definitely remain classically stylish through out the years. Great examples of classic jewellery every woman should own, are a pair of stunning diamond earrings, pearl jewellery, a statement necklace and a diamond or gemstone cocktail ring.
When shopping for jewellery, we advise to invest in high quality pieces and purchase only certified jewellery from reputable retailers. If the price seems too good to be true, it probably is.
When shopping for diamonds, take note of the diamond certificate issuer, whether the diamond is natural or lab grown and whether the piece of jewellery is made of a solid precious metal. Some engagement rings and jewellery are gold or platinum plated or filled. This means that the piece is made of base metal and covered in a thin layer of precious of gold or platinum.
Although this type of jewellery looks as good as the high-quality alternative, it is not durable and will chip and tarnish over time, sooner rather than later. Investing in gold, diamond and gemstone jewellery and engagement rings are likely to increase their value over time and remain in pristine condition with the right care.
DON'T spend too much on pieces you wouldn't wear often
An extravagant diamond pendant is a stunning and unforgettable finishing touch to any wedding dress. While it will most definitely an excellent accessory to wear on this special occasion, it might not be a wise purchase for most ladies.
While value for money mainly refers to the quality of jewellery, it also takes into consideration how often the piece a jewellery will be worn. We understand how tempting it is to buy a gorgeous statement piece, but it may be better to reconsider your choice and find a gorgeous, universal and wearable piece instead.
DO insure your jewellery
It is best to have your jewellery evaluated and insured. Most pieces increase their value over time, with an average of about £300 per year for good quality diamond jewellery and engagement rings.
Store your jewellery in a secure jewellery box. It is important to store your items separate from each other and away from direct sunlight, especially pearls and gemstone jewellery.
Get in touch with our experts for friendly and professional advice on diamond and gemstone jewellery maintenance or an evaluation of your jewellery. You can also visit the educational section of our website for more information.
---
Want to stay up to date?
Follow us at @StevenStoneUK to keep up to date on the latest news and events.