Before she met Prince Harry, Meghan Markle was married to film producer Trevor Engelson, who she met in 2004.
Whilst the two tied the knot in a Jamaican ceremony in 2011, unfortunately they split just two years later in 2013, after Meghan moved to Toronto, Canada to launch her career on the show Suits.
It's reported that distance broke the two apart as Trevor stayed in California, which resulted in their marriage coming to an end.
According to news sources, royal biographer Andrew Morton reported it was soon after the split that Meghan supposedly posted her diamond engagement ring back to Trevor, who 'could barely contain his anger' when he received it.
However, while there's a wealth of information on Meghan's relationship with Trevor, there's not much out there about the engagement ring in question.
Taking a close look at photos of the ring, Steven Stone diamond expert, Zack Stone, reveals everything you need to know.
How much is the engagement ring from Trevor Engelson worth?
Meghan's engagement ring from Trevor Engelson features what looks like a round or cushion cut solitaire diamond, weighing around 1.5 to 2 carats.
It has a thin platinum or white gold double band, featuring an incredible set of pave diamonds.
From analysing the images, Zack Stone has valued the ring at an estimated £13,000 ($18,000USD).
When Prince Harry proposed in 2017, he presented Meghan with a beautiful three stone engagement ring, featuring diamonds from Princess Diana's jewellery collection.
Over 18 months later Meghan made some alterations to the ring, replacing the yellow gold band with a delicate diamond-studded band instead.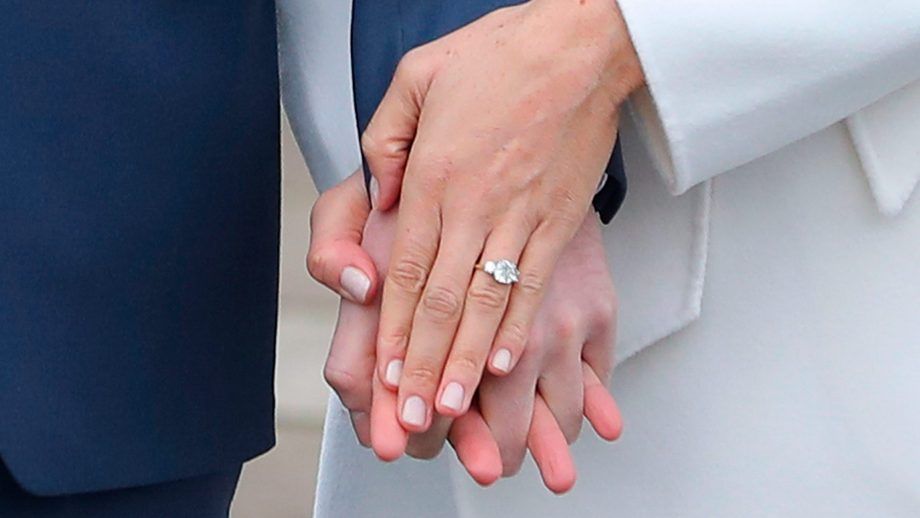 Prince Harry custom designed the ring which includes a centre cushion cut diamond, sourced from Botswana – a place that holds a special place in the couple's hearts. Botswana diamond mining has contributed to transforming Botswana into one of Africa's most prosperous countries, and Botswana diamond mines are dedicated to minimizing their environmental footprint.
Zack estimates this 3 to 4 carat stone is extremely high quality with incredible colour and clarity, flawless to the naked eye.
The two round diamonds supporting the centre stone are from Princess Diana's jewellery collection are around 0.5 to 0.75 carats each.
However, regardless of the cost, we love this ring because it holds so much sentimental value – making it worth more than money can buy…