From Kate Middleton's iconic 12ct sapphire ring to Meghan Markle's three stone diamond, royal engagement rings receive a lot of attention and have set a number of beautiful design trends over the years.
But who has the most expensive sparkler? To find out, engagement ring experts at Steven Stone composed a list of nations with monarchies, before researching with of the royals wear engagement rings.
With this information, we've been able to round up everything you need to know about the most expensive 25 Royal Engagement Rings – from the clarity, cut, and carat of the stones to the style and setting of each ring.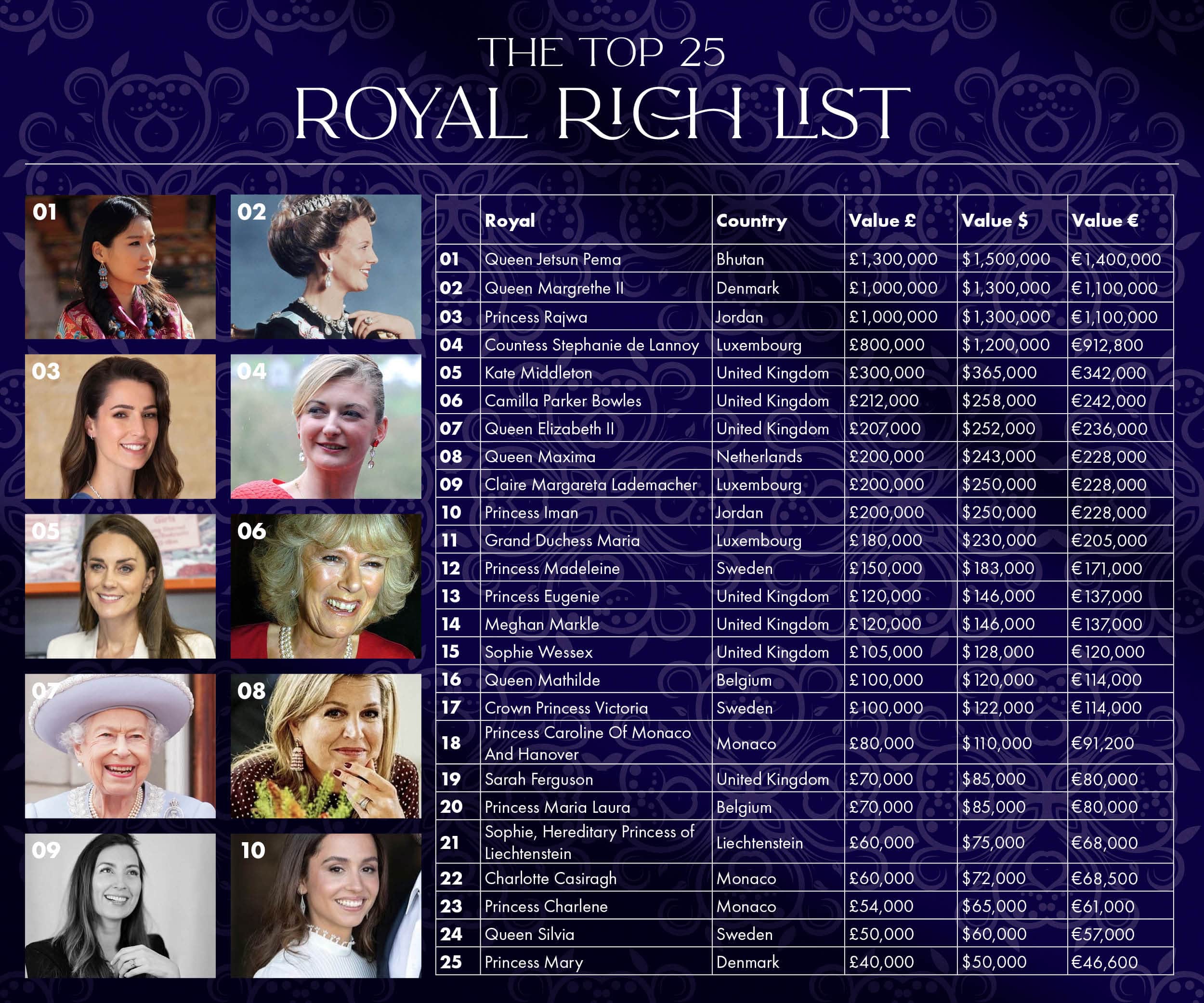 25. Princess Mary, Denmark
Estimated Value: £40,000
With a 1.50 carat emerald-cut diamond centre stone, sat between two 70 point emerald cut rubies, Princess Mary of Denmark's stunning engagement ring originally had an estimated value of £30,000.
Since her wedding to Prince Frederik, the Crown Princess has added two 50 point diamond baguettes, which have undoubtedly increased the value. Our experts estimate this to be £40,000.
When we see a ring with multiple stones like this, they typically represent something and it's likely that Princess Mary's alteration is a sentimental one, with the four stones reportedly representing the couple's four children.
Meghan Markle did something similar with her eternity ring, updating with the birthstones of Prince Harry and Archie. It's a truly beautiful way to make a piece of jewellery more symbolic and meaningful.
24.
Queen Silvia, Sweden
Estimated Value: £50,000
Featuring a single solitaire diamond that's estimated to be two carats, Queen Silvia's engagement ring is thought to have belonged to King Carl Gustaf's mother, Princess Sibylla, who sadly passed away a few years before the couple's engagement.
Our experts estimate the modest piece to be worth £50,000.
23.
Princess Charlene, Monaco
Estimated Value: £54,000
Thought to be created by Parisian jeweller Repossi, Princess Charlene of Monaco's show-stopping engagement ring features a massive three-carat, pear-cut diamond flanked by smaller diamonds in triangle arrangements.
Our experts estimate it to be worth £54,000.
22.
Charlotte Casiragh, Monaco
Estimated Value: £60,000
Princess Caroline of Monaco's daughter, Charlotte Casiragh, reported her engagement to Dimitri Rassam, the son of French actress Carole Bouquet, in 2016 .
Charlotte's engagement ring appears to be a five carat round brilliant cut diamond, set in yellow gold.
Our experts estimate it to be worth £60,000.
21.
Hereditary Princess Sophie, Liechtenstein
Estimated Value: £60,000
Hereditary Princess Sophie married Hereditary Prince Alois – son of Liechtenstein's ruling monarch, Hans-Adam II – in 1993.
Featuring a round cut sapphire, flanked by two diamonds, Sophie's engagement ring is a three stone ring with a carat weight of 2.5.
Our experts estimate it to be worth £60,000.
20.
Princess Maria Laura, Belgium
Estimated Value: £70,000
In December 2021, the Belgian royal court announced the engagement of Princess Maria Laura to a French-British investment banker, William Isvy.
Designed at Gem Palace – a family run business in Jaipur, India – Princess Maria Laura's engagement ring features a 5 carat central sapphire that's surrounded by pavé-set diamonds in a modern twist setting. The ring also boasts pavé-set diamonds on the band, giving it additional sparkle.
Our experts estimate it to be worth £70,000.
19.
Sarah Ferguson, United Kingdom
Estimated Value: £70,000
The Duchess of York's engagement ring features a huge 3ct Burmese ruby surrounded by ten glittering diamonds, and the stones form a flower pattern which is also known as a cluster ring. The precious gems are arranged on a yellow gold band and the gorgeous colours are so attention-grabbing.
The stunning ring is believed to have been crafted by British jewllery house, Garrard, the same place that made Princess Diana's iconic sapphire piece, as well as Sophie Wessex's dazzling ring.
When discussing the ring's design in their engagement interview, Prince Andrew explained the choice of colour to be down to the mutual conclusion that red was the best option for Sarah, whilst the "extra bits on the outside" were to meet the couples desire for something unconventional.
At the time, Sarah's ring is reported to have cost around £25,000, but inflation and the royal history behind it now means it could be valued in the region of £70,000, according to our experts.
18.
Princess Caroline, Monaco
Estimated Value: £80,000
Princess Caroline married Philippe Junot in June 1978. Sadly, the royal couple divorced after just two years.
The Princesses engagement ring featured an oval cut ceylon sapphire ring with a diamond trillion on either side, set in white gold.
Our experts estimate it to be worth £80,000.
17.
Crown Princess Victoria, Sweden
Estimated Value: £100,000
Crown Princess Victoria got engaged to her personal trainer Daniel Westling on 24 February 2009, proudly showing off her white gold ring with a round diamond solitaire.
A year later in June 2010, Daniel and Victoria tied the knot in Stockholm, with the eyes of millions of royal spectators upon them.
Barely seen without it, the Princess is still seemingly in love with her engagement ring, which is It's believed to have been designed by Bolin – the official court jewellers of King Carl XVI Gustaf.
Featuring a three carat solitaire diamond that sits perfectly on a white gold band, the design is classic, timeless and sophisticated.
Our experts estimate it to be worth £100,000.
16.
Queen Mathilde, Belgium
Estimated Value: £100,000
Prince Philippe surprised the people of Belgium in September 1999 by announcing his engagement to Belgian aristocrat, Mathilde d'Udekem d'Aco.
Philippe commissioned the ring from Belgian jewellery firm, Wolfers. It features a 3 carat dark red Burmese ruby set in gold, surrounded by a halo of diamonds. Additional diamonds decorate the side of the band, giving the ring a vintage feel.
Our experts estimate the piece to be worth £100,000.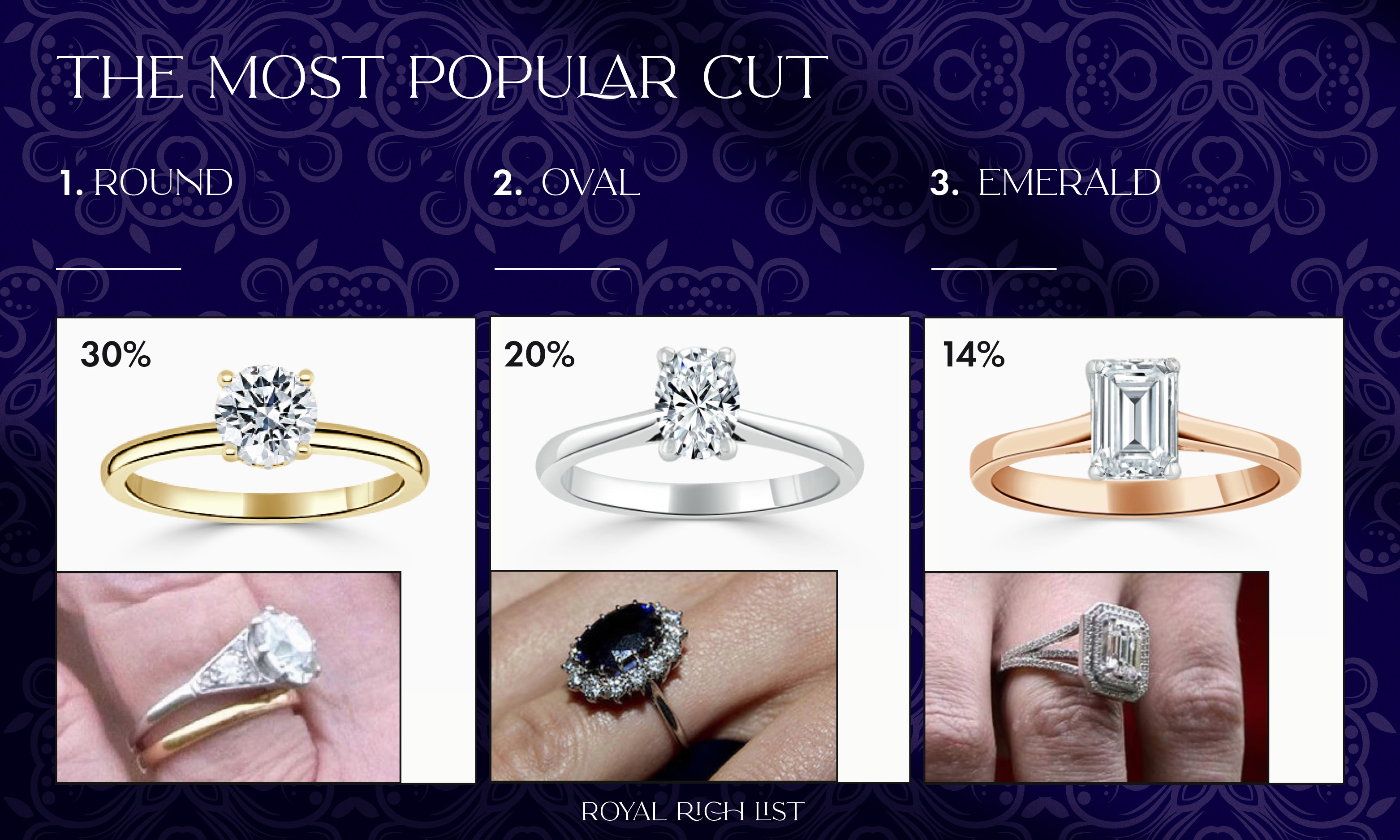 15.
Sophie Wessex, United Kingdom
Estimated Value: £105,000
According to our experts, Sophie's showstopping ring is worth £105,000 and features a two-carat central oval diamond that's flanked by two smaller, heart-shaped diamonds, which she often wears alongside her gold wedding band.
The trilogy ring is designed in a similar style to Meghan Markle's ring, which was made with an ethically sourced diamond from Africa and two of his late mother's rare diamonds.
14.
Meghan Markle, United Kingdom
Estimated Value: £120,000
When Prince Harry proposed in 2017, he presented Meghan with a beautiful three stone engagement ring, featuring diamonds from Princess Diana's jewellery collection.
Over 18 months later Meghan made some alterations to the ring, replacing the yellow gold band with a delicate diamond-studded band instead.
Prince Harry custom designed the ring which includes a centre cushion cut diamond, sourced from Botswana – a place that holds a special place in the couple's hearts. Botswana diamond mining has contributed to transforming Botswana into one of Africa's most prosperous countries, and Botswana diamond mines are dedicated to minimizing their environmental footprint.
The 3 carat stone is extremely high quality with incredible colour and clarity that's flawless to the naked eye. The two round diamonds supporting the centre stone are from Princess Diana's jewellery collection are around 0.5 to 0.75 carats each.
Our experts estimate it to be worth £120,000.
13.
Princess Eugenie, United Kingdom
Estimated Value: £120,000
Princess Eugenie and Jack Brooksbank got engaged back in January 2018, just two months after Prince Harry announced his engagement to Meghan Markle.
The announcement came from the Buckingham Palace Twitter account, which shared a heartwarming photograph of the couple, along with the date of the wedding, which would take place later in the year.
Interestingly, Princess Eugenie also opted for a sapphire ring, however not a traditional blue sapphire. Her ring features a 4 carat rare pink Padparadscha sapphire, surrounded by a halo of sparkling diamonds. Padparadscha sapphires are incredibly rare, much rarer than diamonds.
Padparadscha sapphires are strikingly beautiful with unique shades of pink and orange that often resemble the colours of a sunset. The stones are set on a Welsh yellow gold band, which is a custom for royal brides, with two stunning tapered diamonds at the shoulders of the yellow gold shank.
Our experts estimate the stunning ring to be worth £120,000.
12.
Princess Madeleine, Sweden
Estimated Value: £150,000
On 2th October 2012, the Swedish Royal Court announced Princess Madeleine's engagement with the British-born American financier Christopher O'Neill.
Christopher presented Madeleine with a stunning Asscher-cut diamond ring.
The four-carat stone is paired with a delicate pavé band, representing a modern, minimalist style. The sleek Asscher-cut sits in a relatively simple setting and she wears it between two skinny pave diamond bands.
Pippa Middleton also chose an asscher cut stone for her engagement ring, and it's becoming increasingly popular with both royals and celebrities, as not only is it unique, but it has a rich history behind it.
The Asscher cut was invented in 1902 by Joseph Asscher, the artisan diamond cutter who founded the Royal Asscher Diamond Company. It was the first patented diamond cut, protecting it from replication from other companies.The Asscher cut was a staple of art deco jewellery, with its straight lines and brilliance making it perfect for the movement.
Bearing all of this in mind, our expertse estimate the ring to be worth around £150,000."
11.
Grand Duchess Maria, Luxembourg
Estimated Value: £180,000
During her university studies, Grand Duchess Maria of Luxemborg met her future husband, His Royal Highness, Prince Henri, Hereditary Grand Duke of Luxembourg.
When the couple got engaged in 1980, Prince Henri presented Maria with a yellow gold, set with a 4 carat cabochon ruby.
Our experts estimate the ring to be worth £180,000.
10.
Princess Iman, Jordan
Estimated Value: £200,000
Princess Iman of Jordan announced her engagement to Jameel Alexander Thermiotis in July 2022.
The Princess of Jordan's silver ring features a 6 carat solitaire diamond that's place horizontally on a pave band.
Our experts estimate the unusual piece to be worth £200,000.
9.
Claire Margareta Lademacher, Luxembourg
Estimated Value: £200,000
Prince Félix of Luxembourg and his German girlfriend Claire Lademacher announced their engagement in December 2012.
The couple met when they were both attending the Swiss boarding school Beau Soleil in Villars-sur-Ollons.
Claire received a 4 carat square diamond, set in white gold and sat on a hefty diamond band from Prince Félix.
Our experts estimated the dazzling piece to be worth £200,000.
8.
Queen Maxima, Netherlands
Estimated Value: £200,000
Featuring an orange oval diamond that's flanked by two bullet-cut diamonds between two diamond bands, Queen Maxima's ring is dazzling.
An orange centre stone is an unusual choice, but certainly a meaningful one as orange is the colour of the Netherlands, making it the perfect shade for the royal bride.
A pure orange diamond, with no overtone colours, is considered to be one of the rarest types of diamond, following pink and blue stones.
Our experts estimate the 3.5 carat diamond ring to be worth £200,000.
7.
Queen Elizabeth II, United Kingdom
Estimated Value: £207,000
Prince Philip designed Queen Elizabeth II's square-cut diamond engagement ring with jewellers, Philip Antrobus Ltd.
The ring is a platinum ring set with eleven diamonds, a 3 carat round solitaire and five smaller stones set on each shoulder.
Using diamonds from his mother's tiara may have been a way to save money, as well being as a sentimental gesture, as whilst Prince Philip was born a Greek prince, it seems his family were not extremely wealthy.
After taking a close look at the Queen's engagement ring, our experts estimate is likely to be worth around £207,000 on today's market.
The Queen's ring is made from a nugget of Welsh gold from the Clogau St David's mine, near Dolgellau.
The same nugget has been used to make Princess Anne, Princess Diana and Kate Middleton's rings.
6.
Camilla Parker Bowles, United Kingdom
Estimated Value: £212,000
Camilla has a plethora of jewels, but one item she's rarely seen without is her engagement ring from Prince Charles – and it's difficult to miss the enormous diamond sparkling on her wedding finger. The ring is one of the most extensive and most expensive engagement rings in the royal family.
When the Prince of Wales proposed to Camilla in 2005, he chose a ring with a special connection to the royal family. He picked a five-carat emerald-cut diamond surrounded by three diamond baguettes given to the Queen Mother in 1929. It was passed on from one generation to the Queen Mother, who was first seen wearing it in the 1980's after receiving it from King George VI.
Our experts estimate the sentimental ring to be worth £212,000.
5.
Kate Middleton, United Kingdom
Estimated Value: £300,000
Kate Middleton's engagement ring, which was formerly Princess Diana's, features a 12 carat Ceylon sapphire, originating from Sri Lanka. Like with most precious gemstones, the quality and value of a sapphire is graded by its colour and hue, which can range from a light, pale blue to a dark, royal blue.
The sapphire is a deep, royal blue, of AAAA quality, making it amongst the most valuable of its kind. Globally, the sale of blue sapphires increased by around 300 percent at the time, and even now, thanks to Netflix show The Crown, sales of sapphires continue to surge, with vintage style halo designs being extremely popular.
Our experts estimate the iconic piece of jewellery to be worth £300,000.
4.
Countess Stephanie de Lannoy, Luxembourg
Estimated Value: £800,000
Countess Stephanie de Lannoy met Guillaume, the Hereditary Grand Duke of Luxembourg around 2004 in Germany, when the royal couple were introduced by mutual friends. However, the pair lost track of one another and rekindled their relationship a few years later.
Stéphanie's mother, Countess Alix de Lannoy sadly passed away just two months before the couple's wedding. As a way to honour the memory of her mother, Stéphanie wore her mother's engagement ring alongside her own.
Featuring a 10 carat emerald cut diamond in a double halo setting, Stephanie's engagement ring is quite something.
Our experts estimate the eye catching piece to be worth £800,000.
3.
Princess Rajwa, Jordan
Estimated Value: £1,000,000
The engagement of Jordan's Crown Prince Hussein bin Abdullah and Rajwa Al Saif was announced in August 2022.
Crown Prince Hussein presented Rajwa with a three-stone ring that features a 10 carat pear-shaped diamond, flanked by smaller supporting stones. The impressive diamond sits perfectly on a thin silver band.
With just 7% of the Royals we researched opting for silver as their choice of metal, Princess Rajwa's ring is one of the few silver rings in our Royal Rich List.
Our experts estimate the ring to be worth £1,000,000 – making it the third most expensive Royal engagement ring.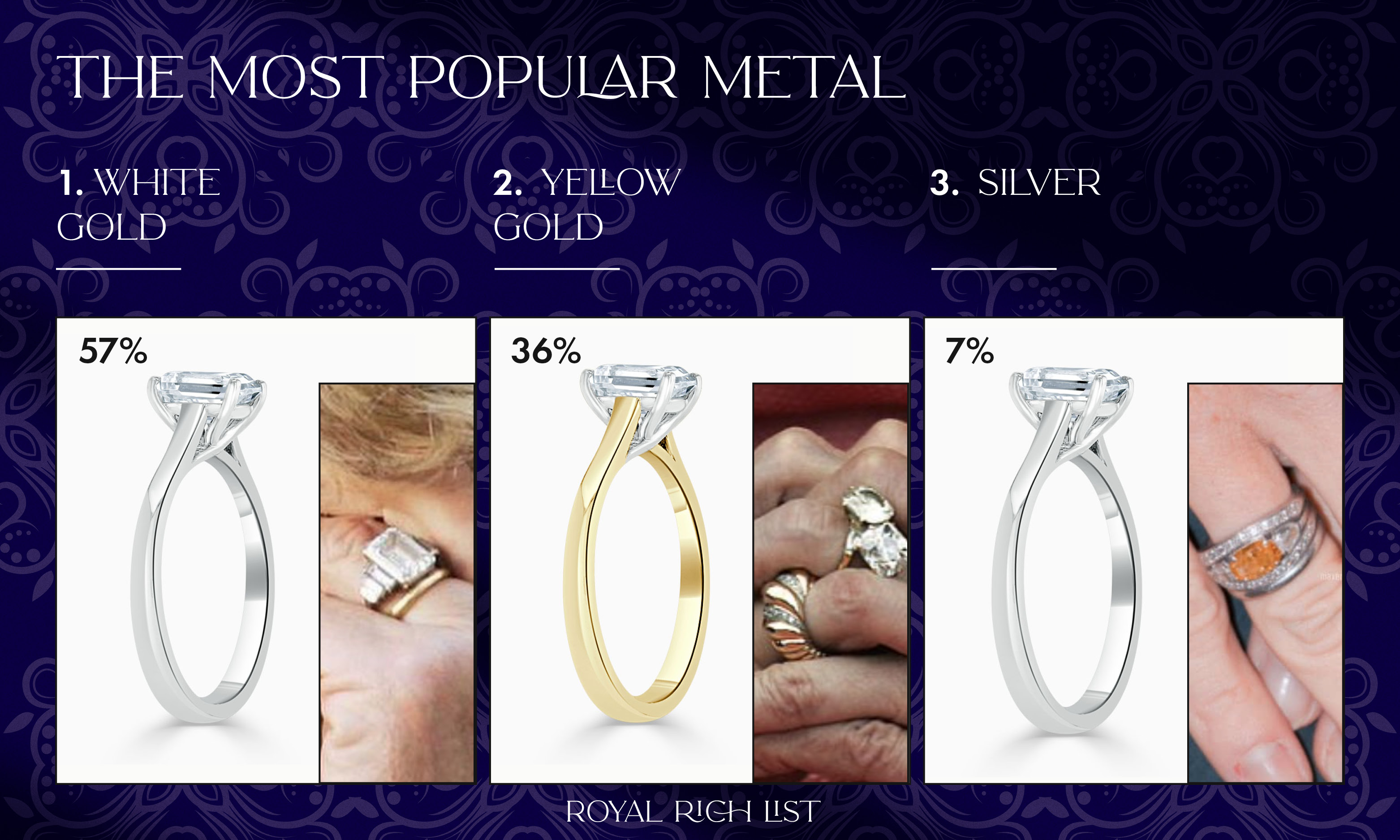 2.
Queen Margrethe II, Denmark
Estimated Value: £1,000,000
In October 1966, the then Crown Princess Margrethe announced her engagement to Count Henri de Monpezat.
Made by Van Cleef & Arpels, her engagement ring features two huge princess cut diamonds – one stone to represent the bride and one to represent the groom.
Queen Margrethe is renowned for being one of the most artistic Heads of State, whose genius and vibrant nature is widely lauded – thus, the unusual design is reflective of it's creative wearer.
Totaling a carat weight of 12 carats, our experts estimate the value of the ring to be at least £1,000,000.
1. Queen Jetsun Pema, Bhutan
Estimated Value: £1,300,000
In May 2011, King Jigme Khesar Namgyel Wangchuck's engagement to 21 year old student, Jetsun Pema was announced by the King at the opening of Parliament.
The couple married later that year on 13th October.
The Queen of Bhutan's engagement ring features a 10 carat diamond in a solitaire setting. The round diamond sits on a yellow gold band. 36% of the royals we researched opted for a yellow gold band for their ring.
Our experts estimate the ring to be worth a whopping £1,300,000 – making it the most expensive royal engagement ring by £300,000.
If you're inspired by these royal engagement rings, why not take a look at our stunning selection of halo engagement rings, pear shaped engagement rings, and heart shaped engagement rings. We also have an expansive collections of wedding rings for when you're planning your big day.
---
Follow us on our socials
Pop over to our social platforms to keep up to date with Steven Stone's latest jewellery content and news.