Royal engagement rings receive a lot of attention and have set a number of beautiful design trends over the years, but which one is your favourite? From Kate Middleton's iconic 12ct sapphire ring inherited from Princess Diana to Meghan Markle's three stone diamond engagement ring, we've rounded up everything you need to know, including the clarity, cut, and carat of the stones to the style and setting of each ring.
Kate Middleton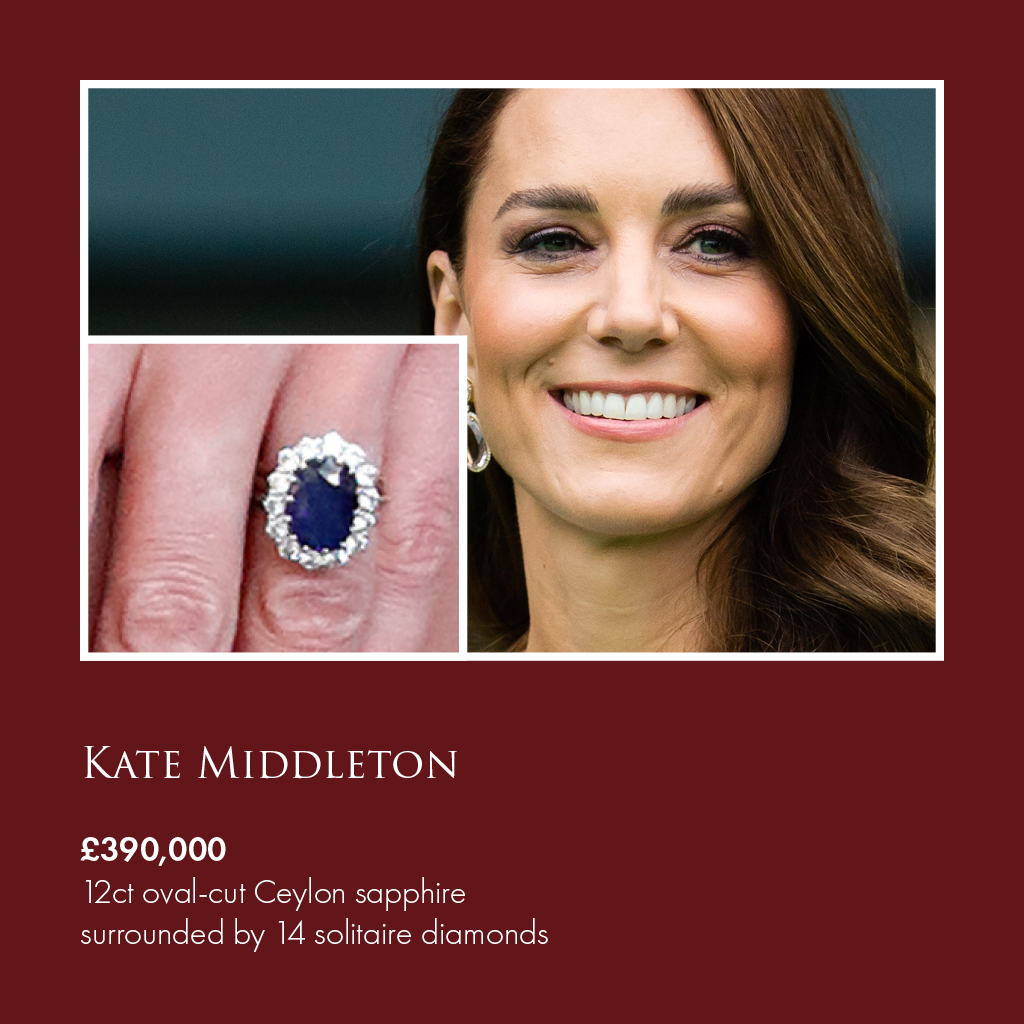 Estimated value: £300,000
Style: 12ct oval-cut Ceylon sapphire surrounded by 14 solitaire diamonds
Kate Middleton's engagement ring, which was formerly Princess Diana's, features a 12 carat Ceylon sapphire, originating from Sri Lanka. Like with most precious gemstones, the quality and value of a sapphire is graded by its colour and hue, which can range from a light, pale blue to a dark, royal blue.
The sapphire is a deep, royal blue, of AAAA quality, making it amongst the most valuable of its kind. Globally, the sale of blue sapphires increased by around 300 percent at the time, and even now, thanks to Netflix show The Crown, sales of sapphires continue to surge, with vintage style halo designs being extremely popular.

The Queen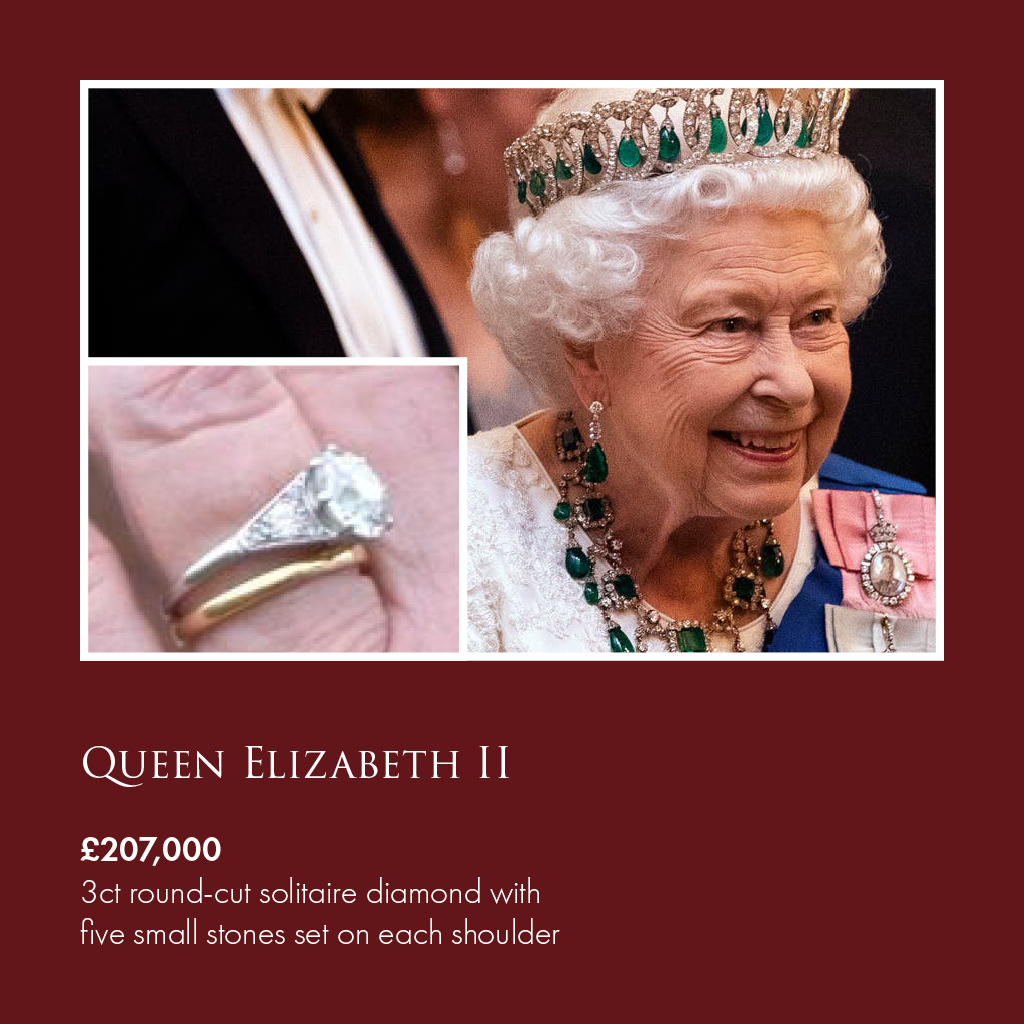 Estimated Value: £207,000
Style: 3ct round-cut solitaire diamond with five small stones set on each shoulder
Prince Philip designed Queen Elizabeth's square-cut diamond engagement ring with jewellers Philip Antrobus Ltd.
The ring is a platinum ring set with eleven diamonds, a 3 carat round solitaire and five smaller stones set on each shoulder.
Using diamonds from his mother's tiara may have been a way to save money, as well being as a sentimental gesture, as whilst Prince Philip was born a Greek prince, it seems his family were not extremely wealthy.
After taking a close look at the Queen's engagement ring, our diamond experts estimate is likely to be worth around £207,000 on today's market.
In comparison, Meghan Markle's ring is estimated to be worth around £96,729, whilst Kate Middleton's is now worth around £300,000 thanks to its timeless legacy.
The Queen's ring is made from a nugget of Welsh gold from the Clogau St David's mine, near Dolgellau.
The same nugget has been used to make Princess Anne, Princess Diana and Kate Middleton's rings.
Meghan Markle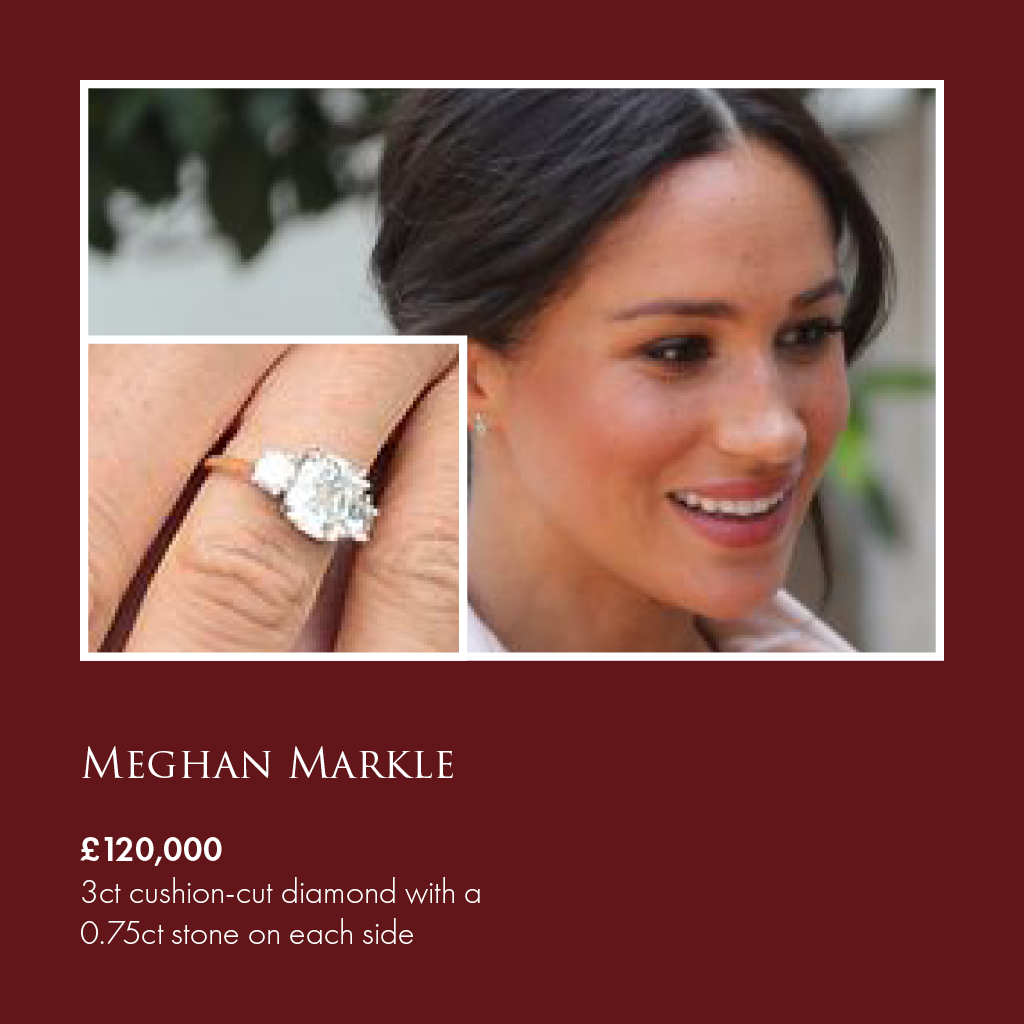 Estimated value: £120,000
Style: 3ct cushion-cut diamond with a 0.75ct stone on each side
When Prince Harry proposed in 2017, he presented Meghan with a beautiful three stone engagement ring, featuring diamonds from Princess Diana's jewellery collection.
Over 18 months later Meghan made some alterations to the ring, replacing the yellow gold band with a delicate diamond-studded band instead.
Prince Harry custom designed the ring which includes a centre cushion cut diamond, sourced from Botswana – a place that holds a special place in the couple's hearts. Botswana diamond mining has contributed to transforming Botswana into one of Africa's most prosperous countries, and Botswana diamond mines are dedicated to minimizing their environmental footprint.
Zack estimates this 3 to 4 carat stone is extremely high quality with incredible colour and clarity, flawless to the naked eye.
The two round diamonds supporting the centre stone are from Princess Diana's jewellery collection are around 0.5 to 0.75 carats each.
Princess Eugenie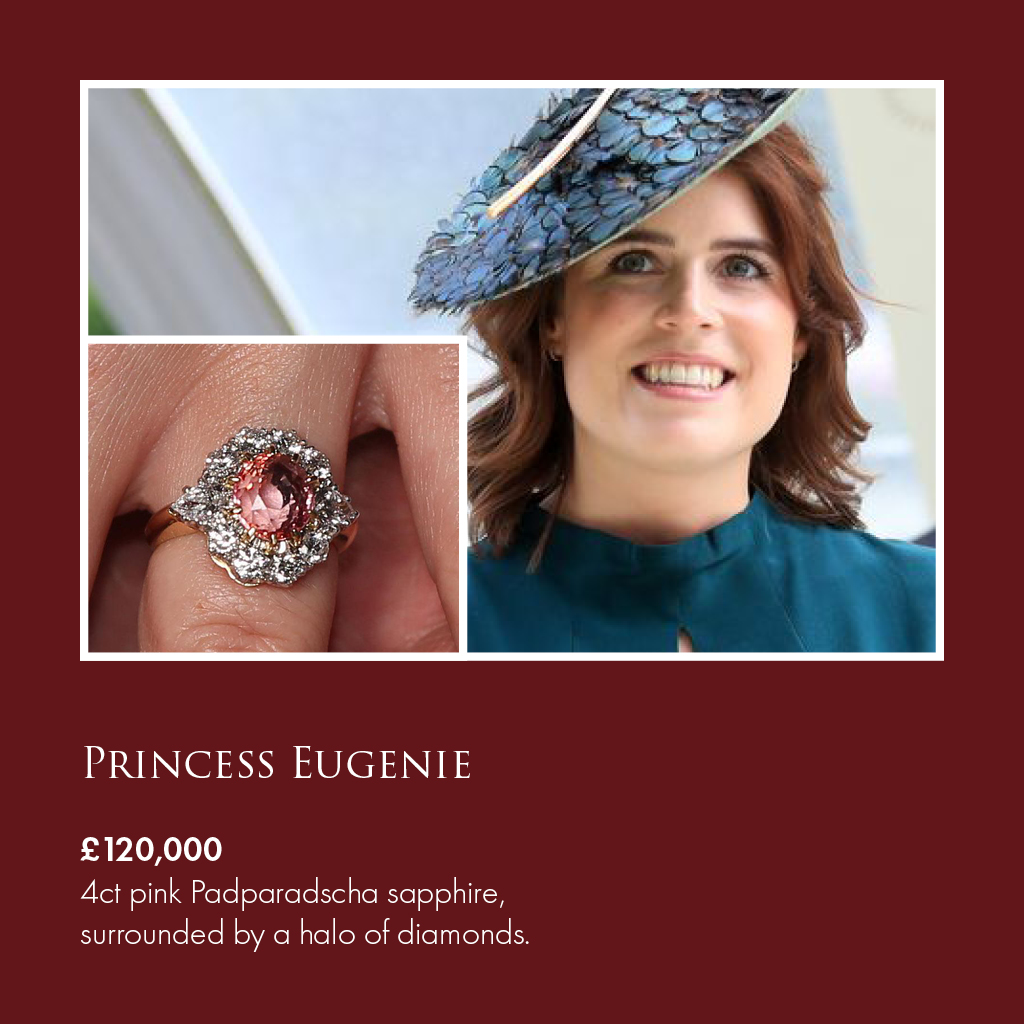 Estimated value: £120,000
Style: 4ct pink Padparadscha sapphire, surrounded by a halo of diamonds.
Princess Eugenie and Jack Brooksbank got engaged back in January 2018, just two months after Prince Harry announced his engagement to Meghan Markle.
On January 22, an announcement came from the Buckingham Palace Twitter account, which shared a heartwarming photograph of the couple, along with the date of the wedding, which would take place later in the year.
Interestingly, Princess Eugenie also opted for a sapphire ring, however not a traditional blue sapphire. Her ring features a rare pink Padparadscha sapphire, surrounded by a halo of sparkling diamonds.
Padparadscha sapphires are incredibly rare, much rarer than diamonds.
Maxwell Stone, said: "These are extremely rare stones which many people haven't even heard of. They are strikingly beautiful with unique shades of pink and orange, often resembling the colours of a sunset."
The stones are set on a Welsh yellow gold band, which is a custom for royal brides, with two stunning tapered diamonds at the shoulders of the yellow gold shank.
Princess Beatrice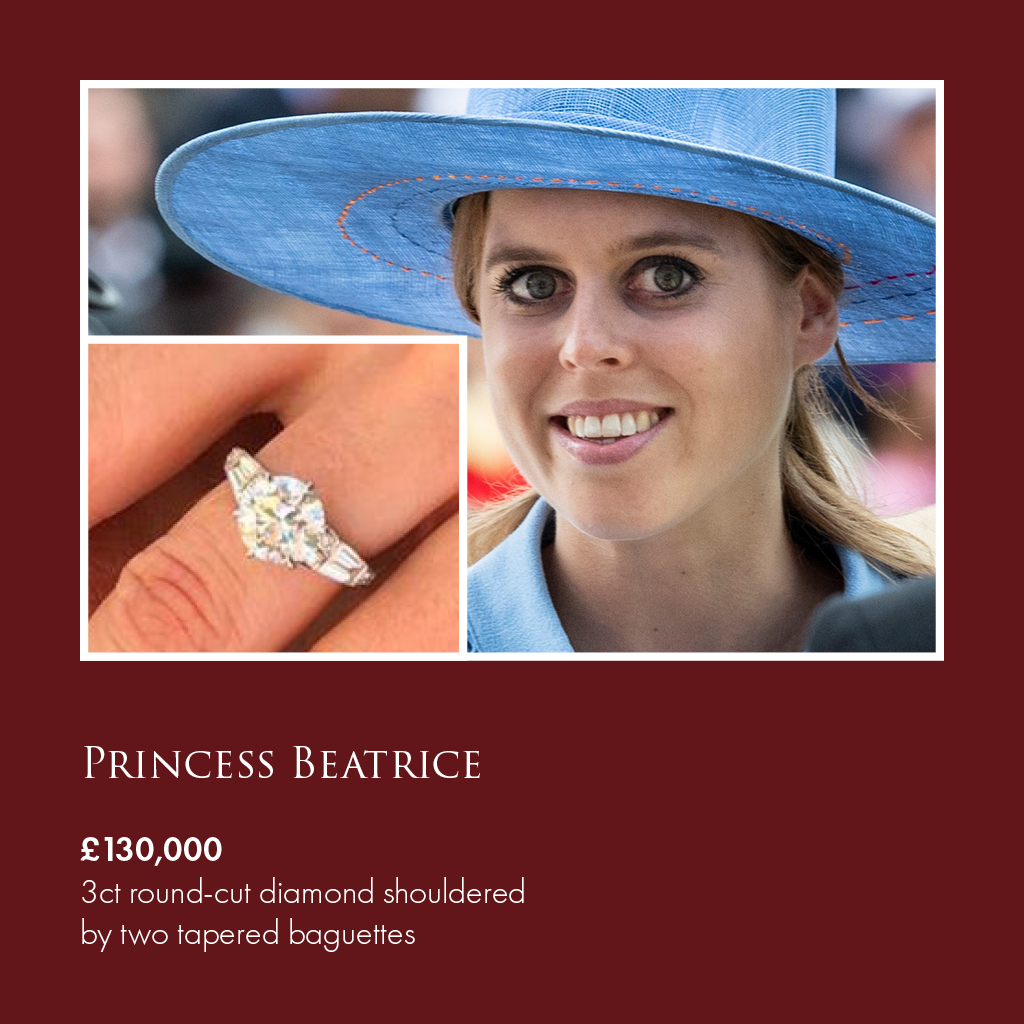 Estimated value: £130,000
Style: 3ct round-cut diamond shouldered by two tapered baguettes
Estimated value: £130,000
Style: 5ct emerald-cut diamond surrounded by three diamonds
It was in September 2019 when Edoardo popped the question to his princess, during a romantic holiday in Italy.
The stunning ring was designed by highly reputable British jeweller, Shaun Leane, who worked with Edoardo to create a piece of jewellery that embodied the couple's personality and love story.
Taking a close look at the ring in question, our jewellery experts reveal everything you need to know.
Maxwell Stone, said: "Princess Beatrice's ring is an absolute stunner. A six claw round diamond takes centre stage, which looks to be around 3 carats.
"The round diamond shoulders two tapered baguettes, which gives the ring a vintage feel and Art Deco-inspired look. For added sparkle, the ring also features small pavé diamonds halfway around the band."
"From the images, it's clear the diamonds are VVS grade, which means they have miniscule inclusions that are difficult even for trained eyes to see under 10x magnification. The diamonds look flawless."
Camilla Parker-Bowles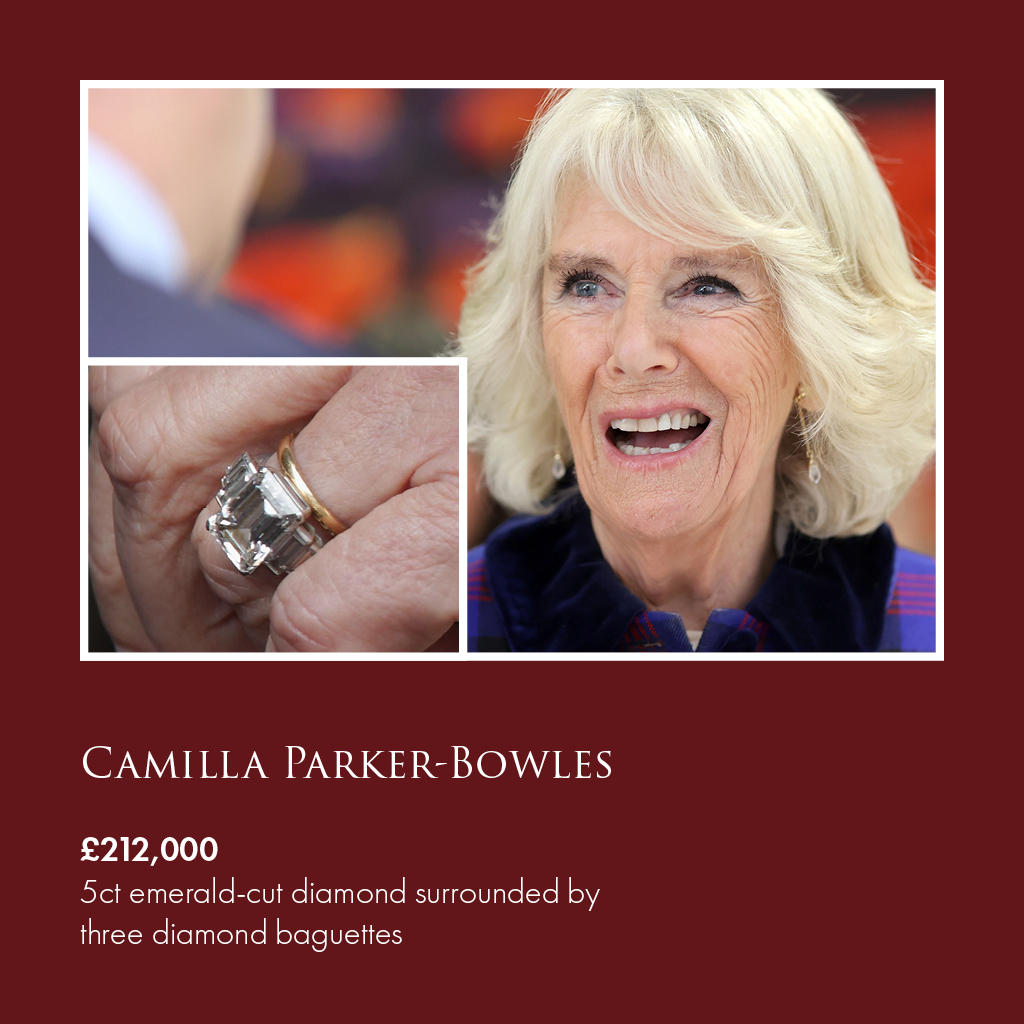 Estimated value: £212,000
Style: 5ct emerald-cut diamond surrounded by three diamonds
Camilla has a plethora of jewels, but one item she's rarely seen without is her engagement ring from Prince Charles – and it's difficult to miss the enormous diamond sparkling on her wedding finger. The ring is one of the most extensive and most expensive engagement rings in the royal family.
When the Prince of Wales proposed to Camilla in 2005, he chose a ring with a special connection to the royal family. He picked a five-carat emerald-cut diamond surrounded by three diamond baguettes given to the Queen Mother in 1929. It was passed on from one generation to the Queen Mother, who was first seen wearing it in the 1980's after receiving it from King George VI.
Maxwell Stone said: "The style of Camilla's ring is completely different to Princess Diana's. Camilla's three-stone diamond ring is traditional, while Diana's sapphire ring is bold, and broke royal tradition at the time."
Sarah Ferguson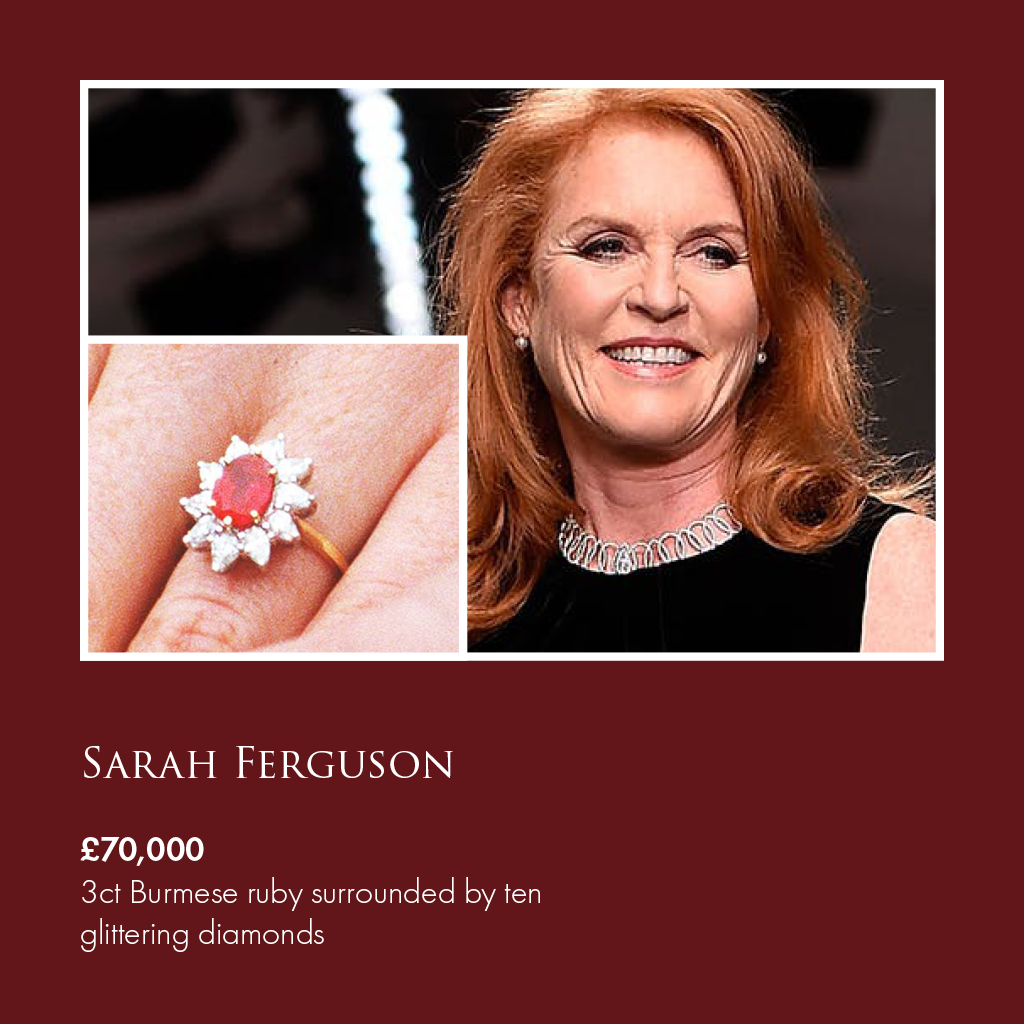 Estimated value: £70,000
Style: 3ct Burmese ruby surrounded by ten diamonds
The Duchess of York's engagement ring features a huge 3ct Burmese ruby surrounded by ten glittering diamonds, and the stones form a flower pattern which is also known as a cluster ring. The precious gems are arranged on a yellow gold band and the gorgeous colours are so attention-grabbing.
The stunning ring is believed to have been crafted by British jewllery house, Garrard, the same place that made Princess Diana's iconic sapphire piece, as well as Sophie Wessex's dazzling ring.
At the time, Sarah's ring is reported to have cost around £25,000, but inflation and the royal history now means it could be valued in the region of £70,000.
It is believed that Princess Eugenie look inspiration from her mother, as both rings have notable similarities.
Princess Anne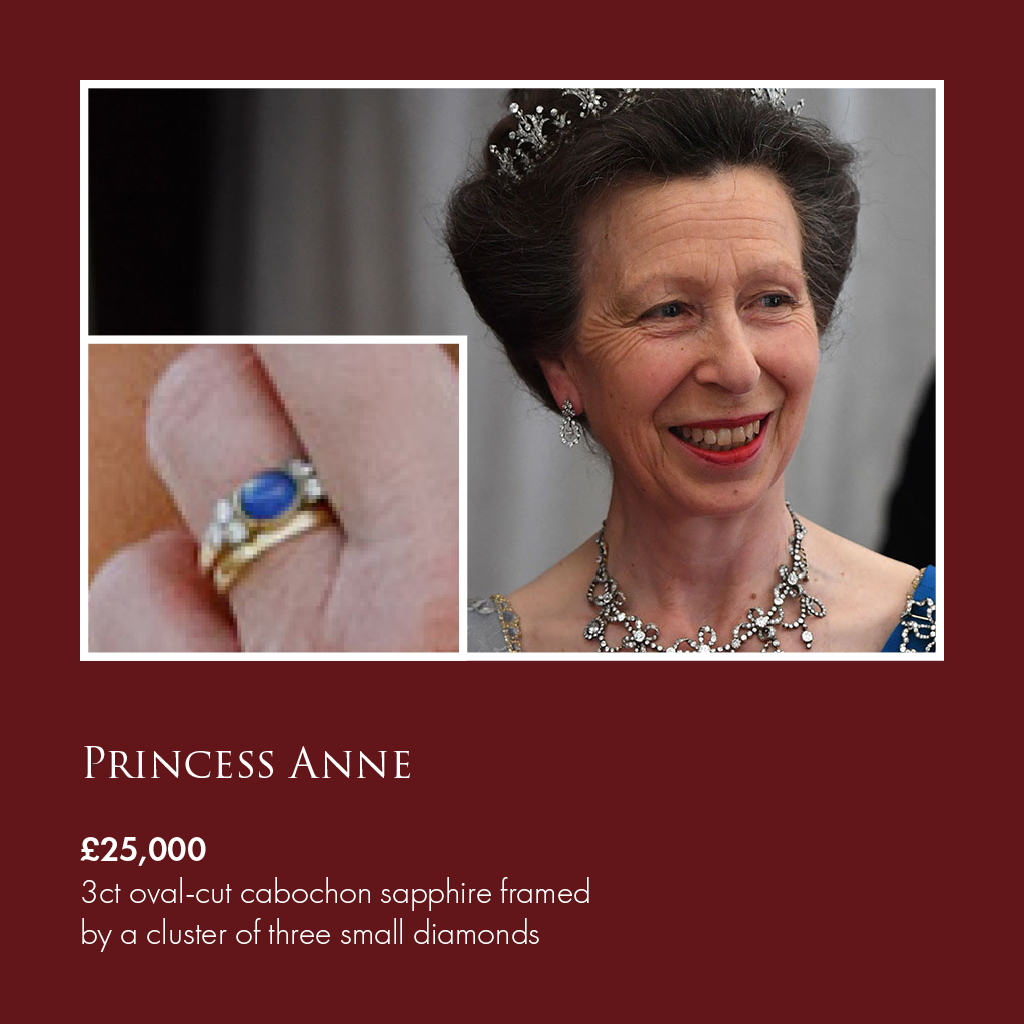 Estimated value: £25,000
Style: 3ct oval-cut cabochon sapphire framed by a cluster of three small diamonds
Laurence, the commander in the Royal Navy, met Anne while he was serving on the Royal Yacht Britannia. The pair were married in late 1992, however rather than a lavish royal ceremony, the event had to take place in in Scotland since the Church of England did not allow remarriages after divorce.
Her second engagement ring, which contains a 3ct oval-cut cabochon sapphire is very similiar to her first engagement ring from her first husband, Mark Phillips which also features an oval sapphire stone and a cluster of diamonds.
Our expert Maxwell Stone said: "It's interesting that Princess Anne received sapphire engagement rings rather than traditional diamond rings. Blue sapphires are often linked to people who are respectful, loyal, hardworking, and honest, which only makes these rings even more special, and suggests that this could have meant something to Princess Anne.
Princess Diana also famously had a blue sapphire ring, which is now in the hands of Kate Middleton, while the queen is frequently seen sporting the gemstone on her famous brooches."
Sophie, Countess of Wessex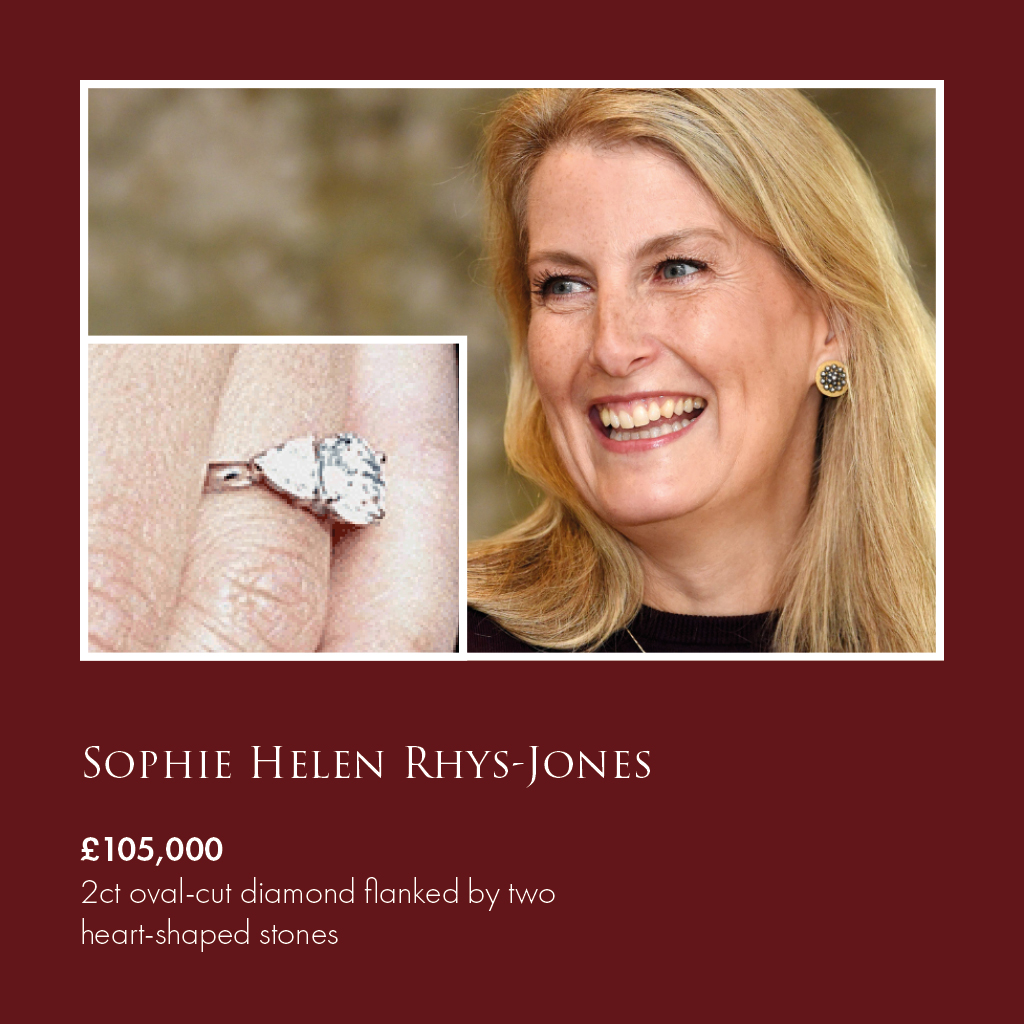 Estimated value: £105,000
Style: 2ct oval-cut diamond flanked by two heart-shaped stones
Prince Edward and Sophie, Countess of Wessex tied the knot in 1999, and ahead of their wedding day, the Queen's son presented Sophie with an incredible three stone engagement ring.
Sophie's showstopping ring features a two-carat central oval diamond that is flanked by two smaller, heart-shaped diamonds, which she often wears it alongside her gold wedding band.
The trilogy ring is designed in a similar style to Meghan Markle's ring, which was made with an ethically sourced diamond from Africa and two of his late mother's rare diamonds.
If you're inspired by these royal engagement rings, why not take a look at our stunning selection of halo engagement rings, pear shaped engagement rings, and heart shaped engagement rings. We also have an expansive collections of wedding rings for when you're planning your big day.