From Kate Middleton to Princess Anne, when a member of the Royal Family gets married, the whole world gets set to watch the grand affair.
From the moment a proposal takes place and an engagement ring is spotted, bets are placed on everything from the date of the wedding to the name of the couple's first child.
The Royal bride's wedding dress gets a whirlwind of attention too, often taking the spotlight on the big day, with fans desperate to see the style, fabric, and designer of the gorgeous gown.
But of all the Royal weddings in the 21st century, which wedding dress has attracted the most attention?
To find out, engagement ring specialists at Steven Stone analysed global, UK, and US search volumes using data from AHREFs. Analysing the average monthly search volumes from around the globe, we can reveal the world's 10 favourite wedding dresses from the British Royal Family.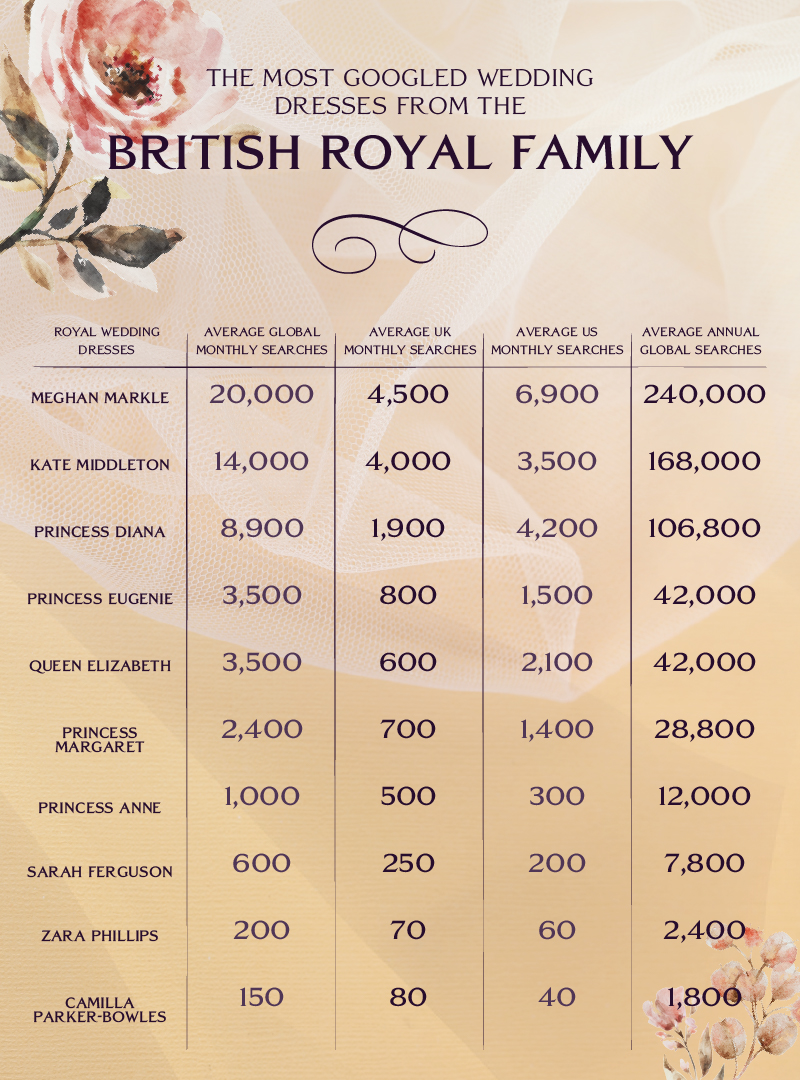 1. Meghan Markle
Average no. of global monthly searches: 20,000
Meghan Markle's wedding dress is officially the most searched for wedding dress in the British Royal family, with a whopping 20,000 searches per month globally.
Average US search volume (6,900) is higher than in the UK (4,500), in comparison to Kate Middleton where the most searches come from the UK.
After months of speculation, Meghan Markle's wedding dress was finally revealed as she stepped out at St George's Chapel at Windsor Castle in 2018.
The dress was designed by British designer Clare Waight Keller, who is also the artistic director of French fashion house, Givenchy.
Meghan's minimalist pure white gown featured a boat neck, which framed the shoulders and emphasised her waistline. It also had three-quarter length sleeves and was made of double-bonded silk cady cushioned by an underskirt in triple silk organza.
READ MORE: 9 Things You Didn't Know About Meghan Markle's Engagement Ring
2. Kate Middleton
Average no. of global monthly searches: 14,000
Pipped to the post by Meghan Markle, Kate Middleton's wedding dress still receives 14,000 average monthly searches, landing in second place.
The Duke and Duchess of Cambridge tied the knot at Westminster Abbey on 29 April – with millions of people across the world tuning in to see Kate Middleton's gorgeous wedding dress live in action.
Kate's dress featured a V-neckline, long sleeves, a fitted Victorian bodice and, in signature McQueen style, padding on the hips. It was covered in handmade lace created by the Royal School of Needlework. The youngest lace-maker on the team was 19 years old at the time.
Images of roses, thistles, daffodils, and shamrocks were placed on both the bodice and skirt by using a nineteenth-century technique called Carrickmacross.
READ MORE: The Fascinating Story Behind Kate Middleton's Engagement Ring
3. Princess Diana
Average no. of global monthly searches: 8,900
It comes as no surprise to see Princess Diana's wedding dress in the top three, with 8,900 average monthly searches – the majority of which, comes from the US.
The wedding of Prince Charles and Lady Diana Spencer, which took place on Wednesday 29 July 1981 at St Paul's Cathedral in London, swept the world off their feet, with 750 million people tuning in.
Her ivory taffeta wedding dress was created by British designers, Elizabeth and David Emmanuel, and remains an iconic garment in royal wedding dress history almost 40 years later.
The bodice of the dress features a piece of antique Carrick-ma-cross lace that once belonged to Prince Charles' great-grandmother, Queen Mary.
Whilst also giving a nod to history, it was very much in keeping with early 1980s fashion with its large puffed sleeves trimmed with bows and deep ruffles of taffeta.
The remarkable wedding dress is now on display at a new exhibition, Royal Style in the Making at Kensington Palace.
The ivory silk taffeta and antique lace gown had a 25-foot train and a 153-yard tulle veil, featuring bows, taffeta, petticoats and exaggerated shoulders. It was said to have been inspired by both Queen Victoria and Queen Mary's style.
4. Princess Eugenie
Average no. of global monthly searches: 3,500
The Princess's wedding dress was designed by Peter Pilotto and Christopher De Vos, who in 2007 founded the British-based label Peter Pilotto, known for its innovative textile design.
A press release from the Royal family stated, "During several fittings the dress was developed layer by layer, constructing it from the corset and the complex underskirt to the fitted bodice and full pleated skirt. The dress features a neckline that folds around the shoulders to a low back that drapes into a flowing full length train. The low back feature on the dress was at the specific request of Princess Eugenie who had surgery aged 12 to correct scoliosis."
The dress also features personal symbols that are especially meaningful to the Princess, including a Thistle for Scotland, a Shamrock for Ireland, the York Rose, and ivy to represent the couple's home.
The designers added the symbols into the dress in a garland of rope like motifs, woven into a jacquard of silk, cotton, and viscose blend, according to the Palace. Princess Eugenie also wore the incredible Greville Emerald Kokoshnik tiara, which was lent to her by the Queen.
5. Queen Elizabeth
Average no. of global monthly searches: 3,500
The wedding of Queen Elizabeth and Prince Philip was a royal event held following the end of the Second World War.
The Queen's dress, designed by the Court Designer Norman Hartnell, featured a stunning star-patterned fan-shaped bridal train that was 13 ft long.
Given the rationing of clothing at the time, she still had to purchase the material using ration coupons.
Hartnell's signature was said to be embroidery, and he enjoyed "working with soft, floating fabrics, particularly tulle and chiffon, and with plain, lustrous silks".
The Queen's dress was made of Chinese silk, with a high neckline, tailored bodice and a short train. Without straps and with long sleeves, it provided a fit and flare silhouette.
READ MORE: The Heart-warming Story Behind The Queen's Sapphire Brooch
6. Princess Margaret
Average no. of global monthly searches: 2,400
Princess Margaret's choice of wedding dress has gone down in the annals of fashion history, inspiring brides today with its simplicity and elegance.
She turned to royal couturier Norman Hartnell to design her gown – the same designer who had made her sister the then Princess Elizabeth's wedding dress and coronation gowns.
Princess Margaret opted for an understated dress, with a fitted, tailored bodice and waist, long sleeves and full-length, voluminous skirt (using 30 metres of fabric) with a small train.
Unlike many other Royal dresses, this one had no embroidery of flowers or other motifs. Instead it was made from plain, silk organza – which makes it refreshingly modern, even today. The elegant gown was hailed by the fashion press, with Life magazine dubbing it 'the simplest royal wedding gown in history'.
7. Princess Anne
Average no. of global monthly searches: 1,000
Princess Anne was the first of the Queen and Duke of Edinburgh's children to get married. She was also the first to have a second marriage. For both ceremonies, she chose beautiful outfits which made royal wedding history in their own, unique ways.
When she married Captain Mark Phillips on November 14th 1973, Princess Anne opted for a Tudor style dress made by designer, Maureen Baker, who took inspiration from the court dresses of Elizabeth I.
The dress featured a fitted bodice with high neck and flared skirt that led to a seven foot long train. The dress was made from pure white silk, whilst a white tulle veil was held in place by the same fringe tiara that Queen Elizabeth II had worn for her wedding in 1947 and which Princess Beatrice would use for her marriage in 2020.
With lines of pearls sewn across the bodice and floral motifs on the back, the dress was packed with detailed embellishments. Full length trumpet sleeves and huge cuffs reminiscent of Elizabethan ruffs, became one of the most memorable parts of this royal wedding dress.
For her second marriage, to Timothy Laurence on December 12th 1992 at Crathie Kirk, Anne kept her outfit very low key. She chose a cream suit with a high necked jacket over a knee length dress. Her only accessories were a small spray of blossoms worn in her hair and a simple bouquet of white heather.
8. Sarah Ferguson
Average no. of global monthly searches: 600
Five years after Princess Diana's wedding ceremony, Sarah Ferguson walked down the aisle with her own prince, in a dress made by up-and-coming London designer, Lindka Cierach.
According to her memoir My Story, she lost 26lbs ahead of her wedding day, asking the designer to create a dress that would flatter her figure. "Lindka was a genius," Sarah Ferguson wrote. "I knew she could make the most flattering gown ever, and she had. It was amazingly boned, like a corset."
The gown was made from ivory satin, with intricate beadwork that incorporated various symbols including hearts representing romance, anchors and waves representing Prince Andrew's sailing background, alongside bumblebees and thistles, taken from Sarah Ferguson's family heraldry.
The couple's initials were also hidden underneath the 20-foot long veil, with the groom's monogram in the centre.
9. Zara Tindall (née Phillips)
Average no. of global monthly searches: 200
With around 2,400 Google searches a year, Zara Phillips' wedding dress is still attracting a little attention, despite being one of the lesser-known Royals globally.
Whilst she's known for her cool, understated style, on her wedding day, Zara Phillips glammed up in a cap- sleeved, ivory silk gown designed by one of her grandmother's favourite couture designers, Stewart Parvin.
Featuring a chevron pleated bodice with inverted pleats on a dropped waist, the gown is designed to create a bell-shaped silhouette. The concealed corset has elegant buttons running down the centre of the back of the gown, from the neckline to the hem.
The full skirt had hidden pockets and a small train – in contrast to many of the other Royal brides.
10. Camilla Parker Bowles
Average no. of global monthly searches: 150
Despite getting wed 16 years ago, around 150 people still search for her dress on Google every month.
Whilst her wedding attire isn't as popular as the likes of Meghan or Kate, on the day of her wedding ceremony to Prince Charles, Camilla Parker Bowles actually wore two wedding dresses to mark the occasion.
Alongside the civil ceremony, the pair also had a religious blessing and formal reception at St George's Chapel in Windsor later the same day, which allowed Camilla to do a quick outfit change.
First up, for the civil ceremony, Camilla wore a cream silk chiffon dress, with a hem of Swiss-made appliqued discs, and a matching oyster silk coat, created by London designers Robinson Valentine.
For the blessing at St George's Chapel, she changed into another beautiful gown, made by the same designer. She wore a pale blue chiffon gown with an embroidered pale blue and gold coat over the top.
If you're set to get wed and are looking for some wedding ring inspiration, we have a wide variety of ready to wear and bespoke rings available.