Engagement rings and wedding rings are much more than jewellery – they are a symbol of love and the ones we love and should be treated as such.
When getting ready, you should always put your jewellery on last and remove it first. This is particularly important when getting ready for your big day – body lotion, hairspray, makeup and some chemicals might damage gemstones and precious metals.
Experts at Steven Stone have answered some of the most frequently asked questions about wedding ring and engagement ring etiquette.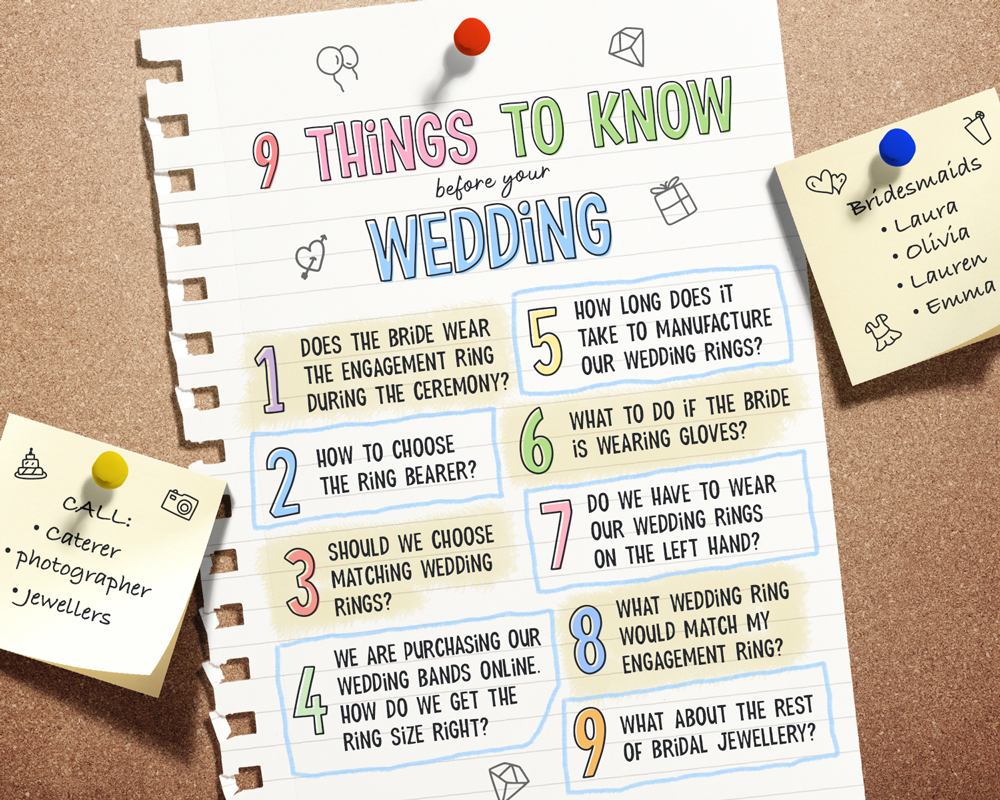 Does the bride wear the engagement ring during the ceremony?
Engagement rings are traditionally placed after wedding rings, so that the wedding band is closer to the heart.
Some brides wear their engagement ring on the right hand while the wedding ceremony lasts and then place it top of the wedding ring.
If you forget to take your engagement ring off before the wedding ceremony, you can swap them around after the wedding.
How to choose the ring bearer?
Traditionally, wedding rings are brought by a young child – usually a boy – who walks the aisle right before the flower girl.
Some couples choose to have their dog fetch the wedding rings. While pet ring bearers add a truly adorable touch to the wedding, they should be trusted only if they are pet is well trained and you have someone to take care of your dog the entire wedding.
Should we choose matching wedding rings?
Depending on your preferences, you can select two identical wedding ring designs, include each other's birth stones into your wedding bands or have two completely different rings.
Wedding rings can match or complement each other in many ways – you can book a consultation with our experts for professional and friendly advice on what would suit your partner's hand, style or engagement ring.
We are purchasing our wedding bands online. How do we get the ring size right?
The best option is to book a consultation and see one of our experts in store. For more information on finger sizing, you can visit our website.
Bear in mind that full diamond eternity rings can not be resized, so please make sure you have the right finger size before purchasing.
How long does it take to manufacture our wedding rings?
Manufacturing time varies depending on the wedding band. Most jewellers can take between 8 to 12 weeks, while at Steven Stone we usually take 3 to 4 weeks to craft wedding rings.
What to do if the bride is wearing gloves?
We don't recommend putting wedding rings over gloves. They might easily slip off the finger or may cause trouble taking the glove off if the band gets stuck.
Ideally, the bride would wear bridal gloves, which are designed taking wedding rings into consideration.
Do we have to wear our wedding rings on the left hand?
In the UK, wedding and engagement rings are traditionally worn on the left hand. In other cultures however, spouses wear their wedding bands on the right hand.
The wedding ring carries personal symbolism, so which hand you choose to wear it on is entirely up to you.
What wedding ring would match my engagement ring?
The best way to discuss this is by booking a consultation with one of our experts. Every engagement ring is unique, so is your style.
Most Steven Stone engagement rings are wedfit, which means that their setting is raised for a flush fit with your wedding ring.
What about the rest of bridal jewellery?
Tradition says brides should wear something old, something new, something borrowed, something blue. You do not necessarily need to follow tradition and what jewellery you wear is entirely up to your style and tastes, with pearls being a popular choice.
You can see our bridal jewellery or browse our showrooms to find the perfect piece for your big day. Bridal jewellery tends to symbolise love and friendship.
If you're looking for an engagement ring or wedding ring and would like to browse for inspiration, take a look at our ready to wear collection or chat to one of our team for bespoke creations. We have showrooms in Manchester, Cheshire and London.
---
Follow us on our socials
Pop over to our social platforms to keep up to date with Steven Stone's latest jewellery content and news.