The first record of engagement rings dates back to ancient times, when Romans began giving their future brides engagement rings instead of money before marriage. This Roman custom is inspired by an even older tradition originating in ancient Egypt where Egyptians believed that circles were a symbol of eternity and began exchanging rings made of reeds.
Diamond engagement rings became a trend in 1477 when Archduke Maximilian of Austria commissioned the first diamond engagement ring and began a trend to last centuries. In the 50s De Beers group launched a campaign 'Diamonds are forever' which skyrocketed diamond engagement ring sales.
Engagement rings are a must for any proposal, not for their value but symbolism of eternal love and lifetime devotion.
Are you ready to ask the big question? Engagement ring experts at Steven Stone have revealed everything you need to know before shopping for an engagement ring.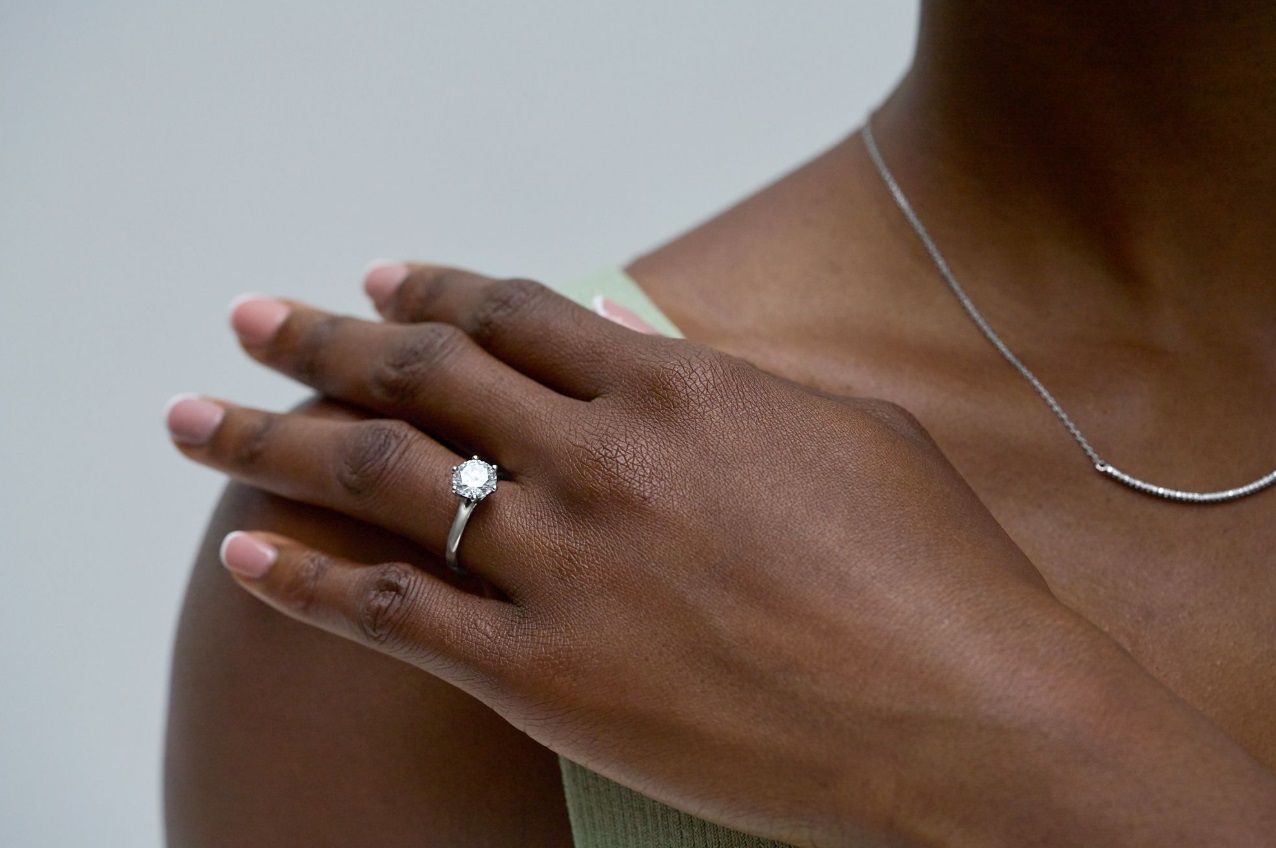 Narrowing down your search
Engagement ring designs, materials and prices vary greatly and understanding your partners' preferences and what you are looking for is crucial to making your best purchase. We advise narrowing your engagement ring selection based on your budget and your bride's preferences.
Diamond rings are now the most popular engagement ring option. Diamond Solitaire engagement rings have been a best seller since their creation – the most preferred diamond shape for this setting is the Round Brilliant, also known as the ideal cut. This diamond shape has the most advanced light performance, symmetry, and proportions.
Recently, gemstone engagement rings have been increasing their popularity, especially among younger clients who want to add their own symbolism and colour to their proposal.
Finding the perfect match
Your partner will wear her engagement ring every day, for the rest of her life, so it needs to match her fashion sense, jewellery and taste.
A survey has shown that 1 in 5 women were disappointed with their marriage proposal, so its worth taking the time and maybe speaking to her friends and family and paying attention to any hints she may be dropping about what she expects.
The best way to get get inspiration for her engagement ring is her wardrobe and jewellery box. If her clothing is eye-catching and her accessories bold, her engagement ring would be a stunning eye-catching statement piece. A more subtle and refined piece may suit ladies who prefer classical outfits and jewellery.
Gemstones are a great way to add symbolism to your proposal – rubies have long symbolised passion and power, while blue sapphire engagement rings represent loyalty, fidelity and friendship. An excellent way of personalising her engagement ring is by adding her birthstone.
Getting your partner's ring size
Most proposals are kept a secret and taking your partner to the jewellers to get their finger size will spoil the surprise.
One way of getting the right finger size is by borrowing one of her rings. Make sure you know which finger she wears the ring on – you wouldn't get the right size if she wears it on her right hand thumb.
Once you have the right ring you can get her correct finger size in a several ways.Taking the ring to the jewellers would work, however noticing a missing ring could definitely raise suspicion. The secret way of getting the finger size using another ring is by outlining the inner diameter of the ring and bringing the outlines in store.
If you believe her friends and family may be trusted with the task of finding the right finger size, share your intentions and let them help you. A good way of doing that is taking her jewellery shopping or asking her to try out different rings.
On our website we have an option to select the ring size 'Not Sure' when shopping for an engagement ring, with this option we will happily resize your ring free of charge once you have proposed.
Choosing the right setting
Your engagement ring setting will significantly influence the style, budget and centre stone choice.
Halo settings are very suitable for diamonds and gemstones with modest size – the halo enhances the centre stone and creates the optical illusion of a bigger diamond. Diamonds with the same carat weight can differ in shape, size and price.
It is crucial to understand how the 4Cs affect the diamond price and appearance. The diamond's cut is the stone's most important characteristic and is the only feature not to make a compromise with. To be entirely sure of the grading report, only purchase from renowned sellers and reputable diamond grading laboratories.
If you're looking for an engagement ring and would like to browse for inspiration, take a look at our ready to wear collection or chat to one of our team for bespoke creations.
---
Want to stay up to date?
Follow us at @StevenStoneUK to keep up to date on the latest news and events.