The emerald cut diamond is a popular choice for engagement rings, and is considered the most classic style.
Due to its long lines the diamond reflects broader and more dramatic flashes of light and is less fiery then brilliant cut diamonds.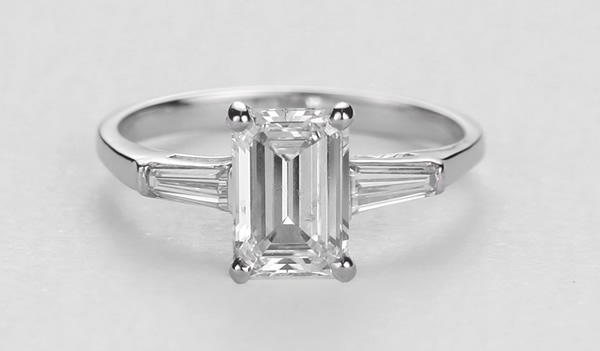 Here is an emerald cut diamond engagement ring we've recently made for a customer.
The engagement ring has a large dazzling emerald cut diamond centre stone held in a 4-claw setting, showing you an example of a beautifully cut emerald diamond.
The diamond is also flanked with two baguette diamonds either side, which have a similar line cut adding to the vintage look of the engagement ring. We also cast the band and diamond setting of the ring into 18 carat white gold.
Emerald cut Diamond Engagement Ring Buying Tips
When buying an emerald cut diamond for an engagement ring it's important that you go for quality by selecting the highest grade stone you can afford.
As an emerald fewer facets then the brilliant cut, flaws and colour weaknesses are more visible.
As the emerald cut diamond is not as popular as princess cut and round diamonds their prices are marked lower and more affordable.
We recommend as a minimum the cut grade of an emerald diamond should be graded "good", the lowest colour grade should be G and the minimum clarity grade should be VS2. We also recommend that you choose a carat weight 0.50ct and higher.