Wedding cakes need to fit the theme and colour palette of your venue, decorations and even wedding gown and bouquet.
After some research, engagement and wedding ring specialists at Steven Stone have put together a guide to assist you in choosing the right cake for your big day.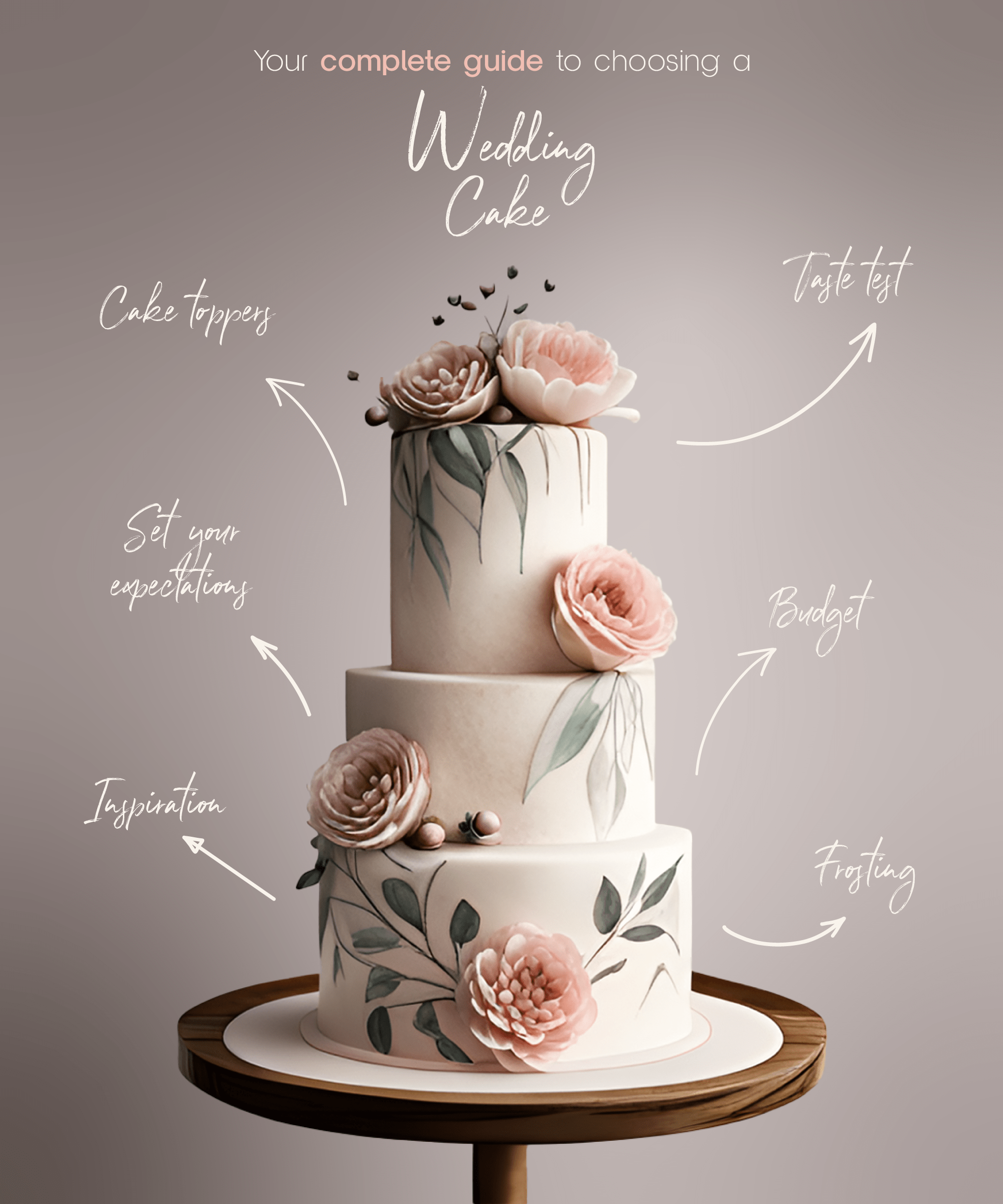 Wedding cakes inspiration
Perhaps you have already seen tens or hundreds of wedding cakes in magazines, on Pinterest and in blogs. To make sure that you choose the most suitable wedding cake for your style and budget, do a little research and get inspiration before you make a decision.
Be realistic when looking at wedding cakes – would an abstract 5 tier wedding cake be suitable for a small farm ceremony? Would you not rather spend your extra budget on a stunning piece of jewellery or invest in high quality wedding rings?
Leave the wedding cake inspiration for last, since it will need to match with everything else.
Get your expectations right
Bear in mind that just like any other advertisement, wedding cakes on Pinterest and in wedding magazines are photoshopped and had designers, photographers and specialist bakers arranging them for hours, to make sure every detail was perfected.
Your cake should look stunning, however small imperfections on the decorations and frosting are very likely to occur when your cake is made or transported to the venue.
To preserve its fresh look and taste, make sure that your wedding cake is stored properly.
The wedding cake toppers
There are countless items to make the perfect wedding cake topper – fresh flowers, edible decorations, heirloom ornaments, porcelain figures and cake buntings and the traditional bride and groom cake topper.
Though a cake topper might overwhelm certain designs, so ideally plan and discuss everything with your baker.
Set a wedding cake budget and optimise it
Ideally, you would have most details around your wedding planned before choosing the wedding cake.
Clever ways to save money on your wedding cake is by skipping certain decorations or layers. Flowers are a beautiful and more affordable wedding decoration, which will perfectly resonate with your wedding theme and bridal bouquet.
Alternatively, decorate your cake with fresh seasonal fruit or any other decorations you find suitable for your wedding theme and colour palette.
The wedding cakes tasting
Take any inspiration you have to the bakers. This will help you decide on the cake's colour, ornaments and topper. The baker or your wedding planner
could help you come up with more suggestions suitable for the number of guests, wedding theme and your budget frame. The baker should be able to show you their portfolio and offer you a wide selection of flavours and wedding cake decorations.
However, wedding cake is not just for presentation – it should taste as good as it looks. Go for a flavour that you and your spouse love – there are at least one hundred flavours to choose from, anything from Chocolate Fudge Oreo to Raw Coconut and Beetroot cake (yes, it really is a thing). Your bakers should provide you with a list of the flavours they offer so you could pick a few flavours and butter creams for the tasting. Depending on your bakers, you might have to pay a small amount or get a free tasting session.
The right cake frosting
Discuss your wedding with your baker – they will help you find the right frosting, size and decorations by taking into consideration the number of guests and your budget. The season and whether your reception is outdoors or not will most likely affect your wedding cake frosting. Buttercream, whipped cream and meringue would melt if kept at high temperatures or under direct sunlight. Fondant covered cakes are the most suitable option for summer and outdoor weddings, as they are much less likely to melt.
If you're looking for an engagement ring or wedding ring and would like to browse for inspiration, take a look at our ready to wear collection or chat to one of our team for bespoke creations. We have showrooms in Manchester, Cheshire and London.
---
Follow us on our socials
Pop over to our social platforms to keep up to date with Steven Stone's latest jewellery content and news.